Creamy Garlic Pork with Cabbage - pork pieces in an irresistible lighter creamy garlic sauce with delicious shredded cabbage for a perfect any night of the week dinner.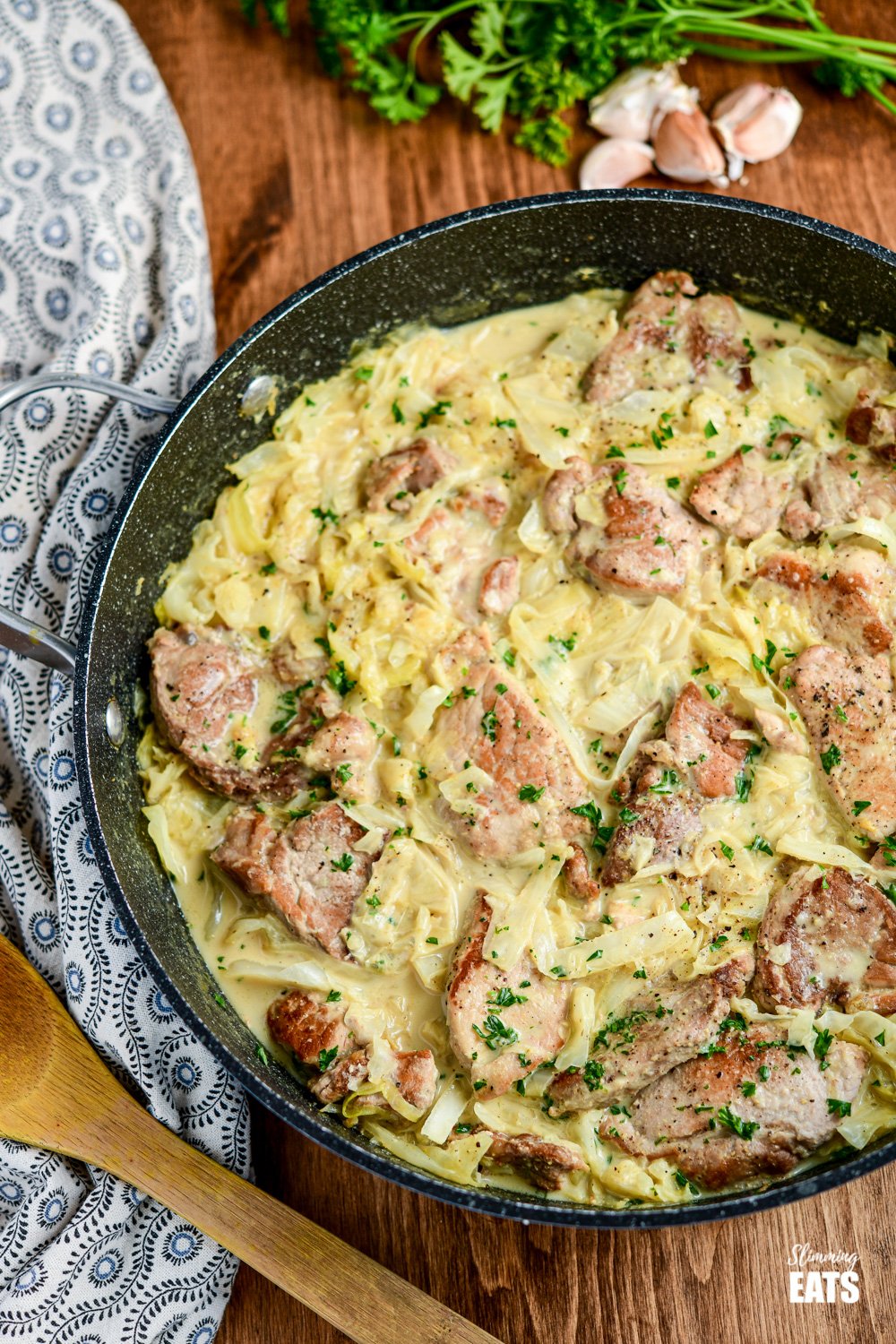 I mean what's not to love right? This dish is just everything!!!
and when I shared the pic of my dinner on Instagram recently, you all went completely crazy. Who would have thought cabbage would get anyone so excited.
But then you all obviously have great taste, because pork, cabbage, creamy and garlic go together perfectly - right?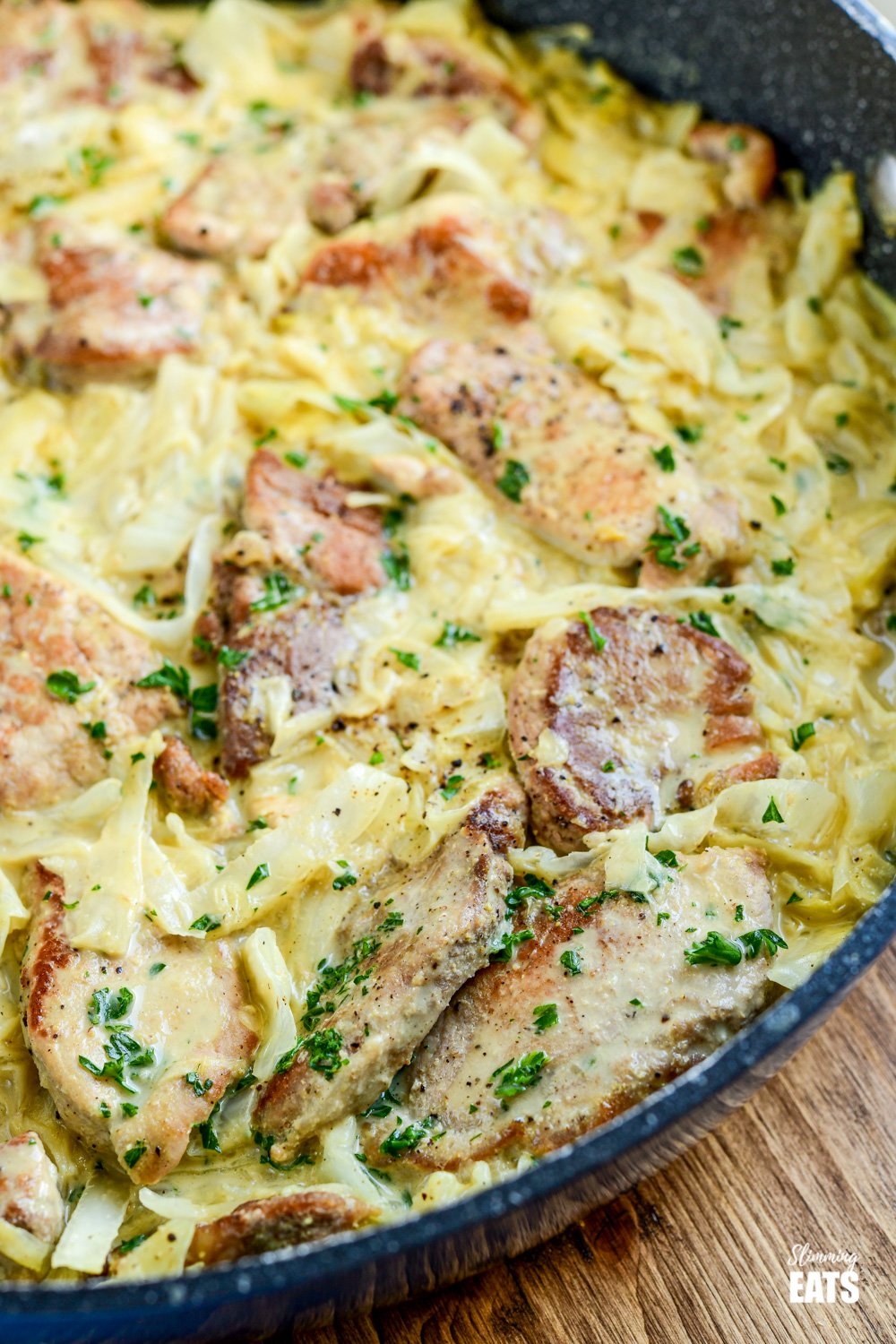 Creamy Garlic Pork and Cabbage all in One Pan
Yes, that's right this dish is cooked all in one pan.
Okay, okay, yes there are various steps to the recipe, but I love the main recipe that uses just one pan and apart from the sides you choose to serve it with, everything, literally everything goes into the one pan.
For this reason, a deep frying pan is a must and one with a lid too. One like this Tefal 30cm Deep frying pan is the perfect size and depth.
This is because before cabbage gets cooked, it is pretty big in volume and quite a lot of it goes into this recipe, so ensuring you have enough space to add all the ingredients, means it will cook perfectly.
How do I make Creamy Garlic Pork and Cabbage?
One of the stars of this ingredient is obviously the garlic, it's in the title of the recipe after all. I am not talking a measly couple of cloves of garlic either. In this recipe we use 8 - yes you read that right, EIGHT cloves.
Now before you go thinking, oh no. that's far too much garlic, it really isn't. Yes, garlic is a powerful flavour, but cooked correctly, it adds such an amazing sweetness of flavour to any dish and in this Creamy Garlic Pork and Cabbage - it's heavenly.
Normally to cook garlic you need lots of oil or butter or both to prevent it from burning. If you burn the garlic, the result is a horrid bitter taste that is not pleasant.
So to create a healthy version, I use just a little bit of spray oil and some chicken stock. Using a little bit of stock and reducing it down in place of the oil, does the same trick that all that butter and oil will do.
Make sure when you cook the cabbage you let it absorb most of that stock. Otherwise the sauce will be a lot more runny when you add in the cream cheese.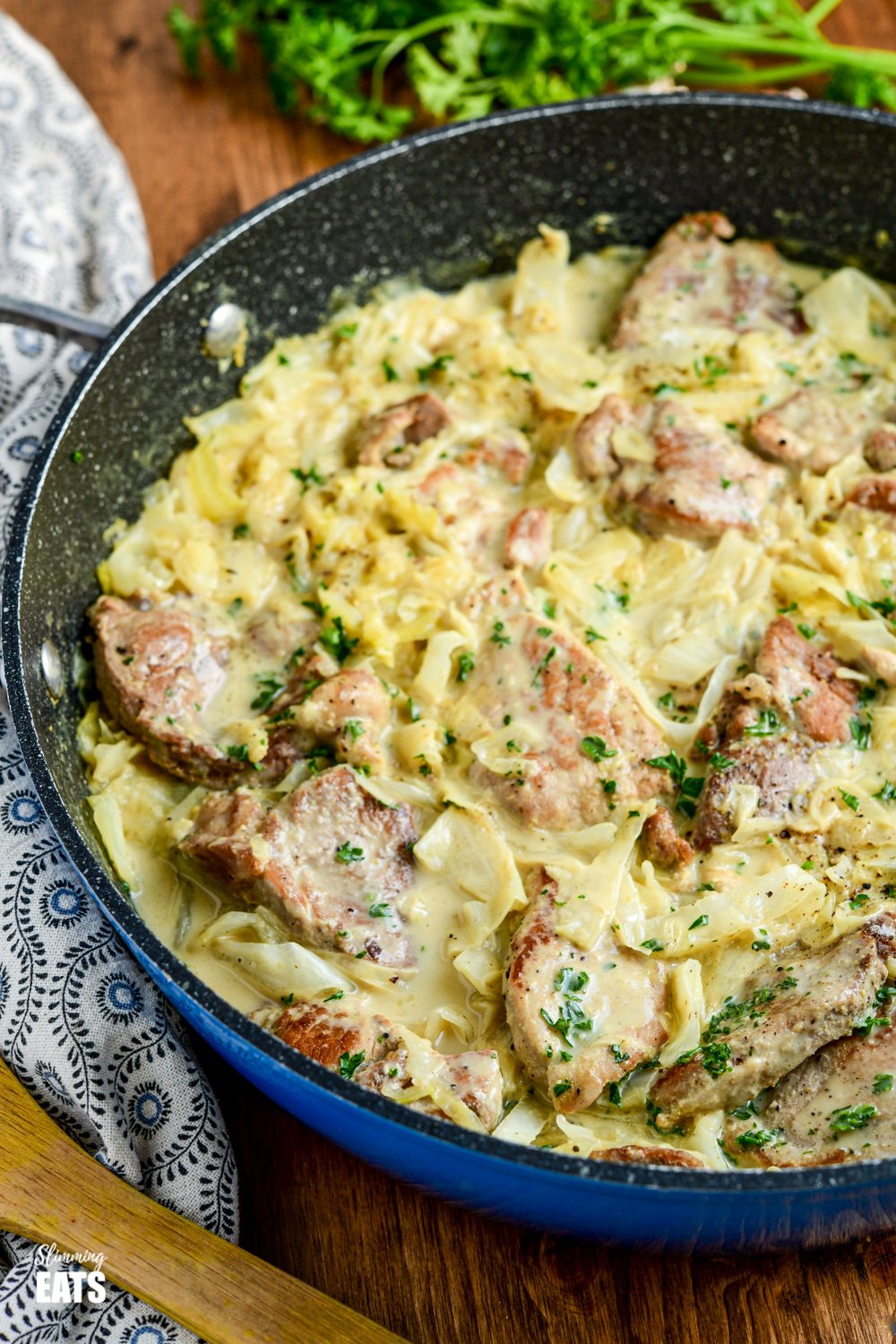 Can I use Quark, Instead of cream cheese?
It's a question I get asked a lot of recipes where I use low-fat cream cheese. But the answer is no. Quark and cream cheese are really not the same. They taste different for a start. Quark is not at all creamy and has more of a sour taste to it. Fine in some recipes, but where you are trying to make something creamy, I tend to avoid.
The other thing with quark is it really can only be added to a dish at the very end otherwise it splits and your dish will not look at all pleasant.
I know you are trying to save a few syns, but for the sake of a couple of syns, use the cream cheese, don't use quark.
You can use any brand of low-fat cream cheese that you like. The popular ones out there are Philadelphia, but store brand versions are just as good. Just make sure you always double-check the syn value of the one you use, as they can vary and the values given are based on the ingredients I have used.
Creamy Garlic Chicken with Cabbage? or Creamy Garlic Pork with Cabbage Pasta
Don't fancy pork? Then go right ahead and swap out that pork for some skinless boneless chicken thighs. I won't judge, because I may well do that myself next time. This will be as delicious with chicken as it is with pork. Yum!!
and now it's time to let you into a secret. This recipe serves 6 people. I know that's a lot of people, but I had a lot of pork and a lot of cabbage to use up. However my family is only 4 people, so do you want to know what I did with the leftovers the next day? I cooked up some Fettucine pasta and sliced the pork into smaller pieces and stirred the whole lot into the pasta with a little reserved pasta water. Oh my gosh - amazing!! You could even sprinkle with a little grated parmesan if you have a Healthy Extra Spare, now there's a thought.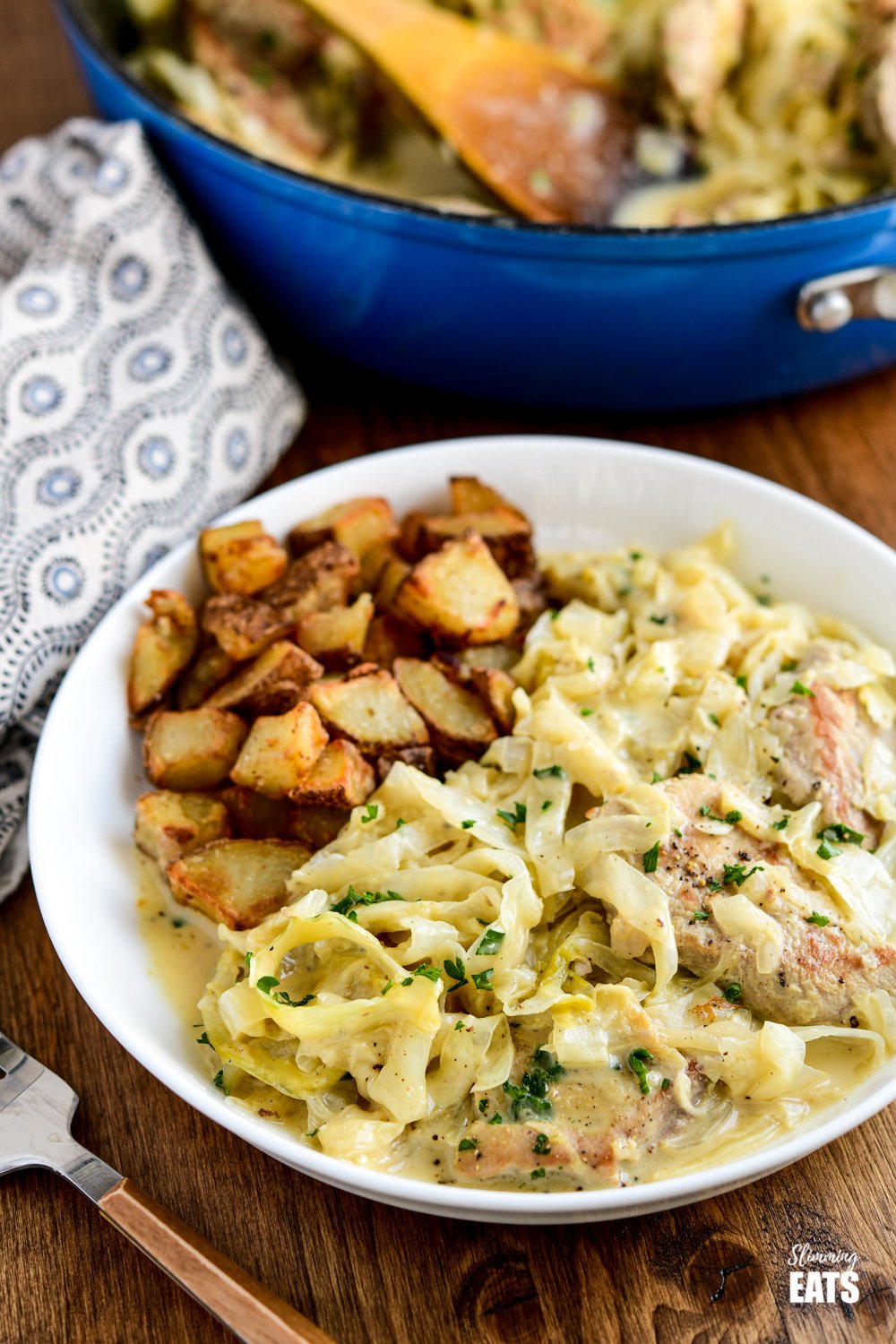 Need some Sides for this Creamy Garlic Pork and Cabbage?
I went for some simple chopped russet potatoes, still in their skins cooked in the Tefal Actifry with a little Avocado spray oil and a pinch of sea salt.
But if you need some other suggestions, check out these:
More Delicious Pork Recipes:
or head on over to my Full Recipe Index with over 850 delicious Slimming World and Weight Watchers recipes all fully searchable by meal type, ingredients, syn value and smart points etc.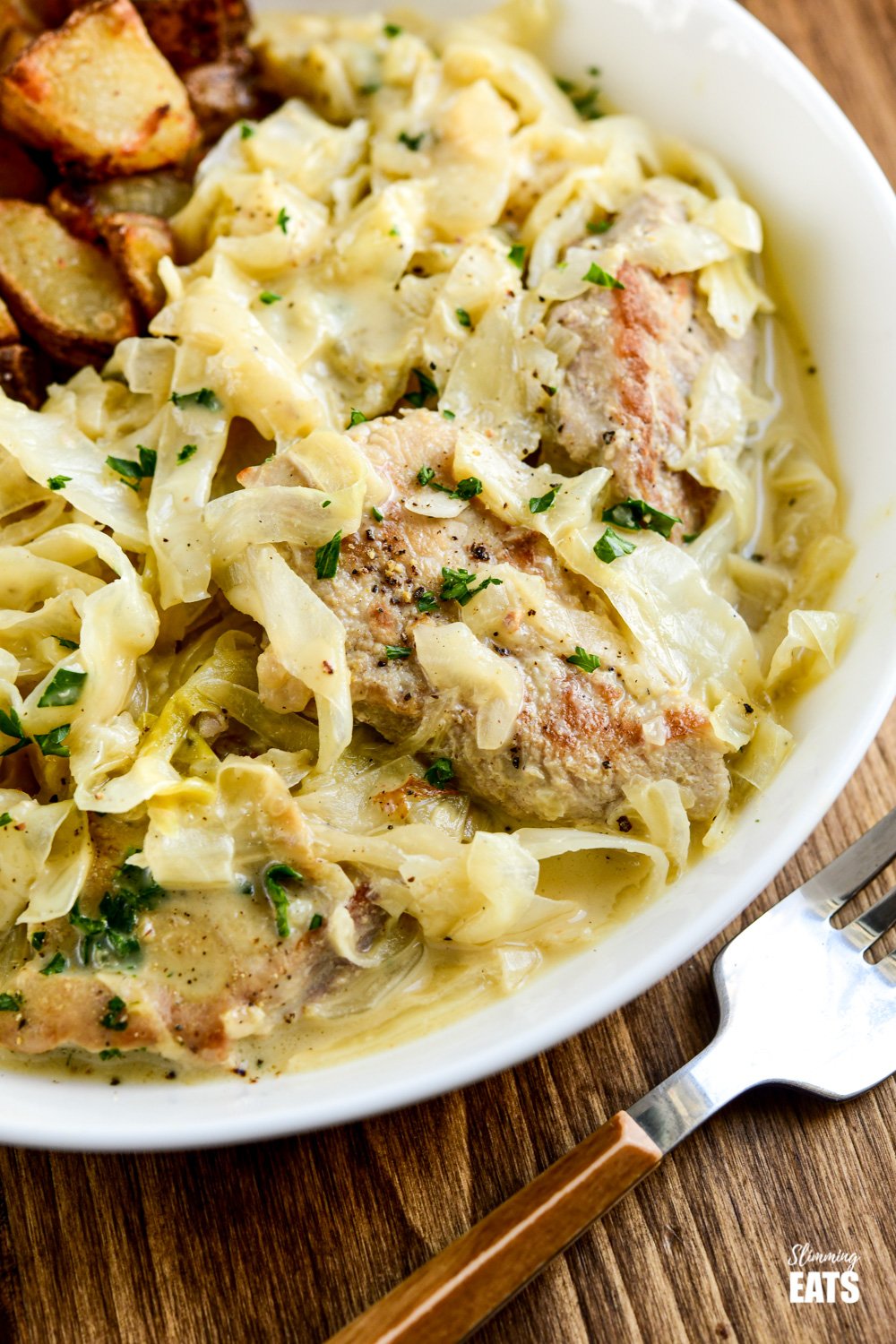 ---
LET'S CONNECT!
Find me ON FACEBOOK | INSTAGRAM | PINTEREST | TWITTER | and YOUTUBE, come and follow me TO MAKE SURE YOU KEEP UP TO DATE ON ALL NEW RECIPES.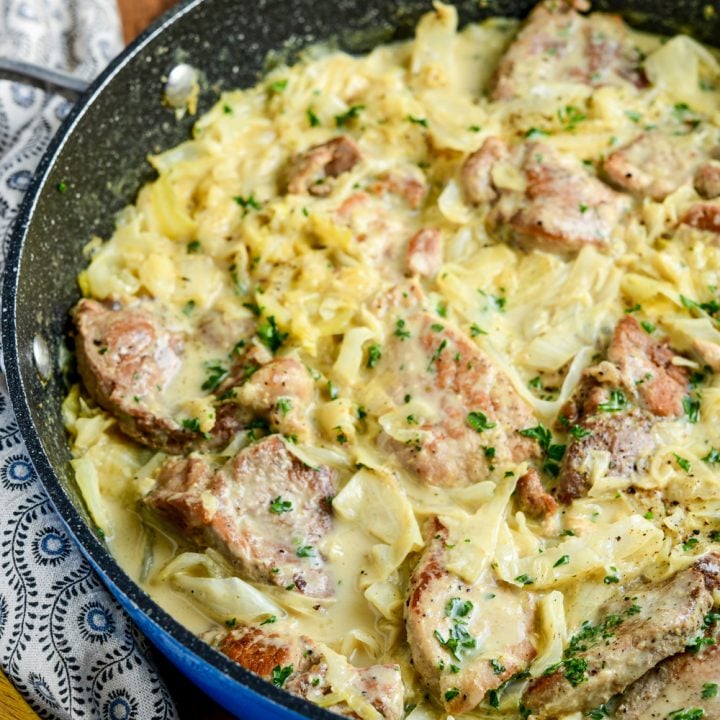 Creamy Garlic Pork with Cabbage
Yield: SERVES 6

Prep Time: 15 minutes

Cook Time: 30 minutes

Total Time: 45 minutes

Creamy Garlic Pork with Cabbage - pork pieces in an irresistible lighter creamy garlic sauce with delicious shredded cabbage for a perfect any night of the week dinner.
Ingredients
1kg (2.25lb) of pork chops, remove any bone and visible​ fat
8 cloves of garlic, halved lengthways​
800g (28oz) of green cabbage, shredded
1.5 cups (360ml) of chicken stock, plus ¾ cup (180ml) of chicken stock (so 2.25 cups (540ml) altogether)
¼ tsp of garlic powder
¼ tsp of onion powder
150g (5.5oz) of low-fat​ cream cheese (15 syns)
salt and black pepper
fresh chopped parsley
cooking oil spray (I used avocado)​
Instructions
Slice the pork into chunks, keeping it to large pieces (I prefer to keep the pieces big as it keeps the pork tender)
Spray a deep frying pan with some cooking oil spray over a medium high heat
Add the pork in batches and brown on both sides until lightly golden, remove and set aside.
Once all the pork is browned, reduce heat to medium and spray the pan with some more cooking oil spray, add the garlic cloves and fry just till they start to go a light golden, watch carefully, as you don't want them to burn.
Then using the ¾ cup of chicken stock, add a little bit of the stock at a time to prevent the garlic from burning, reduce down around the garlic as you do, adding a little bit more until the garlic has really softened. Be patient with this stage!! It's important the garlic is cooked but not burnt. So watch that pan. It's also important you reduce all the stock down in stages.
Add in the shredded cabbage, onion powder, garlic powder and the remaining chicken stock, season well with salt and black pepper, give a good toss in the pan, to distributue all the cooked garlic around the cabbage.
Add lid and let it cook on medium for about 12-15 minutes, until the cabbage is lovely and softened and the stock is pretty much absorbed.
Add in the pork into the pan with an juices that has released and toss to combine.
Stir in the cream cheese until melted and continue to heat until sauce the pork is cooked through and the sauce is creamy and coats everything.
Season as needed with salt and black pepper and sprinkle with some fresh chopped parsley.
Serve with your choice of sides.
Enjoy!!!
Notes
This recipe is gluten free, Slimming World and Weight Watchers friendly
Slimming World - 2.5 syns per serving
WW Flex/Freestyle Smart Points - 5 per serving
Gluten free - use a gluten free stock

*suitable for freezing

If you wish to share this recipe, then please do so by using the share buttons provided.

Do not screenshot or post recipe or content in full.

Nutritional information is an estimate and is to be used for informational purposes only. Ingredients can vary greatly from brand to brand and therefore it would be impossible to give accurate information.

All images and content on Slimming Eats are copyright protected.

Check Legal section, for Full Disclaimer, Disclosure and Privacy Policy.
Recommended Products
As an Amazon Associate and member of other affiliate programs, I earn from qualifying purchases.
Nutrition Information
Serving Size 1 SERVING
Amount Per Serving Calories 312Total Fat 8.1gSaturated Fat 3.9gCholesterol 16.7mgSodium 464mgCarbohydrates 10.7gFiber 3.2gSugar 6.5gProtein 46.3g

Nutritional information is an estimate and is to be used for informational purposes only. Ingredients can vary greatly from brand to brand and therefore it would be impossible to give accurate information.
It is the responsibility of the Reader to assure the products or ingredients they use in any recipes from Slimming Eats are allergen-free (gluten-free, egg-free and/or dairy-free, for example) or Vegetarian friendly. Slimming Eats assumes no liability for inaccuracies or misstatement about products, opinions or comments on this site.
Nutritional information is an estimate and is to be used for informational purposes only
Looking for some additional support on your weight loss journey? Did you know Slimming Eats has a friendly Slimming World Facebook Support Group where you can get daily meal ideas and recipe ideas? Come and check us out, we'd love to have you join.
Looking for some other recipes? Head on over to my RECIPE INDEX for over 900 Slimming World & Weight Watchers recipes for you to browse through, all fully searchable by meal type, Ingredients, syn value and WW Smart Points etc
All images and content on Slimming Eats are copyright protected.
If you wish to share this recipe, then please do so by using the share buttons provided. Do not screenshot or post recipe or content in full.
* Disclosure: This post may contain affiliate links. As an Amazon Associate and member of other affiliate programs, I earn from qualifying purchases. We are a participant in the Amazon Services LLC Associates Program, an affiliate advertising program designed to provide a means for us to earn fees by linking to Amazon.com and affiliated sites." Check Legal section, for Full Disclaimer, Disclosure and Privacy Policy.