Delicious tender caramelized BBQ Slow Cooker Pulled Pork Sandwich - a perfect family meal!!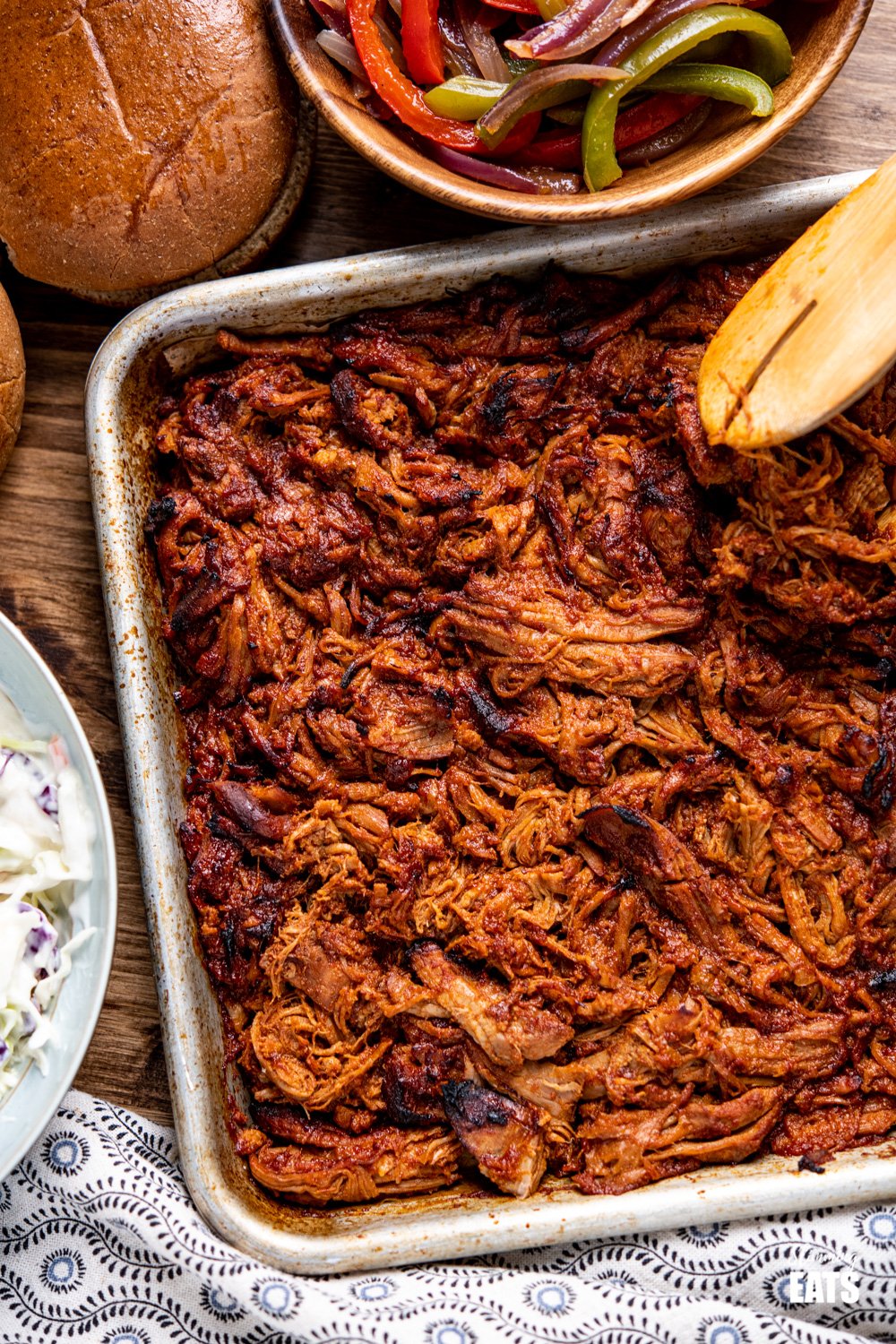 TENDER FALL-APART SLOW COOKER PULLED PORK
I love a Pulled Pork sandwich, but it can be time-consuming to cook, so I decided to create a slow cooker pulled pork version. That way, I can leave the pork to cook while I get on with other things.
Using the slow cooker has other benefits too, as it makes the meat so tender and juicy and it literally falls apart when you go to shred it with two forks, kinda how pulled pork gets the name of course - the pulling apart of the meat to shred it.
Obviously, the sauce in a Pulled Pork sandwich is super important, get that wrong and it's just not going to hit the spot. So my sauce is just the right combination of smoky and sweet.
I know it is tempting to use a sweetener or similar to try and keep a recipe syn free, but trust me when I say you just won't get the same result. For the sake of a few syns for the maple syrup in my sauce recipe, it is totally worth it, and when you divide up into portions, it's hardly any syns at all.
To go alongside the delicious pulled pork, I also sauté up some peppers and onion, it goes perfectly as a topping on these Slow Cooker Pulled Pork Sandwiches.
Once the pulled pork is out of the slow cooker shredded and mixed with the sauce, I also like to put it under the grill for a few minutes, it just gives the meat a lovely caramelization on top. This is optional, but seriously it takes it to a whole over level.
BARBECUE SAUCES AND PULLED PORK
Being originally from the UK, Pulled Pork wasn't really on my radar, it's not a well-known dish, or certainly wasn't when we lived there.
The first time we tried it was when we took a trip down south to Kentucky. I was so surprised how good it tasted as it's not a recipe that looks particularly visually appealing when served to you.
Many smokehouses, will serve the pulled pork plain with no barbecue sauce mixed in, that might seem odd, but it can actually be the best way really, as you can then really appreciate the seasoning they use, which can vary greatly depending on what part of the USA you are in. They also can use different ways of smoking the meat, that gives it that amazing flavour.
Then on the table where they serve your food, comes a whole variety of different barbecue sauces to choose from, that way you can enjoy the pulled pork with the type of barbecue sauce you prefer - some of the main varieties I have seen are sweet and smokey (my fav and the style I use in this recipe), then there is original, mustard style - generally called Carolina, spicy and then the really really spicy one, which is usually kept off the table and only available on request, you seriously don't want to add that to your plate by mistake.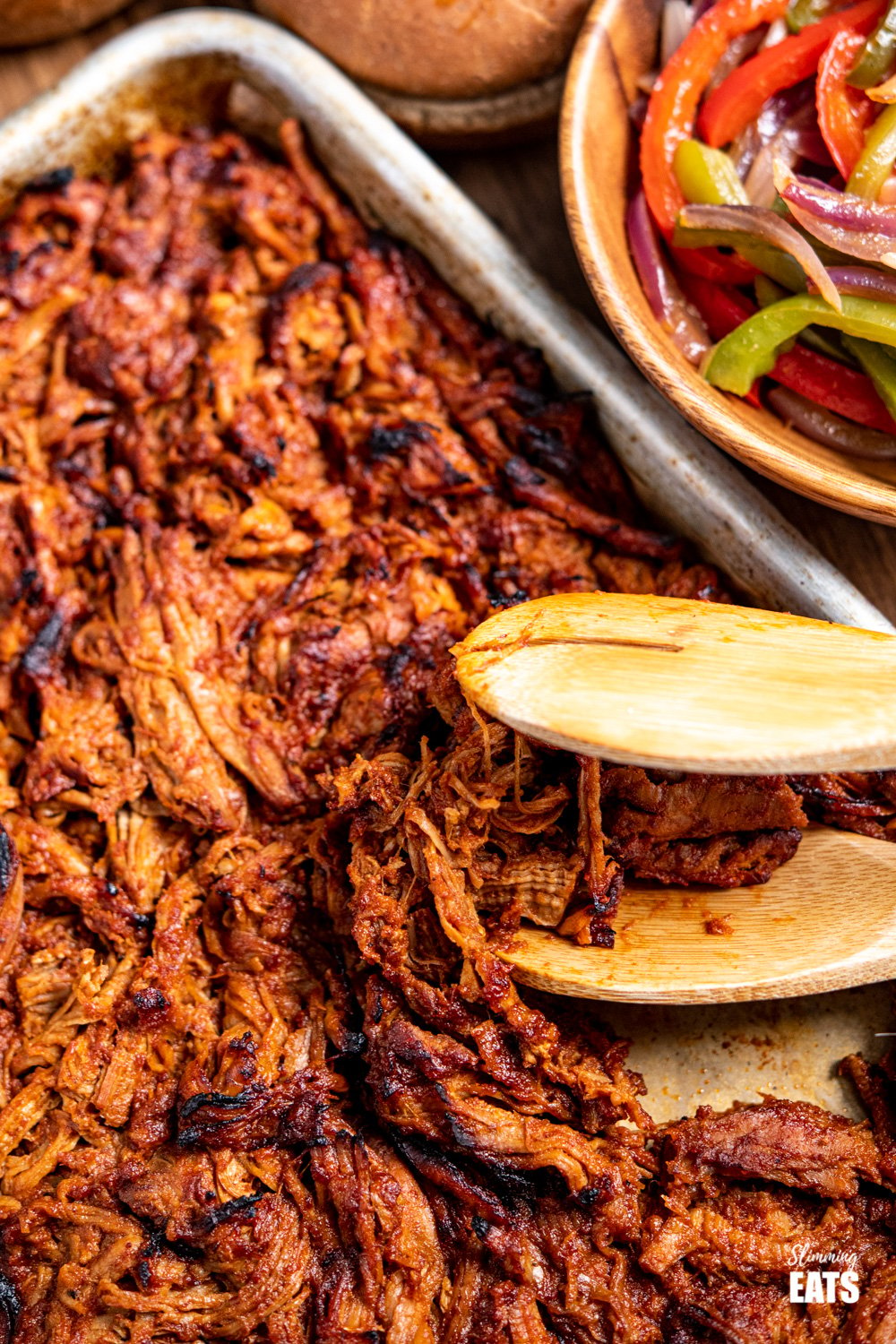 DELICIOUS SMOKEY BBQ PULLED PORK
All just examples based on the smokehouse I have been to, there can be many many more varieties of barbecue sauce and just like with the seasoning and smoking of the meat, the type of popular BBQ sauce can depend on which state you are in.
That is usually if you order just pulled pork, if you go for a Pulled Pork sandwich or similar, then it will usually come with a barbecue sauce mixed into the meat. The type is usually given on the menu. Most Pulled Pork sandwiches I have tried have always been with a sweet and smokey sauce - yum!!
I'm sure a lot of people who have never tried Pulled Pork before would take a look at and think "that's not for me", but it's something that has to be tried. I've never come across someone who did try it and say they didn't like it. It's a pretty unique recipe that's for sure, but one which is oh so good. So many different ways to serve it too.
Love this slow cooker pulled pork? Check out some of these other Pulled Pork recipes:
or head on over to my Full Recipe Index with over 850 delicious Slimming World and Weight Watchers recipes all fully searchable by meal type, ingredients, syn value and smart points etc.
I serve this slow cooker pulled pork in a whole wheat bun, 60g/2oz one qualifies as a Healthy Extra B choice topped with the delicious sautéed peppers and onion, then some Syn Free Fries and homemade coleslaw, but if you don't have a HEb spare, this is equally delicious just with the fries and some salad or maybe even some corn on the cob.
Kitchen Items used for this Slow Cooker Pulled Pork:
---
LET'S CONNECT

!
Find me ON FACEBOOK | INSTAGRAM | PINTEREST | TWITTER | and YOUTUBE, come and follow me TO MAKE SURE YOU KEEP UP TO DATE ON ALL NEW RECIPES.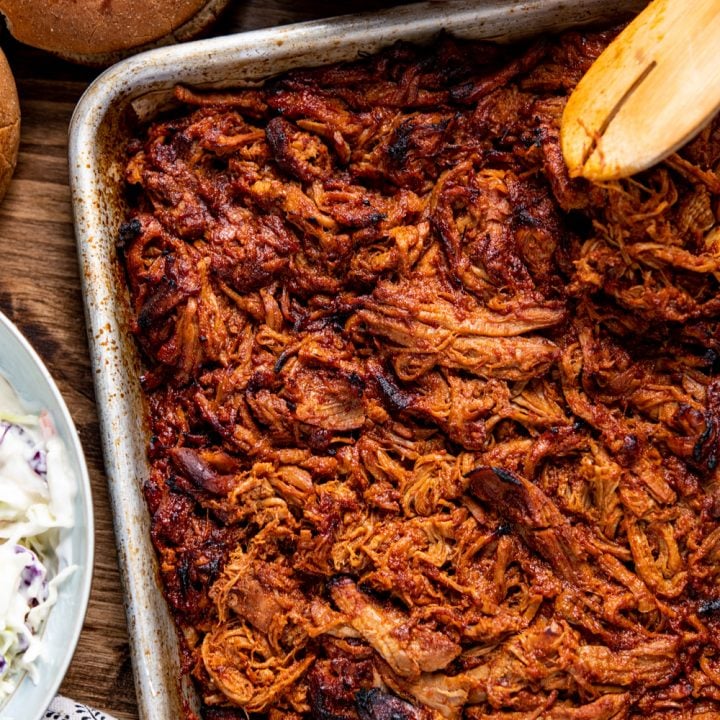 Slow Cooker Pulled Pork Sandwich
Cook Time:
6 hours
15 minutes
Total Time:
6 hours
20 minutes
Delicious tender caramelized BBQ Slow Cooker Pulled Pork Sandwich - a perfect family meal!!
Ingredients
For the spice rub:
½ tsp of garlic powder
½ tsp of onion powder
1 tbs paprika
1  tsp of smoked paprika
1 tsp of chilli powder
¼ tsp of cumin
salt and black pepper
For the barbecue sauce:
1 cup (240ml) of passata
1 cup (240ml) of water
1 tbs of tomato paste
125g (4.5oz) onion, diced
2 cloves of garlic crushed
2 tablespoons of balsamic vinegar (good quality)
1 teaspoon of Worcestershire sauce
2 tablespoons of maple syrup (4 syns)
2 tablespoons of soy sauce (not dark) or coconut aminos
1 tablespoon of paprika
1 teaspoon of chilli powder
½ teaspoon of onion powder
½ teaspoon of garlic powder
¼ teaspoon of mustard powder
2 teaspoons of liquid smoke (optional) or use some smoked paprika for the smoky taste, add a little and taste to preference
spray oil 
For the pulled pork:
750g (26.5oz) of pork tenderloin or pork shoulder (fat removed), 
1 red pepper sliced
1 green onion
1 red onion sliced
4 x 60g (4x2oz) whole wheat rolls (4 x HEb's)
Barbecue Sauce, from above
Salt and Pepper
Instructions
Slow Cooker
Mix spice rub seasoning in a bowl and then rub into pork.
Spray a small saucepan with olive oil spray and add the onion and garlic and cook until golden.
Add all other ingredients for the barbecue sauce and bring to the boil, simmer for approx 15 mins and then blend with a hand blender or food processor. If sauce is still slightly watery after blending, add back to the saucepan and simmer to reduce down to thicken before adding to the slow cooker.
Add the pork to the slow cooker and pour over the top the barbecue sauce and cook on the high (6 hour) setting or you can cook on the low setting for longer.
When the pork is almost cooked, spray a frying pan with some spray oil, add the onions and peppers and fry till lightly caramelized.
When the pork is ready, using two forks, pull the pork into shreds and mix around into the barbecue sauce.
Optional Step - Place on a baking tray and place under the grill for 5 mins until top is slightly caramelized, toss with some tonges and place back under the grill to repeat again
Season with salt and pepper as needed
Serve the pulled pork topped with some of the onions and peppers in the whole wheat rolls (I like to spray over the top with a little spray oil and bake rolls in the oven to make slightly crispy) or on its own with salad, slaw and syn free chips
Notes
This recipe is gluten free, dairy free Slimming World and Weight Watchers friendly

Slimming World - 1 syn and 1 HEb per serving
WW Flex/Freestyle Smart Points - 9 per serving
Gluten Free - use a gluten free roll

*suitable for freezing

If you wish to share this recipe, then please do so by using the share buttons provided.

Do not screenshot or post recipe or content in full.

Nutritional information is an estimate and is to be used for informational purposes only. Ingredients can vary greatly from brand to brand and therefore it would be impossible to give accurate information.

All images and content on Slimming Eats are copyright protected.
Check Legal section, for Full Disclaimer, Disclosure and Privacy Policy. 
Recommended Products
As an Amazon Associate and member of other affiliate programs, I earn from qualifying purchases.
Nutrition Information
Yield

4
Serving Size

1 sandwich
Amount Per Serving
Calories

456
Total Fat

8.8g
Saturated Fat

2.5g
Cholesterol

130mg
Sodium

1087mg
Carbohydrates

44.8g
Fiber

5.2g
Sugar

14.5g
Protein

45.7g
Nutritional information is an estimate and is to be used for informational purposes only. Ingredients can vary greatly from brand to brand and therefore it would be impossible to give accurate information.
Disclosure: This post may contain affiliate links. As an Amazon Associate and member of other affiliate programs, I earn from qualifying purchases. We are a participant in the Amazon Services LLC Associates Program, an affiliate advertising program designed to provide a means for us to earn fees by linking to Amazon.com and affiliated sites." Check Legal section, for Full Disclaimer, Disclosure and Privacy Policy.