Crack Chicken Gnocchi - delicious tender pillows of gnocchi in a creamy delicious ranch style sauce with juicy chicken breast, melted cheddar and golden bacon. The only regret you will have is not making this dish.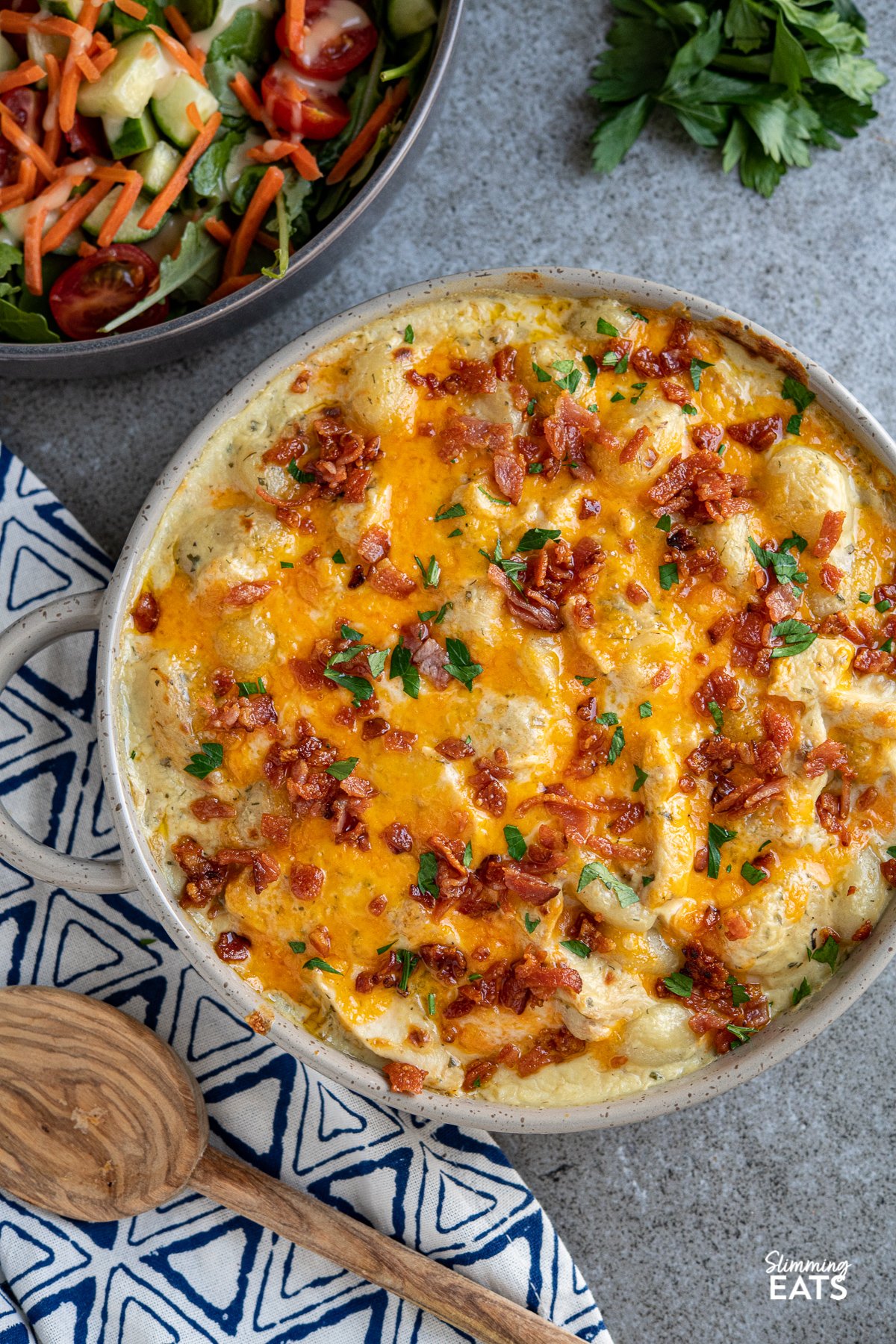 Gnocchi with Creamy Sauce
My family are on a bit of a gnocchi kick right now, the kids absolutely love it and it's so quick to cook that it makes an easy meal any night of the week. They love it just simply tossed in some pesto or of course my delicious Bolognese Gnocchi Bake which has been well received by you all and is a really popular recipe on Slimming Eats.
Tonight however the kids wanted a creamy sauce and one of there all time favourite creamy recipes is my Slow Cooker Crack Chicken and you can guess where I am going here? I had the amazing idea to combine the two together for a delicious Crack Chicken Gnocchi. The kids were close to licking there bowls this was so darn good.
What is Crack Chicken?
You may be wondering, what on earth is Crack Chicken? It's a bit of a strange name right? I can only assume it got it's name because it's so good it's addictive.
Traditional recipes you might find use Ranch seasoning, cream cheese, chicken, cheddar and bacon, some add mayonnaise and usually the final dish is served in a bun like a burger. When I cook however I usually serve with rice or mashed potatoes - heavenly!!
But I have to say this Crack Chicken Gnocci beats any other combination. It's so so good and pure comfort in a bowl.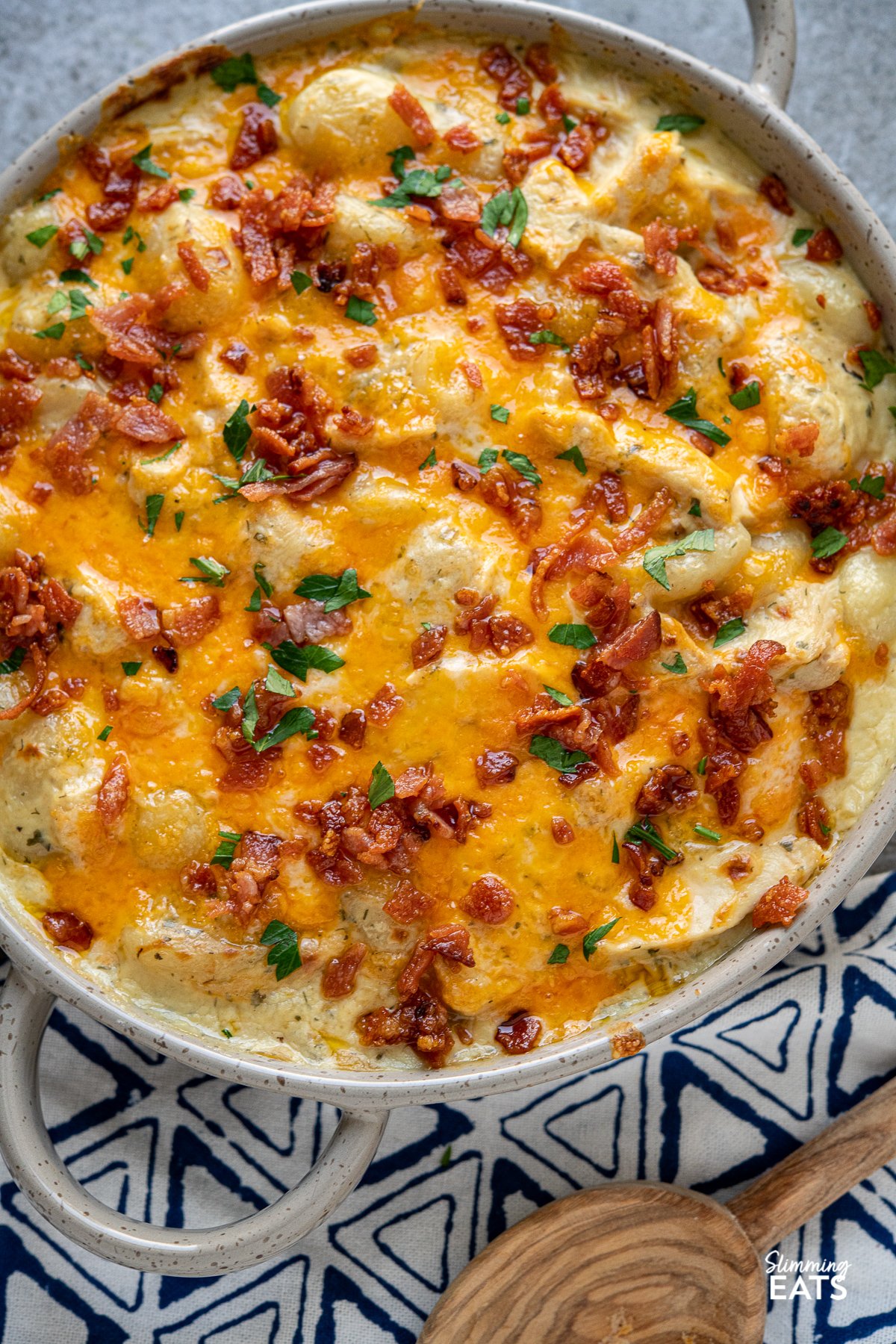 Best Cream Cheese for Crack Chicken
For my slow cooker Crack Chicken recipe I use a light cream cheese (like Philadelphia), however with this recipe to keep the cals lower, I opt for laughing cow. Primula soft cheese may work also, but it's not available here in Canada so I haven't tested it.
If however you are not following Slimming Eats and would prefer to use cream cheese then feel free to make the swap, you will want to use the exact same amount.
Warning!! Do not try to substitute with quark, you will completely ruin the dish, quark will not yield a creamy sauce, it's taste is actually sour and it also has a tendency to split when heated.
Ranch Seasoning
Other recipes for Crack Chicken use packets of ranch seasoning mix, but I prefer to use a mixture of my own seasonings and dried herbs along with fresh ingredients like shallots and garlic cloves, it just adds a much fresher delicious flavour.
Traditionally ranch has buttermilk powder, but that can sometimes be quite hard to source, especially in the UK, instead I use some milk with a little lemon juice to add that similar flavour and it works perfectly.
Poaching the Chicken Breast
You may be wondering - why do you poach the chicken breast? is it not easier to just brown it in the pan? I prefer to poach the chicken in a little stock for this recipe, because it just keeps the chicken so much more juicy and tender.
However, if you have some leftover cooked chicken from Sunday dinner for example, feel free to swap and use that instead.
Can I cook the gnocchi separately?
I have only cooked this recipe as per my method in the recipe box, any variation from that would need to be an experiment on your part, cooking the gnocchi in the sauce helps it thicken with the starch, so your sauce may not be as creamy or thick if you try to cook it separately.
It cooks super quick too and it's just so much easier to throw it in the same pan.
Note: I use the dry potato gnocchi that comes in a vacuum pack for this recipe, fresh may cook in less time and not yield the same result. If you want to use fresh gnocchi, I recommend letting the sauce cooking until it starts to thicken and just add the fresh gnocchi in for a couple of minutes it won't take as long to cook and will disintegrate if you cook for too long.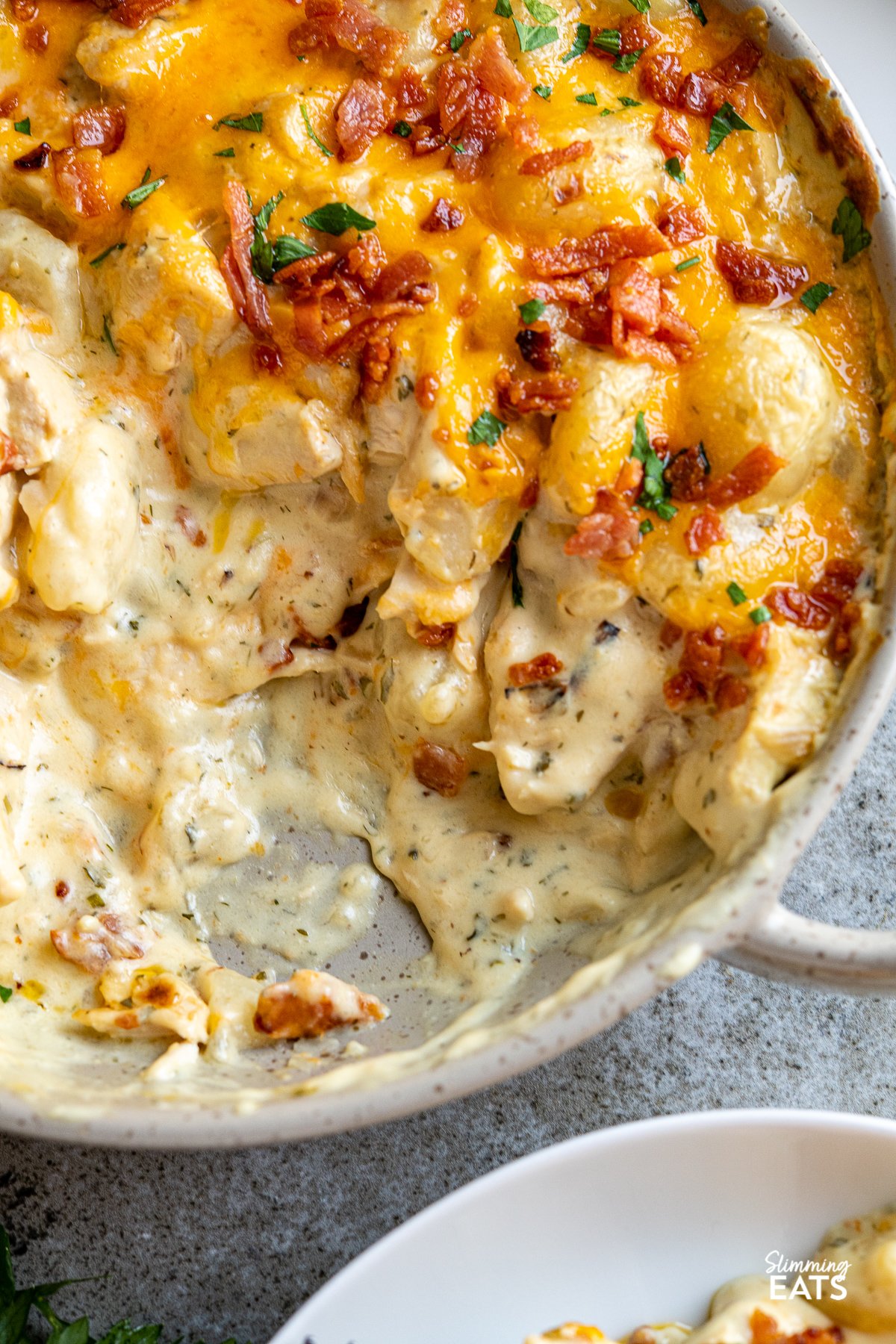 Best Bacon for Creamy Sauces
You definitely want to use smoked bacon for this Crack Chicken Gnocchi as it will add so much more flavour. I use Lous Back Bacon with visible fat removed, it doesn't ever have much fat on it. Smoked Bacon Medallions are a good choice for lean bacon also.
The cooking of the bacon is the point you don't want to rush. Try and cook it too fast and it will cook unevenly and burn, but don't cook enough and it will look anaemic and the sauce won't take on that lovely smokey flavour, As we use the flavour left in the pan from cooking the bacon when frying the shallot and garlic.
I fry the bacon in a good quality non stick pan with some spray oil and really take the time to ensure every morsel is really lovely and golden
Sides for Crack Chicken Gnocchi
You could serve this with some steamed or roasted greens of choice, like broccoli, asparagus or green beans.
I paired it with a simple mixed salad of baby spinach/kale with grated carrots, tomatoes and cucumber.
More Creamy Recipes
Love Creamy recipes like these? Check out some others on Slimming Eats:
or if you would like more recipe ideas - head on over to the FULL RECIPE INDEX where you will find over 900 delicious recipes and can search by ingredients, course, diet and more.
All with estimated calories and Slimming Eats and Weight Watcher Smart Points values.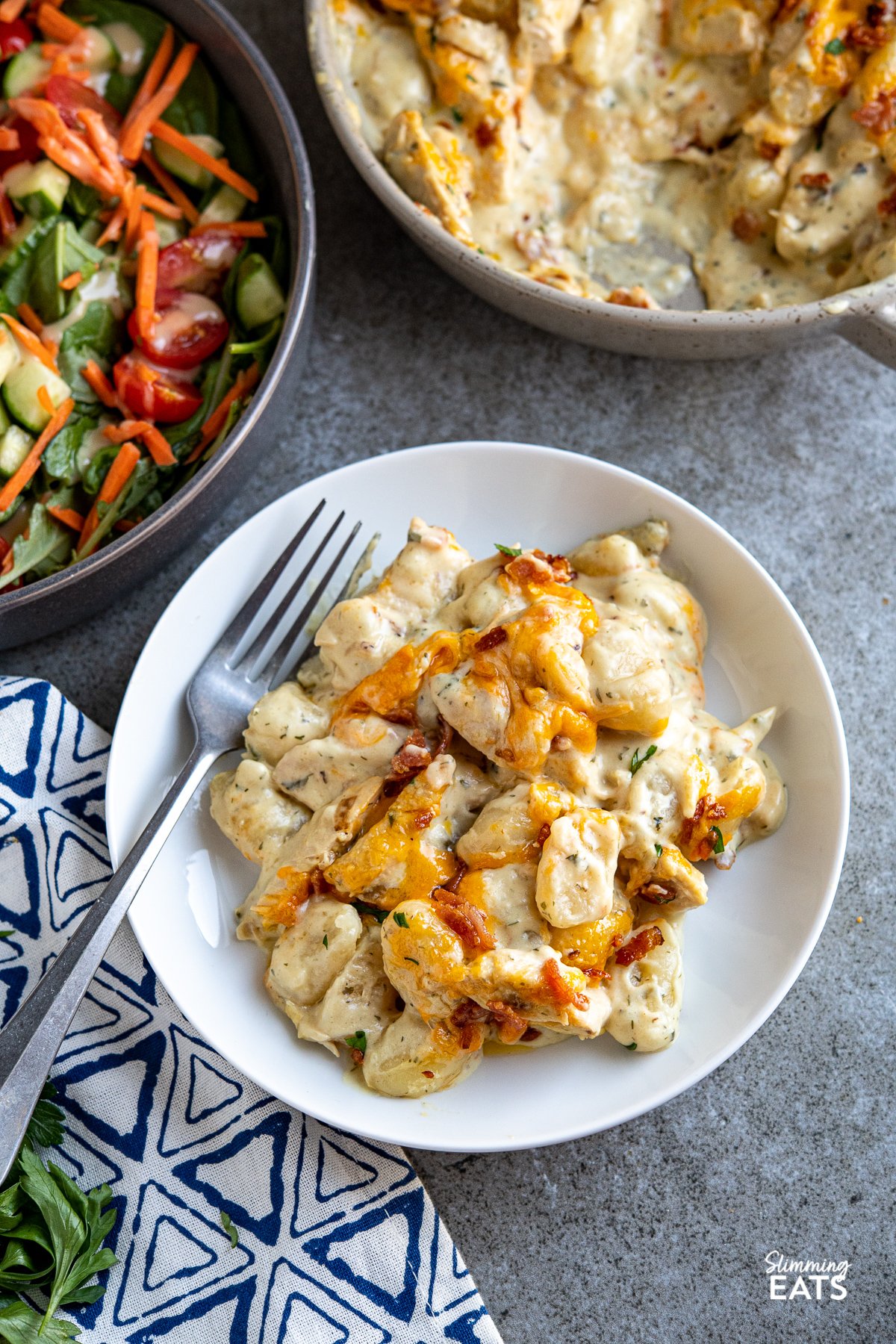 ---
LET'S CONNECT!!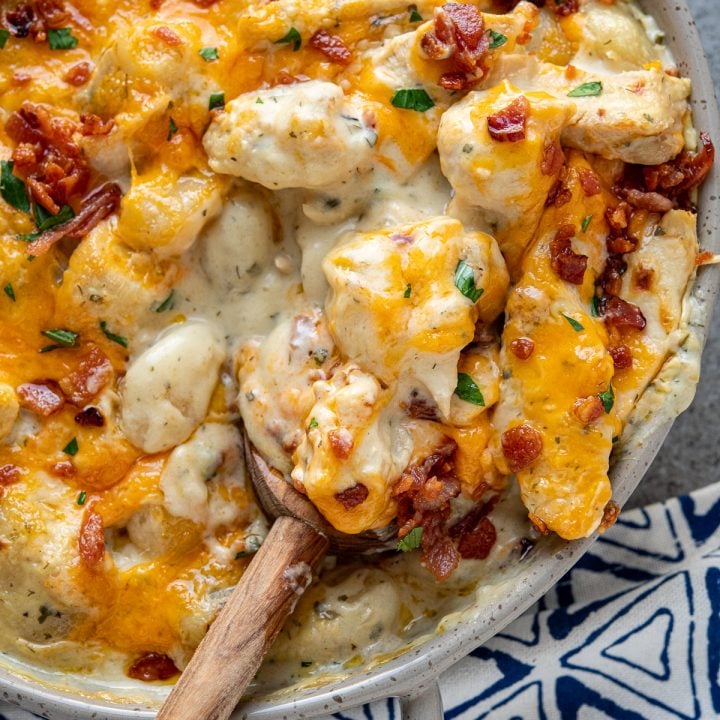 Crack Chicken Gnocchi
Crack Chicken Gnocchi - delicious tender pillows of gnocchi in a creamy delicious ranch style sauce with juicy chicken breast, melted cheddar and golden bacon. The only regret you will have is not making this dish.
Ingredients
2 small uncooked chicken breasts, approx 360g (12.7oz)
3.5 cups (840ml) of chicken stock (low sodium)
75g (2.5oz) of uncooked lean smoked back bacon (fat removed), diced small
1 shallot, finely diced
2 cloves of garlic, minced
½ cup (120ml) of 2% milk
½ tablespoon lemon juice
175g of laughing cow light (or can use light cream cheese)
½ tablespoon of cornstarch
1 teaspoon of dried parsley​
1 teaspoon of dried chives
1 teaspoon of onion powder
½ teaspoon of dried dill
½ teaspoon of garlic powder
500g (17.5oz) of potato gnocchi (dry in a vacuum pack)
60g (2.2oz) of cheddar, grated (do not use pre-grated) - or Red Leicester
olive oil spray
salt and black pepper
fresh chopped parsley (or can use chopped spring onions or chives)
Instructions
Add chicken to a saucepan fully submerged in 2 cups (480ml) of the stock, bring to a boil and then simmer for approx 10-12 minutes until cooked. Drain, remove from pan, allow chicken to cool slightly and then slice up into pieces and set aside. (If you prefer you can use the stock you poached the chicken in towards sauce for Gnocchi (but the stock must equal 360ml for the sauce).
While the chicken is poaching, Spray a non stick frying pan over a medium high heat with olive oil spray.
Add the bacon and fry until evenly golden and crisp. Set aside.
In the same frying pan, spray a little more olive oil spray and add the shallot and fry until lightly golden and softened.
Add in the minced garlic cloves and fry for 30 seconds just infuse the flavour.
Add the remaining stock (1.5 cups/360ml), milk, lemon juice, dried herbs, dried seasoning and laughing cow and whisk until it is all melted into the stock and no visible lumps appear. Mix the cornstarch with a couple of tablespoons of water and add this into the sauce stirring as you do.
Add the poached chicken and uncooked gnocchi, and bring to a boil and then let it bubble on a medium heat for 5 minutes until the gnocchi is cooked and sauce is creamy and thick. (if sauce is not thickening your heat is too low). Once gnocchi is cooked and sauce is thickened, taste and adjust seasoning with some salt and black pepper if needed.
Transfer to an ovenproof dish and top with the grated cheddar, place until the grill (broil) for a couple of minutes until the cheddar is melted and very lightly golden.
Sprinkle with the cooked golden crispy bacon and some chopped fresh parsley (or spring onions or chives).
Serve and Enjoy!!
Notes
Please see below for full nutritional info and additional details about recipe:
Calories - scroll down to nutritional info box
WW Points and other Slimming or Weight Loss programs -   due to plans regularly changing and updating, we recommend calculating with the official tools you get as a member to those plans to ensure accuracy of values. 
If you wish to share this recipe, then please do so by using the share buttons provided at top of this post.
DO NOT COPY AND/OR PASTE FULL RECIPES OR SCREENSHOTS OF ANY CONTENT FROM SLIMMING EATS TO ANY SOCIAL MEDIA OR WEBSITE, IT IS STRICTLY PROHIBITED.
ALL IMAGES AND CONTENT ON SLIMMING EATS ARE COPYRIGHT PROTECTED
Nutritional information etc are an estimate and are to be used for informational purposes only. Ingredients can vary in values from brand to brand and therefore it would be impossible to give accurate information. It is always advised that you calculate values yourself by the ingredients you use and the tools provided to you as a member of the programme you are following.
It is the responsibility of the Reader to assure the products or ingredients they use in any recipes from Slimming Eats are allergen-free (gluten-free, egg-free, soy-free and/or dairy-free, for example). Slimming Eats assumes no liability for inaccuracies or misstatement about products, opinions or comments on this site. 
Check Legal section, for Full Disclaimer, Disclosure and Privacy Policy.
Recommended Products
As an Amazon Associate and member of other affiliate programs, I earn from qualifying purchases.
Nutrition Information
Yield

4
Serving Size

1 SERVING
Amount Per Serving
Calories

530
Total Fat

14g
Saturated Fat

7g
Trans Fat

0g
Unsaturated Fat

11g
Cholesterol

146mg
Sodium

905mg
Carbohydrates

58g
Fiber

2g
Sugar

6g
Protein

44g
Nutritional information, values, points etc are an estimate and is to be used for informational purposes only. Ingredients can vary greatly from brand to brand and therefore it would be impossible to give accurate information. It is always advised that you calculate by the ingredients you use.
Disclosure: This post may contain affiliate links. As an Amazon Associate and member of other affiliate programs, I earn from qualifying purchases. We are a participant in the Amazon Services LLC Associates Program, an affiliate advertising program designed to provide a means for us to earn fees by linking to Amazon.com and affiliated sites." Check Legal section, for Full Disclaimer, Disclosure and Privacy Policy.