If you love a delicious fuss-free meal, this Chicken, Potato, Vegetable Tray Bake is perfect!!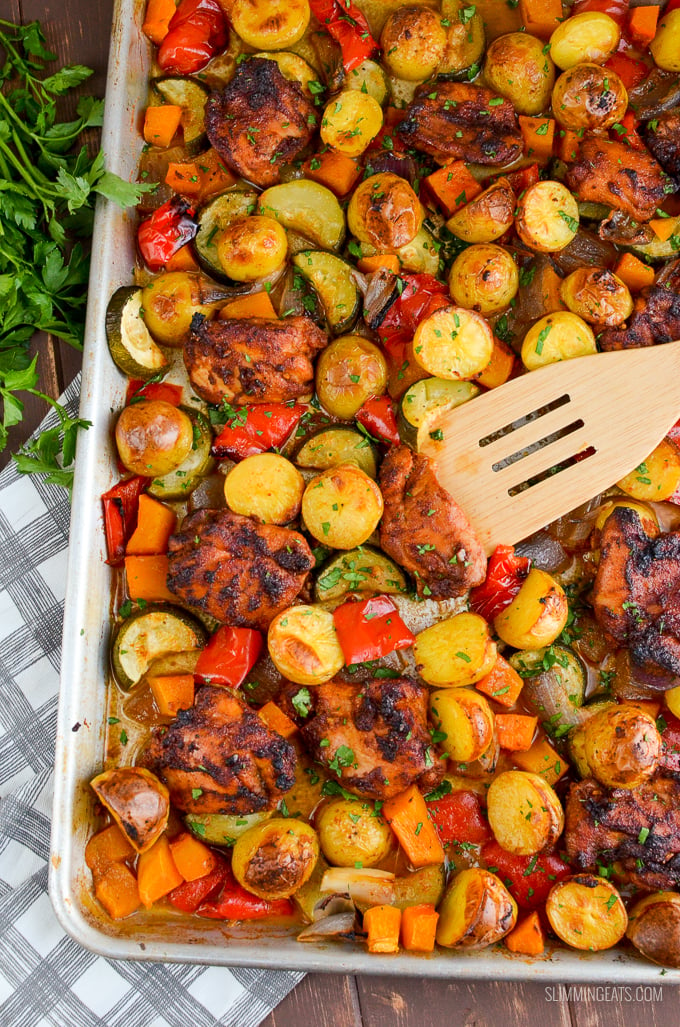 Today's dinner needed to be something simple, so a tray bake seemed like the perfect meal to make.
I had a cinema date planned to see the new Gerard Butler film - Geostorm. Firstly - Can I just stop here for a minute mention how gorgeous he is!! Obviously second behind my lovely husband, but still pretty darn tasty.
I think the first ever film I watched him in was PS. I love you and from there on I was hooked. That is such a tear jerker film btw, so if you haven't ever watched it, you really need to.
Another bit of eye candy in PS. I love you is Jeffrey Dean Morgan, although if you watch The Walking Dead you will probably be put off him for life - that's one scary guy. I think I'd rather have the memory of him as a nice Irish guy (he's not Irish of course, but that accent suited him well). Supernatural fans will know him as the Winchester brothers dad.
If you like a bit of a cheesy action film and are a fan of Gerard Butler, it's a great movie. It does get some bad reviews, but sometimes an easy to watch action movie is needed and today was one of those days.
I got dinner all prepped before I went so managed to resist any popcorn or sweets, just opting for a drink instead. That's some good willpower right there, as the smell of buttery popcorn when at the cinema can be pretty hard to resist!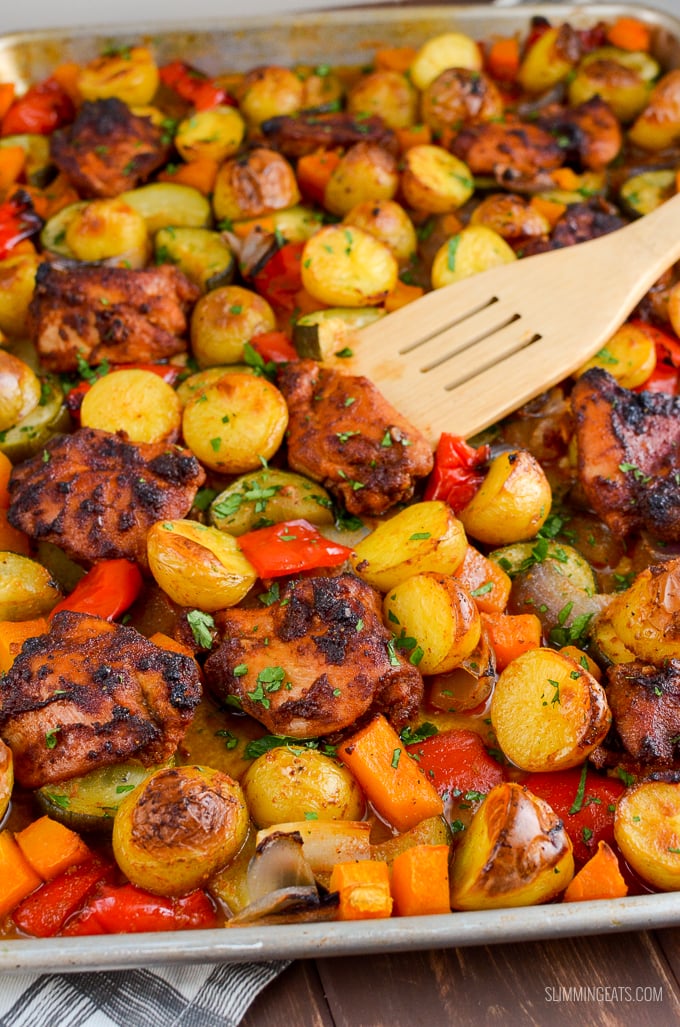 Meals like this Chicken, Potato, Vegetable Tray Bake are such uncomplicated meals, you really can add a combination of any ingredients and have a delicious meal at the end of the day. Along with one pot recipes and meals I can cook in the slow cooker or instant pot, they are one of my favourite meals to make, this time of year, when it gets dark early.
Tips for creating delicious traybakes is to use ingredients and spices or herbs that compliment each other and if you want it saucy, you can add a little stock or passata or even make some Gravy.
For tonight's tray bake, I had some chicken thighs and delicious baby yellow potatoes, which have an amazing buttery flavour to them once cooked. I wanted the chicken to have a lovely coating once cooked. So I made up a spice mix using sweet paprika, a pinch of cayenne, garlic, onion powder, black pepper, maple syrup and balsamic vinegar. The maple syrup helps to give the chicken an amazing colour and caramelization that is just delicious.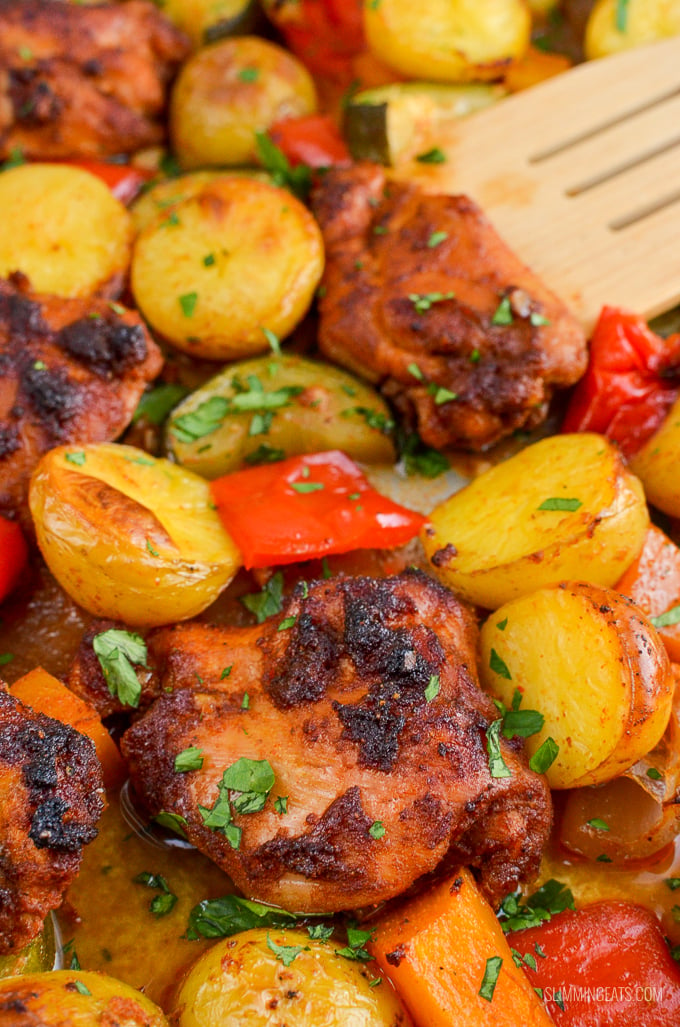 If you are wondering what kind of baking tray to use for this Chicken, Potato, Vegetable Tray Bake. I used one of my large Nordicware Baking Sheet. I love the nordicware cookware, it is more heavy duty and is just really good quality. Cleans up super easy too.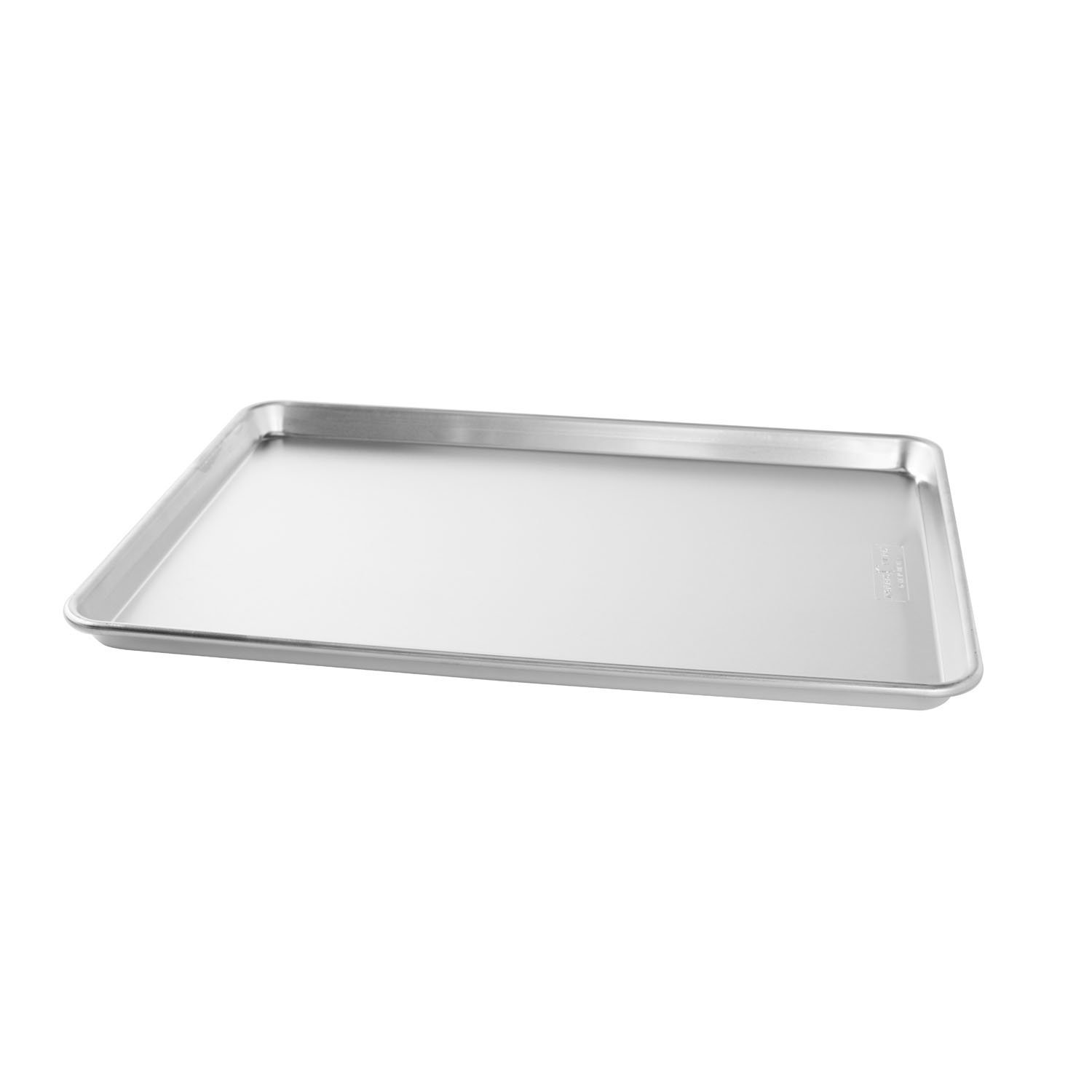 I recommend using a good quality baking tray where the food won't stick, as the last thing you want is to cook this delicious Chicken, Potato, Vegetable Tray Bake and find the food is all stuck to the tray.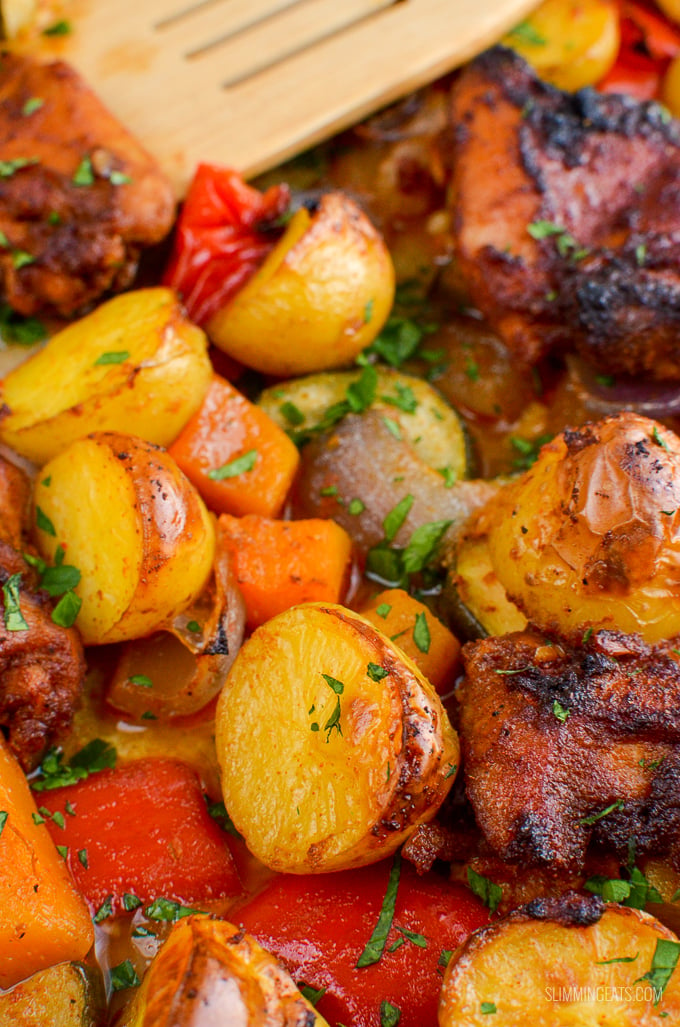 Also, make sure the tray is big enough to fit all the ingredients in one layer, you don't want everything piled too much on top of each other, as the potatoes won't get that love golden colour, and we all love a golden potato, right?
To add some speed foods to the tray bake, I went for red pepper, zucchini, red onion and butternut squash, mainly just using up vegetables I had in the fridge.
I also really fancied some sauteed savoy cabbage, which is one of my favourite speed foods. I cooked that separately in a pan for a side dish. I follow the method for my Shredded Sauteed Brussel Sprouts, just omitting the garlic, but you could totally add that if you wanted to.
So you get a little bit of sauce to baste everything on the tray bake, I pour on 1 cup of chicken stock. Halfway through cooking time, you can spoon it over everything to help give that amazing golden colour. The stock takes on all of the flavours from the seasoning of the chicken and the final result was absolutely delicious.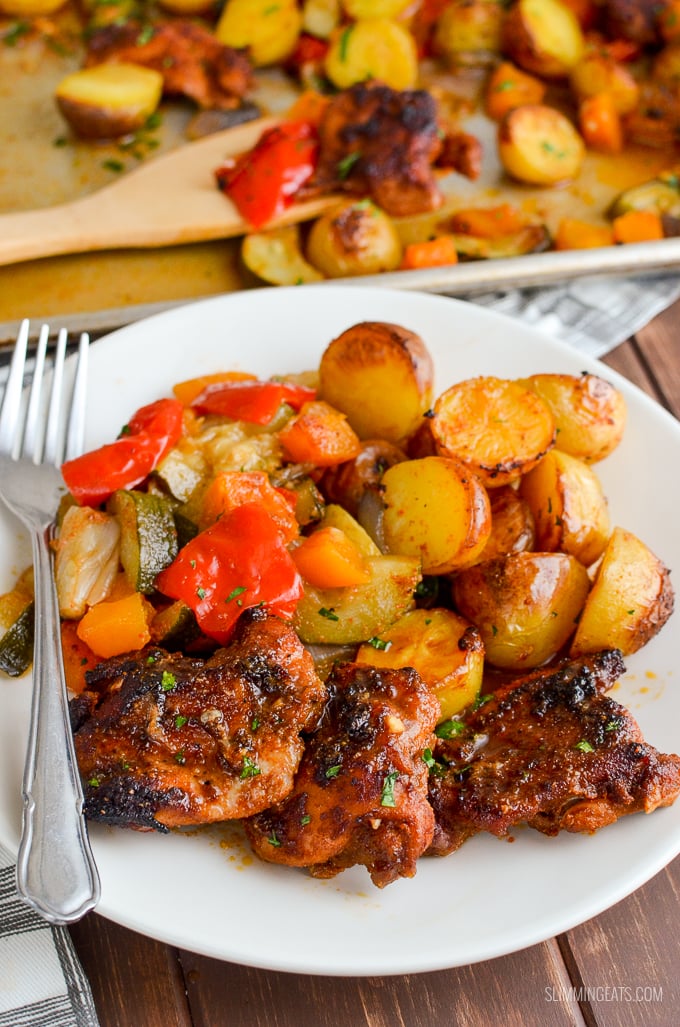 If you try one simple dish this year, make it this Chicken, Potato, Vegetable Tray Bake.
---
Want another amazing one dish recipe? Check out this below:
Don't forget to check out the FULL RECIPE INDEX with over 500+ delicious Slimming Eats recipes.
---

What kitchen items do I need to make this Chicken, Potato, Vegetable Tray Bake?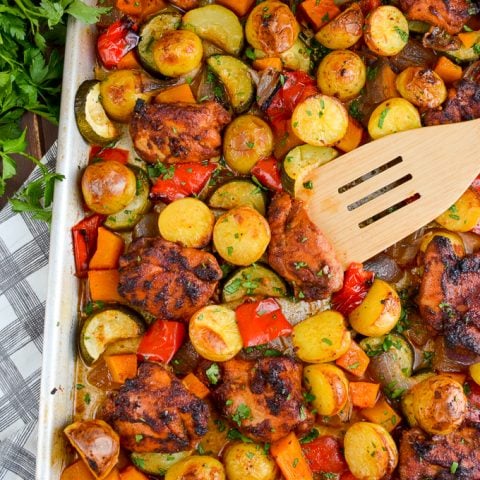 Chicken, Potato, Vegetable Tray Bake
Total Time:
1 hour
10 minutes
This recipe is gluten free, dairy free, Slimming Eats and Weight Watchers friendly
WW Smart Points - 6
Ingredients
650g (22.9oz) (approx 6 thighs) of chicken thighs (skin and visible fat removed)
650g (22.9oz) of baby potatoes (I used yellow baby potatoes), halved
300g (10.5oz) of zucchini (courgette), halved lengthways and sliced
25og (9oz) of butternut squash, chopped
1 red pepper, chopped
1 medium red onion, chopped
1 clove of garlic, crushed
1 tbs of sweet paprika
½ tsp of onion powder
½ tsp of garlic powder
pinch of cayenne pepper
salt and black pepper
½ tbs of balsamic vinegar
1 tbs of maple syrup -1 cup (240ml) of chicken stock
spray oil
Instructions
Preheat oven to 220c/425f (gas mark 7)
Place potatoes in a saucepan, cover with water, bring to a boil, turn off heat, leave for 5 mins, then drain.
Slice each chicken in half and add to a bowl. Add the garlic clove, paprika, cayenne, garlic powder, onion powder, balsamic vinegar, maple syrup and salt and black pepper and mix well to coat.
Add the potatoes, red pepper, onion, zucchini and butternut squash to a large baking tray in one even layer.
Top with the chicken pieces and then pour over the top the chicken stock.
Spray with the spray oil.
Place in the oven and bake for 45 mins, take out half way through cooking to baste with the stock/sauce.
The traybake is ready when the potatoes are a lovely golden colour and the chicken is caramelized on the edges.
Enjoy as is, or serve with some additional sides.
Notes
Please see below for full nutritional info and additional details about recipe:
Calories - scroll down to nutritional info box
WW Points and other Slimming or Weight Loss programs -   due to plans regularly changing and updating, we recommend calculating with the official tools you get as a member to those plans to ensure accuracy of values. 
If you wish to share this recipe, then please do so by using the share buttons provided at top of this post.
DO NOT COPY AND/OR PASTE FULL RECIPES OR SCREENSHOTS OF ANY CONTENT FROM SLIMMING EATS TO ANY SOCIAL MEDIA OR WEBSITE, IT IS STRICTLY PROHIBITED.
ALL IMAGES AND CONTENT ON SLIMMING EATS ARE COPYRIGHT PROTECTED
Nutritional information etc are an estimate and are to be used for informational purposes only. Ingredients can vary in values from brand to brand and therefore it would be impossible to give accurate information. It is always advised that you calculate values yourself by the ingredients you use and the tools provided to you as a member of the programme you are following.
It is the responsibility of the Reader to assure the products or ingredients they use in any recipes from Slimming Eats are allergen-free (gluten-free, egg-free, soy-free and/or dairy-free, for example). Slimming Eats assumes no liability for inaccuracies or misstatement about products, opinions or comments on this site. 
Check Legal section, for Full Disclaimer, Disclosure and Privacy Policy.
Nutrition Information
Yield

4
Serving Size

1 serving
Amount Per Serving
Calories

339
Total Fat

6.6g
Saturated Fat

1.7g
Sodium

153mg
Carbohydrates

32.5g
Fiber

10.5g
Sugar

9.8g
Protein

37.1g
Disclosure: This post may contain affiliate links. As an Amazon Associate and member of other affiliate programs, I earn from qualifying purchases. We are a participant in the Amazon Services LLC Associates Program, an affiliate advertising program designed to provide a means for us to earn fees by linking to Amazon.com and affiliated sites." Check Legal section, for Full Disclaimer, Disclosure and Privacy Policy.