You seriously will not miss the pastry in this amazing Chicken and Asparagus No Pastry Pie
You know those times when you really fancy a pie and are face with the dilemma or whether to use syns on that pastry?
Sadly pastry always works out pretty high synned, unless you have a teeny amount on the top of your pie and then you almost think, why did I bother?
So I wanted to create a pie topping that  didn't break the syn bank and so I had the idea to chop some potato into thin matchsticks to use as a pie topping.
This was so delicious the tender creamy chicken underneath with asparagus was a great combination. Of course don't expect this to be anything like pastry, because it's just potato, but that said - it is still very good.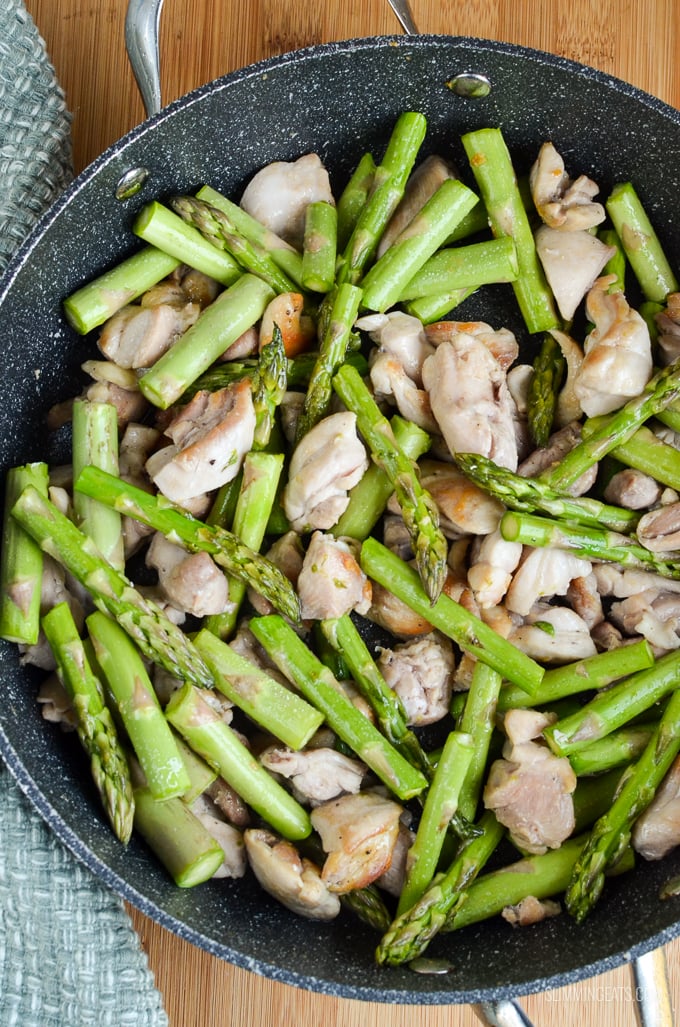 Don't fancy Chicken and Asparagus? You could really add any filling to this, chicken and mushroom, steak and onion, minced beef, fish or even make it vegetarian with lots of veggies in a creamy or tomato sauce.
How amazing does that sound?
---
Looking for some other chicken recipes? Check out these amazing recipes:
of check out the FULL RECIPE INDEX with over 500+ delicious Slimming World recipes.
---
Deliciously creamy Chicken and Asparagus No Pastry Pie - yum!! 
Also because there is no pastry in the Chicken and Asparagus No Pastry Pie, it is also gluten free
I serve this Chicken and Asparagus No Pastry Pie with a side of roasted carrots for some extra speed foods and sweet corn (as the kids love it of course), but any vegetables would go well with this dish.
Chicken and Asparagus 'No Pastry' Pie
This recipe is gluten free, Slimming World and Weight Watchers friendly

Extra Easy - ½ HEa and 0.5 syns per serving
WW Smart Points - 10
Gluten Free - ensure ingredients use are free from gluten
Ingredients
6 chicken thighs, with all visible fat removed and chopped into chunks
300g (7oz) of asparagus, trimmed and chopped
1 cup (240ml) of 2% milk (1 HEa)
1 cup of chicken stock
4 laughing cow light (1 HEa)
1 tablespoon of tapioca starch, cornstarch or arrowroot powder (1.5 syns)
800g (28oz) of potatoes, julienned or chopped into thin chips
freshly chopped parsley
salt and black pepper to season
pinch of mustard powder
1 beaten egg
Spray oil
Method
Soak potatoes in warm water to remove starch, drain and pat dry.
Preheat oven to 220c or 425f
Spray a tray with spray oil, add the potatoes and spray over the top, season well with salt and bake in the oven until for 15 mins, remove and set aside. (don't over cook these, as they will be cooked some more as the pie topping)
Spray a frying pan over a medium high heat with some spray oil. Add the chicken thighs, season with salt and black pepper and fry until lightly golden.
Add the asparagus, milk, stock, parsley, laughing cow lights and a pinch of mustard powder
Mix the tapioca starch with a little cold water to a paste and add this into the pan.
Gently bring to a boil until it starts to slightly thicken.
Season with a little salt and black pepper
Add to a oven proof dish and then top with the potatoes. Brush over the top with the beaten egg and bake in the oven for approx 40 mins. Potatoes on top should be nice and lightly golden.
Serve with your choice of sides.
Notes
Nutritional information is an estimate and is to be used for informational purposes only.

Ingredients can vary greatly from brand to brand and therefore it would be impossible to give accurate information.

All images and content on Slimming Eats are copyright protected.

If you wish to share this recipe, then please do so by using the share buttons provided. Do not screenshot or post recipe or content in full
Nutrition Information
Serving size:
1
Calories:
323.1
Fat:
6.5g
Saturated fat:
2.8g
Carbohydrates:
45g
Sugar:
8g
Sodium:
566.8mg
Fibre:
5.6g
Protein:
25.5g
Cholesterol:
108.8mg
Disclosure: This post may contain affiliate links. As an Amazon Associate and member of other affiliate programs, I earn from qualifying purchases. We are a participant in the Amazon Services LLC Associates Program, an affiliate advertising program designed to provide a means for us to earn fees by linking to Amazon.com and affiliated sites." Check Legal section, for Full Disclaimer, Disclosure and Privacy Policy.