Are you looking for a quick and easy delicious dinner that is perfect for the whole family? Look no further than these simple Air Fryer Chicken Fajitas with tender chicken strips and mixed peppers and onion, all in the perfect homemade fajita seasoning blend.
Easy Chicken Fajitas
In this recipe, I'll show you just how easy it is to whip up this popular dish in your air fryer, using my simple homemade fajita seasoning blend. The chicken gets a beautiful sear while it sits on a bed of mixed peppers and onions, infusing it with all those juices and flavour. What's even better is how quickly it all comes together – succulent chicken strips sear to perfection in just a matter of [insert cooking time] minutes. While it cooks, all you need to do is prepare your choice of toppings and sides. Once it's done, gather the family around the table, serve it up, and watch everyone dig in and enjoy.
Jump to:
Calories in Air Fryer Chicken Fajitas
Enjoy these Air Fryer Chicken Fajitas, which serves four people and has 289 calories per serving (this doesn't include sides or toppings)
If you're looking for more recipes within the same calorie range, you'll find an abundance of options in my dedicated collection of 200+ calorie recipes.
If you're following a calorie-controlled diet or a healthy eating plan, it's important to calculate your daily calorie intake using a reliable calorie calculator. Please note that the calorie counts provided are estimates and can vary based on specific ingredients and serving sizes. Personalizing your calculations is essential to meet your individual needs. By using a calorie calculator, you can make informed choices and stay on track with your dietary goals.
What you need to make Chicken Fajitas
To prepare these easy chicken fajitas, here are some notes on the ingredients used:
Chicken Breast - skinless and boneless so they are all ready to be sliced into strips, seasoned and cooked. If you prefer boneless skinless chicken thighs can also be used but will be slightly higher in caloires.
Onion - I use a regular white onion, but red onion is fine too if that is all you have.
Garlic
Bell Peppers - a mixture or red, yellow and green bell peppers add a pop of colour to the dish, but any colour bell pepper is fine.
Homemade Fajita Spice Mix - In my recipes I always prefer to mix my own spices for seasonings, ready made mixes can often vary in taste, some good and some not so good.
Cooking Oil - I used avocado oil, which has a high smoke point. I recommend using this or a similar oil instead of spray oil in this recipe because it imparts a richer flavor and tenderness to both the chicken and veggies. It's only 1 tablespoon of oil for a recipe that serves 4, so the calorie content per serving remains relatively low
Lime - Chicken fajitas simply aren't complete without fresh lime, which not only adds a burst of flavour but also a refreshing zing once everything has finished cooking in the air fryer.
Salt and Pepper - These basic yet essential flavour enhancers are key for elevating the taste of your dishes. No food will ever be bland when these are used to season to taste
Once you've gathered all the ingredients and prepared them accordingly, you're all set to create this easy and delightful recipe for breakfast.
See the recipe card for specific quantities and instructions.
Variations/Substitutes on the Recipe
Other proteins: Feel free to add in or swap for other protein like some shrimp or steak. Bear in mind however the difference in timing to cook. Steak will take no more than 8 minutes usually in the air fryer and the same usually for large shrimp (prawns)
Vegetarian option: While quorn or a similiar meat substitute may work with this recipe, it hasn't been tested.
Add some maple syrup/honey: If you like a bit fo sticky sweetness to the chicken and peppers add in a little maple or honey to the chicken when coating in the spices.
How to Air Fry Chicken Fajitas
After the chicken has been seasoned and coated with oil, and the veggies are prepared and ready for action, it's time to get cooking.
I use an Instant Pot Vortex 5.7-litre air fryer to cook these delicious chicken fajitas. My go-to approach involves removing the grill plate, allowing me to cook directly in the basket (however you can use the grill plate if you prefer or use an oven safe liner or dish that fits. This clever technique prevents the oil from draining away underneath and allows the succulent chicken juices to infuse every vegetable, resulting in a harmonious blend of flavours while keeping the chicken exquisitely tender and juicy.
Make sure that the air fryer you choose has a sufficient capacity to accommodate the ingredients for the chicken fajitas. Otherwise, you'll need to adjust the recipe for a smaller batch. Overcrowding the air fryer will result in uneven cooking, causing everything to steam rather than achieving the desired charred and golden color.
FAQ for Air Fryer Chicken Fajitas
Can this be converted to oven?
Yes it sure can, just like any oven recipe can be cooked in an air fryer the same applies to air fryer recipes. So if you don't own an air fryer, use my handy conversion chart to convert to oven: Air Fryer Conversion
Can I use a ready made fajita spice mix?
Certainly, you can opt for one if you wish. Nevertheless, it's worth noting that some pre-made spice mixes may carry a higher calorie content, and there's no assurance they will deliver the same level of flavour as my homemade blend
Can I use spray oil?
Only 1 tablespoon of oil is used in the recipe, totaling just 124 calories when divided among four servings, which isn't a significant calorie intake. While you can opt for spray oil if you prefer, it's important to note that it may not impart the same level of flavour and tenderness to the chicken.
How to serve Chicken Fajitas
There are various ways you can enjoy chicken fajitas. The traditional way of course is usually in warmed soft tortillas with your choice of fillings (toppings), the most popular of items being some of these below:
Guacamole or Avocado
Fresh Salsa (or Pico de Gallo)
Soured Cream (I opt for reduced fat)
Black beans or refried beans
Shredded Crisp Lettuce
Grated/Shredded Cheese
Fresh Coriander (Cilantro)
Sliced fresh jalapenos or pickled jalapenos (great for adding an additional punch of spice)
Another delightful way to enjoy chicken fajitas is to skip the tortillas and pair them with options like Cilantro Lime Rice, Mexican Rice or Red Pepper Coriander Rice.
Alternatively, if you prefer a potato side, they pair exceptionally well with these Garlic and Herb Potato Wedges.
One of our family's favorite twists on fajitas, aside from the traditional soft tortilla presentation, is creating a delectable Chicken Fajita Bowl. In this variation (as seen below), we add our preferred toppings for a customized and satisfying meal.
More Mexican Inspired Recipes
Are you in search of more low calorie Mexican inspired recipes? Look no further! Here are some great choices below:
or if you would like more recipe ideas or sides to make with this recipe - head on over to the FULL RECIPE INDEX where you will find over 900 delicious recipes with calories and you can search by meal type, ingredients, course, diet and more.
---
Slimming Eats Made in the Air Fryer Cookbook
Looking for some more air fryer recipes? My new cookbook with 80+ Brand New and Delicious Recipes is out now and can be purchased from all UK major retailers including Amazon (will be released January 2024 in North America including Canada and Australia).
This is the ONLY air fryer cookbook you need in your life. Let me show you all the Amazing meals you can make in your air fryer.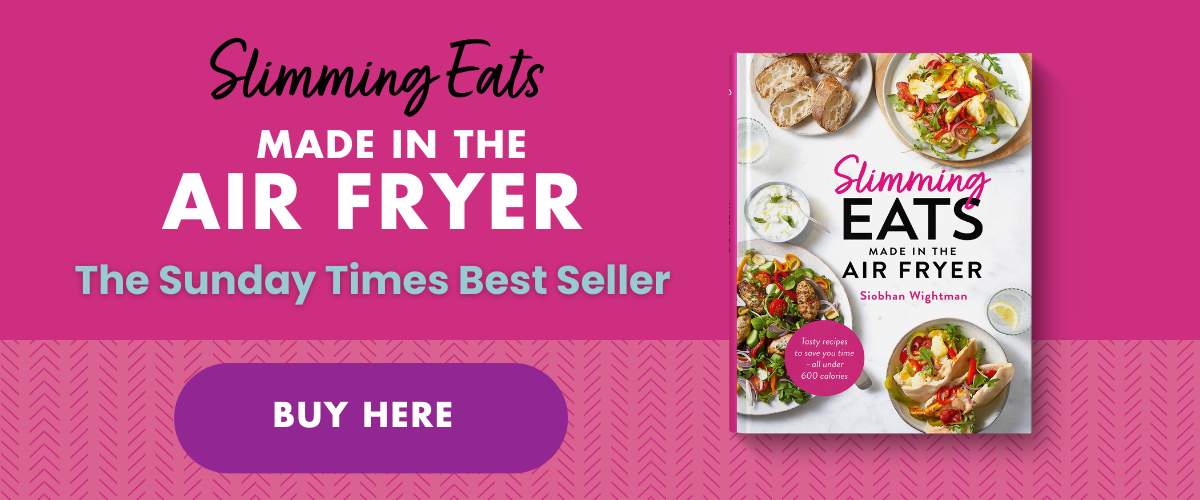 Air Fryer Chicken Fajitas
Simple and Delicious Air Fryer Chicken Fajitas with tender chicken strips and mixed peppers and onion, all in the perfect homemade fajita seasoning blend.
Ingredients
650g (22.5oz) of boneless skinless chicken breast (raw), sliced into strips
1 large onion, sliced
1 red bell pepper, sliced
1 green bell pepper, sliced
1 yellow bell pepper
3 cloves of garlic, crushed
1 tablespoon of cooking oil of choice (I used avocado oil)
For the Fajita seasoning:
4 teaspoons of paprika (not smoked)
2 teaspoons of ground cumin
2 teaspoons of mild chilli powder
1 teaspoon of dried oregano
¾ teaspoon of salt
½ teaspoon of onion powder
½ teaspoon of black pepper
¼ tsp of cayenne (optional) - omit if you don't like it too spicy
To serve:
Fresh lime wedges
Handful of fresh coriander
salt and black pepper
Instructions
Add the chicken to a bowl with the oil and fajita seasonings, and mix to coat.
Add in the garlic and stir until combined.
Preheat air fryer to 200c/400f for a couple of minutes.
Add the peppers and onion direct to the air fryer basket, top with the seasoned chicken strips
Air fry for 10-12 minutes until chicken is cooked through, toss everything half way through cooking time to coat it everything in the seasoning and juices from chicken.
Squeeze fresh lime juice over all the chicken and vegetables and season to taste with salt and black pepper
Serve garnished with fresh coriander.
Enjoy with your favourite sides/toppings (see suggestions below)
Notes
Please see below for details about recipe:
Calories - scroll down to nutritional info box
Slimming, Diet or Weight Loss programs::  due to plans regularly changing and updating, we recommend calculating with the official tools you get as a member to those plans to ensure accuracy of values
Gluten Free Friendly - ensure all seasoning is free of gluten
Side/Topping suggestions: warmed soft tortillas, guacamole (or avocado), soured cream, salsa (or Pico de Gallo), shredded cheese, jalapenos, coriander (cilantro), refried beans (or black beans), make a fajita bowl or serve with rice of potato wedges.
If you wish to share this recipe, then please do so by using the share buttons provided at top of this post.
DO NOT COPY AND/OR PASTE FULL RECIPES OR SCREENSHOTS OF ANY CONTENT FROM SLIMMING EATS TO ANY SOCIAL MEDIA OR WEBSITE, IT IS STRICTLY PROHIBITED.
ALL IMAGES AND CONTENT ON SLIMMING EATS ARE COPYRIGHT PROTECTED
Nutritional information etc are an estimate and are to be used for informational purposes only. Ingredients can vary in values from brand to brand and therefore it would be impossible to give accurate information. It is always advised that you calculate values yourself by the ingredients you use and the tools provided to you as a member of the programme you are following.
It is the responsibility of the Reader to assure the products or ingredients they use in any recipes from Slimming Eats are allergen-free (gluten-free, egg-free, soy-free and/or dairy-free, for example). Slimming Eats assumes no liability for inaccuracies or misstatement about products, opinions or comments on this site. 
Check Legal section, for Full Disclaimer, Disclosure and Privacy Policy.
Recommended Products
As an Amazon Associate and member of other affiliate programs, I earn from qualifying purchases.
Nutrition Information
Yield

4
Serving Size

1 SERVING
Amount Per Serving
Calories

289
Total Fat

8g
Saturated Fat

1g
Trans Fat

0g
Unsaturated Fat

0g
Cholesterol

138mg
Sodium

599mg
Carbohydrates

14g
Fiber

3g
Sugar

4g
Protein

39g
Nutritional information and values etc are an estimate and is to be used for informational purposes only. Ingredients can vary greatly from brand to brand and therefore it would be impossible to give accurate information. It is always advised that you calculate by the ingredients you use.
Disclosure: This post may contain affiliate links. As an Amazon Associate and member of other affiliate programs, I earn from qualifying purchases. We are a participant in the Amazon Services LLC Associates Program, an affiliate advertising program designed to provide a means for us to earn fees by linking to Amazon.com and affiliated sites." Check Legal section, for Full Disclaimer, Disclosure and Privacy Policy.