The Ultimate Slimming World Syn Free Mexican Burgers - tender juicy burger stacks, topped with melted cheese, caramelized onions, ripe tomatoes and mashed avocado.
You fancy a burger night but have already used your healthy extra b choice, what do you do?
Make these amazing Mexican Burger Stacks, you seriously won't miss the bread with this mouthwatering dish.
I love burgers, and boy I have had some amazing ones in my time. The best one has to be the signature peanut butter and jelly burger I had at a local burger joint here in Ontario, Canada where I live. It sounds totally bizarre and I was a bit apprehensive choosing it from the menu, but many friends had rated how amazing it was, so I knew I just had to try it and well after that first bite, I was totally hooked.
For the burgers, the beef patties are sourced locally from grass-fed cattle and they taste absolutely amazing. Never would I have thought to pair up a burger with some creamy peanut butter, but the jam was pure genius, not just your regular jam, but a spicy sriracha strawberry jam, along with bacon, pickles and jalapenos that created a flavour sensation in your mouth. It was seriously amazing and well worth having a night off my syns for it. Not a regular occurrence I should add because I wouldn't even like to imagine the syns in that thing.
Also at the burger place, they have the great option of choosing your burger bunless, and to be honest, with the number of amazing toppings you can choose from, it seems a perfectly valid choice to not need or want the bread.
I love creating bunless burgers at home too, and the kids have become used to them, choosing their own toppings to stack them up high.
One of my favourites to create at home is these delicious Mexican Burgers. Paired up with a mixed salad and this amazing Syn Free Mexican Rice, it's the perfect combination.
---
But if you don't fancy rice, there are heaps of other great sides you could pair these Mexican Burgers with, such as:
or check out my FULL RECIPE INDEX with over 700+ delicious Slimming World Recipes - fully searchable by syn value, meal type, ingredients etc
---
To chop the vegetables for the burgers, I use a mini food processor, like this Ninja Professional Stackable Chopper, you want the vegetables nice and small so that the burgers hold together well, the great thing about adding vegetables too, s that it keeps the burgers lovely and juicy. Extra Lean Ground Beef because of the very little fat, can become quite dry quickly.
Once finely chopped, I add to a frying pan with a little spray oil, just to soften, and remove any excess liquid.
Then you combine it with the ground beef and form into patties. You can either form by hand or use a handy burger press and then I recommend chilling for a few hours, just to firm up, it will help them to hold their shape.
Rather than complete grill on a pan, I like to just sear each side until golden, then top with the cheese and transfer to the oven to finish off, until the burgers are cooked through and the cheese is all gooey and melted - yum!!!
The caramelized onion rings can be made in the pan alongside the burgers - so easy to make, just remove the skin from an onion and slice thinly into rounds, just place on the pan with spray oil and fry until lovely and caramelized on each side.
These Mexican Burgers are perfect finished off with some freshly mashed avocado, it's really not as bad as you thing syn wise. Check out my Avocados on Slimming World to find out more.
If you want to save some syns, try my pea guacamole - it's really yummy.
I prefer to just keep the avocado how it is, with a just a little bit of salt, but if you like more heat and want more of a guacmole. Then add some lime juice, chopped cilantro (coriander), 1 crushed garlic clove and a pinch of cayenne (more or less depending on how hot you like it).
By all means, if you want to save syns, you can skip that part, but it really takes these Mexican Burgers to a whole other level.
HOW CAN I ADD A ⅓ SPEED FOODS TO THESE MEXICAN BURGERS?
Some of the veg added add to the burgers will count, but I also like to serve these with a mixed salad or crisp lettuce, cucumber, peppers and tomatoes.
WHAT KITCHEN ITEMS DO I NEED TO MAKE THESE MEXICAN BURGERS?
IF YOU TRY THIS RECIPE, LET US KNOW! LEAVE A COMMENT, RATE IT AND TAG US IN YOUR PHOTOS @SLIMMINGEATS ON INSTAGRAM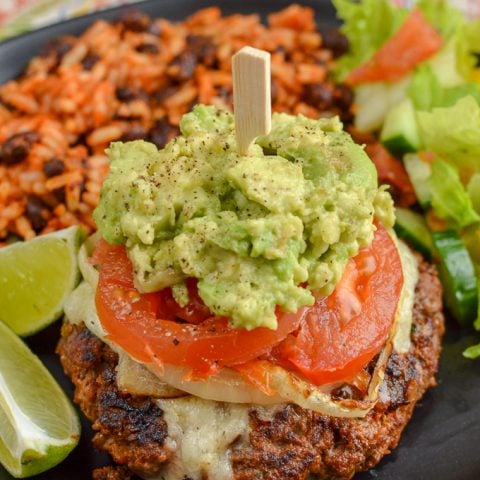 Mexican Burgers | Slimming World
This recipe is gluten free, Slimming World and Weight Watchers friendly
Extra Easy - 1 HEa and 3.5 syns
Original/SP - 1 HEa and 3.5 syns (serve with some SP friendly sides)
WW Smart Points - 9   
Ingredients
455g/1lb of extra lean beef mince
half a small red pepper, finely chopped
1 jalapeno, seeds removed
1 small onion
2 cloves of garlic, crushed
2 tablespoons of tomato paste
2 handfuls of fresh coriander
1 teaspoon of cumin
1 teaspoon of paprika
few splashes of Tabasco sauce
salt and pepper to season
120g/4oz of cheddar cheese - 4 HEa's
1 large onion, sliced into rings
2 large ripe tomatoes, sliced thinly
2 small avocados (168g in weight/flesh) - 14 syns
spray oil
Instructions
Add the onion, jalapeno and red pepper to a mini food processor and do a few spins of the blade until finely chopped
Spray a frying pan over a medium high heat with some spray oil
Add the onion, pepper and jalapeno and cook for a couple of minutes to soften. Remove and set aside to cool.
Add the garlic and coriander to the mini food processor and again do a couple of spins of the blade until chopped.
Add to a large bowl with the onion, pepper, mince, paprika, cumin, tomato paste, tabasco sauce and season with salt and black pepper. Mix well to combine.
Then form into 4 equal size patties, and refrigerate for a couple of hours in possible.
Preheat oven to 200c or 400f (gas mark 6)
Spray a frying pan with some olive oil, and lightly brown the burgers on each side till golden.
Place on a baking tray lined with parchment paper
Top each burger with the cheese and then place in the oven until cheese on top is melted and burgers are cooked through (approx 12-15 mins).
While the burgers are in the oven, add the onion slices to the pan with some more spray oil and fry until caramelized on each side.
Add the avocado flesh to a bowl and mashed with a fork, season with salt.
Top each burger, with a caramelized onion ring, fresh slice of tomato and a ¼ of the mashed avocado.
Serve with your choice of sides - enjoy.
Notes
Nutritional information is an estimate and is to be used for informational purposes only.
Ingredients can vary greatly from brand to brand and therefore it would be impossible to give accurate information. Also, double-check syn values of synned ingredients as different brands can vary. 
All images and content on Slimming Eats are copyright protected.
If you wish to share this recipe, then please do so by using the share buttons provided. Do not screenshot or post recipe or content in full
Check Legal section, for Full Disclaimer, Disclosure and Privacy Policy. 
Nutrition Information
Yield

4
Serving Size

1 burger stack
Amount Per Serving
Calories

372
Total Fat

21g
Saturated Fat

8.8g
Cholesterol

97mg
Sodium

354mg
Carbohydrates

15.8g
Fiber

5.7g
Sugar

3.9g
Protein

34.8g
Disclosure: This post may contain affiliate links. As an Amazon Associate and member of other affiliate programs, I earn from qualifying purchases. We are a participant in the Amazon Services LLC Associates Program, an affiliate advertising program designed to provide a means for us to earn fees by linking to Amazon.com and affiliated sites." Check Legal section, for Full Disclaimer, Disclosure and Privacy Policy.