3 Ingredient Peanut Butter Granola - PERFECT sprinkled over fruit and yoghurt for a healthy breakfast or dessert.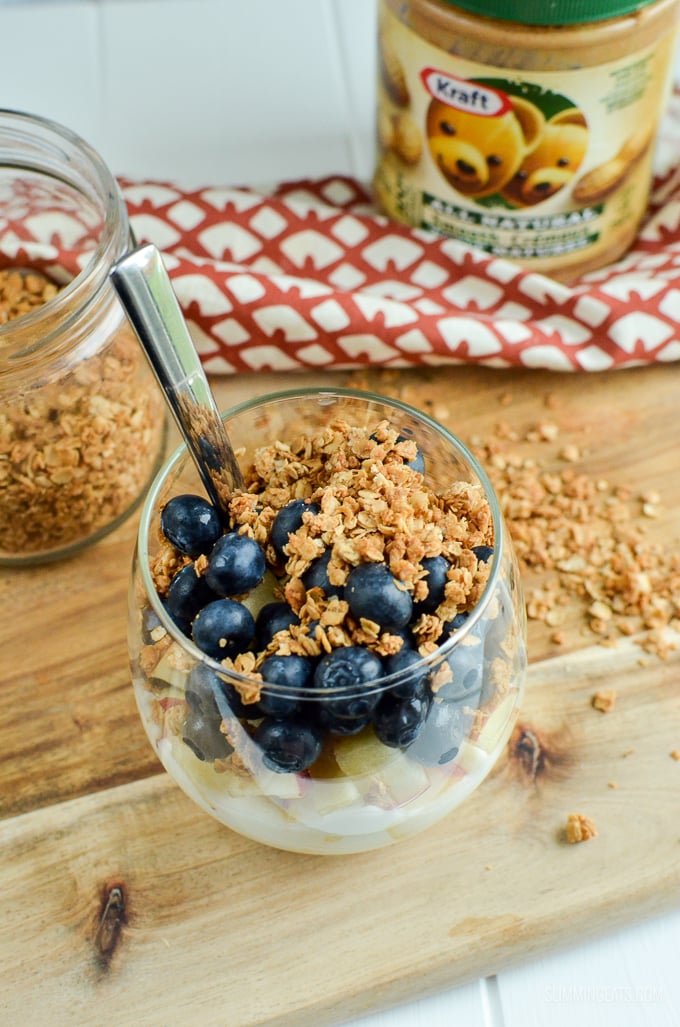 Have I mentioned how much I LOVE granola? It's one of my weaknesses, and rather disappointingly, most are pretty high in syns. Not in the least bit surprising when you look at the ingredients  in most branded varieties.
While there is some granola you can enjoy as a Healthy Extra B choice (have you actually seen the measily amount you get?) -  It's really not worth wasting my healthy extra b choice on.
So of course I had to come up with some healthier granola recipes, that I could enjoy on a regular basis and that gave me a decent size serving to sprinkle over my yoghurt and fruit, while not breaking the daily syn allowance.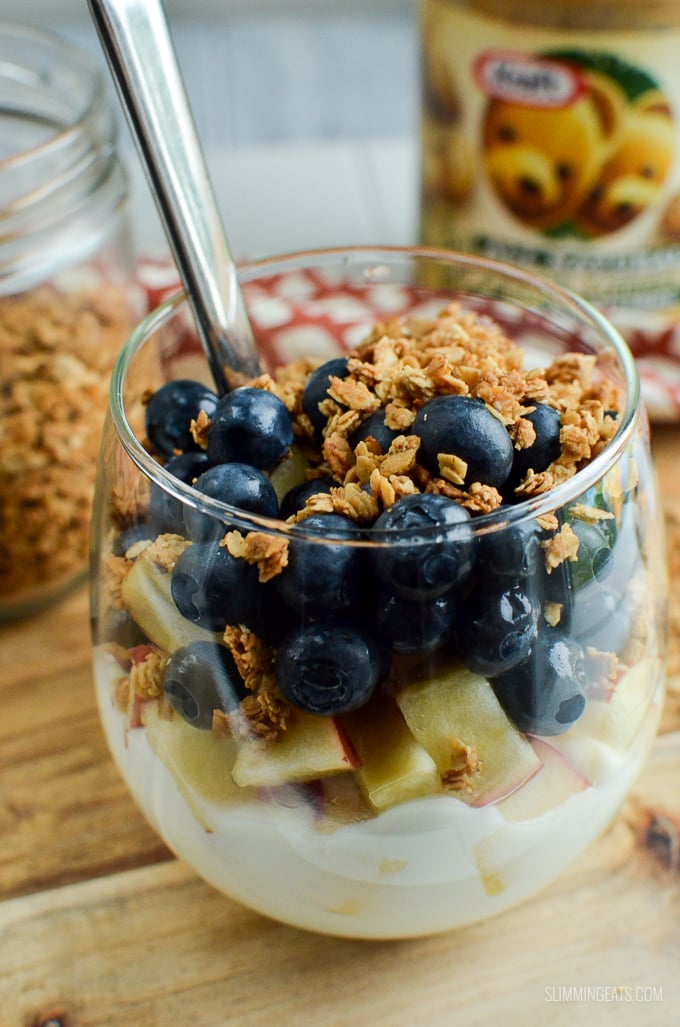 First up was a delicious Low Syn Pumpkin Granola - that was actually a pure genius moment, when I had some leftover pumpkin puree from making these delicious Fluffy Pumpkin Pancakes: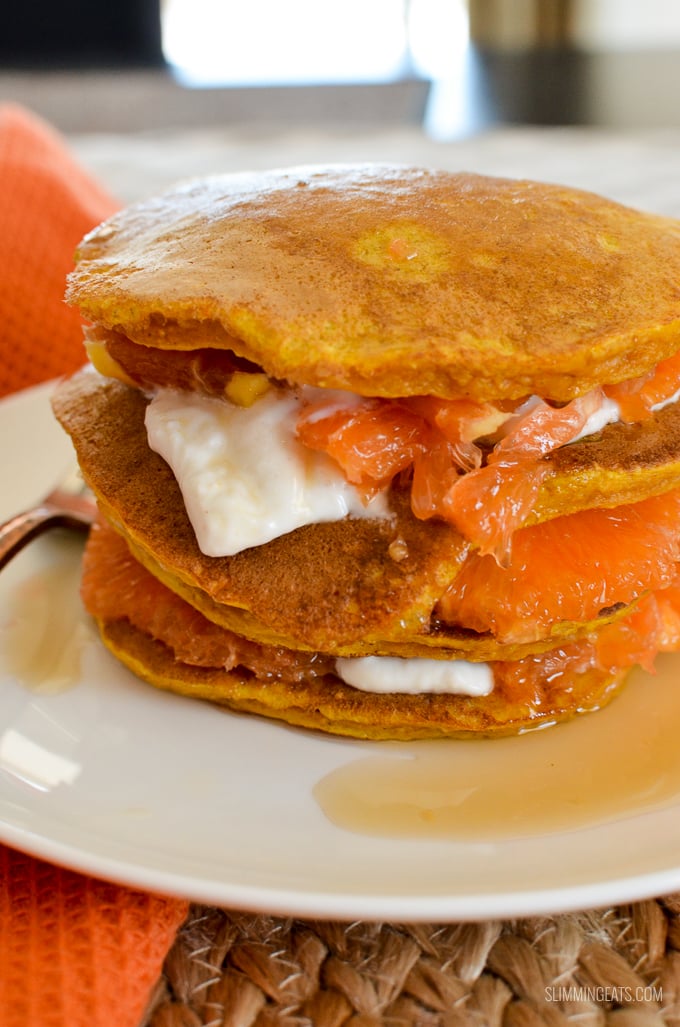 and these amazing Pumpkin waffles. Just look at how delicious they both look, right?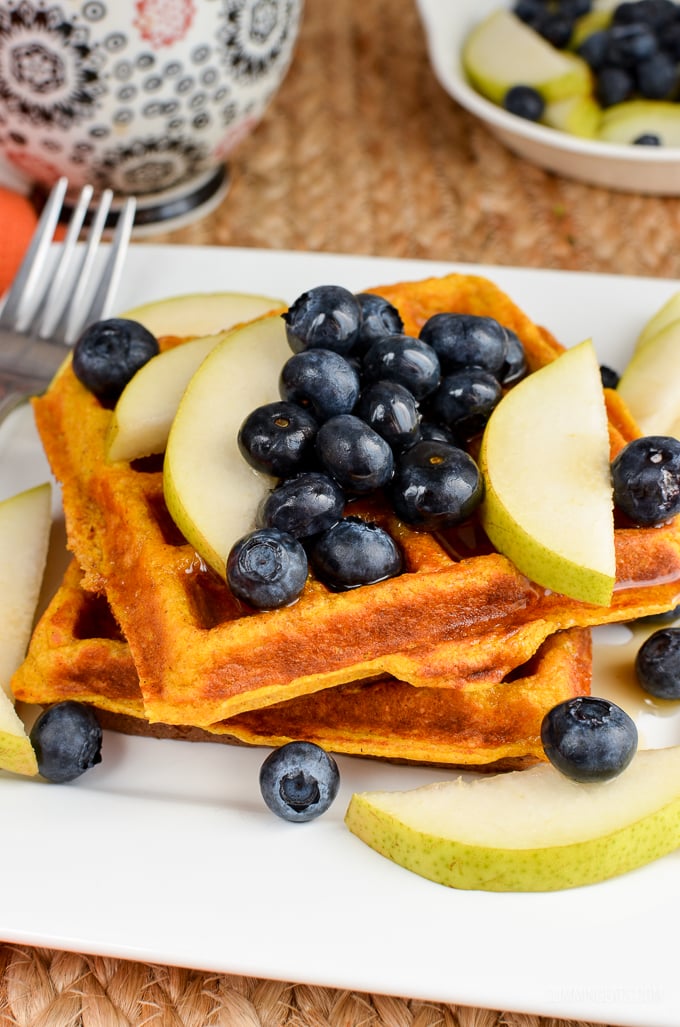 Not one to hate waste, I combined the leftover pumpkin puree I had with oats and some maple syrup and the result was this delicious Pumpkin Granola, with a perfect crunch for topping some yoghurt and fruit.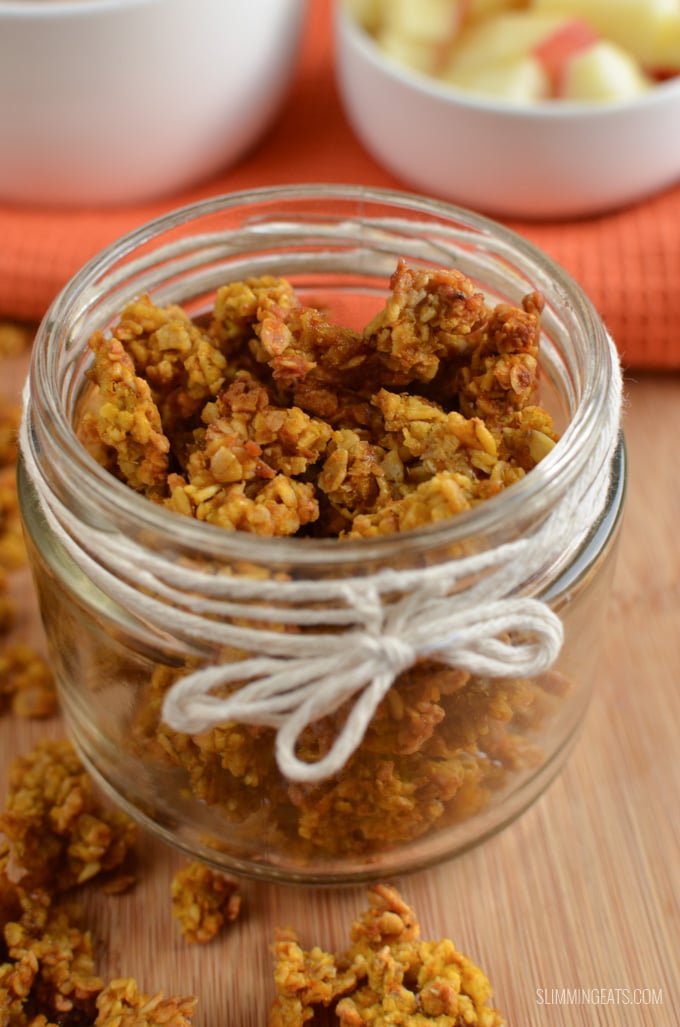 you can even take this pumpkin granola to a whole other level and make this Pumpkin Granola Yoghurt Parfait - which is simply divine!!!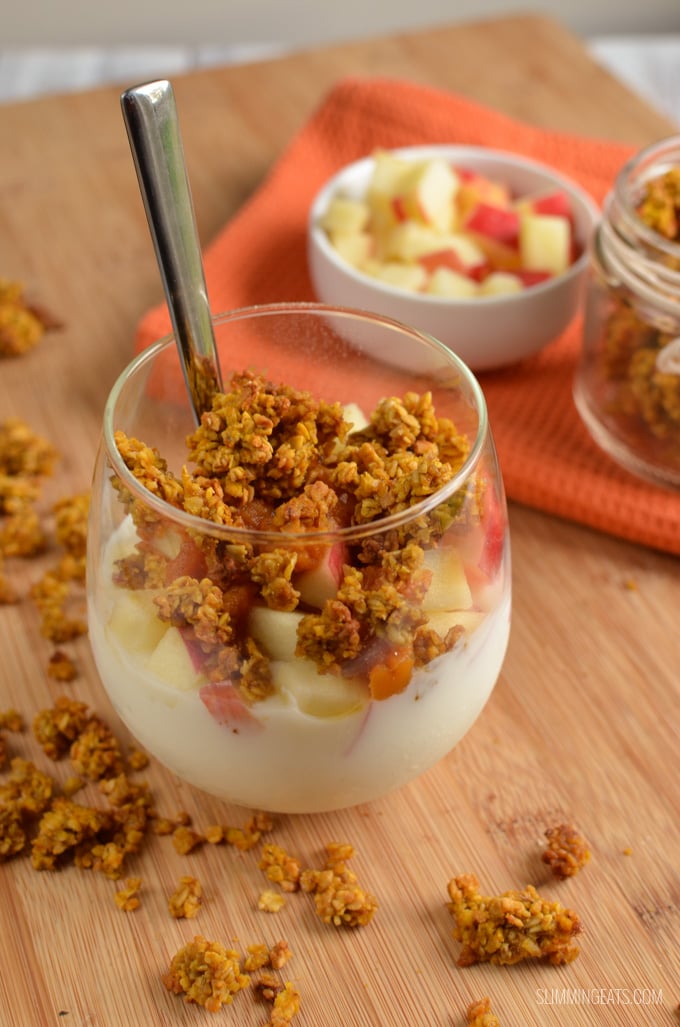 Next up in the granola variations - was this Low Syn Banana Granola, a perfect way to make a healthier low syn granola, using just banana, oats and maple syrup.
and again I couldn't help myself, this delicious Banana granola got turned into a absolutely amazing Banana Granola Yoghurt Parfait, which is literally to die for!!!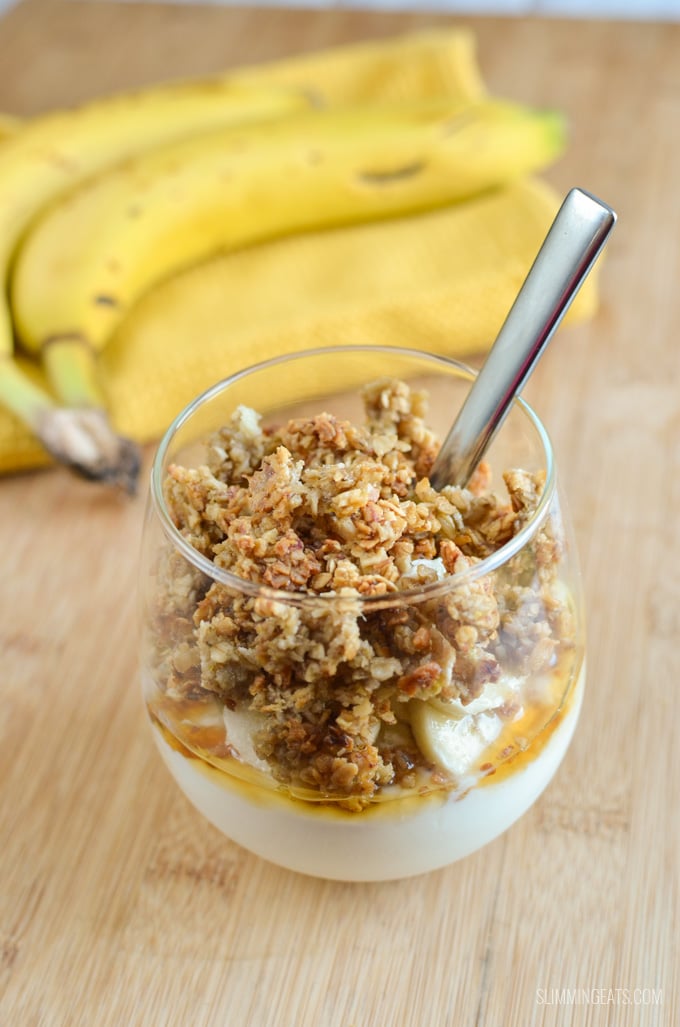 and of course we all love Chocolate right? Well you can also satisfy those chocolate cravings, with this chocolatey goodness in this Low Syn Chocolate Granola - which is just 1 HEb and 3 syns and again using only a few ingredients.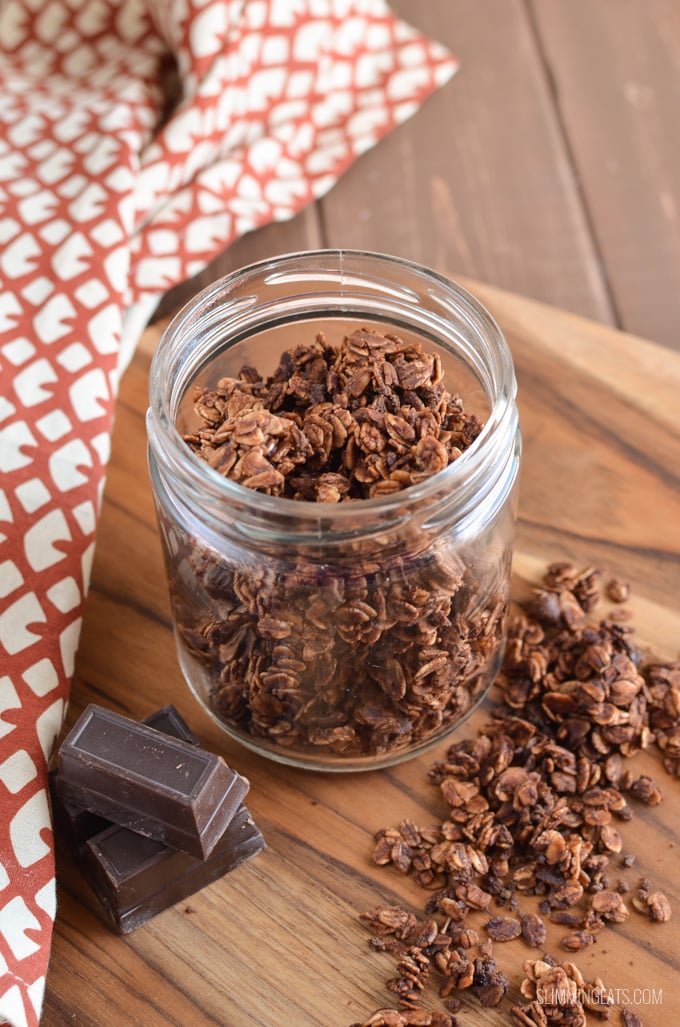 Then the very last granola recipe I made was this Low Syn Apple Granola. I had made some home apple sauce for the kids (which they love) and not happy with having 3 variations of granola already, combined the apple sauce with oats and maple syrup and a little pinch of cinnamon, for a delicious apple granola.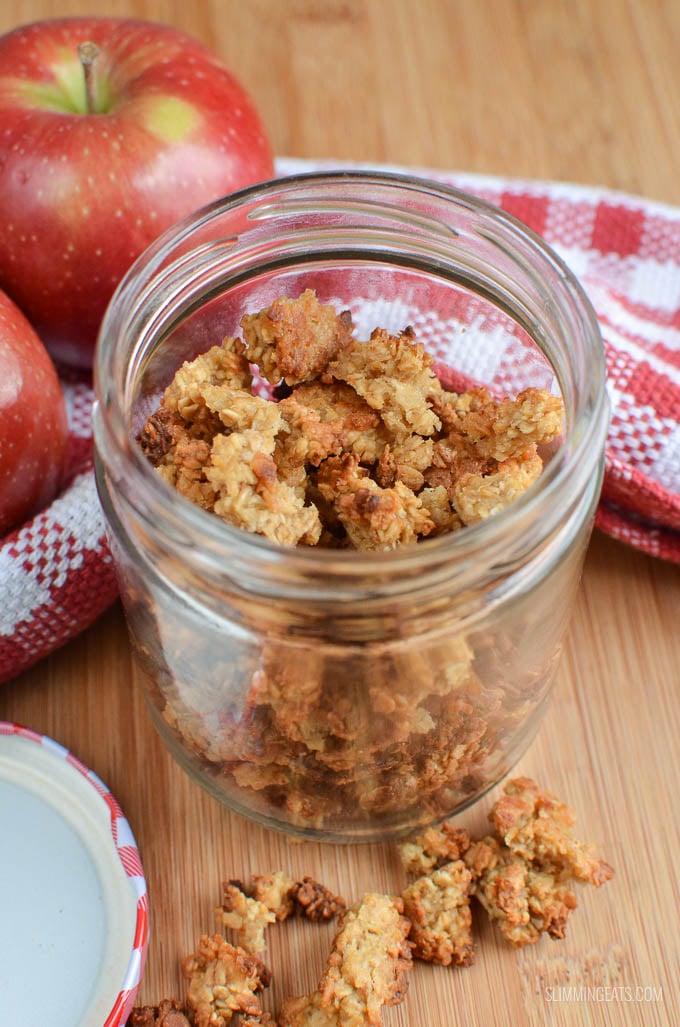 My kids love peanut butter, in fact we all love peanut butter. I will often have a spoonful on my oatmeal in the morning with some fruit, it's such a yummy combination. A perfect dip for apple slices too.
I hadn't made any granola in a while, and was actually about to make up a batch of my delicious Banana Granola, when I spotted the peanut butter still out on the counter from the kids snack. A peanut butter granola just seemed like a perfect idea.
3 ingredients, nothing complicated, combined together, spread out on a baking tray and baked till lovely and golden, make this amazing Peanut Butter Granola. It really is as simple as that.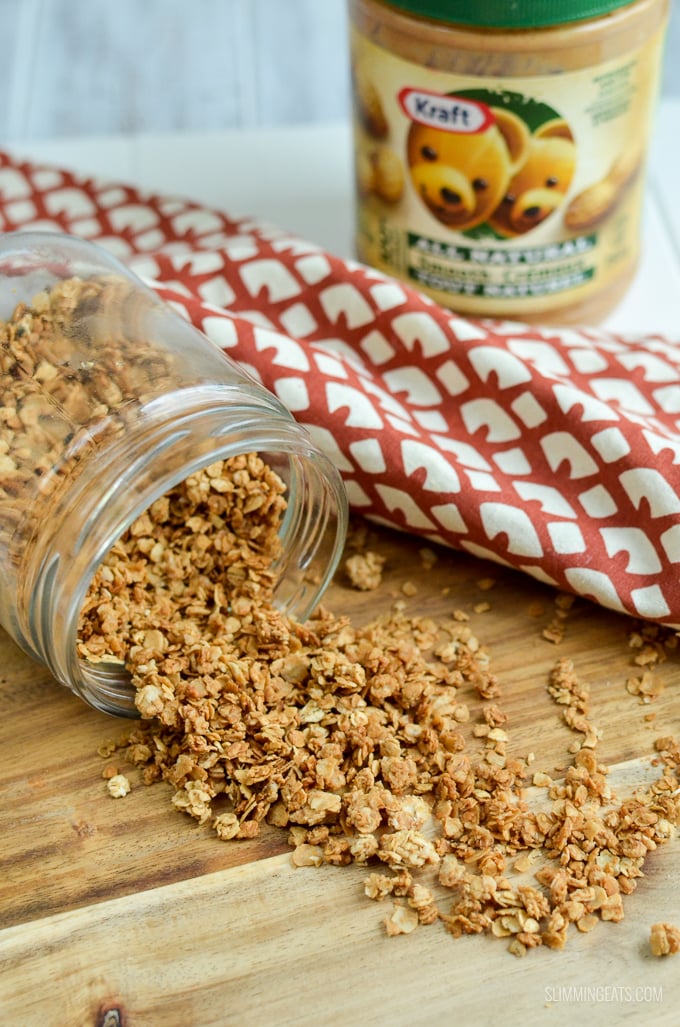 It's also really quick to make, just 15 minutes in the oven, meaning you don't even need to make this in advance. I always make enough for 3 days worth when I make my granola, although sometimes it doesn't even last that long, if the kids steal some too.
You could totally double or triple up the recipe to make more, it will keep fresh for about a week in a lidded jar. It will possibly keep even longer than that, but I haven't had any last much longer than that.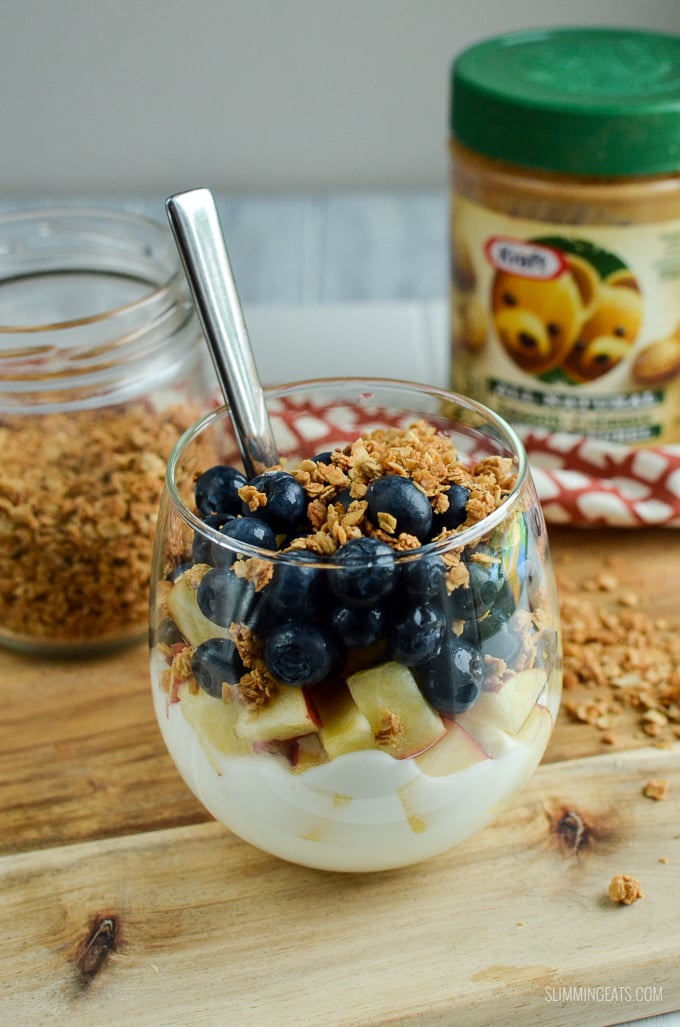 My favourite way to serve this Peanut Butter Granola is with yoghurt, some crisp apple and blueberries. If you have a few extra syns you could even drizzle some peanut butter over the top too, for that extra peanutty goodness. Yum!!
Looking for some other recipes to enjoy? Don't forget to check out my FULL RECIPE INDEX with over 500+ delicious Slimming World Recipes.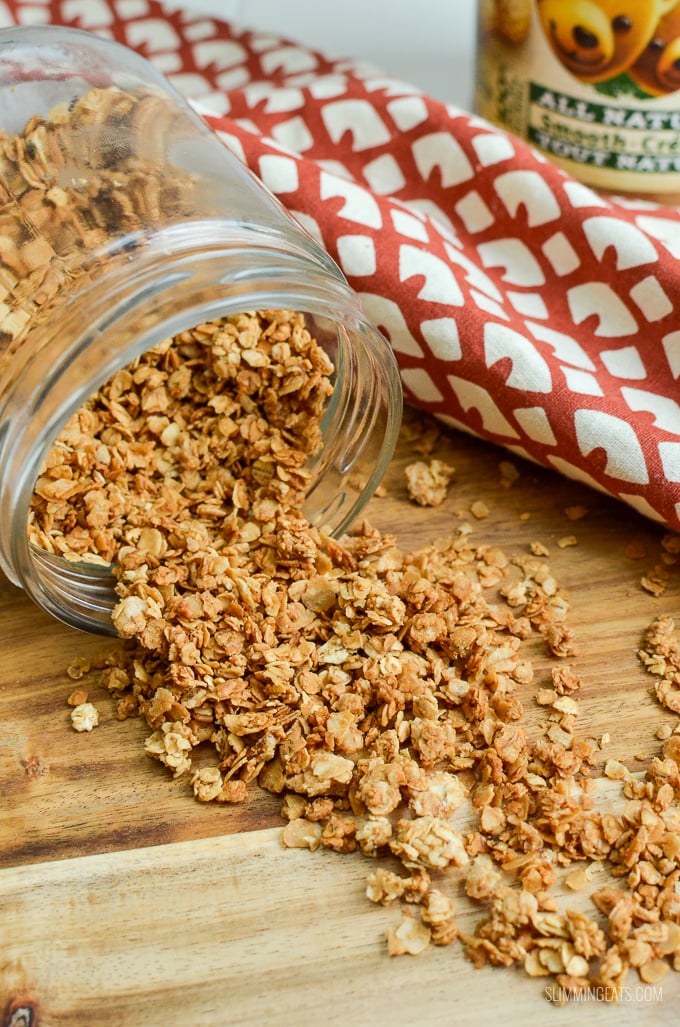 Made this granola? Tag me at #slimmingeats on Facebook,

Twitter

or Instagram so I can see your pictures.
How to Make this 3 Ingredient Peanut Butter Granola: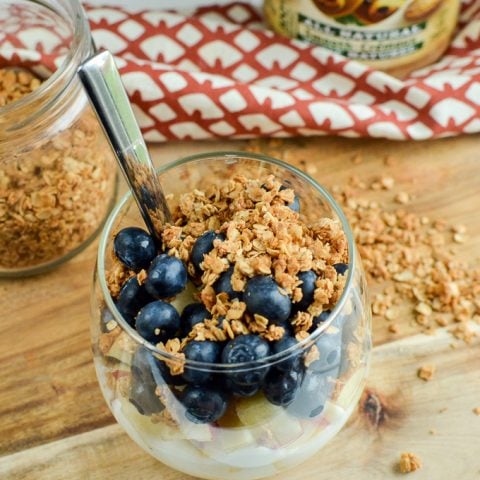 3 Ingredient Peanut Butter Granola
This recipe is gluten free, dairy free, vegetarian, Slimming World and Weight Watchers friendlyExtra Easy - 1 HEb and 4.5 synsGreen/Vegetarian - 1 HEb and 4.5 synsOriginal/SP - 1 HEb and 4.5 synsWW Smart Points - 8Gluten Free - use gluten free oats
Ingredients
120g of oats
2 tbs of all natural peanut butter - 9 syns
2 tbs of maple syrup - 4 syns
spray oil
Instructions
Preheat oven to 180c/350f (gas mark 4)
Add the oats, peanut butter and maple syrup to a bowl and mix well to combine.
Spread out on a tray lined with parchment paper.
Spray over the top with spray oil
Bake in the oven for 10 mins
Remove, break up any big clumps, spray again with spray oil
Add back to the oven for 5 mins, till crisp and golden.
Store in air tight jar.
Notes
Various ovens may differ in baking time for this. 
Nutritional information is an estimate and is to be used for informational purposes only.
Ingredients can vary greatly from brand to brand and therefore it would be impossible to give accurate information. Also double check syn values of sinned ingredients as different brands can vary. 
All images and content on Slimming Eats are copyright protected.
If you wish to share this recipe, then please do so by using the share buttons provided. Do not screenshot or post recipe or content in full
Check Legal section, for Full Disclaimer, Disclosure and Privacy Policy. 
Nutrition Information
Yield

3
Serving Size

1
Amount Per Serving
Calories

240.4
Total Fat

8.1g
Saturated Fat

1.3g
Sodium

1.2mg
Carbohydrates

34.9g
Fiber

4.3g
Sugar

9.1g
Protein

7.1g
Disclosure: This post may contain affiliate links. As an Amazon Associate and member of other affiliate programs, I earn from qualifying purchases. We are a participant in the Amazon Services LLC Associates Program, an affiliate advertising program designed to provide a means for us to earn fees by linking to Amazon.com and affiliated sites." Check Legal section, for Full Disclaimer, Disclosure and Privacy Policy.