I have been loving making all these granola recipes lately and this Apple Granola is a perfect new addition to my collection.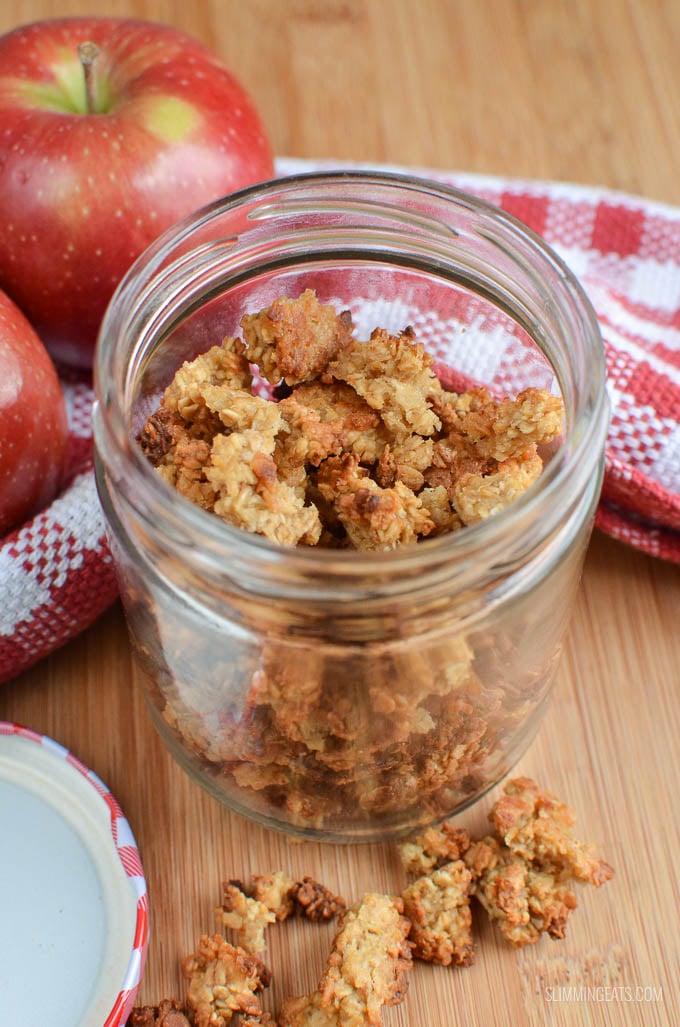 So many boxed granola recipes are ladened with sugar and therefore pretty high in syns and just not very healthy at all.
This Easy Healthy Homemade Apple Granola uses just a couple of simple ingredients and is extremely delicious.
It's not super sweet, because it's not full of sugar, but it is perfect when combined with some yoghurt and fresh fruit. My preferred choices being apples (Red Prince are my favourite variety at present) and mixed berries.
I have been enjoying the granola recipes for breakfast or for a snack in the evening if I save my healthy extra b choice. I love the crunch it has.
Hey, I have even been known to just eat my serving of granola on it's own with a cuppa, as it's like eating broken up pieces of flapjack cookies - yum!!
This recipe for this Apple Granola makes 3 servings, I know you could just make one serving, but when I make this, I know I will want it a few days in a row and making a small batch up like this saves time. I just divide the whole recipe once made up into 3 equal servings and jar up.  Then you can just grab and go, with whatever you want to mix it with.
You can even add this to a bowl with fruit and drizzle your favourite milk over the top as part of your healthy extra a choice if you want.
Don't forget to check out the Pumpkin Granola, Banana Granola and Chocolate Banana Granola. Wow that's some awesome choices for you, along with this delicious Apple Granola, which one is your favourite?

Low Syn Easy Healthy Homemade Apple Granola
This recipe is gluten free, dairy free, vegetarian, Slimming World and Weight Watchers friendly

Extra Easy - 1 HEb and 2.5 syns
Green - 1 HEb and 2.5 syns
SP/Original - 1 HEb and 2.5 syns
WW Smart Points - 7
Gluten Free - use gluten-free oats
Ingredients
120g/4oz of Oats (3xHEa's)
½ cup of unsweetened apple sauce - 2.5
2 tbs of maple syrup - 5 syns
pinch of cinnamon (optional)
Spray oil
Method
Preheat oven to 190c/375f (gas mark 7)
Add the oats to a bowl with the apple sauce, maple syrup and cinnamon and combine well.
Spread out onto a tray line with parchment paper. Not too compacted together or it will be big chunks when cooked.
Spray over the top with spray oil
Place in the oven and bake for 15 mins
Remove from oven and give it a stir on the tray, breaking up any big chunks with a wooden spoon and spread it out again sparingly.
Place back in the oven for another 15 mins (or until lightly golden)
Allow to cool and then you can place in a jar.
Notes
In the USA, a Healthy Extra B serving of oats is slightly less, so adjust accordingly. The other ingredients, can remain the same.

Nutritional information is an estimate and is to be used for informational purposes only. Ingredients can vary greatly from brand to brand and therefore it would be impossible to give accurate information.

All images and content on Slimming Eats are copyright protected.

If you wish to share this recipe, then please do so by using the share buttons provided. Do not screenshot or post recipe or content in full
Nutrition Information
Serving size:
1
Calories:
197
Fat:
3.4g
Saturated fat:
0.6g
Carbohydrates:
37.3g
Sugar:
11g
Sodium:
4.5g
Fibre:
4.4g
Protein:
4.4g
Cholesterol:
0mg
Disclosure: This post may contain affiliate links. As an Amazon Associate and member of other affiliate programs, I earn from qualifying purchases. We are a participant in the Amazon Services LLC Associates Program, an affiliate advertising program designed to provide a means for us to earn fees by linking to Amazon.com and affiliated sites." Check Legal section, for Full Disclaimer, Disclosure and Privacy Policy.