What's not to love about this Low Syn Chocolate Granola?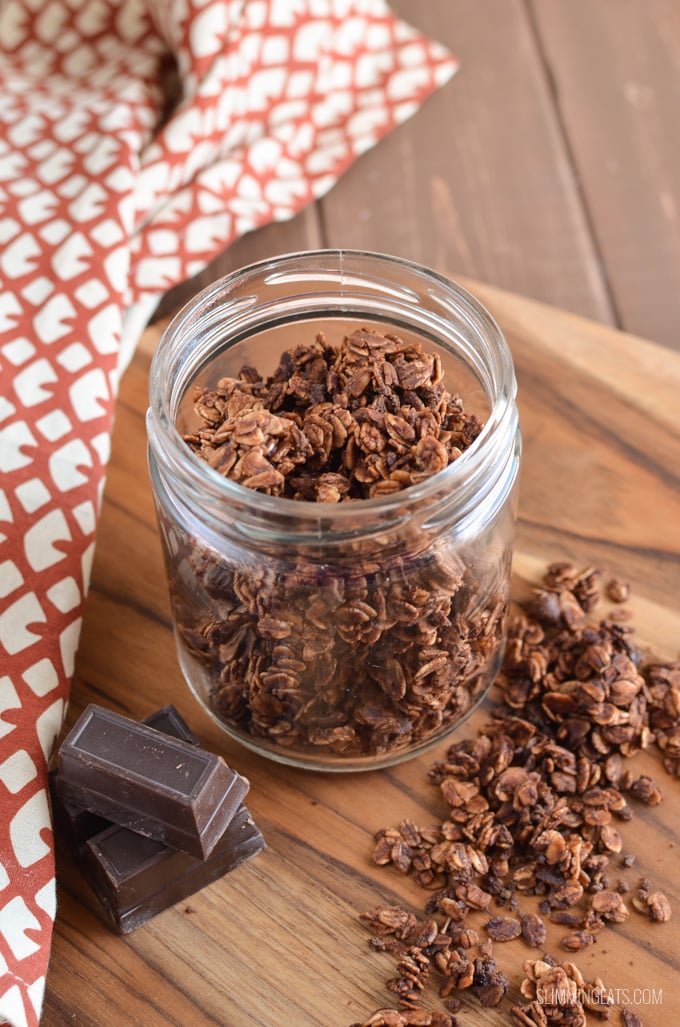 Since posting my Pumpkin Granola recipe,  I have been loving coming up with other variations, as these granola's really feel like a treat when I sprinkle over some yoghurt and fresh fruit.
They are totally worth saving my healthy extra b choice and a few syns for.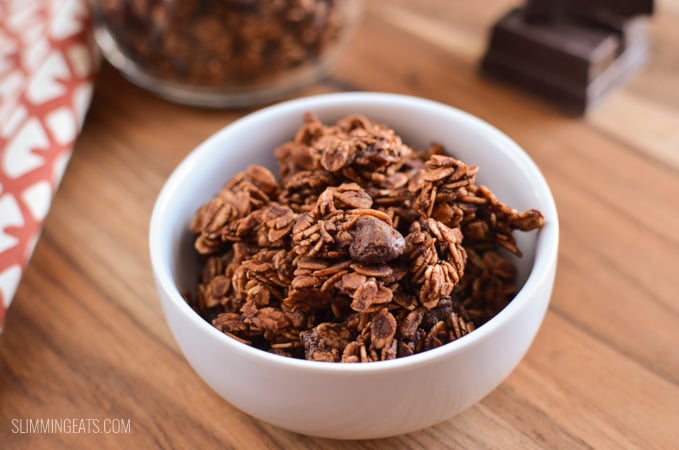 I already shared the pumpkin granola and banana granola, but I thought I just could not avoid making a delicious Low Syn Chocolate Granola and this really helps those chocolate cravings.
Even my kids have been loving these granolas with yoghurt or fruit. I give them some in a little tub in their lunch boxes and they sprinkle it on their yoghurt for a crunchy treat.
If you make sure you use gluten free verified oats, then this recipe will also be gluten free,.
I use maple syrup to sweeten, I love the taste and because it is syrupy it works well with making the granola, you don't really want to use sugar or sweetener as it tends to burn and not taste very nice.
Make sure you really flatten it out into a thin layer on the baking tray when putting in the oven to bake, and when you take it out half way through, you need to use a wooden spoon to break up any really large clumps.
Then you can store this Low Syn Chocolate Granola in a lidded jar or similar. This recipe serves 3, so if you want it to serve more, I suggest doubling or even tripling up the recipe.

Low Syn Chocolate Granola
This recipe is gluten free, vegetarian, Slimming World and Weight Watchers friendly

Extra Easy - HEb and 3 syns
Original - HEb and 3 syns
Green - HEb and 3 syns
WW Smart Points - 7
Gluten Free - use gluten-free oats
Ingredients
120g/4oz of oats - 3xHEb's
1 tbsp of semi sweet chocolate chips - 3.5 syns
1 level tbsp (5g) of unsweetened pure cocoa powder - 1 syn
50g/2oz of banana, mashed - 2.5 syns
1 tbs of maple syrup - 2 syns
1 tsp of vanilla extract
spray oil
Method
Preheat oven to 180c or 350f (gas mark 4)
Add the oat, chocolate chips, cocoa powder, maple syrup, banana and vanilla extract to a bowl and mix well to combine.
Line a baking tray with parchment paper
Spread the oat mixture out of the tray in a very thin layer
Spray over the top with spray oil
Place in the oven and bake for 10 mins
Remove from oven, break up any big clumps with a wooden spoon, spreading it all back out in a thin layer again
Bake for another 10 mins
Great sprinkled on yoghurt and served with fruit
Notes
NOTE: In the US a HEb serving of Oats is slightly less than the UK, so adjust according.

Syn value of cocoa powder can vary from brand to brand. The three brands I use are 100% cocoa powder (not Dutch Processed) and are 1 tbs for 20 calories (1 syn).

You should always double check the syn values of items which are synned, as brands can differ. 

Nutritional information is an estimate and is to be used for informational purposes only

All images and content on Slimming Eats are copyright protected.

If you wish to share this recipe, then please do so by using the share buttons provided. Do not screenshot or post recipe or content in full.
Nutrition Information
Serving size:
1
Calories:
210
Fat:
5.3g
Saturated fat:
1.8g
Carbohydrates:
36.5g
Sugar:
9.3g
Sodium:
0.9mg
Fibre:
4.7g
Protein:
4.9g
Cholesterol:
0mg
Disclosure: This post may contain affiliate links. As an Amazon Associate and member of other affiliate programs, I earn from qualifying purchases. We are a participant in the Amazon Services LLC Associates Program, an affiliate advertising program designed to provide a means for us to earn fees by linking to Amazon.com and affiliated sites." Check Legal section, for Full Disclaimer, Disclosure and Privacy Policy.