If you make one thing this year using leftover pumpkin, then it has to be this Pumpkin Granola - it's my new favorite thing.
So Halloween has gone and left us for this year. Both my kids love this time of year, going to the local pumpkin patch, with hayride, face painting and of course at the end going into the pumpkin fields and picking your own pumpkins.
However the big pumpkins we picked I just use  for carving, never for cooking. If you have only tried pumpkin once and it came from a carving pumpkin and you hated it, well that's probably because carving pumpkins really don't taste very nice. For cooking you want the smaller pie pumpkins, which when cooked, whether it be in a soup, or roasted or pureed with winter spices, are rather delicious.
To make my pumpkin puree I like to bake the pumpkin, as I find the flavour is better, you can steam it, but the flavour can become a bit watery.
Using a large knife, I cut the pumpkin in half, scoop out the seeds (save those if you want to roast your own pumpkin seeds), then lay them  flesh side down on a parchment lined tray. Bake at 200c/400f for about 45 minutes, a knife should skewer into it easily as this point (and if you push on the skin, it should indent). Allow to cool slightly and then you can add to a blender and puree. Place in small tubs and freeze, that way you have pumpkin on hand for all the delicious Pumpkin recipes right here on Slimming Eats.
If you don't have any fresh pumpkin on hand, then canned will work fine too, just make sure you select 100% pure pumpkin, which is syn free, there is another canned variety which is a pumpkin pie filling which is loaded with sugar and other ingredients.
This one here is pretty good:
and can be found at certain grocery stores or Click here to order some from amazon
I was looking for inspiration for something using up some of the pumpkin puree, I was going to make up a big pot of my pumpkin oatmeal which the kids really love drizzled with maple syrup, but with the ingredients sat in front of me I wondered if I could make some kind of healthy granola. Most granolas are loaded with sugar, so are pretty high in syns.
But this Pumpkin Granola is delicious and low in syns.
Combining just a couple of ingredients and baking in the oven, it turned out perfectly. Delicious low syn Pumpkin Granola. It is seriously good stuff. Once cooked and cooled, you can just add to a lidded jar. I just made enough for 3 servings, but you could make more or less, by doubling or reducing ingredients.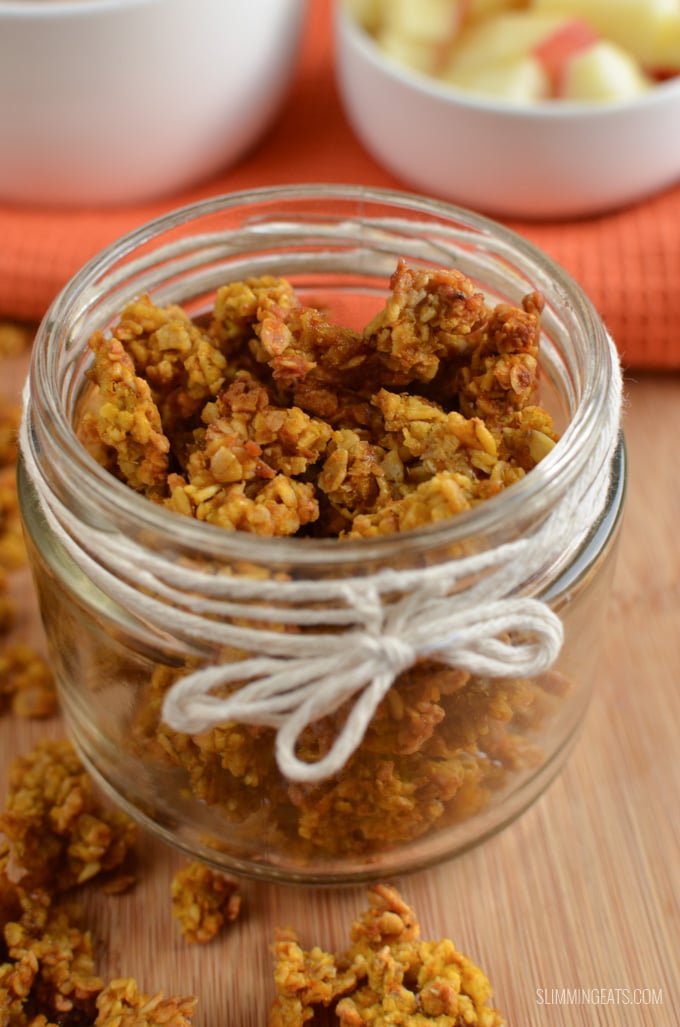 This pumpkin granola can be enjoyed with some milk from you HEa and fruit, or sprinkled into some fat free yoghurt or you could even make this Pumpkin Granola Yoghurt Parfait. Either way you will totally love it.
Low Syn Pumpkin Granola
This recipe is gluten free, dairy free, vegetarian, Slimming World and Weight Watchers friendly

Extra Easy - 1 HEb and 2 syns per serving
Green - 1 HEb and 2 syns per servng
Original - 1 HEb and 2 syns per serving
WW Smart Points - 7
Gluten Free - use gluten-free oats
Ingredients
120g/4oz of oatmeal- 3xHEb
½ cup/120ml of pumpkin puree
pinch of cinnamon
3 tbs of maple syrup - 6 syns
spray oil
Method
Preheat oven to 180c/350f (gas mark 4)
Add the oats to a bowl, with the pumpkin puree, maple syrup and pinch of cinnamon
Mix together thoroughly
Spread out in a thin layer on a tray lined with parchment paper.
Spray over the top with spray oil
Place in the oven and bake for 15 mins
Remove stir and break up large pieces, spray over the top again with spray oil and bake for another 15 mins
The granola should be nice and golden and crisp, if it isn't ready, place bake in the oven and check every 5 mins until cooked.
Store in a lidded jar.
Notes
NOTE: In the US a HEb serving of Oats is slightly less than the UK, so adjust according, reducing the pumpkin puree to ⅓ cup (80ml)

Nutritional information is an estimate and is to be used for informational purposes only

All images and content on Slimming Eats are copyright protected.

If you wish to share this recipe, then please do so by using the share buttons provided. Do not screenshot or post recipe or content in full.
Nutrition Information
Serving size:
1
Calories:
211.8
Fat:
3.6g
Saturated fat:
0.6g
Carbohydrates:
40.6g
Sugar:
13.6g
Sodium:
3.5mg
Fibre:
5.4g
Protein:
5.1g
Cholesterol:
0mg
Disclosure: This post may contain affiliate links. As an Amazon Associate and member of other affiliate programs, I earn from qualifying purchases. We are a participant in the Amazon Services LLC Associates Program, an affiliate advertising program designed to provide a means for us to earn fees by linking to Amazon.com and affiliated sites." Check Legal section, for Full Disclaimer, Disclosure and Privacy Policy.