You know that Pumpkin Granola I gave you, well you just have to use it to make this Pumpkin Granola Yoghurt Parfait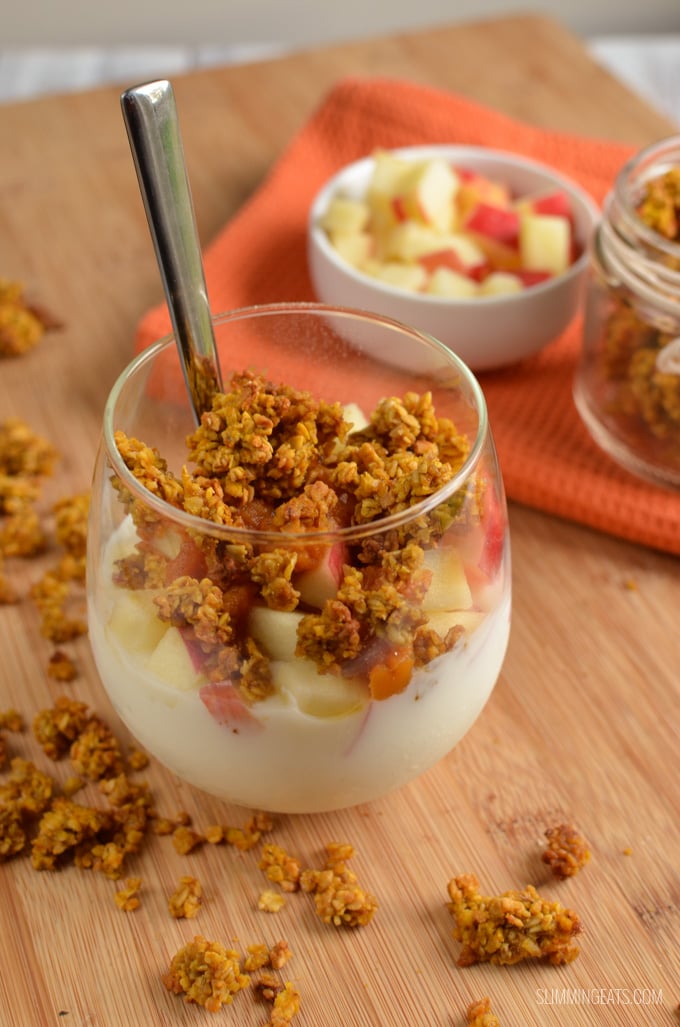 Vanilla Yoghurt, crisp sweet apple, sweet pumpkin and golden pumpkin granola - is just a match made in heaven and perfect for breakfast, dessert or even a snack.
When I made the granola I just didn't comprehend how amazing it would be in these Pumpkin Granola Yoghurt Parfaits, the combination of all the little bits together in every spoonful is delicious.
It's a great way to use up any pumpkin you have left from the Fall season,
To make the pumpkin puree I like to bake the pumpkin, as I find the flavour is better, you can steam it, but the flavour can become a bit watery.
Using a large knife, I cut the pumpkin in half, scoop out the seeds (save those if you want to roast your own pumpkin seeds), then lay them  flesh side down on a parchment lined tray. Bake at 200c/400f for about 45 minutes, a knife should skewer into it easily as this point (and if you push on the skin, it should indent). Allow to cool slightly and then you can add to a blender and puree. Place in small tubs and freeze, that way you have pumpkin on hand for all the delicious Pumpkin recipes right here on Slimming Eats.
Don't worry if you don't have any fresh pumpkin on hand,  canned will work fine too, just make sure you select 100% pure pumpkin, which is syn free, there is another canned variety which is a pumpkin pie filling which is loaded with sugar and other ingredients.
This one here is pretty good:
and can be found at certain grocery stores or Click here to order some from amazon
I like to use cute stemless wine glasses like these to serve the Pumpkin Granola Yoghurt Parfait
Click here to see these stemless wine glasses on amazon
But any kind of glass, jar or even a bowl will do the trick.
Make some pumpkin granola tonight and enjoy one of these Pumpkin Granola Yoghurt Parfait's for breakfast tomorrow

Pumpkin Granola Yoghurt Parfait
This recipe is gluten free, vegetarian, Slimming World and Weight Watchers friendly

Extra Easy - HEb and 3.5 syns
Green - HEb and 3.5 syns
Original - HEb and 3.5 syns
WW Smart Points - 10
Dairy Free - use coconut oil
Ingredients
A batch of Pumpkin Granola - 3 HEb's and 6 syns
2 honey crisp apples, chopped
1.5 cups (360ml) of fat free vanilla
⅓ cup/80ml of pumpkin puree (fresh or canned)
1 tbs of maple syrup - 2 syns
1 tsp of butter or coconut oil - 2 syns
pinch of cinnamon
Method
Melt the butter or coconut oil in a small saucepan.
Add the pumpkin puree, cinnamon and maple syrup
and cook for 5 mins, stirring constantly to prevent sticking.
Layer 3 glasses with yoghurt, then chopped apple, spoonful of the pumpkin mix and top with the pumpkin granola
Serve and enjoy!!
Nutrition Information
Serving size:
1
Calories:
358.4
Fat:
5.1g
Saturated fat:
1.4g
Carbohydrates:
71.2g
Sugar:
35.3g
Sodium:
84.9mg
Fibre:
10.7g
Protein:
10.8g
Cholesterol:
8.4mg
Disclosure: This post may contain affiliate links. As an Amazon Associate and member of other affiliate programs, I earn from qualifying purchases. We are a participant in the Amazon Services LLC Associates Program, an affiliate advertising program designed to provide a means for us to earn fees by linking to Amazon.com and affiliated sites." Check Legal section, for Full Disclaimer, Disclosure and Privacy Policy.