Start the day with these delicious Fluffy Pumpkin Oatmeal Pancakes - perfect served with some fruit a drizzle of maple syrup. 
Have you tried my American Style Pancakes? (which have been around long before Magic pancakes started circling). Well if you liked my American pancakes, you will love these, these are everything a pancake should be - light, fluffy and taste amazing.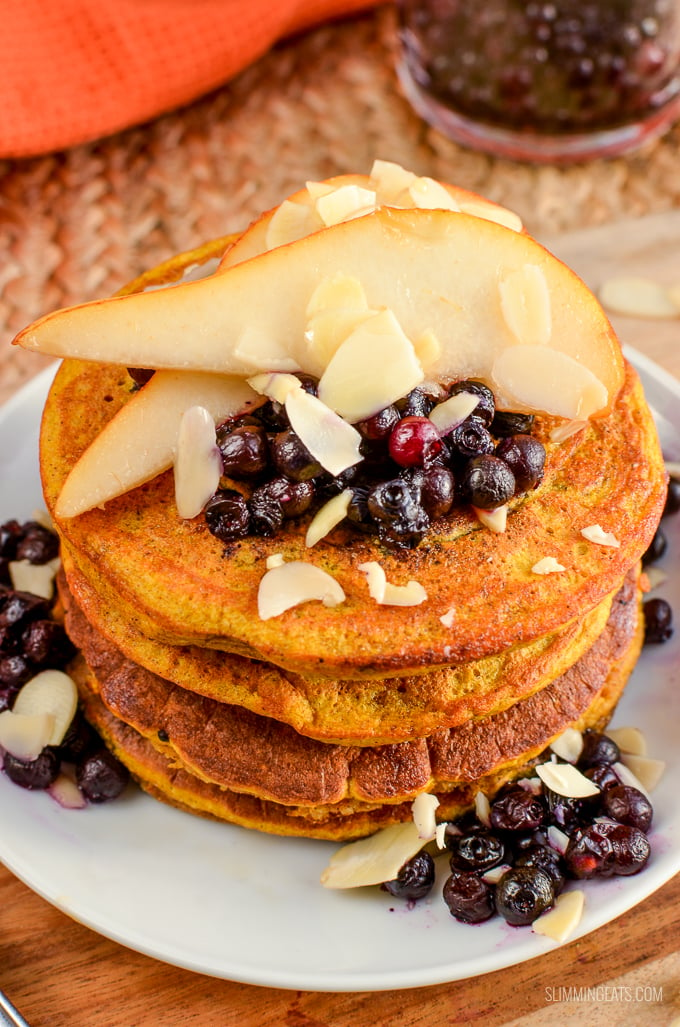 They are very low synned, literally the only syns is the baking powder  (which helps to keep them thick and fluffy) and then the toppings are entirely up to you. You can stick to syn free toppings like fresh fruit, or if you are feeling a bit decadent and have some syns to spare, try my serving suggestion of blueberries, ripe pear, almond slices and a drizzle of maple syrup.
If you enjoyed these Fluffy Pumpkin Oatmeal Pancakes - check out these other recipes:
or don't forget my FULL RECIPE INDEX with over 500+ delicious Slimming World Recipes
This recipe is Gluten Free, Dairy Free, Slimming World, Vegetarian and Weight Watchers friendly
Slimming Eats Recipe
Extra Easy – 1 HEb and 0.5 syns per serving
Green – 1 HEb and 0.5 syns per serving
Original – 1 HEb and 0.5 syns per serving
SP friendly – 1 HEb and 0.5 syns per serving
Gluten Free - use gluten-free oats
Fluffy Pumpkin Oatmeal Pancakes
Ingredients
40g (1.5oz) of oats (1 HEb)
¼ cup (4 tbs) of 100% pure pumpkin puree
¾ tsp of baking powder
pinch of cinnamon (or more if you like strong cinnamon flavour)
2 large eggs
½ tsp of vanilla
¾ tbs of sukrin gold (or other sweetener of choice)
Spray oil
Instructions
Add the oats to a blender, and pulse a few times, until you have fine grains.
Add this to a bowl, along with the baking powder, sukrin, cinnamon and mix well.
Add the pumpkin puree and mix with a wooden spoon, until all ingredients and mix together well.
Add the eggs, and vanilla and whisk till you have a smooth batter.
Heat a skillet over a low/medium heat.
Spray with oil and pour on a little batter at a time, when a spatula can slide under easily, flip and brown the other side. Repeat with remaining batter. (You should get about 5 medium sized pancakes with this mix).
Serve with your choice of toppings. Fresh fruit of course being free or for a decadent breakfast or dessert. Add a few sliced almonds and a drizzle of maple syrup for a few syns.
Notes
Nutritional information is an estimate and is to be used for informational purposes only.

Ingredients can vary greatly from brand to brand and therefore it would be impossible to give accurate information. Also, double-check syn values of synned ingredients as different brands can vary.

All images and content on Slimming Eats are copyright protected.

If you wish to share this recipe, then please do so by using the share buttons provided. Do not screenshot or post recipe or content in full

Check Legal section, for Full Disclaimer, Disclosure and Privacy Policy.
The recipe above has been calculated for Slimming World, however for those of you following the Weight Watchers plan or another calorie controlled type diet. Below is the approx nutritional information:
Approx NUTRITIONAL INFORMATION

per serving

Calories

245

Fat

10.4g

Saturated Fat

3.0g

Total Carbohydrate

22.6g

Dietary Fibre

4.1g

Sugars

3.8g

Protein

              14.4g
Disclosure: This post may contain affiliate links. As an Amazon Associate and member of other affiliate programs, I earn from qualifying purchases. We are a participant in the Amazon Services LLC Associates Program, an affiliate advertising program designed to provide a means for us to earn fees by linking to Amazon.com and affiliated sites." Check Legal section, for Full Disclaimer, Disclosure and Privacy Policy.