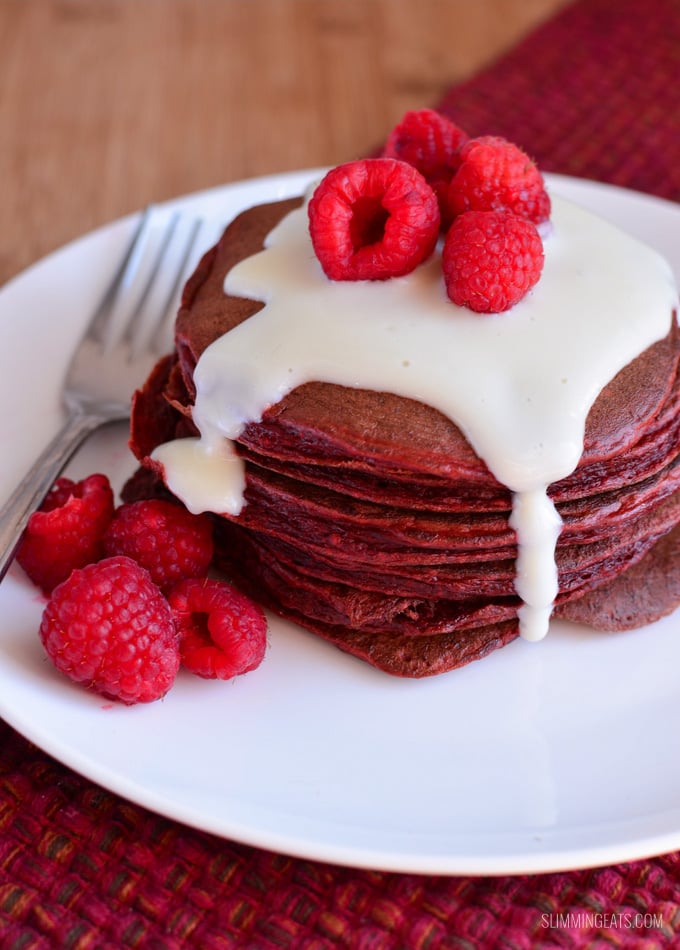 Those of you who frequent here, have probably already tried my American Style Pancakes (a recipe I came up with at the beginning of 2011, when I wanted a low synned pancake that didn't taste eggy).
I used to make a similar type pancake many years before, for my son when he was weaning by adding Ready Brek to the mixture, so figured - hey oats should work too.
Then came the idea for a low synned Red Velvet Pancake recipe, as I love red velvet anything, but it is usually accompanied by a high syn value.
The original recipe I had on here for these, was great, but it was missing a little something. So I recently revisited this to work on making it even better (something I am often doing with my recipes) to ensure I give you delicious home cooked and low syn meals.
The result was awesome, these are really delicious and will now be a regular, when I fancy a treat and have a healthy extra b choice available.
If you have a few additional syns spare, these are even more decadent with a little drizzle of maple syrup (don't forgot to add some syns though if you do - 2 syns per tablespoon).
Look at how deliciously fluffy and decadent they look with an additional drizzle of maple syrup for some extra syns - yum!

Red Velvet Pancakes
This recipe is gluten free, vegetarian, Slimming World and Weight Watchers friendly
Extra Easy -1 HEb and 3 syns
Green - 1 HEb and 3 syns
Original - 1 HEb and 3 syns
WW Smart Points - 10
Gluten Free - use gluten-free oats
Ingredients
⅓ cup/35g of oats (1xHEb) (can use gluten free variety)
½ tablespoon (2.5g) of unsweetened pure cocoa powder (1 syn for this and the baking powder/soda)
1 tsp of baking powder
½ tsp of baking soda
90g (3oz) of fat free cherry yoghurt
2 eggs
1 tsp of good quality red food colouring
1 /2 tsp of vanilla extract
2 tsp of icing sugar (1 syn)
1 tablespoon of low fat cream cheese (1 syn)
raspberries or strawberries for topping
spray oil
Instructions
Place oats into a mini blender and blitz until fine.
Add to a bowl with cocoa powder, baking powder and baking soda and mix well to combine.
Stir in yoghurt and vanilla extract
Whisk in eggs and and food coloring till smooth.
Heat a skillet over a medium heat (don't have it too high, patience is key, too hot and these will stick and burn).
Spray with oil and add a little bit of the batter.
As little air bubbles appear on surface, carefully using a spatula flip over and cook other side, repeat with another a bit of the batter. (I get about 6 pancakes)
When last pancakes is cooking.
Add cream cheese and icing sugar to a bowl and mix together till smooth, then add a little drop of water at a time until you have a nice thick icing.
Stack pancakes, add icing to the top, so it drizzles down the side and then top with raspberries or strawberries.
Enjoy!! these are so yummy
For a few more syns to make this even more decadent, add a little drizzle of maple syrup too.
Notes
Syn value of cocoa powder can vary from brand to brand. The three brands I use are 100% cocoa powder (not Dutch Processed) and are 1 tbs for 20 calories (1 syn).
You should always double check the syn values of items which are synned, as brands can differ.
All images and content on Slimming Eats are copyright protected.
If you wish to share this recipe, then please do so by using the share buttons provided. Do not screenshot or post recipe or content in full.
Nutrition Information
Amount Per Serving
Calories

366
Cholesterol

380.3mg
Sodium

1400.2mg
Carbohydrates

40.3g
Fiber

7.7g
Sugar

11.6g
Protein

21.6g
Disclosure: This post may contain affiliate links. As an Amazon Associate and member of other affiliate programs, I earn from qualifying purchases. We are a participant in the Amazon Services LLC Associates Program, an affiliate advertising program designed to provide a means for us to earn fees by linking to Amazon.com and affiliated sites." Check Legal section, for Full Disclaimer, Disclosure and Privacy Policy.