Whether it is for breakfast or dessert – these Syn Free Classic Belgian Waffles are delicious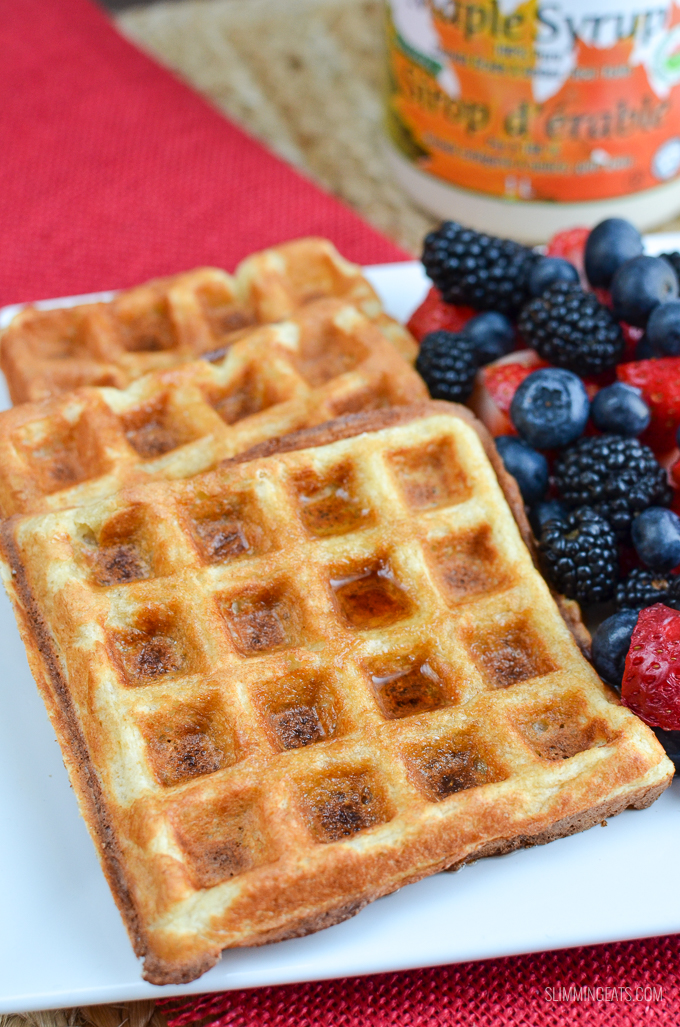 I moved to Canada back in 2008 and fast became accustomed to pancakes or waffles for breakfast with maple syrup. So one thing that was important to me on my Slimming World journey was a low syn pancake recipe I could enjoy without blowing my daily syn allowance.
So back in 2009 my Low Syn American Pancakes recipe was born and boy is it a good one, the pancakes are light fluffy and really yummy.
Since I posted that recipe, many similar pancakes recipes followed. There are even some other ones on here, such as:
Then from there also came the following waffles recipes:
My first purchase was a traditional waffles iron like this Belgian Waffle Maker on Amazon. I love it's traditional round shape which is perfect for waffles for breakfast. This mixture for this recipe will pretty much fill the whole waffle maker if you have one of those shaped waffle makers.
I have since upgraded to a new waffle maker, which makes traditional square shaped Belgian Waffles like this Andrew James Belgian Waffle Maker.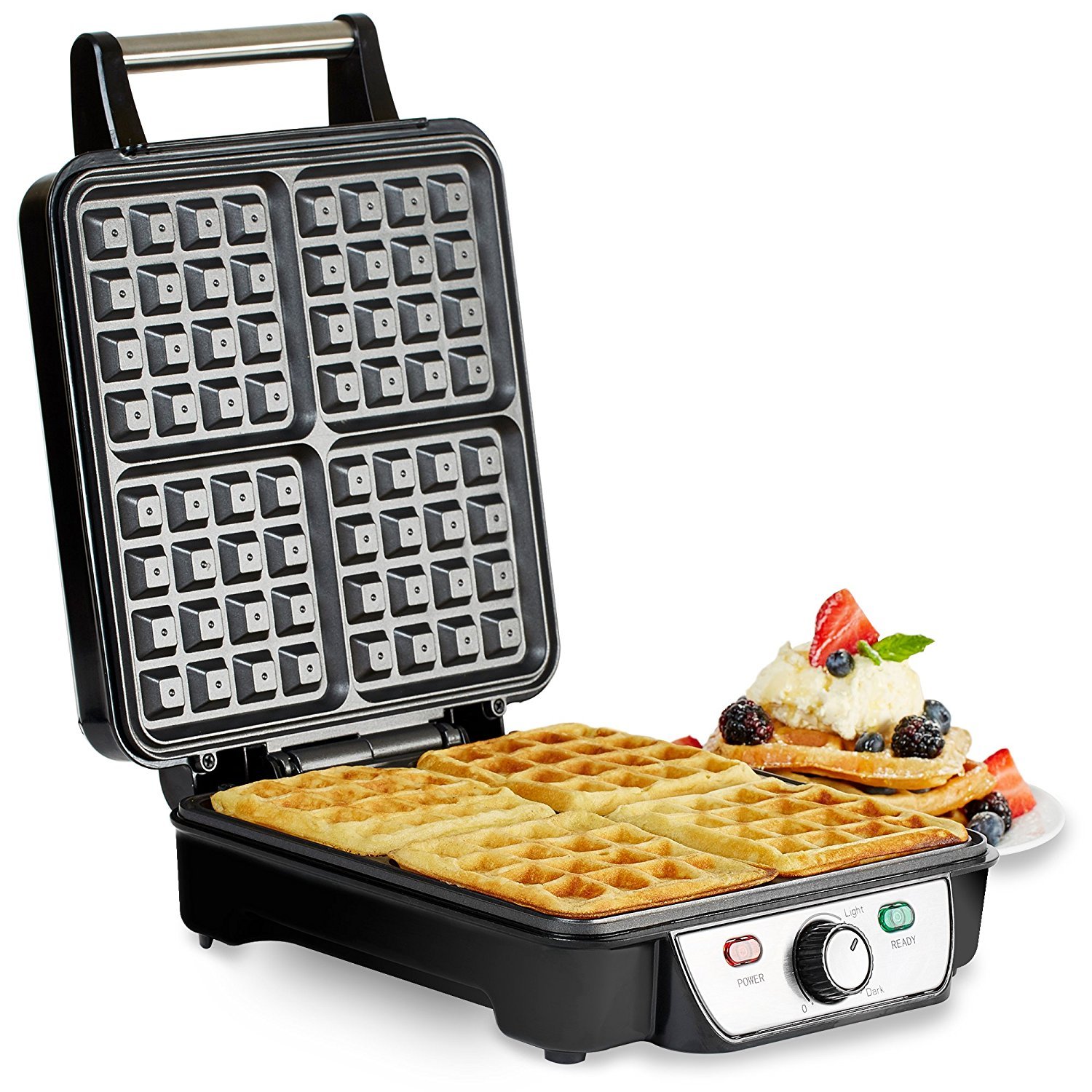 A temperature control, might seem unnecessary, but it really does come in handy if you are going to be using it for different things. For example, when doing hash brown waffles I use a high temp, but for these Syn Free Belgian waffles, I use a low/medium temp. I also prefer the square shape waffle. But really a waffle is a waffle whatever shape you have.
Check out the Andrew James Belgian Waffle Maker on Amazon
However the mix for my American Style Pancakes is not the right consistency to work in the waffle iron, so I was a little disappointed I couldn't use that mix to make waffles and so bought some silicone waffle molds. But have to say I hated them, the smell from the silicone when baking, tends to scent everything with a horrid taste and I stopped using silicone bakeware for that reason.
So it was back to the waffle iron for making waffles using my recipes above.
However, I was determined to get my pancake recipe to work in the waffle iron, so made a couple of small adjustments, mainly using only one egg and a little less yoghurt and viola!! – perfect Classic Belgian Waffles. These are seriously yummy, served with fresh fruit and a drizzle of maple syrup – hey you know me and my maple syrup. I do live in Canada after all. We have maple syrup on literally everything.
It's important to finely blitz the oats for these Classic Belgian Waffles. I use my  Nutri Ninja Blender with Auto IQ (click to see me on amazon). This blender is amazing. The auto iq technology feature, mean it blends to a set pattern, depending on what it is your are making.
I know I have seen a few comments that some are worried that blending oats is a tweak, but it really isn't. Oats are a measured Healthy Extra B Allowance, so there is no possible way to over consume these, you can't go over the allowance you are allowed each day unless of course you are going to syn any extra and blitzing them doesn't change their filling power.
For the flavouring I added a teeny bit of almond extract, but you really can use any flavouring you like – cinnamon, vanilla, coconut etc to compliment whatever you are serving with them.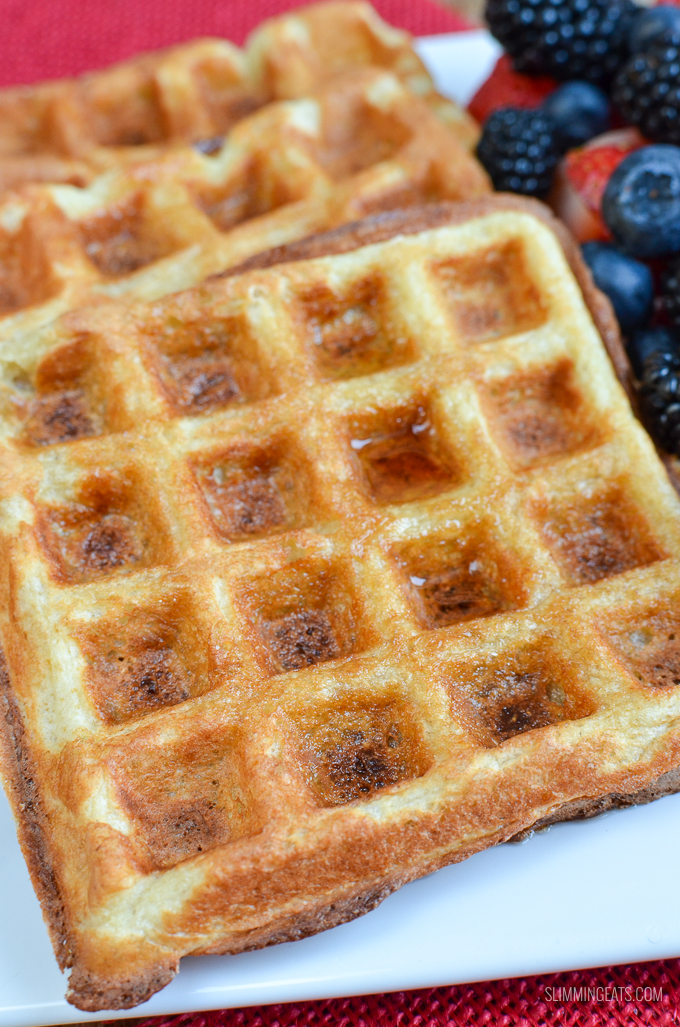 To keep these Classic Belgian Waffles free from artificial sweeteners, I like to use plain yoghurt, I don't use a flavoured yoghurt, I just add a little bit of sukrin: 1 (a natural sweetener with no aftertaste) and that is perfectly enough. I find flavoured fat free yoghurts, can give these a weird taste and you want them to taste like waffles, right?
Print
Syn Free Classic Belgian Waffles
Yield 1 serving
This recipe is gluten free, vegetarian, Slimming World and Weight Watchers friendly
Extra Easy - 1 HEb per serving
Green/Vegetarian - 1 HEb per serving
Original - 1 HEb per serving
WW Smart Points - 7
Gluten Free - use gluten-free oats and baking powder
Add 2 syns if serving with 1 tbs of maple syrup and fruit. 
Ingredients
40g (1.5oz) of oats 
3/4 tsp of baking powder
1/4 cup (60ml) of fat free plain Yoghurt
3/4 tbs of sukrin:1
1/2 tsp of almond extract
1 large egg
spray oil
Instructions
Heat waffle iron (low temp is if has a temperature control on it)
Add the oats to a blender and blitz till fine
Mix in the baking powder
Add the yoghurt, egg, sukrin: 1 and almond extract and mix to combine.
Spray waffle iron with spray oil
Pour in the mix evenly, close and cook till waffles are golden. 
Remove, serve with sides of choice
I served mine with fruit and maple syrup 
Notes
This waffle mix will pretty much fill the all compartments of a round waffle maker, if using a square waffle maker like I have, the mix will fill about 2 to 3 compartments. 
I do not syn the baking powder, as it less than 0.5 syns for the amount used.
Nutritional information is an estimate and is to be used for informational purposes only.
Ingredients can vary greatly from brand to brand and therefore it would be impossible to give accurate information.
All images and content on Slimming Eats are copyright protected.
If you wish to share this recipe, then please do so by using the share buttons provided. Do not screenshot or post recipe or content in full
Nutrition Facts
Serving Size 1 (no toppings)
Amount Per Serving

Calories 252

% Daily Value

Total Fat 8.2 g

13%

Saturated Fat 2.2 g

11%

Cholesterol 186 mg

62%

Sodium 460 mg

19%

Total Carbohydrates 27 g

9%

Dietary Fiber 3.6 g

14%

Sugars 2.3 g

Protein 16.7 g

33%
* Percent Daily Values are based on a 2,000 calorie diet. Your daily values may be higher or lower depending on your calorie needs.
It is the responsibility of the Reader to assure the products or ingredients they use in any recipes from Slimming Eats are allergen-free (gluten-free, egg-free and/or dairy-free, for example) or Vegetarian friendly. Slimming Eats assumes no liability for inaccuracies or misstatement about products, opinions or comments on this site.
Nutritional information is an estimate and is to be used for informational purposes only
Looking for some additional support on your weight loss journey? Did you know Slimming Eats has a friendly Slimming World Facebook Support Group where you can get daily meal ideas and recipe ideas? Come and check us out, we'd love to have you join.
Looking for some other recipes? Head on over to my RECIPE INDEX for over 850 Slimming World & Weight Watchers recipes for you to browse through, all fully searchable by meal type, Ingredients, syn value and WW Smart Points etc
DID YOU

 

make

THIS

 

RECIPE

? I'D

 

LOVE

 TO SEE IT!
Snap a photo and hashtag #slimmingeats or tag me @slimmingeats on INSTAGRAM
Are you on facebook? Then be sure to come and like me on FACEBOOK
All images and content on Slimming Eats are copyright protected.
If you wish to share this recipe, then please do so by using the share buttons provided. Do not screenshot or post recipe or content in full.
* Disclosure: This post may contain affiliate links. We are a participant in the Amazon Services LLC Associates Program, an affiliate advertising program designed to provide a means for us to earn fees by linking to Amazon.com and affiliated sites." Check Legal section, for Full Disclaimer, Disclosure and Privacy Policy.