Low Syn Delicious Chocolate Waffles - great for breakfast or dessert served with some fresh fruit. Help satisfy those chocolate cravings!!
These Chocolate Waffles are great for the chocolate fix and perfect for breakfast or dessert. Since switching to a more clean eating lifestyle, I am a lot more conscious of the foods I eat and therefore have been using ingredients I wouldn't of used years ago. I love coconut flour, it is super fibrous and therefore you don't need much of it at all. Another favorite ingredient I have added into my diet is Plantain.
Since switching to a more clean eating lifestyle, I am a lot more conscious of the foods I eat and therefore have been using ingredients I wouldn't of used years ago.
One new ingredient I now use regularly is Plantain. It is super underrated and such a versatile ingredient to use in a variety of dishes.
Plantain can be cooked unripe where the skin is very green, and one of the most popular recipes to use for green plantain is Tostones.
If you haven't yet tried those, then you really must, they remind me of crispy pieces of batter – and I am being serious!!
Usually, tostones are double fried and totally not Slimming World friendly. But lucky for you, I have a healthy baked version if you want to give these a try. My favourite way to serve these Oven Baked Tostones is using them as Nachos with chilli and I have a few delicious chilli recipes you can serve them with.
Ripe plantain is usually baked, roasted, or panfried and are much sweeter than unripe, and although kind of similar to a banana at this stage of ripeness, they are a lot more starchier. These Baked Sweet Plantain make a great side dish to a variety of mains for something a little different.
So onto the recipe for these amazing Chocolate Waffles – sat on my counter was a very lonely very ripe plantain. When plantain are this ripe, the skin is black, now don't be fooled into thinking this has spoiled and throw it away, you just wasted a perfectly good ripe plantain and do you know what you could of made with it? These delicious chocolate waffles.
To sweeten I used  Sukrin:1  (a natural sweetener with no aftertaste and my preferred choice when making baked good or wanting to sweeten things), but you can use any sweetener of choice. and then to add that chocolate flavour some 100% pure cocoa powder and Chocolate Cashew Milk (Chocolate Almond Milk will work the same too). Then there is also a healthy extra B choice of oats per serving.
For that chocolate flavour, I use 100% pure cocoa powder and Chocolate Cashew Milk (Chocolate Almond Milk will work the same too). Then there is also a healthy extra B choice of oats per serving.
The ratio of milk used will depend on how you like the texture of your waffles. ⅓ cup (80ml) will yield a waffle with an almost crispy exterior, whereas just upping the milk slightly to ½ cup (120ml) will yield a softer waffle.
To make the batter you will need a blender to blend the oats and other ingredients. I use my  Nutri Ninja Blender with Auto IQ , which is an amazing blender.  The auto IQ technology feature, mean it blends to a set pattern, depending on what it is you are making.
To cook the waffles you will need a waffle maker. I used a square waffle maker like this Andrew James Belgian Waffle Maker.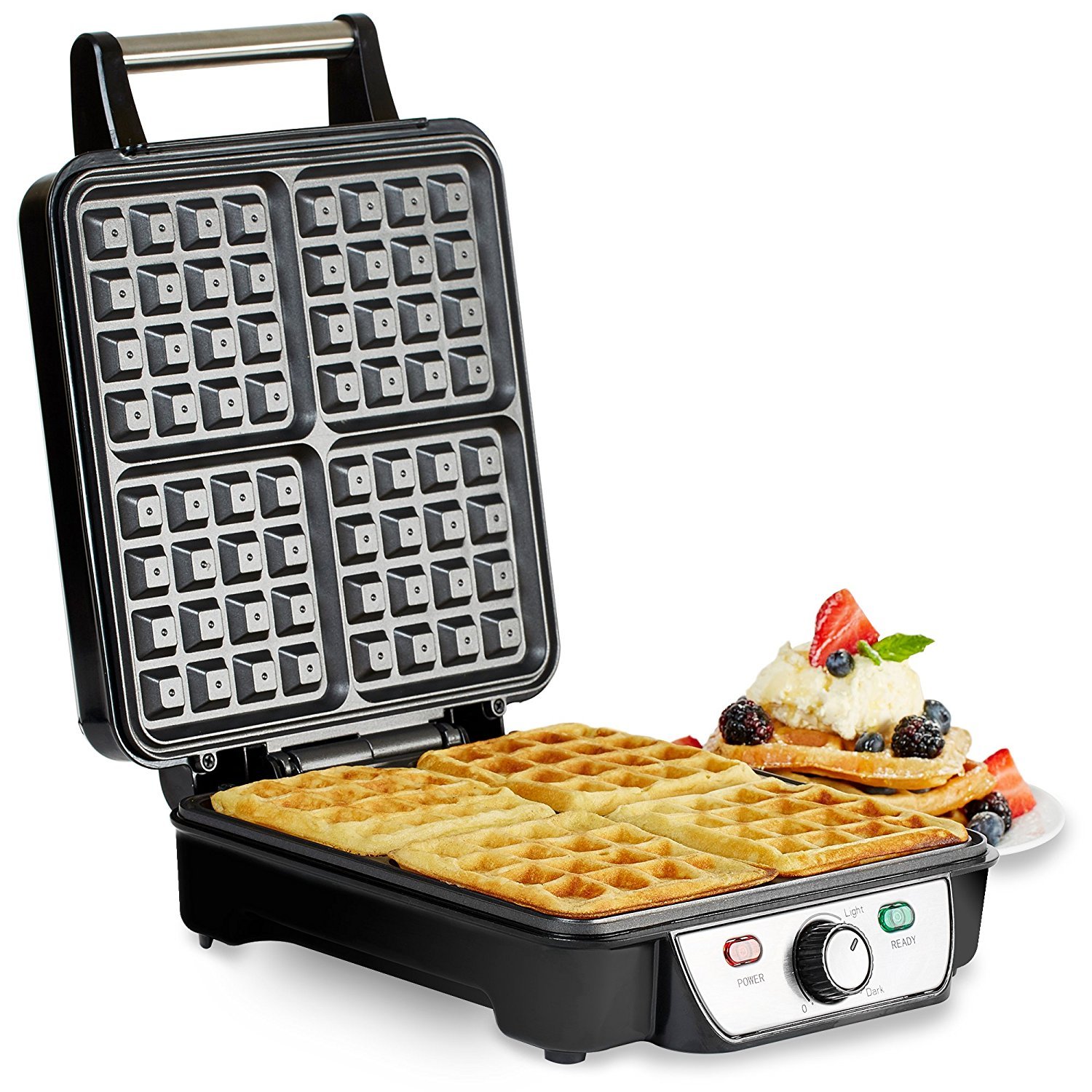 A temperature control might seem unnecessary, but it really does come in handy if you are going to be using it for different things. For example, when doing hash brown waffles I use a high temp, but for these chocolate waffles, I use a medium temp.
Check out the Andrew James Belgian Waffle Maker on Amazon
One thing that is really important with the mixture is to not overfill the waffle maker, you want the mixture to just coat each square evenly. If you overfill, as it starts to cook and rise, it will overflow out the sides and make a mess.
Also do not try to lift the lid too early, as if the mixture has not yet cooked in the middle, you will split them in half. Let them cook fully and then slow lift the lid, if it feels like it won't lift easily, then leave for a little longer.
The mixture will make enough for 2 servings, perfect if you are sharing breakfast with someone else, but if not, once cool, you can pop in a freezer bag and freeze for another day.
Plantain can normally be found at most Caribbean grocery stores, so check those in your area. Also, check the fruit and vegetable section of your larger grocery stores. Asda shows them as in stock online, but they may be seasonal at other stores.
Serve these amazing Chocolate Waffles topped with fruit of choice (I picked strawberries, raspberries, and a little banana). I also love to drizzle with a tbs of maple syrup for 2 syns. Perfect!!!
Low Syn Chocolate Waffles
This recipe is gluten free, dairy free, vegetarian, Slimming World and Weight Watchers friendlyExtra Easy - 1 HEb and 2 synsGreen/Vegetarian - 1 HEb and 2 synsWW Smart Points - 10Gluten Free - ensure oats and baking powder are gluten free. 
Ingredients
80g (2.8oz) of oats (2xHEb)
¾ tsp of baking powder
1 level tablespoon (5g) of 100% pure cocoa powder (1 syn)
1 very ripe plantain (approx 112g), peeled and chopped
½ cup (120ml) of chocolate cashew or almond milk (2.5 syns)
1.5 tablespoons of sukrin:1 (or other sweetener of choice)
1 tsp of vanilla extract
2 eggs
spray oil
Instructions
Heat waffle iron, turning dial to medium heat.
Add oats, cocoa powder, baking powder and sukrin to a blender or food processor and pulse a few times, until mixture is fine.
Add to a bowl
Add to a blender, the chopped plantain, chocolate cashew milk, eggs and vanilla and blend till smooth.
Add this to the oat mixture and mix to combine.
Spray the waffle iron with spray oil and and brush with a brush to make sure the iron is great all over.
Pour the batter into the waffle iron in an even layer (do not over fill)
Close waffle iron and cook for approx 5 mins, slowing lift lid of waffle iron to check for doneness, if it doesn't lift easily, leave for another minute of so.
Serve with your choice of toppings.
Notes
Syn value of cocoa powder can vary from brand to brand. The three brands I use are 100% cocoa powder (not Dutch Processed) and are 1 tbs for 20 calories (1 syn).
You should always double check the syn values of items which are synned, as brands can differ. 
If you don't want to use any healthy extra's these waffles are 4.5 syns per waffle. 
Prefer a waffle with a crisp exterior? reduce the cashew milk to ⅓ cup (80 ml)
The syns in the baking powder is negligible when divided into portions. 
Nutritional information is an estimate and is to be used for informational purposes only.
Ingredients can vary greatly from brand to brand and therefore it would be impossible to give accurate information.
All images and content on Slimming Eats are copyright protected.
If you wish to share this recipe, then please do so by using the share buttons provided. Do not screenshot or post recipe or content in full
Nutrition Information
Yield

2
Serving Size

1 serving
Amount Per Serving
Calories

328
Total Fat

9.7g
Saturated Fat

2.8g
Cholesterol

186mg
Sodium

326mg
Carbohydrates

49.1g
Fiber

6.2g
Sugar

4.9g
Protein

12.2g
Disclosure: This post may contain affiliate links. As an Amazon Associate and member of other affiliate programs, I earn from qualifying purchases. We are a participant in the Amazon Services LLC Associates Program, an affiliate advertising program designed to provide a means for us to earn fees by linking to Amazon.com and affiliated sites." Check Legal section, for Full Disclaimer, Disclosure and Privacy Policy.