Pulled Pork Pasta Bake - combines the rich, smoky flavors of homemade leftover pulled pork with perfectly cooked pasta, all baked to cheesy, bubbling perfection.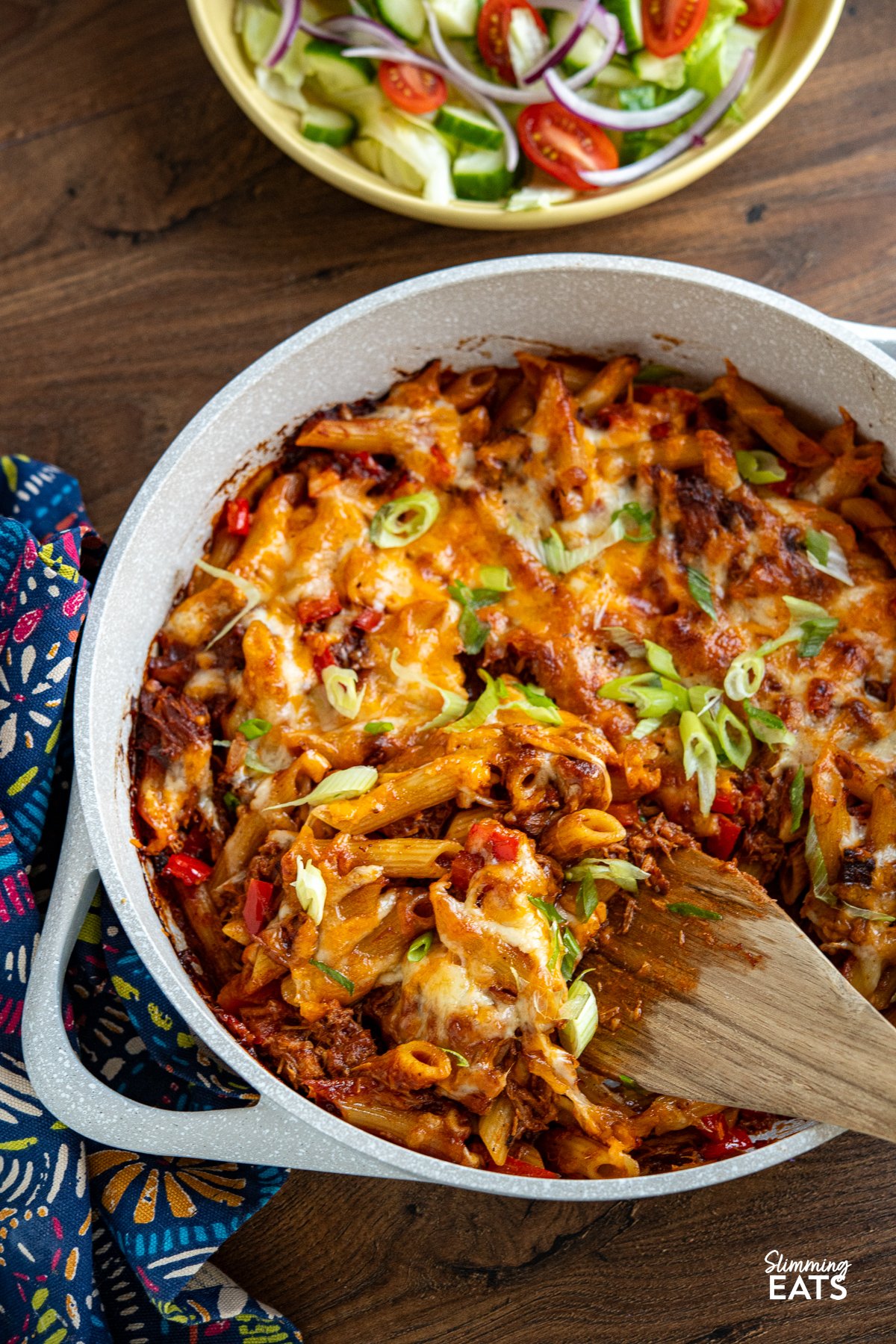 Introducing Pulled Pork Pasta Bake
I drew inspiration from the classic Pulled Pork Mac and Cheese to create this mouthwatering Pulled Pork Pasta Bake. While it may not be a traditional mac and cheese, it's a cheesy delight that my kids devoured, and the entire family adored.
You have the option to use leftovers from my Stove Top Pulled Pork or my Slow Cooker Pulled Pork, both of which work perfectly. Once you have your pulled pork ready, the rest of the ingredients come together effortlessly. Simply mix them, sprinkle on some cheese, pop it in the oven, and you're all set.
Jump to: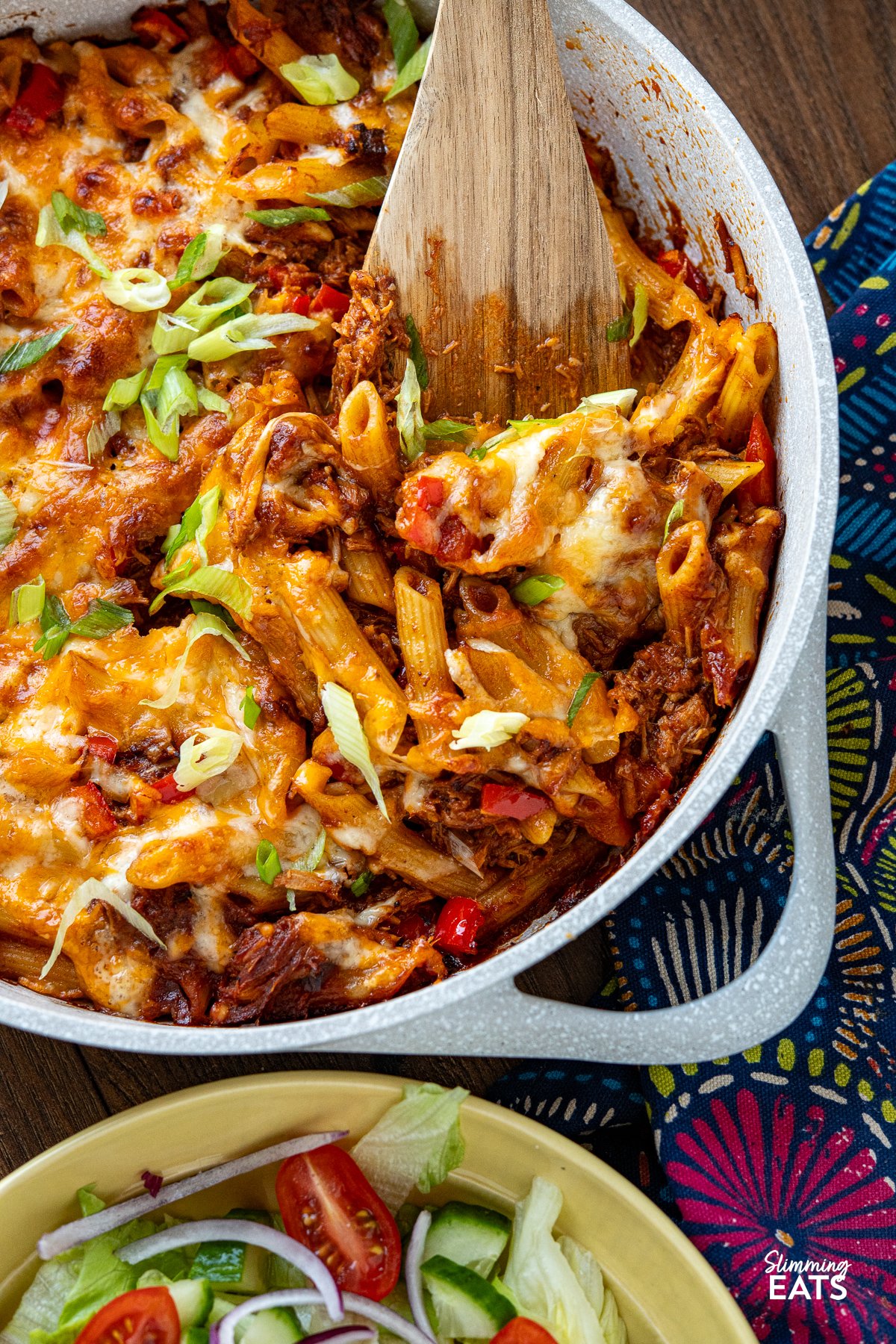 Calories in Pulled Pork Pasta Bake:
These delicious Pulled Pork Pasta Bake serves 4 people and has 520 calories per serving (no sides).
If you're looking for more recipes within the same calorie range, you'll find an abundance of options in my dedicated collection of 500+ calorie recipes.
If you're following a calorie-controlled diet or a healthy eating plan, it's important to calculate your daily calorie intake using a reliable calorie calculator. Please note that the calorie counts provided are estimates and can vary based on specific ingredients and serving sizes. Personalizing your calculations is essential to meet your individual needs. By using a calorie calculator, you can make informed choices and stay on track with your dietary goals.
Ingredients for Pulled Pork Pasta Bake
To prepare this Pulled Pork Pasta Bake, here are some notes on the ingredients used:
Leftover Pulled Pork: I use pulled pork from either of these two recipes Stove Top Pulled Pork or my Slow Cooker Pulled Pork. However, feel free to use your own pulled pork recipe if you prefer.
Bell Pepper: a diced red bell pepper adds a pop of colour to the dish, but any colour of bell pepper will suffice.
Tomato Paste (Puree): this is concentrated tomato paste
Worcestershire Sauce: elevates the pulled pork pasta bake with its savoury, smoky depth of flavor, striking a perfect balance between creamy cheesiness and subtle tanginess.
Smoked Paprika: enriches the smoky flavor of the pulled pork pasta bake, introducing an extra layer of delicious depth.
Penne Pasta: is my top choice for this recipe, but you can also use similar pasta shapes like macaroni or fusilli.
Pasta Water: It's the secret ingredient to almost any pasta dishes. Save the starchy water from your cooked pasta – it's like liquid gold. This elixir helps sauces cling to the pasta, creating a creamy, flavorful harmony in every bite.
Cheese: A blend of mozzarella and cheddar forms an ideal, gooey cheese topping for this pasta bake. However, feel free to experiment with any cheese combination you prefer. If you'd like a vibrant orange or yellow hue, consider using Red Leicester as a delightful alternative to cheddar.
Salt and Pepper: These essential flavour enhancers play a crucial role in elevating the taste of your dishes. We use them to season the steak bites and recommend using them to season the final dish to taste as well. They ensure your food is never bland when used appropriately.
Spring Onions/Green Onions: these just add a bit of colour and additional flavour and are used to garnish the finished pasta bake.
Once you've gathered all the ingredients and prepared them accordingly, you're all set to create this easy and delightful recipe.
See the recipe card for specific quantities and instructions.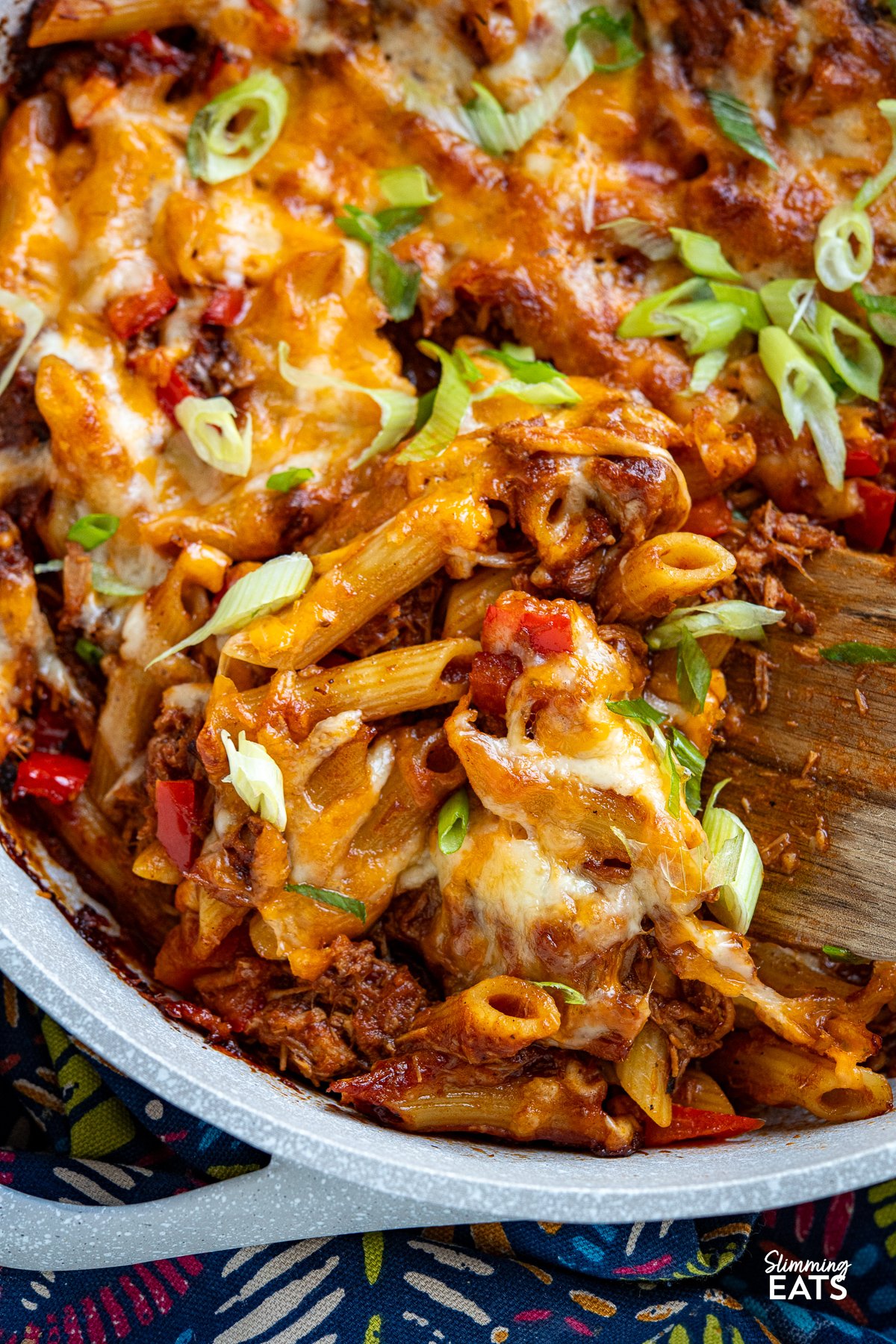 Tips for making the Perfect Pasta Bake
Pasta bakes are the epitome of comfort food, with their cheesy, saucy goodness. To ensure your pasta bake turns out flawless every time, here are some of my essential tips and tricks to guide you through the process.
Choose the Right Dish: Select an oven-safe baking dish that's the right size for your recipe. A dish that's too large may result in a thin, overcooked pasta bake, while one that's too small can lead to an overflow and uneven cooking.
Cook Pasta Al Dente: Boil your pasta until it's al dente, as it will continue cooking in the oven. Overcooked pasta can become mushy in the bake.
Save Pasta Water: Don't forget to reserve some pasta water before draining. It's an invaluable ingredient that can help create a silky, cohesive sauce.
Combine Ingredients: Ensure a thorough mixing of all the components to achieve that ideal sauce coating on every pasta piece. It's all about maintaining a harmonious balance between pasta, sauce, and cheese. Too much pasta can lead to a dry bake, while an excess of sauce can make it overly saucy."
Season Thoughtfully: Be sure to taste and season your pasta bake to perfection, adjusting the flavours to your desired taste.
Perfectly Melted Cheese Topping: To achieve the perfect melted cheese topping, opt for the right cheese blend, like a combination of a mild melting cheese like mozzarella and stronger flavour cheese, like cheddar, vibrant Red Leicester or parmesan. For that irresistible golden finish, consider the grill (broiler) technique after baking in the oven. This step yields a beautifully golden, bubbly, and delightfully crispy cheese layer, elevating your pasta bake to new heights of deliciousness. However, exercise caution and keep a close eye on the pasta bake during this stage to prevent it from quickly transitioning from golden to burnt.
Add Some Greens: Elevate your pasta bake with a sprinkle of fresh herbs like basil, parsley, green onions, or chives. Not only do they infuse delightful flavour, but they also add a vibrant burst of colour.
Rest Before Serving: Allow the pasta bake to rest for a few minutes after taking it out of the oven. This helps the flavours meld together and makes it easier to slice and serve.
By following these tips, you'll be well on your way to creating a mouthwatering, perfectly executed pasta bake every time.
Sides for Pulled Pork Pasta Bake:
Pasta Bake is pretty much a complete meal all in itself, protein, carbs and vegeables are all included for that balanced meal. However to ensure a filling and balanced plate, I always like to pair this pasta bake with a vibrant mixed salad or crispy lettuce, red onion, cherry tomatoes and cucumber. The freshness and crunch of the salad against all the flavours of the pasta bake is perfect.
Some other sides to consider are:
Roasted Vegetables: A medley of roasted vegetables, such as broccoli, bell peppers, and zucchini, seasoned with herbs and sprayed with olive oil spray, adds a healthy and colourful side to your meal.
Sauteed Spinach or Greens: Quickly sautéed spinach or other leafy greens with garlic and olive oil is a simple yet nutritious side choice.
Coleslaw: This Creamy Lighter Coleslaw or Apple Coleslaw, with its blend of crunchy cabbage and carrots, is a satisfying side that provides a nice textural contrast.
Steamed or Roasted Greens - Consider options like broccolini, green beans, or asparagus. You can easily steam them in a steamer or roast them in the oven with a spray oil olive oil, a sprinkle of salt, and a dash of black pepper for a delightful and nutritious side dish.
These side dishes offer a variety of flavors and textures to enhance your pasta bake experience. Choose one or more based on your preferences and enjoy a well-rounded meal!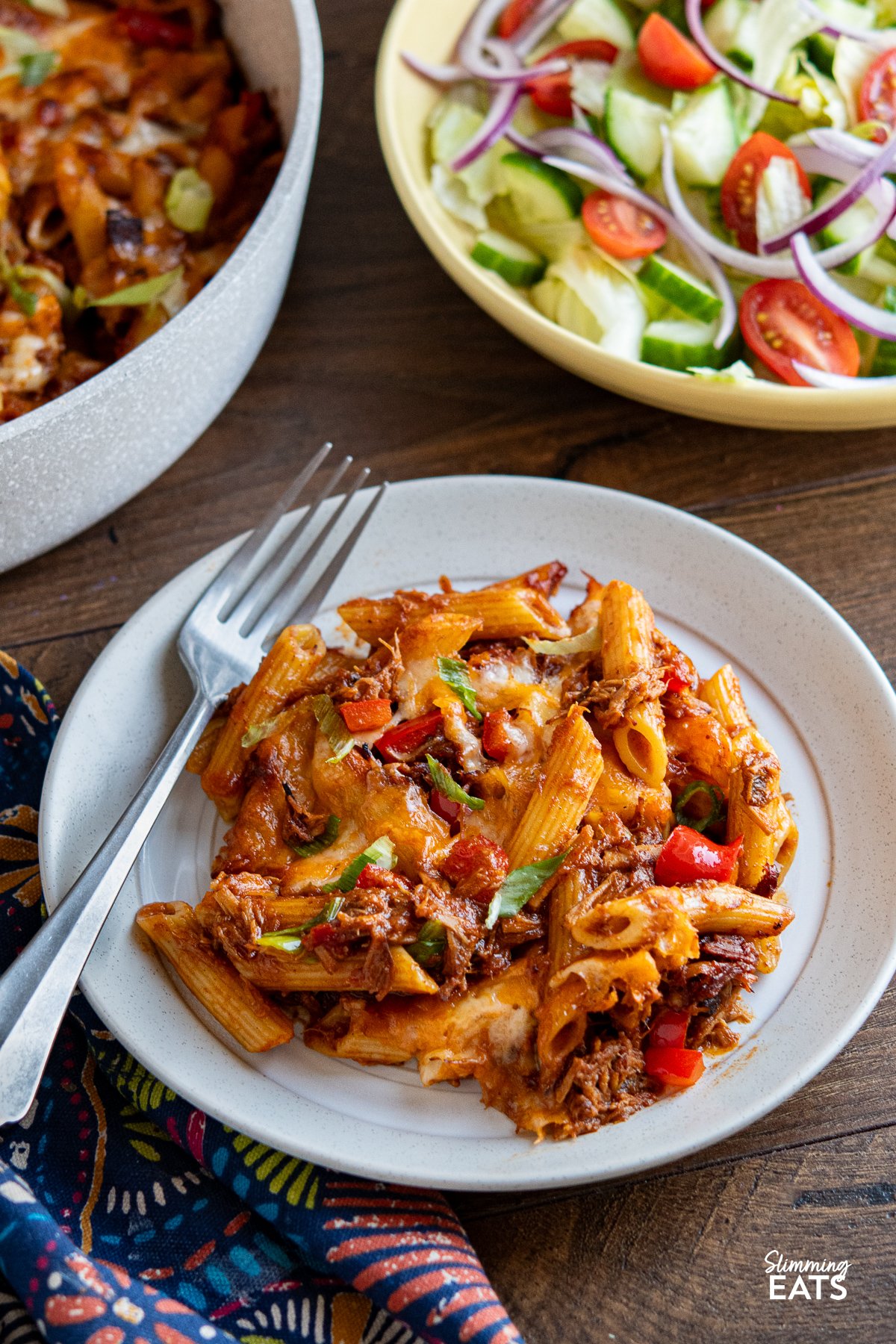 FAQ For Pulled Pork Pasta Bake
Can I make this Pulled Pork Pasta Bake ahead of time?
You can certainly make the Pulled Pork Pasta Bake ahead of time. After cooking the pasta and allowing all the ingredients to cool, mix everything together according to the recipe, place it in an oven dish, cover it, and refrigerate it until you're ready to bake it.
Can this be frozen?
Once ingredients are all cooked and cooled, you can combine and layer the pasta bake in a freezer-safe oven dish, freeze it until needed, then thaw in the refrigerator and follow the original baking instructions when ready to cook.
More Low Calorie Pasta Bake Recipes
Are you in search of more low calorie Pasta Bake recipes? Look no further! Here are some great choices below:
or if you would like more recipe ideas or sides to make with this recipe - head on over to the FULL RECIPE INDEX where you will find over 900 delicious recipes with calories and you can search by meal type, ingredients, course, diet and more.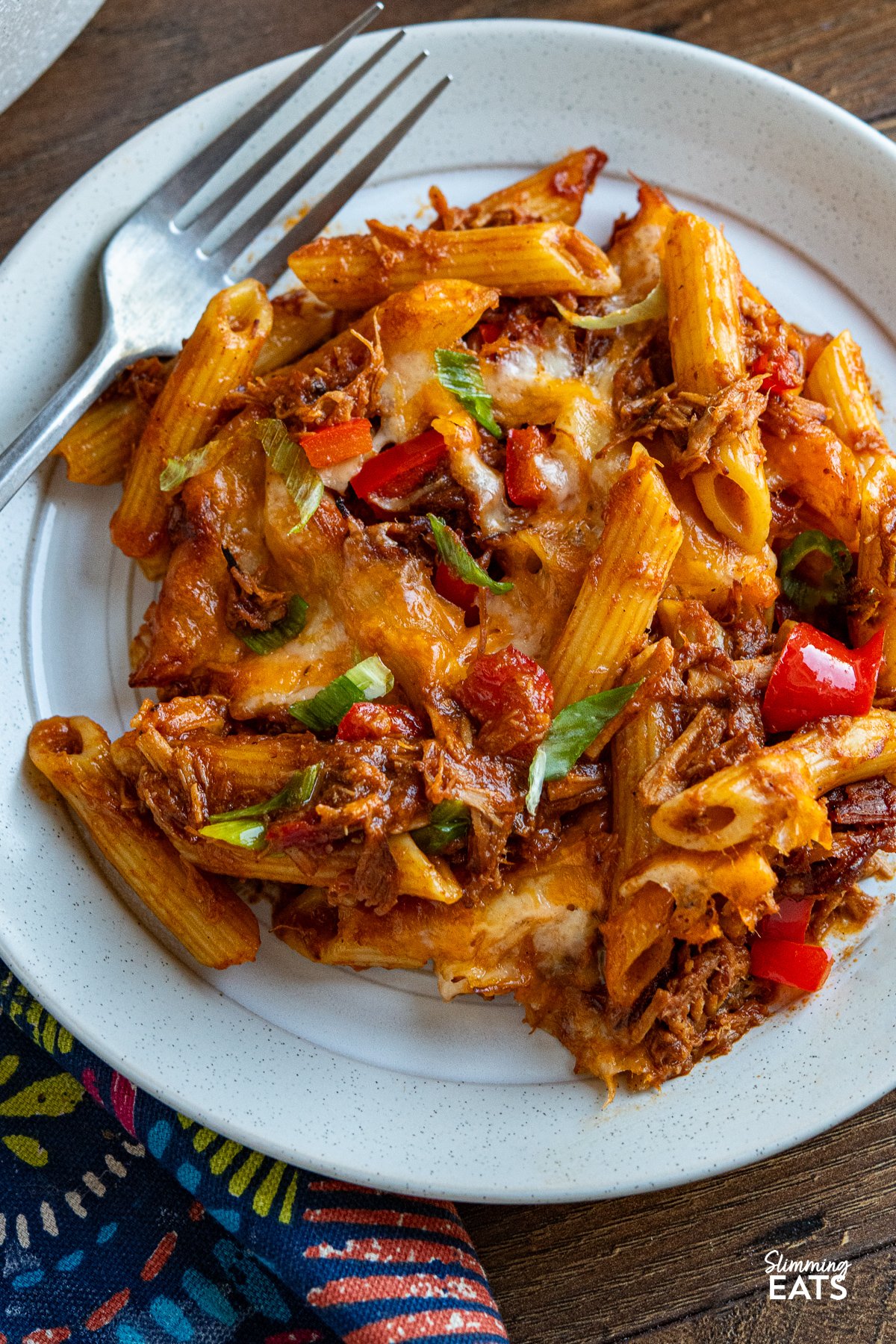 ---
LET'S CONNECT!
Pulled Pork Pasta Bake
Pulled Pork Pasta Bake - combines the rich, smoky flavors of homemade leftover pulled pork with perfectly cooked pasta, all baked to cheesy, bubbling perfection.
Ingredients
400g (14oz) of leftover pulled pork (see notes for recipes)
1 red pepper, diced
3 tablespoon of tomato purée
1 tablespoon of Worcestershire sauce
1 teaspoon smoked paprika
250g (9oz) of macaroni pasta (uncooked)
½ cup (120ml) of pasta water
90g (3oz) of cheddar
50g (1.8oz) of mozzarella
Salt and black pepper
low calorie spray
Instructions
Preheat oven to 160c fan, 180c, 350f (gas mark 4)
Cook the pasta per packet directions, using boiling water seasoned with salt. Drain, reserved the ½ cup (120ml) of cooked pasta water. Then spread the pasta with some low calorie spray and toss to coat to prevent from sticking together.
Add pasta to an oven proof dish with the pulled pork, red pepper, paprika, Worcestershire sauce, tomato paste and reserved pasta water and mix until all combine and evenly coated. Taste and season with salt and black pepper to taste.
Top with mozzarella and cheddar cheese.
Place in the oven and Bake in the oven for approx 25 mins until cheese is melted and golden. If you prefer a more golden topping, you can place under the grill/broil for a couple of minutes.
Sprinkle with chopped spring onion.
Serve with a mixed side salad or other sides of your choice.
Notes
Please see below for full nutritional info and additional details about recipe:
Calories - scroll down to nutritional info box
WW Points and other Slimming or Weight Loss programs -   due to plans regularly changing and updating, we recommend calculating with the official tools you get as a member to those plans to ensure accuracy of values. 
Gluten Free Friendly - use gluten free pasta
Suitable for Freezing ❄️ - Allow the ingredients to cool, then prepare the pasta bake up to step 4. Freeze it, ensuring it's properly sealed and labeled. When you're ready to enjoy it, defrost it fully in the refrigerator and then continue with the baking process from step 5 above.
Use 400g of either Slow Cooker Pulled Pork or Stove Top BBQ Pork
If you wish to share this recipe, then please do so by using the share buttons provided at top of this post.
DO NOT COPY AND/OR PASTE FULL RECIPES OR SCREENSHOTS OF ANY CONTENT FROM SLIMMING EATS TO ANY SOCIAL MEDIA OR WEBSITE, IT IS STRICTLY PROHIBITED.
ALL IMAGES AND CONTENT ON SLIMMING EATS ARE COPYRIGHT PROTECTED
Nutritional information etc are an estimate and are to be used for informational purposes only. Ingredients can vary in values from brand to brand and therefore it would be impossible to give accurate information. It is always advised that you calculate values yourself by the ingredients you use and the tools provided to you as a member of the programme you are following.
It is the responsibility of the Reader to assure the products or ingredients they use in any recipes from Slimming Eats are allergen-free (gluten-free, egg-free, soy-free and/or dairy-free, for example). Slimming Eats assumes no liability for inaccuracies or misstatement about products, opinions or comments on this site. 
Check Legal section, for Full Disclaimer, Disclosure and Privacy Policy.
Recommended Products
As an Amazon Associate and member of other affiliate programs, I earn from qualifying purchases.
Nutrition Information
Yield

4
Serving Size

1 SERVING
Amount Per Serving
Calories

520
Total Fat

16g
Saturated Fat

8g
Cholesterol

31.7mg
Sodium

619.4mg
Carbohydrates

60g
Fiber

3g
Sugar

9g
Protein

35g
Disclosure: This post may contain affiliate links. As an Amazon Associate and member of other affiliate programs, I earn from qualifying purchases. We are a participant in the Amazon Services LLC Associates Program, an affiliate advertising program designed to provide a means for us to earn fees by linking to Amazon.com and affiliated sites." Check Legal section, for Full Disclaimer, Disclosure and Privacy Policy.