Dig into a bowl of this delicious spicy One Pot New Orleans Cajun Pasta - the only regret will be not having enough for seconds.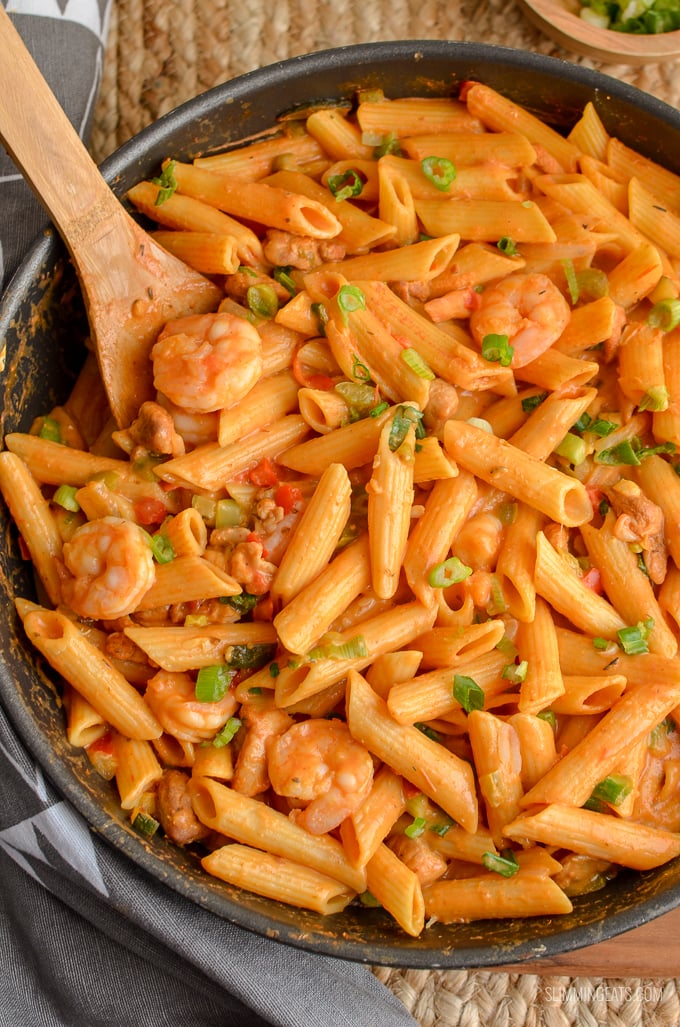 One Pot Cajun Pasta
Living in Canada and close proximity to the USA means I have access to some amazing food, there is such a huge selection of different cuisines that it is near impossible to get bored of the food choices when eating out.
While I have not yet visited New Orleans (it's on my list of places), I love the spicy Cajun food that is commonly enjoyed there. Amazing dishes such as Jambalaya, Gumbo, Red Rice and Beans, Po Boy and amazing spicy Louisiana Remoulade, one of my favourite condiments for meats and seafood. It's amazing!! Watch out for a low fat version of that I have coming to the blog very soon.
I am often inspired by various different dishes when coming up with a recipe and so you will see parts of the popular Jambalaya Rice in this amazing One Pot New Orleans Cajun Pasta.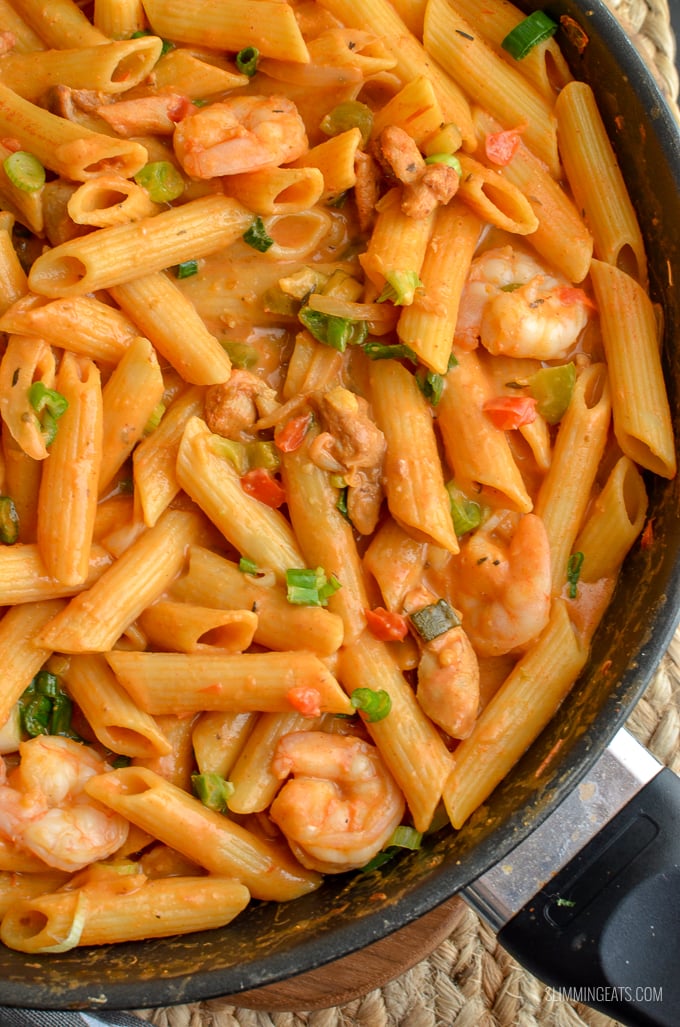 Homemade Cajun Spice
For the Cajun Spice, I prefer to make my own mix, rather than by a ready-made mix. It's super easy to make with just a few different spices that most of us have in our pantry/cupboard.
1.5 tbs of paprika
1 tsp of garlic powder
1 tsp of onion powder
½ tsp of oregano
½ tsp of thyme
½ tsp of cayenne pepper
pinch of salt and black pepper
Protein for Cajun Pasta
As with Jambalaya, I decided to go for both chicken and shrimp for this dish. I know some don't like seafood and if that's the case, by all means, omit it and just go down the chicken route. I prefer thigh meat as it is much more tender.
If you love seafood you might want to even go down the all seafood root with just prawns (shrimp). Just make sure you have enough ratio of protein to pasta.
You could even add some low fat spicy sausage (like chicken andouille), which is a popular ingredient in Jambalaya. My kids find that slightly too spicy for them, so for this One Pot New Orleans Cajun Pasta I stick to just chicken and shrimp.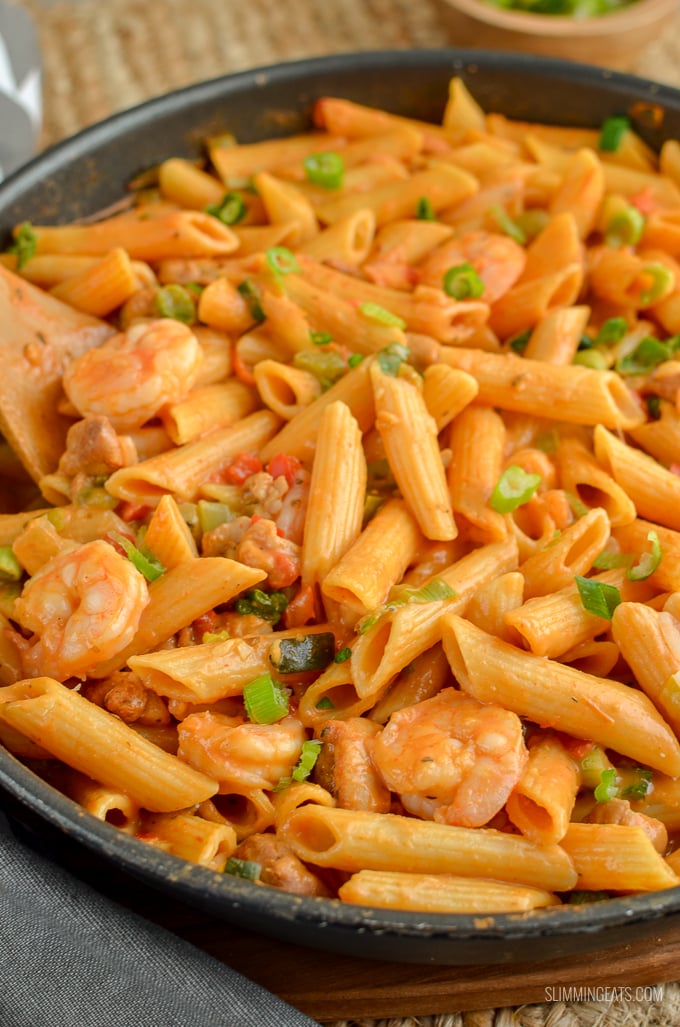 How to make a Healthier Creamy Pasta
To add some creaminess, gotta love a creamy pasta, right?. I stir in some low-fat cream cheese, which makes this so creamy and velvety in appearance. You can use something like Philadelphia or a store own brand. Just be sure to double check the values, as they can vary slightly from brand to brand.
Make sure you use a large deep frying pan for this One Pot New Orleans Cajun Pasta, the last thing you want is to get going on this recipe for dinner only to find you can't fit in all the ingredients. After all, this is a One Pot dish, meaning you want to make sure you only use one pot - less washing up afterwards. I am doing you a favour here.
Can I use quark for Creamy Pasta?
Quark has more of a sour taste to it than cream cheese, so doesn't really yield the same result.
Also unlike cream cheese, quark is not great heated as it tends to split, unless you add it in right at the very end off the heat. So personally I wouldn't make the swap. You want a creamy pasta right? Plus is not that many additional calories for low fat cream cheese.
Best Type of Pasta for One Pot Recipes
You can actually use any pasta really, obviously some varieties are smaller than others so may take less cooking time.
I like to use penne or fusilli for my one pot recipes, the kids prefer that shape and we have to keep the kids happy right?
Freezing Pasta Dishes
Most pasta dishes are perfectly fine for freeing, however the reheating can make the pasta a little over cooked for most so it's more personal preference whether you are okay with reheated pasta.
I freeze in tubs, defrost fully in the fridge and then reheat in the microwave until heated through.
How can I add more vegetables to Pasta Dishes
There are already onions, garlic, peppers, zucchini and passata in the dish that will count as part of your daily vegetables, but I also like to add a delicious mixed salad on the side. It bulks out your plate and salad items are low calorie but high density. A great way to ensure you don't overeat on the pasta servings.
Some great salad items are:
Crisp Lettuce
Spinach of Baby Leaves
Shredded Carrot
Cooked Beetroot
Tomatoes
Onion
Peppers
Shredded Cabbage
Cucumber
Radishes
More One Pot Recipes
Love one pot recipes? Check out some of these:
or head on over to my Full Recipe Index with over 900 delicious Slimming Eats and Weight Watchers friendly recipes all fully searchable by meal type, ingredients, and smart points etc
Make this One Pot New Orleans Cajun Pasta for dinner tonight, it will be sure to become on the top of your list of favourites.
---
Let's Connect!!
Come and follow me on:
FACEBOOK | INSTAGRAM | PINTEREST
TWITTER and YOUTUBE

You can also subscribe to Slimming Eats so that you never miss any new updates.

Need some extra Support? Come and check out my Facebook Group

If you try this recipe, let us know! Leave a Comment, Rate It and Tag us in your Photos @SLIMMINGEATS on INSTAGRAM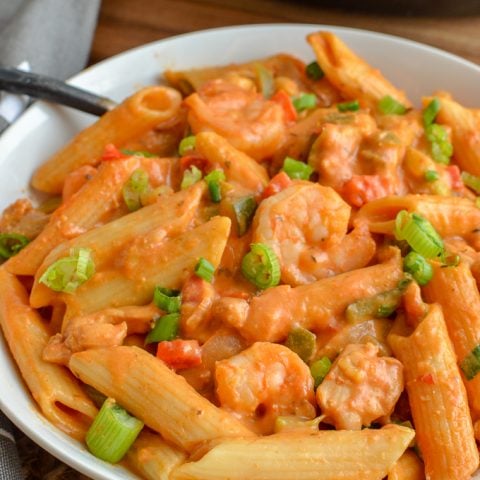 One Pot New Orleans Cajun Pasta
Dig into a bowl of this delicious spicy One Pot New Orleans Cajun Pasta – the only regret will be not having enough for seconds.
Ingredients
For the Cajun Spice:
1.5 tablespoon of paprika (not smoked)
1 teaspoon of garlic powder
1 teaspoon of onion powder
½ teaspoon of oregano
½ teaspoon of thyme
½ teaspoon of cayenne pepper
pinch of salt and black pepper
For the pasta:
200g (7oz) of raw large shrimp (prawns)
250g (9oz) of boneless skinless chicken thigh, sliced thinly
300g (10.5oz) of uncooked penne pasta (or other paste of choice)
1 onion, quartered and sliced thinly
2 cloves of garlic, crushed
1 red bell pepper, diced
1 green bell pepper, diced
1 medium zucchini (courgette), diced
½ cup (120ml) of passata (or crushed tomatoes)
1 tablespoon of tomato paste
3 cup (720ml) of chicken stock plus 1 additional cup (240ml)
1 tablespoon of worcestershire sauce
few splashes of tabasco sauce
4 tablespoons of low fat cream cheese
2-3 chopped spring onions
spray oil
Instructions
Spray a frying pan over a medium high heat with spray oil
Add the chicken and cajun spice and fry till lightly browned, remove and set aside.
Add the onion and fry until softened (adding in a little of the stock to deglaze the pan)
Add the garlic and fry just to infuse flavour.
Add the peppers, zucchini, passata, tomato paste, Worcestershire sauce and tabasco and stir to combine.
Add back in the chicken, along with the pasta and stock (3 cups), bring to a boil, reduce heat slightly, liquid should still bubble away, until pasta is cooked (approx 12-14 minutes), add in more of the additional stock if needed if pasta is not cooked.
Stir in the shrimp and cream cheese, until cream cheese is just melted, add lid and simmer for approx 3 mins just to ensure shrimp is cooked through.
Sprinkle with chopped spring onion.
Enjoy!!
Notes
Please see below for full nutritional info and additional details about recipe:
Calories - scroll down to nutritional info box
WW Points and other Slimming or Weight Loss programs -   due to plans regularly changing and updating, we recommend calculating with the official tools you get as a member to those plans to ensure accuracy of values. 
If you wish to share this recipe, then please do so by using the share buttons provided at top of this post.
DO NOT COPY AND/OR PASTE FULL RECIPES OR SCREENSHOTS OF ANY CONTENT FROM SLIMMING EATS TO ANY SOCIAL MEDIA OR WEBSITE, IT IS STRICTLY PROHIBITED.
ALL IMAGES AND CONTENT ON SLIMMING EATS ARE COPYRIGHT PROTECTED
Nutritional information etc are an estimate and are to be used for informational purposes only. Ingredients can vary in values from brand to brand and therefore it would be impossible to give accurate information. It is always advised that you calculate values yourself by the ingredients you use and the tools provided to you as a member of the programme you are following.
It is the responsibility of the Reader to assure the products or ingredients they use in any recipes from Slimming Eats are allergen-free (gluten-free, egg-free, soy-free and/or dairy-free, for example). Slimming Eats assumes no liability for inaccuracies or misstatement about products, opinions or comments on this site. 
Check Legal section, for Full Disclaimer, Disclosure and Privacy Policy.
Recommended Products
As an Amazon Associate and member of other affiliate programs, I earn from qualifying purchases.
Nutrition Information
Yield

4
Serving Size

1 SERVING
Amount Per Serving
Calories

487
Total Fat

6.3g
Saturated Fat

1.4g
Cholesterol

134mg
Sodium

400mg
Carbohydrates

72g
Fiber

6.1g
Sugar

7.7g
Protein

38.3g
Disclosure: This post may contain affiliate links. As an Amazon Associate and member of other affiliate programs, I earn from qualifying purchases. We are a participant in the Amazon Services LLC Associates Program, an affiliate advertising program designed to provide a means for us to earn fees by linking to Amazon.com and affiliated sites." Check Legal section, for Full Disclaimer, Disclosure and Privacy Policy.