This vegetarian Lentil Cheddar Sweetcorn Bake is perfect for a quick grab and go lunch or snack.
One of my favourite recipes to make for lunch on a busy week is this delicious Lentil Cheddar Bake. It's perfect hot or cold with salads or as a side to some soup instead of bread.
This week with a busy week ahead I knew I needed something like this on hand for lunches, but decided on a slight variation using some corn and instead made this yummy Lentil Cheddar Sweetcorn Bake.
I love sweetcorn, the kernels are sweet and juicy and have a vibrant yellow colour which is a great addition to many recipes, such as this:
Today, however, it was a perfect addition to this Lentil Cheddar Sweetcorn Bake. Once baked it looked beautiful with the flecks of colour from the added red bell pepper and green onions.
I just added a little paprika, salt and pepper for seasoning, but you could add a pinch of cayenne instead for a spicy kick, or even add in some chopped jalapeno.
A slice of this is perfect served with some salsa and a mixed salad or if you really like a spicy kick, mix some sriracha with low fat mayo and a little water (so that is can be drizzled) and drizzle it all across a slice or two of these Lentil Cheddar Bake for a taste sensation.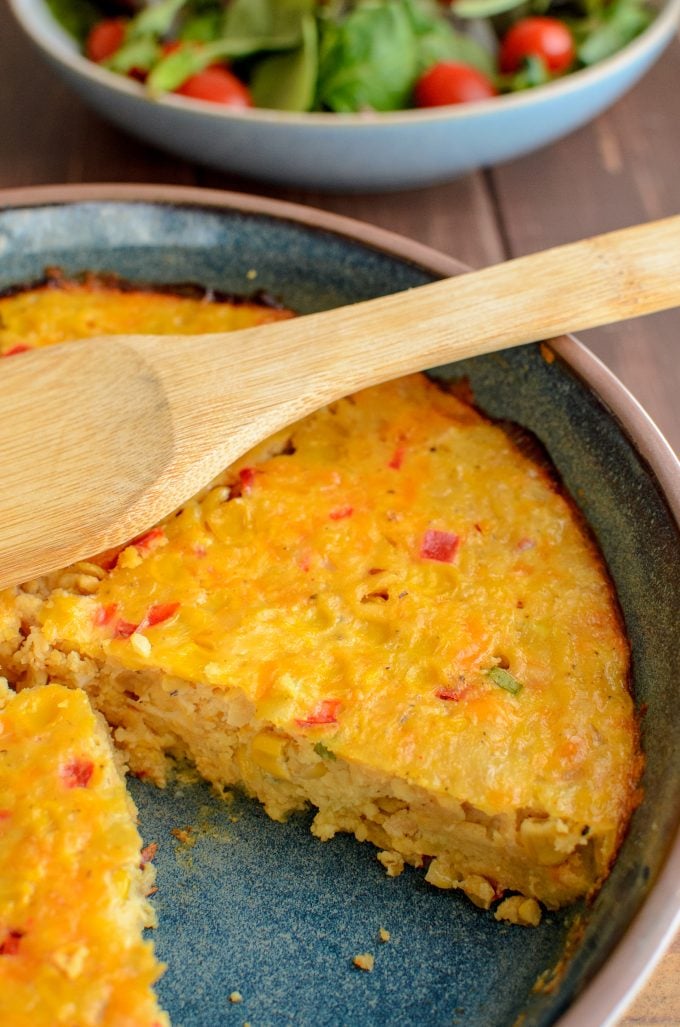 In the summertime, this Lentil Cheddar Sweetcorn Bake would make a perfect addition to a picnic with a selection of other yummy foods, as it is easily portable in a lunch box or container.
Choose a good strong cheddar to really get that flavour, as milder cheddar seems to vanish in taste once cooked. I like to use a medium or mature cheddar. I also prefer to use regular cheddar over reduced fat, as I find it melts much better in dishes like this.
Want to try some other delicious recipes like this? Head on over to my FULL RECIPE INDEX with over 700+ amazing Slimming World Recipes.
HOW CAN I ADD A ⅓ SPEED FOODS TO THIS LENTIL CHEDDAR SWEETCORN BAKE?
There is already a little speed included with the onion, red pepper and green onions, but you could also serve this alongside a speed filled soup or a nice mixed salad to increase those speed foods on your plate. I like a salad of mixed baby greens, grape tomatoes and cucumber - nice quick and simple.
WHAT KITCHEN ITEMS DO I NEED TO MAKE THIS LENTIL CHEDDAR SWEETCORN BAKE
---
IF YOU TRY THIS RECIPE, LET US KNOW! LEAVE A COMMENT, RATE IT AND  TAG US IN YOUR PHOTOS @SLIMMINGEATS ON INSTAGRAM
WATCH FOR HOW TO MAKE THIS SYN FREE LENTIL CHEDDAR SWEETCORN BAKE:

 
Lentil Cheddar Sweetcorn Bake
Total Time:
1 hour
15 minutes
This recipe is gluten free, vegetarian, Slimming World and Weight Watchers friendlyExtra Easy/SP - 1 HEa per servingGreen/Vegetarian - 1 HEa per servingWW Smart Points - 4 
Ingredients
1 cup (180g) of uncooked red lentils, rinsed
2 cups of water
1 small onion, finely diced
1 red pepper, finely diced
3 green onions, sliced
1 can (341ml) of sweetcorn, drained
1 tsp of paprika
1 tsp of salt
¼ tsp of black pepper
90g/3oz of cheddar, grated
4 large eggs
cooking oil spray
Instructions
Add the lentils to a saucepan, cover with the water, bring to a boil, cover with lid and simmer until all liquid is almost absorbed, then turn off heat and leave for 10 mins, to ensure no excess liquid remains.
Preheat oven to 180c/350f
Spray a frying pan with cooking oil spray, add the onion and red pepper and fry to soften.
Stir in the paprika and continue to fry for a minute.
Add the cooked lentils to a bowl, with the sweetcorn, onion, red pepper, eggs, spring onion, cheddar, salt and pepper and mix to combine.
Add to a dish greased with cooking oil spray and bake in the oven for 35-40mins until set.
Slice, serve and enjoy!!!
Notes
Like spicy food? add a pinch of cayenne or some diced jalapeno.
If you wish to share this recipe, then please do so by using the share buttons provided. Do not screenshot or post recipe or content in full.
Nutritional information is an estimate and is to be used for informational purposes only. Ingredients can vary greatly from brand to brand and therefore it would be impossible to give accurate information.
All images and content on Slimming Eats are copyright protected.
Check Legal section, for Full Disclaimer, Disclosure and Privacy Policy. 
Nutrition Information
Serving Size

1 serving
Amount Per Serving
Calories

399
Total Fat

17.6g
Saturated Fat

8.5g
Sodium

1241mg
Carbohydrates

47.2g
Fiber

18.4g
Sugar

13.4g
Protein

30.9g
Disclosure: This post may contain affiliate links. As an Amazon Associate and member of other affiliate programs, I earn from qualifying purchases. We are a participant in the Amazon Services LLC Associates Program, an affiliate advertising program designed to provide a means for us to earn fees by linking to Amazon.com and affiliated sites." Check Legal section, for Full Disclaimer, Disclosure and Privacy Policy.