Chicken and sweetcorn Lasagne - A family favourite, tender pieces of chicken breast and sweetcorn in a veggie packed pasta sauce all topped with a delicious lighter béchamel sauce and cheese.
Chicken Lasagne
One of my families favourite dishes is lasagne and really you can turn almost any food ingredient into a delicious lasagne recipe.
We love my Yummy Beef Lasagne with Sweet Potato but occasionally I like to make a chicken one and this one is really delicious. It such a simple recipe, where no jarred sauces are needed and will convert you instantly. Homemade sauces for lasagne are so easy to make and just taste so much more delicious and fresh.
It's a great recipe for serving up in the middle of the table (our favourite way to eat as a family), for everyone to grab a portion with some sides and dig in and enjoy.
Veggie Packed Pasta Sauce
When it comes to pasta sauces, these are a great way to include healthy vegetables in a dish, especially if you have fussy kids (or adults). The vegetables you add to the sauce really add lots of flavour to the sauce too. While just tomato sauces are great they just don't compare to a pasta sauce that has lots of different vegetables hidden in there.
For this pasta sauce I use:
Onion
Garlic
Carrot
Red Pepper
Tomatoes (canned)
Dried Herbs (but you can use fresh too)
Stock
Once ready the sauce is all blended so it's lovely and smooth and no one will even know all those veggies are in there.
Lighter Bechamel Sauce
When embarking on a healthy eating plan, we often think we can't have things like a nice béchamel sauce on a lasagne. Instead we see replacements using yoghurt, quark or even eggs and they just don't compare in my opinion, the taste is not right for one.
It's really easy to make a simple lighter béchamel sauce using milk, some seasonings, a little parmesan and some cornstarch and best of all is it's gluten free too. This will result is a delicious creamy tasting white sauce that is just perfect.
Remember this is a lifestyle change, food should be enjoyable, there is no need for all these diet foods items etc. A little bit of the things you love with a couple of changes will be much more enjoyable and is easier to maintain long term.
Poaching Chicken
For the chicken breast in this recipe, I like to poach the chicken in a little stock instead of pan frying. The poached means the chicken absorbs some of the flavour and stock keeping it nice and tender. It is so easy to shred up for things like this lasagne, soups and salads etc when you cook this way.
Poaching chicken is so easy, just submerged in some stock and gently simmer until the chicken is cooked (approx 10-12 minutes depending on the size of the chicken breasts) you can slice up into small pieces if you prefer to quicken this time).
Can I use already cooked chicken in Lasagne?
Got some leftover roast chicken and wondering if you can use that in this recipe? You sure can, this recipe is perfect for leftover chicken.
I have even used leftover turkey at Christmas to make this lasagne, makes a change from the Christmas dinner everyone is fed up of one Christmas is over.
Best Cheese for Lasagne
In this lasagne I use 3 different cheeses, but really you can use whatever cheese you prefer.
For this Chicken Lasagne I use parmesan in the béchamel sauce and then some mozzarella and cheddar on top.
You will notice the cheddar has a more orange colour to it, that's because cheddar here in North America tends to have Annatto added to it. We can get white cheddar but it's not as popular. My favourite cheddar to use is Balderson Medium Canadian Cheddar.
Another great option for that colour is Red Leicester cheese and it has great flavour too.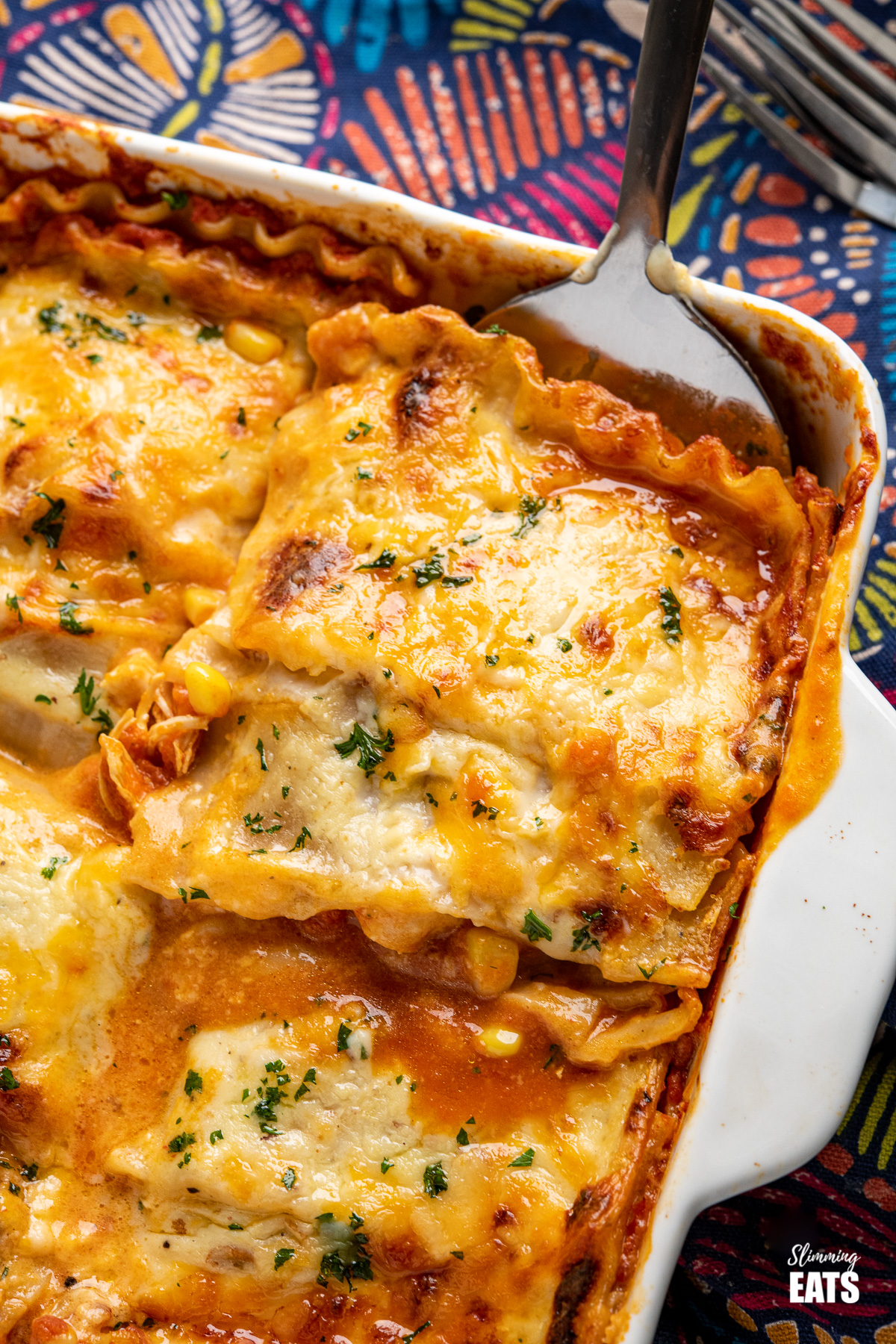 Best Lasagne Pasta
There are different types of lasagne pasta available. Fresh and dried, then flat and wavy edges sheets. Obviously if you are following Slimming Eats you need to opt for the dried slices as fresh is not a free food.
Then there are also dried oven ready lasagne sheets or dried standard lasagne sheets, the latter you usually need to parboil before assembling your lasagne, otherwise the sheets might be a little hard still once the lasagne is cooked.
Can Lasagne be frozen?
For the best results it's always best freezing lasagne once it is all assembled before the oven baking stage. That way you can defrost in the fridge and then bake in the oven until cooked. This will ensure you don't have over cooked pasta. You can cook from frozen, but it will take a lot longer.
You can still freeze any leftovers of this too, I just add any leftover portions to a oven proof freezable container and pop in the freezer. Then to reheat I defrost in the fridge and heat up in the microwave or oven until heated through.
Sides for Lasagne
This lasagne recipe is pretty filling and so we always just serve this in the middle of the table with a fresh mixed salad of Crisp Romaine Lettuce, Tomatoes, Cucumber, Red Pepper and Red Onion.
If you love some chips or fries too, then this recipe for Homemade Oven Baked Chips is the perfect method for golden crispy chips/fries.
More Pasta Bake Recipes
Love pasta bake recipes? Check out some of these:
or if you would like some more sides to choose from - check out the Side Dish Recipes on Slimming Eats or head on over to the FULL RECIPE INDEX where you will find over 900 delicious recipes and can search by ingredients, course, diet and more.
All with estimated calories and Slimming Eats and Weight Watcher Smart Points values.
---
LET'S CONNECT!!
Chicken and Sweetcorn Lasagne
Chicken and sweetcorn Lasagne - A family favourite, tender pieces of chicken breast and sweetcorn in a veggie packed pasta sauce all topped with a delicious lighter béchamel sauce and cheese.
Ingredients
2 skinless chicken breasts, raw (approx 400g/14oz)
2 cups (480ml) of chicken stock
250g (9oz) of frozen corn
75g (2.5oz) of mozzarella, grated
60g (2.1oz) of cheddar, grated
8 sheets of oven ready dried lasagne sheets (170g/6oz)
fresh chopped parsley (optional)
For the pasta sauce:
1 onion, diced
3 cloves of garlic, minced
1 medium carrot, diced
1 red pepper, diced
400g (14oz) of chopped tomatoes (canned)
2 tablespoon of tomato paste (puree)
2 cups (480ml) of chicken stock
1 teaspoon of dried parsley
1 teaspoon of dried basil
salt and pepper to season
cooking oil spray
For the bechamel sauce:
375ml (1.5 cups) of semi skimmed milk (don't use skimmed)
1.5 tablespoons of cornstarch
30g (1oz) parmesan
1 teaspoon of classic yellow mustard (like French's)
½ teaspoon garlic granules
salt and black pepper
Instructions
Add chicken to a saucepan fully submerge in the stock, bring to a boil and then simmer for approx 10-12 minutes until cooked. Remove from pan, allow chicken to cool slightly and then shred up into pieces and set aside.
Spray a frying pan over a medium high heat with cooking oil spray. Add the onion and fry until golden and translucent, add in the garlic, peppers, carrot and fry for a couple of minutes. Add in the chopped tomatoes, dried herbs, tomato paste and stock, bring to a boil then simmer for 15-20 minutes until all the vegetables and softened, add to a blender and blend until smooth. Add back the pan and stir in the chicken and sweetcorn until combined.
In a small saucepan, add the milk, cornstarch, mustard and garlic powder, simmer on a low heat, stirring until it starts to thicken and then stir in the parmesan until melted and sauce is thick and creamy. Season with a little salt and black pepper.
Preheat oven to 190c, fan 170c, 375f or gas mark 5
Add half the chicken, sweetcorn and sauce mix to a lasagne dish (approx 13x9 inches).
Top with half the lasagne sheets, then add the remaining half the chicken, sweet and sauce mix. Top with the remaining lasagne sheets and then add the bechamel sauce to the top.
Finish off with the mozzarella and cheddar, place in the oven and bake for 30 minutes, then place under the grill (broil) on a medium heat for a couple of minutes until the top is golden.
Sprinkle with chopped parsley. Allow to cool slightly before slicing and serve with your choice of sides.
Enjoy!!
Notes
Please see below for full nutritional info and additional details about recipe:
Calories - scroll down to nutritional info box
WW Points and other Slimming or Weight Loss programs -   due to plans regularly changing and updating, we recommend calculating with the official tools you get as a member to those plans to ensure accuracy of values. 
If you wish to share this recipe, then please do so by using the share buttons provided at top of this post.
DO NOT COPY AND/OR PASTE FULL RECIPES OR SCREENSHOTS OF ANY CONTENT FROM SLIMMING EATS TO ANY SOCIAL MEDIA OR WEBSITE, IT IS STRICTLY PROHIBITED.
ALL IMAGES AND CONTENT ON SLIMMING EATS ARE COPYRIGHT PROTECTED
Nutritional information etc are an estimate and are to be used for informational purposes only. Ingredients can vary in values from brand to brand and therefore it would be impossible to give accurate information. It is always advised that you calculate values yourself by the ingredients you use and the tools provided to you as a member of the programme you are following.
It is the responsibility of the Reader to assure the products or ingredients they use in any recipes from Slimming Eats are allergen-free (gluten-free, egg-free, soy-free and/or dairy-free, for example). Slimming Eats assumes no liability for inaccuracies or misstatement about products, opinions or comments on this site. 
Check Legal section, for Full Disclaimer, Disclosure and Privacy Policy.
Recommended Products
As an Amazon Associate and member of other affiliate programs, I earn from qualifying purchases.
Nutrition Information
Yield

6
Serving Size

1 SERVING
Amount Per Serving
Calories

399
Total Fat

11.8g
Saturated Fat

6.2g
Trans Fat

0g
Unsaturated Fat

9g
Cholesterol

86mg
Sodium

826mg
Carbohydrates

40.7g
Fiber

3g
Sugar

9.2g
Protein

32g
Nutritional information values, points etc are an estimate and is to be used for informational purposes only. Ingredients can vary greatly from brand to brand and therefore it would be impossible to give accurate information. It is always advised that you calculate by the ingredients you use.
Disclosure: This post may contain affiliate links. As an Amazon Associate and member of other affiliate programs, I earn from qualifying purchases. We are a participant in the Amazon Services LLC Associates Program, an affiliate advertising program designed to provide a means for us to earn fees by linking to Amazon.com and affiliated sites." Check Legal section, for Full Disclaimer, Disclosure and Privacy Policy.