Simple seasoned Grilled Chicken Breast stuffed with mozzarella all delicious and melted served with a simple tray bake of roasted vegetables. Yum!!
Mozzarella Stuffed Chicken
I had some chicken breasts to use up today and really fancied some roasted veggies. One of my favourite sandwiches before healthy eating, was a ciabatta roll filled with grilled chicken, roasted veggies and mozzarella, which in turn is quite calorific.
So instead for this delicious dinner - I skipped the bread and served the grilled chicken breasts with some tender seasoned roasted mediterranean vegetables cooked in olive oil. Yummy!!
Making a pocket in Chicken Breasts to Stuff
To make a pocket in the chicken breasts to stuff with the mozzarella, you want to slice into the thickest part of the chicken.
I use a sharp knife and place my hand firmly on top of the chicken breast to hold in place and stop it moving in the board and then use the knife to make a slit in the thickest part until it's about ¾ of the way through, you don't want to slice right through. Then you can stuff the pocket with the mozzarella. I cut the mozzarella into pieces instead of grated, but you can grate if you prefer.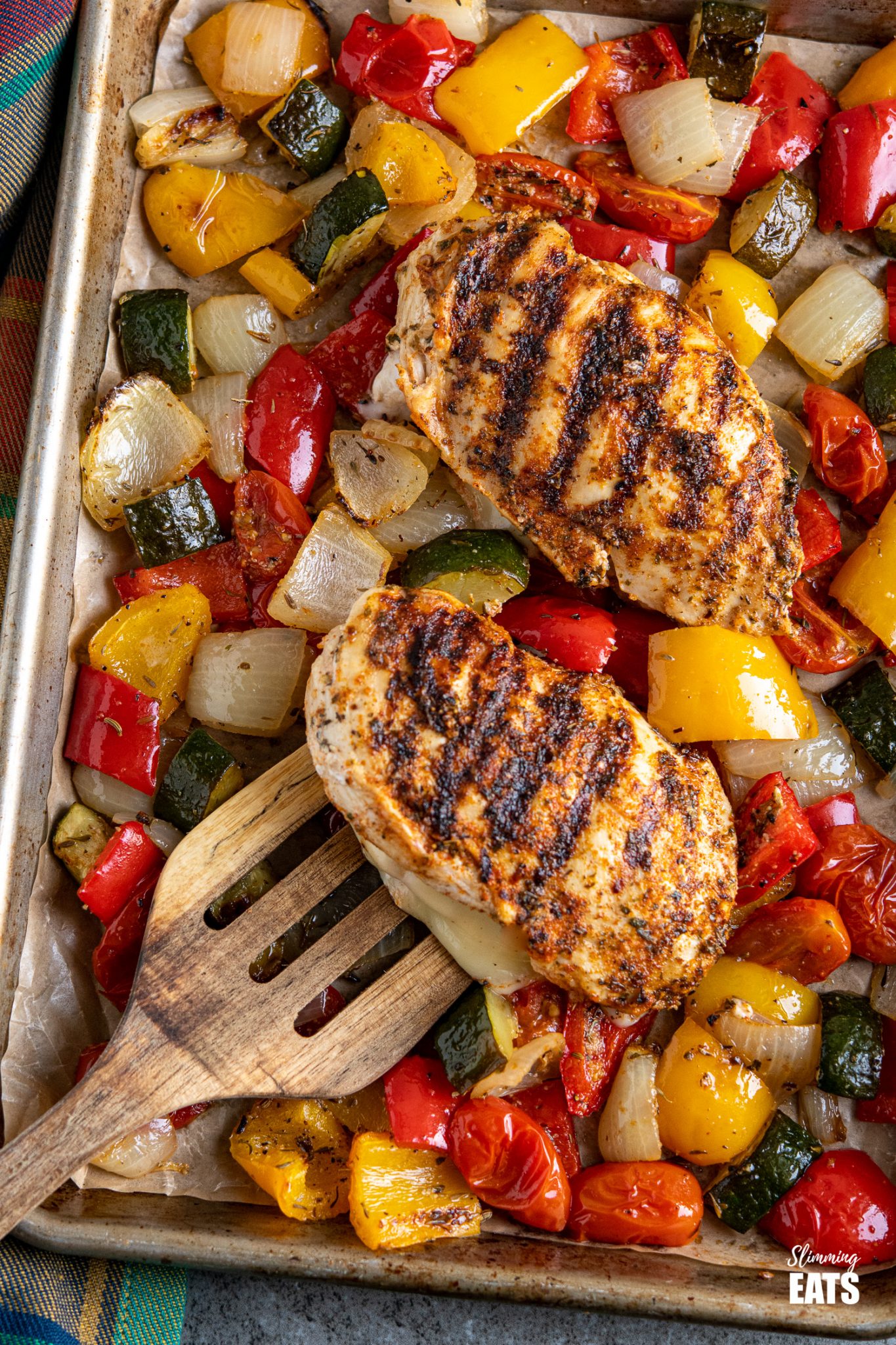 Can I use Spray Oil instead of Olive Oil?
When roasting vegetables I prefer to use a small amount of olive oil instead of spray oils, it just adds so much more flavour to the vegetables and gives them a lovely glossy roasted colour.
If you really want to save the small amount of calories for the little bit of oil use, then you can swap the olive oil for an olive oil spray instead. But trust me when I say the best result is using the real deal.
I always say that using real ingredients is what will keep you motivated and on plan, because as soon as anything starts to feel like a diet, then that's when we are likely to lose motivation and crave proper food. A small amount of healthy olive oil is not a huge amount of calories when divided between a few people.
Seasoning for Grilled Chicken
I add my own blend of seasoning for the grilled chicken, which is a mix of the following (full measurements in the recipe box:
Salt and Black Pepper
Oregano
Thyme
Parsley
Paprika
Garlic Powder
Red Chilli Flakes
But you don't need to stick to these seasonings, if you have a favourite blend of seasoning in your cupboard you can use that instead, especially if you are rushed for time and don't want to faff with lots of different seasonings. Cajun seasoning is a great one to use. You can also use your own favourite blend of seasonings if there is anything above you don't like. It really is a versatile recipe than can easily be adapted.
Roasted Vegetables to go with Grilled Chicken
So what kind of vegetables can you roast to go with grilled chicken. I went for the following:
Peppers (red and yellow)
Onion
Courgette (Zucchini)
Grape Tomatoes
Garlic
There really is no right or wrong here, I just like the above as it pairs well the seasonings of the chicken and the stuffed mozzarella. But swap and change to whatever vegetables you like here, just be aware that certain things may cook at different timings.
Some other suggestions for vegetables:
Asparagus
Broccoli
Cauliflower
Butternut Squash
Green Beans
Aubergine (Eggplant)
Fennel
Other Sides for Grilled Chicken
Usually I keep this pretty light when I have this dish and just pair the chicken with the roasted vegetables as I find it pretty filling. But if you like some more filling sides, then this really goes well with rice, pasta, potatoes, couscous etc.
Some of my favourite sides to pair with this are:
you could just serve with a big mixed salad and some avocado (another favourite side to add to this recipe) for a quick summer side.
More Chicken Recipes
Looking for some other chicken recipes to try? Check out these:
or head on over to the FULL RECIPE INDEX where you will find over 900 delicious Slimming Eats and Weight Watchers friendly recipes all fully searchable by meal type, ingredients and smart points etc
---
LET'S CONNECT!!
Grilled Chicken Breast Stuffed with Mozzarella
Simple seasoned Grilled Chicken Breast stuffed with mozzarella all delicious and melted served with a simple tray bake of roasted vegetables. Yum!!
Ingredients
2 Skinless Boneless Chicken Breasts, raw (approx 200g/7oz each)
2 teaspoons of paprika
1 teaspoon of dried parsley
1 teaspoon of dried oregano
½ teaspoon of garlic powder
½ teaspoon of salt
½ teaspoon of dried thyme
pinch of chilli flakes
pinch of black pepper
100g (3.5oz) of mozzarella
olive oil spray
for the roasted vegetables
2 teaspoons of extra virgin olive oil
1 red bell pepper, chopped
1 yellow bell pepper, chopped
1 onion, chopped
2 cloves of garlic, minced
1 courgette (zucchini), chopped
10 grape or cherry tomatoes, halved
1 tablespoon of dried mixed herbs
salt and black pepper
Instructions
Preheat oven to 220c/fan 200c/425f or gas mark 7
Add the vegetables to a tray lined with parchment paper, add the herbs, salt and pepper and olive oil and toss to coat. Spread out and bake in the oven for 30 minutes until vegetables are tender and softened.
Add the seasoning for the chicken to small bowl and mix to combine.
Place hand firmly on top of each chicken breast and make a slit (pocket) in the thickest part of the breast. Stuff each chicken breast with 50g mozzarella.
Spray the outside of.he chicken breasts with olive oil spray and rub the seasoning all over the outside of the breast.
Heat a grill pan over a medium high heat and spray with olive oil spray. Grill for approx 6-7 minutes each side until chicken is golden and cooked through and mozzarella has melted.
Serve with the vegetables and your choice of sides.
Some fresh herbs like parsley or coriander sprinkled on top before serving is a great addition.
Notes
Please see below for full nutritional info and additional details about recipe:
Calories - scroll down to nutritional info box
WW Points and other Slimming or Weight Loss programs -   due to plans regularly changing and updating, we recommend calculating with the official tools you get as a member to those plans to ensure accuracy of values. 
If you wish to share this recipe, then please do so by using the share buttons provided at top of this post.
DO NOT COPY AND/OR PASTE FULL RECIPES OR SCREENSHOTS OF ANY CONTENT FROM SLIMMING EATS TO ANY SOCIAL MEDIA OR WEBSITE, IT IS STRICTLY PROHIBITED.
ALL IMAGES AND CONTENT ON SLIMMING EATS ARE COPYRIGHT PROTECTED
Nutritional information etc are an estimate and are to be used for informational purposes only. Ingredients can vary in values from brand to brand and therefore it would be impossible to give accurate information. It is always advised that you calculate values yourself by the ingredients you use and the tools provided to you as a member of the programme you are following.
It is the responsibility of the Reader to assure the products or ingredients they use in any recipes from Slimming Eats are allergen-free (gluten-free, egg-free, soy-free and/or dairy-free, for example). Slimming Eats assumes no liability for inaccuracies or misstatement about products, opinions or comments on this site. 
Check Legal section, for Full Disclaimer, Disclosure and Privacy Policy.
Nutrition Information
Yield

2
Serving Size

1 SERVING
Amount Per Serving
Calories

507
Total Fat

19.7g
Saturated Fat

7.4g
Trans Fat

0g
Cholesterol

153mg
Sodium

600mg
Carbohydrates

24.4g
Fiber

6.2g
Sugar

10.5g
Protein

60.2g
Nutritional information, values, points etc are an estimate and is to be used for informational purposes only. Ingredients can vary greatly from brand to brand and therefore it would be impossible to give accurate information. It is always advised that you calculate by the ingredients you use.
Disclosure: This post may contain affiliate links. As an Amazon Associate and member of other affiliate programs, I earn from qualifying purchases. We are a participant in the Amazon Services LLC Associates Program, an affiliate advertising program designed to provide a means for us to earn fees by linking to Amazon.com and affiliated sites." Check Legal section, for Full Disclaimer, Disclosure and Privacy Policy.