A pasta dish with the perfect combination - chicken and penne pasta in a creamy ranch flavoured pasta sauce all finished off with some smoky crispy bacon. What's not to love?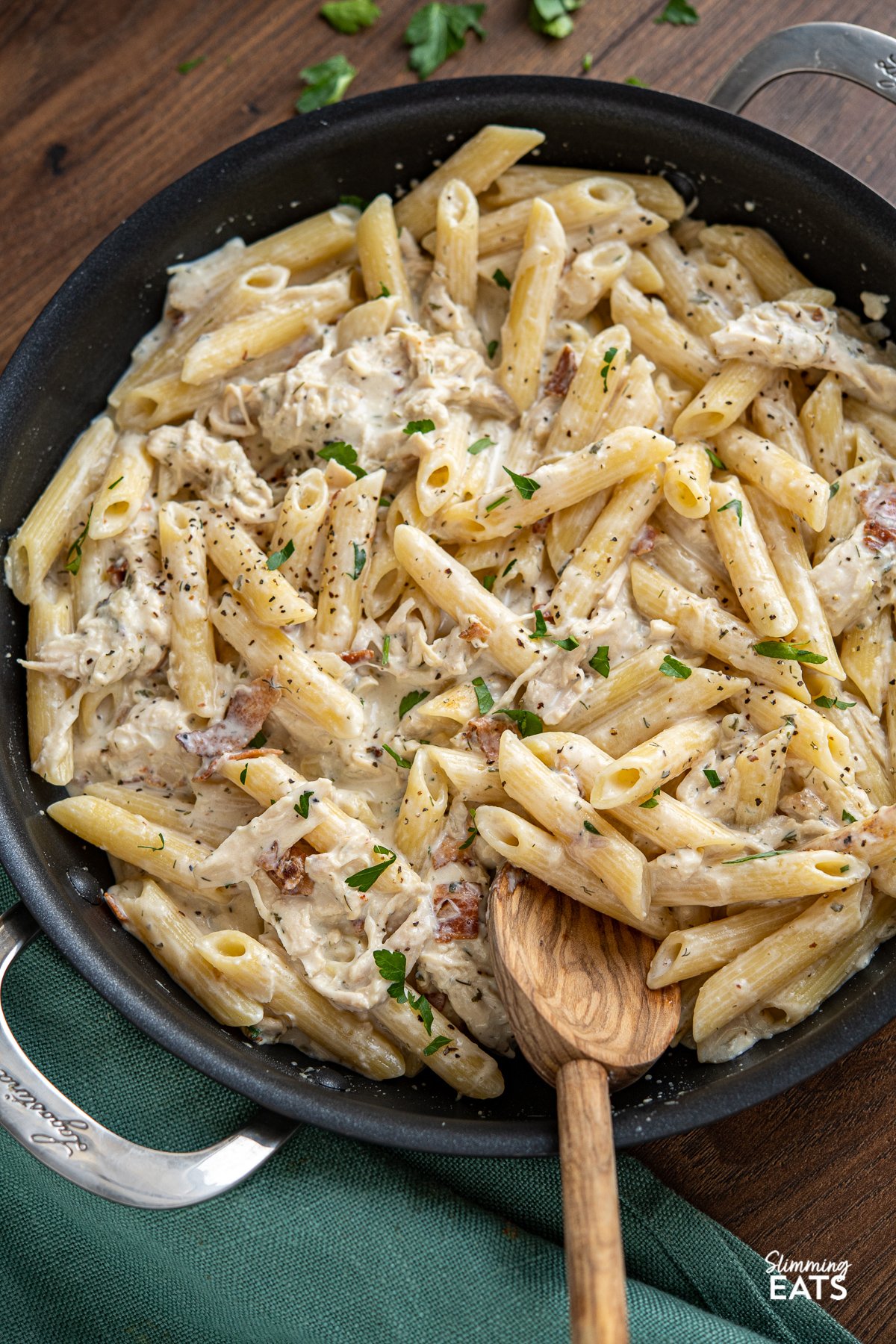 Creamy Ranch Pasta
If there is any pasta kind of dish I know my family will love it's one that combines all their favourites things, and this dish definitely ticks all those boxes - creamy sauce, chicken and bacon.
I often roast or cook a whole chicken in the slow cooker at the weekend, so we usually have some chicken leftover and it's great for throwing into dishes like this for a quick and easy weeknight meal.
What is Ranch?
Good question, and it's something that not everyone is familiar with. I first sampled some Ranch sauce all the way back in 2000 when I was working at a children's summer camp in upstate NY, it wasn't like anything I'd ever tasted before but boy was it addictive. Strangely though I kind of forgot about it and never had it again until I moved to Canada in 2008.
Ranch is a dipping sauce/dressing that is very popular here, typically made with buttermilk and herbs like dill, chives, parsley, and seasonings like garlic and onion and salt. Typically for Ranch Chicken Pasta a powder version is used, but hey I know how all of you reading in the UK are never going to be able to find that without ordering from some place online and it's really easily to just replicate the flavours with ingredients we all have at home.
Of course if you can get the ranch powder mix and you want to use that instead, then please do, most recipes typically use about 2 tablespoons of the powdered mix, but I find that a bit much to be honest and we really do prefer it with my own blend that we have become used to.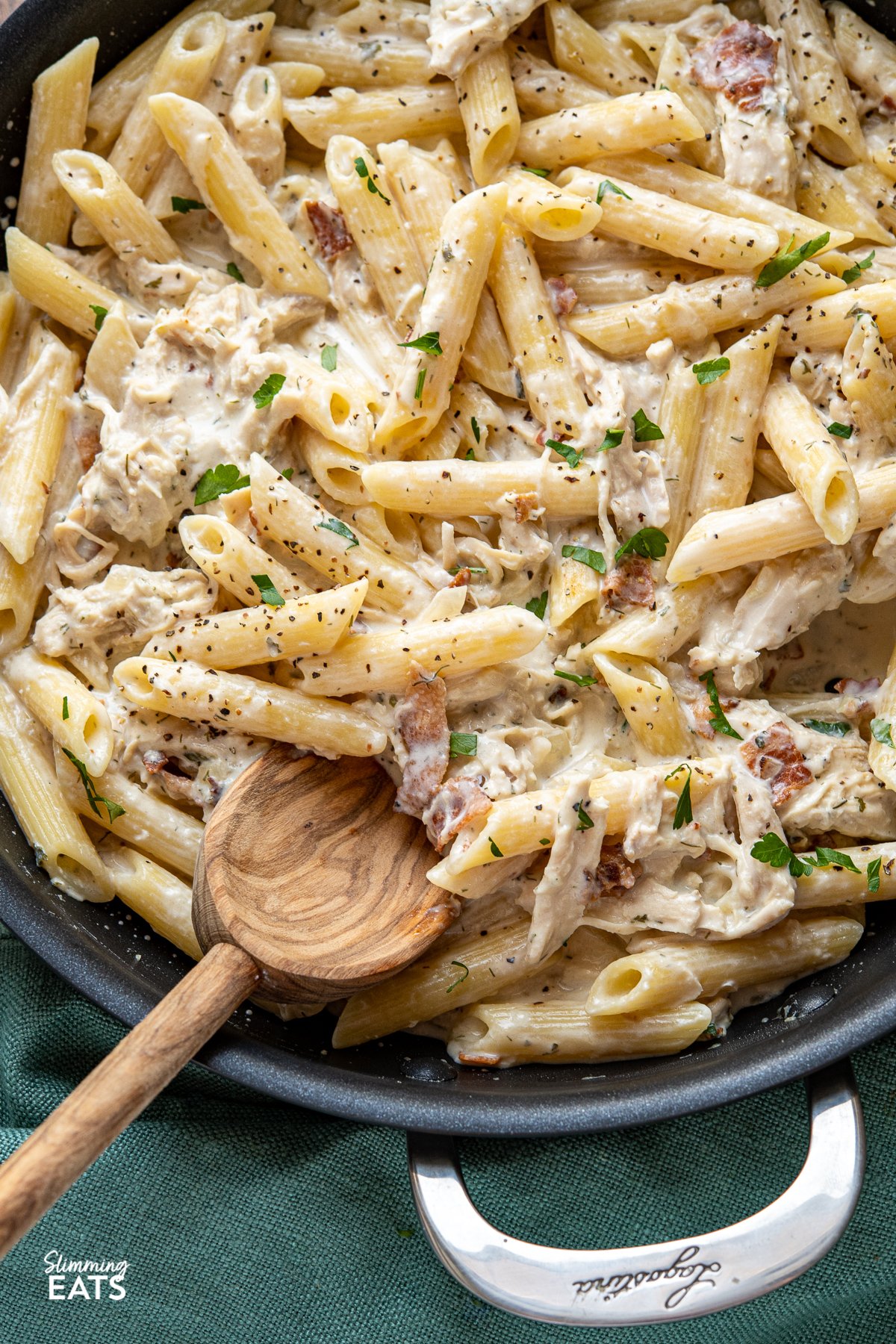 Can I use uncooked chicken?
I used cooked chicken in this, because I usually have some on hand and it's just easier to throw in some cooked chicken for this dish, but if you don't have any cooked chicken to hand but still want to make this recipe, you can easily just poached some chicken breast in enough stock to cover it and then roughly break up the chicken to add into the dish. I typically don't pan fry the chicken for this dish, using leftover roast chicken or poaching the chicken will make it. much more tender in the dish.
Best Bacon for Ranch Chicken
We used to be able to easily get back bacon here in Canada, but now it's become a lot more harder to source and a lot more expensive too, usually only obtained from a local British store in my area.
There is one brand of lean back bacon we can get at the grocery store, but it's not my favourite and so I typically just use regular bacon which is the same as streaky bacon you get back in the UK.
Yes I know you are all going to panic, thinking streaky bacon is much higher in calories, but it really isn't that bad and you only use 2 slices in this recipes which serves 4. I always oven bake my bacon on a rack over a tray in the oven too, so excess fat will drain underneath and I am happy to enjoy it occasionally for the extra calories. But you can use whatever you prefer, so long as it's smoky it will be fine.
Can I use Quark?
Please don't got adding quark to this dish, it will ruin it. Yes I know it's super low calories and free on some plans, but quark is not cream cheese. I see this mistake made so often.
Quark is actually a soft cheese, and it has a sour taste, it is in no way creamy and will not yield the same creamy sauce you get with cream cheese. You want light/lowfat Philadelphia (or a supermarkets own brand) for this recipe.
Sauce not thickening?
The biggest reason for this is heat too low, you need it to be bubbling on a high heat so that the cream cheese can fully melt, once it does this it will reduce fast, especially once the cheddar or parmesan goes in.
Also make sure you are not using a small frying pan, you need a large circumference pan so that the sauce is in a thin even layer and can be heated evenly, all crammed in a small pan will mean it will take much longer to reduce.
Parmesan VS Cheddar
Either of those are fine to use in this recipe, Parmesan does has a strong flavour but it's quite a small amount, So use whatever you prefer.
Ensure you are using blocks of cheese that you grate yourself, not pregrated which can sometimes be coated and won't melt as well into the sauce and can result in a grainy sauce or the powdered stuff that isn't really parmesan at all.
If you want to add more cheese, then of course you can do that too.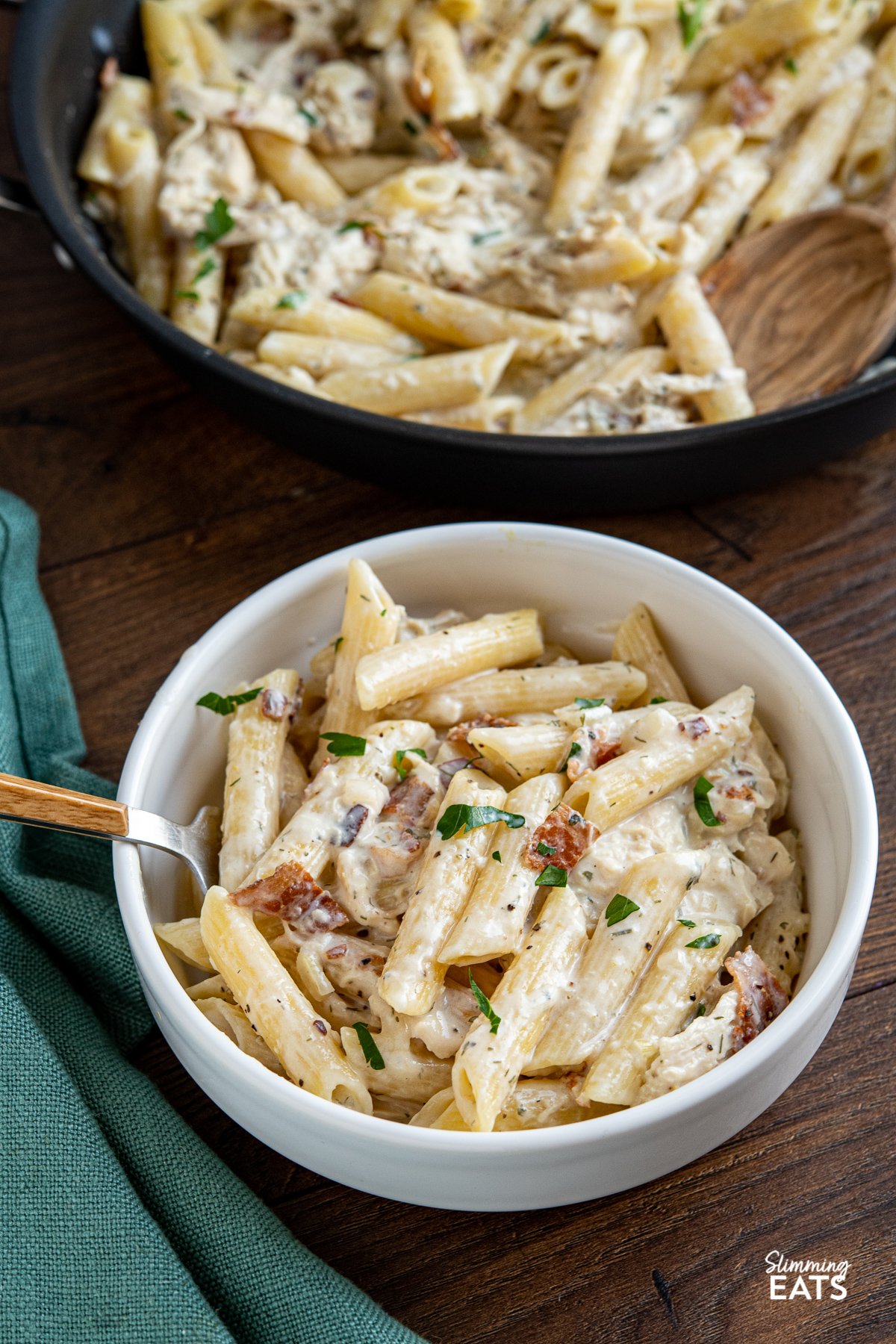 Sides for Chicken Ranch Pasta
I always just pair this with a simple mixed salad, as it's the easiest option for my family, I will serve it in a big bowl in the middle of the table so the kids can help themselves. They eat a much better serving of healthy vegetables when it is present in this way.
If you don't fancy salad, this can be paired with some greens of your choice. Tenderstem broccoli, green beans, asparagus or even some sauteed mushrooms are all great choices.
More Chicken Pasta Recipes
Love chicken pasta recipes? Check out these:
or if you would like more Slimming Friendly recipe ideas - head on over to the FULL RECIPE INDEX where you will find over 900 delicious recipes all with estimated calories and you can search by ingredients, course, diet and more.
Slimming Eats, Weight Watchers and Calorie Counting Friendly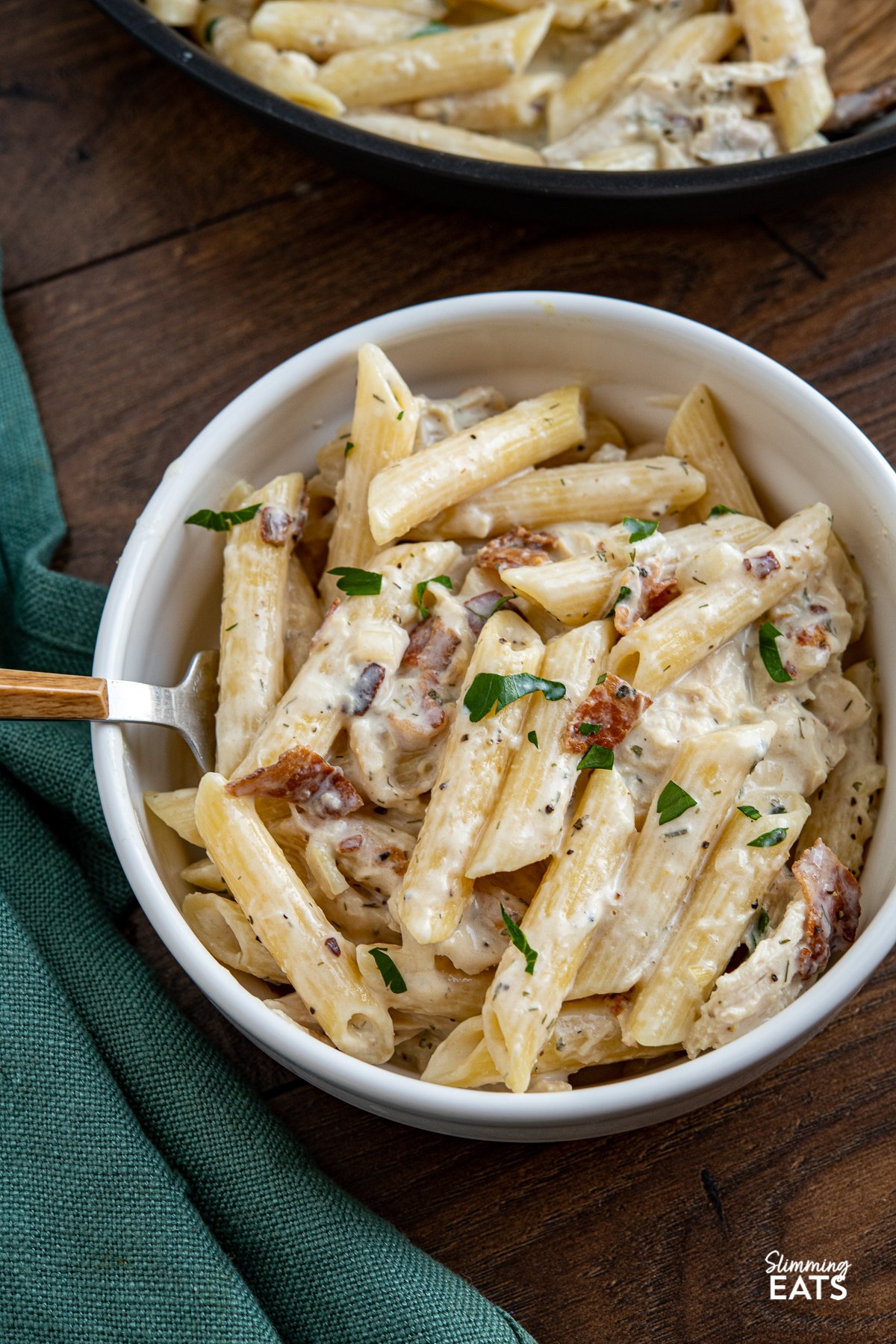 ---
LET'S CONNECT!!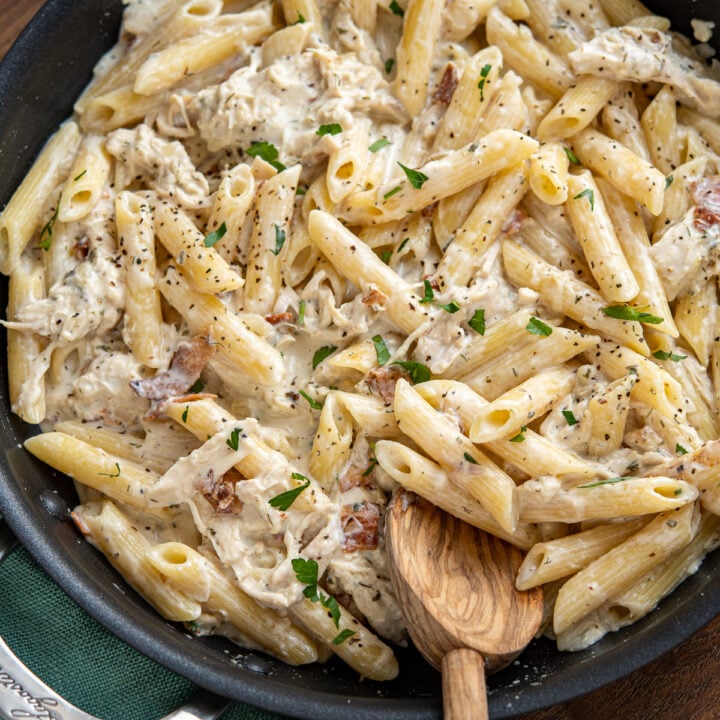 Easy Creamy Chicken Ranch Pasta
A pasta dish with the perfect combination - chicken and penne pasta in a creamy ranch flavoured pasta sauce all finished off with some smokey crispy bacon. What's not to love?
Ingredients
1 small onion, finely diced
2 cloves of garlic, crushed
300g of cooked chicken
2 slices of smoked back bacon (I used streaky but you can use lean back bacon)
½ teaspoon of garlic powder (granules)
½ teaspoon of onion powder (granules)
½ teaspoon of dried dill
½ teaspoon of dried parsley
1 tablespoon of lemon juice
100g of light cream cheese (i.e. Philadelphia or stores own brand)
240ml of chicken stock
250ml of semi skimmed milk
250g of uncooked penne pasta
30g of parmesan or mature cheddar
fresh parsley
spray oil
salt and pepper
Instructions
Spray a large frying pan with cooking oil spray
Add the bacon and cook until golden, remove and set aside
Spray again with spray oil and add the onion and garlic and fry until soften and lightly golden (add in a little stock to prevent burning if needed).
Add in the garlic powder, onion powder, dried dill, dried parsley, lemon juice, cream cheese, milk and stock and bubble on a high heat, until the cream cheese all melts and the sauce starts to look creamy.
While the sauce is bubbling, cook the pasta according to package directions, once pasta is cooked, reserve ⅓ cup (80ml) of the pasta water, and drain the rest of the water from the pasta.
Add the parmesan or cheddar to the sauce, and stir until melted, then add in the cooked chicken and continue to bubble until the sauce thickens and then stir in the pasta, cooked bacon and reserved pasta water and mix until all combined.
Season with salt and black pepper as needed.
Sprinkle with fresh parsley (optional)
Notes
Please see below for full nutritional info and additional details about recipe:
Calories - scroll down to nutritional info box
WW Points and other Slimming or Weight Loss programs -   due to plans regularly changing and updating, we recommend calculating with the official tools you get as a member to those plans to ensure accuracy of values. 
If you wish to share this recipe, then please do so by using the share buttons provided at top of this post.
DO NOT COPY AND/OR PASTE FULL RECIPES OR SCREENSHOTS OF ANY CONTENT FROM SLIMMING EATS TO ANY SOCIAL MEDIA OR WEBSITE, IT IS STRICTLY PROHIBITED.
ALL IMAGES AND CONTENT ON SLIMMING EATS ARE COPYRIGHT PROTECTED
Nutritional information etc are an estimate and are to be used for informational purposes only. Ingredients can vary in values from brand to brand and therefore it would be impossible to give accurate information. It is always advised that you calculate values yourself by the ingredients you use and the tools provided to you as a member of the programme you are following.
It is the responsibility of the Reader to assure the products or ingredients they use in any recipes from Slimming Eats are allergen-free (gluten-free, egg-free, soy-free and/or dairy-free, for example). Slimming Eats assumes no liability for inaccuracies or misstatement about products, opinions or comments on this site. 
Check Legal section, for Full Disclaimer, Disclosure and Privacy Policy.
Recommended Products
As an Amazon Associate and member of other affiliate programs, I earn from qualifying purchases.
Nutrition Information
Yield

4
Serving Size

1 SERVING
Amount Per Serving
Calories

450
Total Fat

11g
Saturated Fat

5g
Sodium

500mg
Carbohydrates

54g
Fiber

3g
Sugar

8g
Protein

33g
Disclosure: This post may contain affiliate links. As an Amazon Associate and member of other affiliate programs, I earn from qualifying purchases. We are a participant in the Amazon Services LLC Associates Program, an affiliate advertising program designed to provide a means for us to earn fees by linking to Amazon.com and affiliated sites." Check Legal section, for Full Disclaimer, Disclosure and Privacy Policy.