Cuban Beef Picadillo - a delicious hearty ground beef Cuban inspired recipe with flavoursome spices, potatoes, vegetables, olives and sultanas.
Cuban Beef Style Picadillo
I love olives, so much so that I am known to eat them out of the jar, Green Manzanilla olives being my absolutely favourite, I just love their salty unique flavour. Great in salads, in pasta, with any type of protein.
So without any surprise, one of my favourite recipes to make is Cuban Beef Style Picadillo. If you have never tried this amazing dish, then boy are you missing out.
It reminds me of a corned beef hash but with much more flavour and a perfect hearty meal for any day of the week.
Traditional Cuban Beef Picadillo
I make no claims that my version is anything like a traditional Cuban Beef Picadillo. Sadly I have no Cuban roots in my family, so my own take on this yummy recipe is inspired by many different versions I have tried along the way, tweaking it to my own taste and flavourings.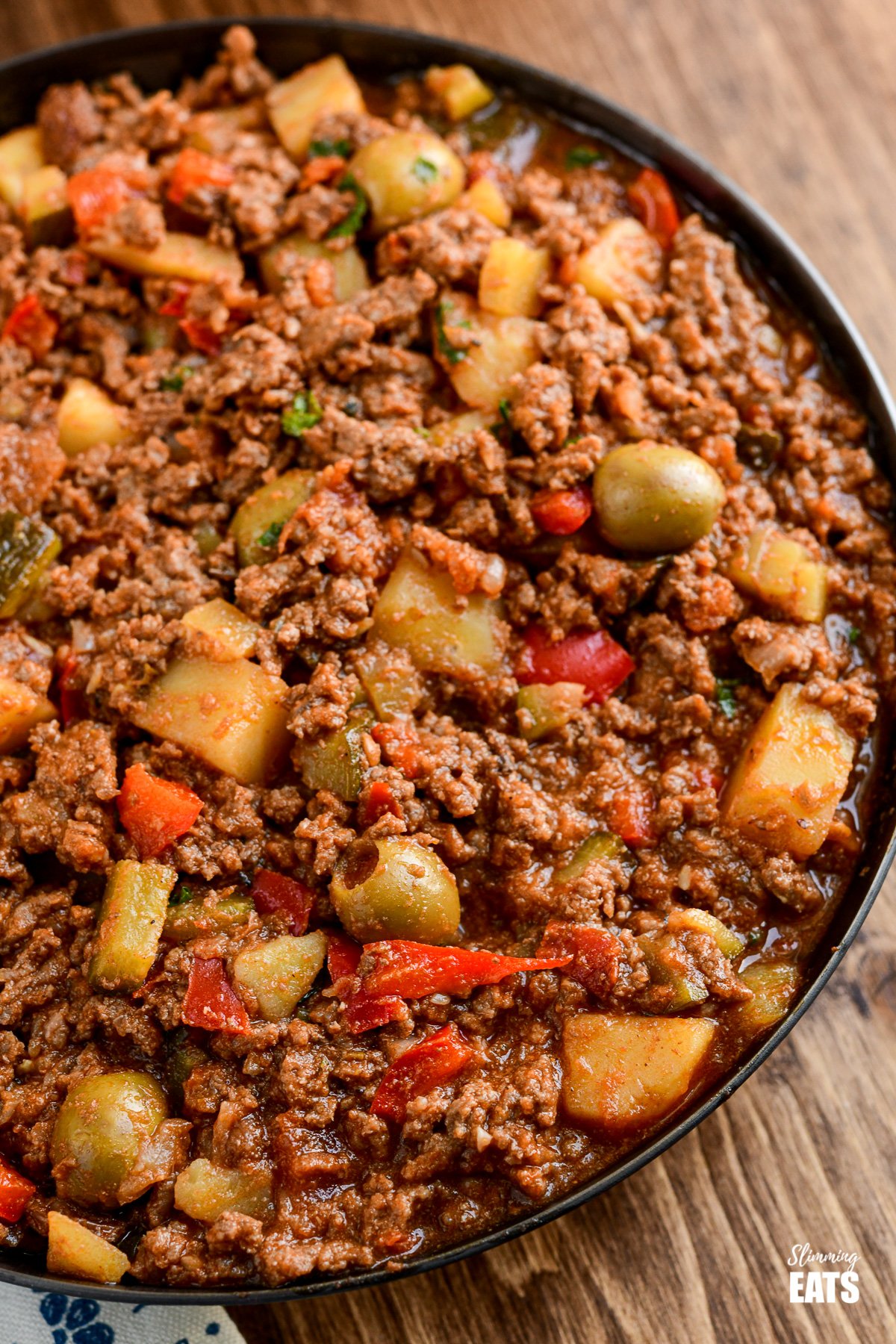 Spices in Cuban Beef Picadillo
There is nothing complicated or unique in my version of this recipe, so no need to go out and hunt down any hard to find ingredients, it's all stuff that the majority of us have in our store cupboard or pantry.
The basic herbs/spices I use are:
oregano (dried) - no need to worry about using fresh, dried is perfectly fine.
chilli (chili) powder - not the hot Indian varieties, this is more like the Mexican style chilli (which has a blend of spices like paprika, cumin etc as one of the ingredients), it's not an ingredient you tend to see in picadillo, but I like to add it for a bit of extra flavour.
cumin - ground is best for this recipe.
and then of course just some basic sea salt and black pepper for seasoning. I recommend these for most recipes. Food should never be bland if you always taste and season at the end to desired taste. A little salt and black pepper enhance flavours in any dish.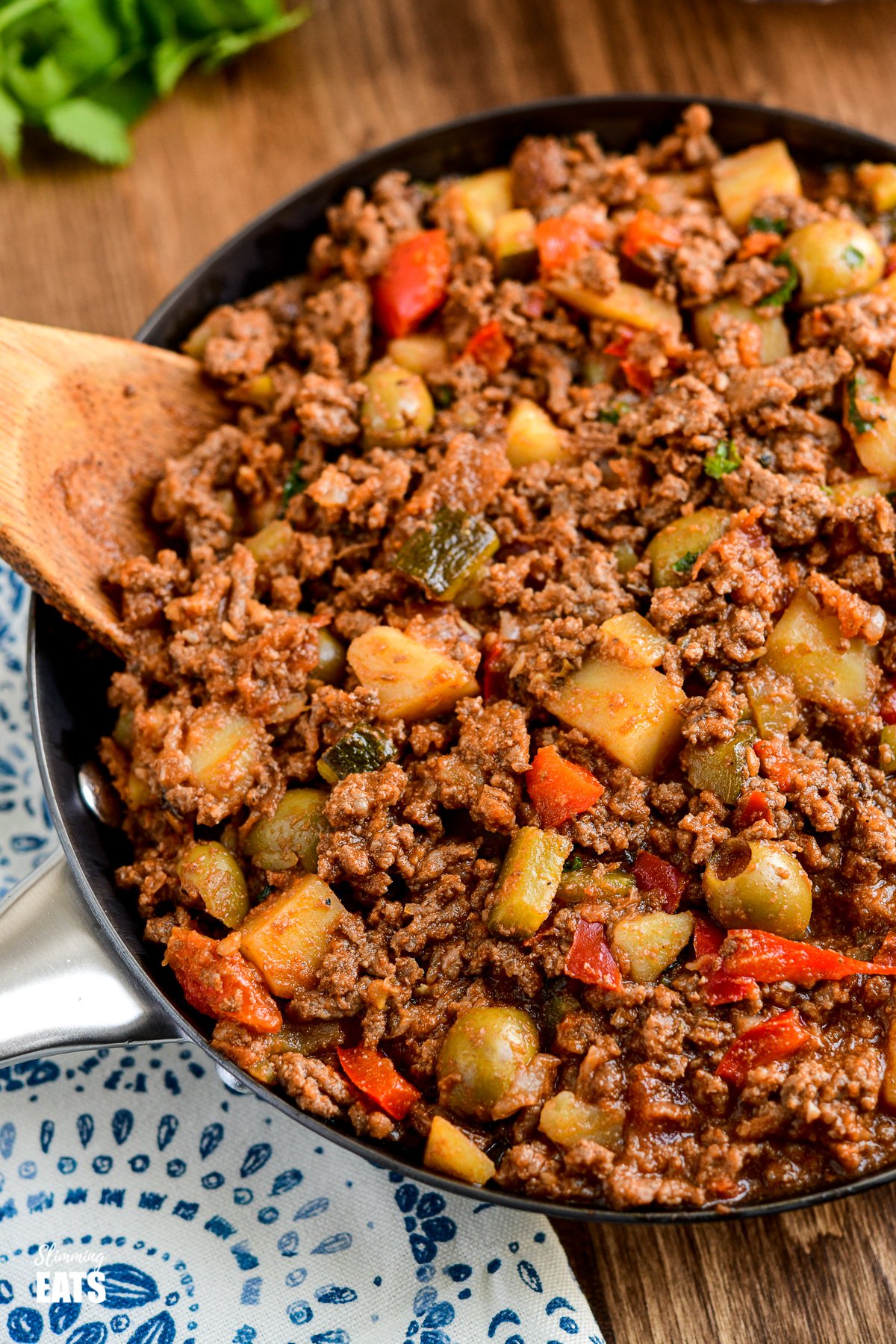 Vegetables in Cuban Beef Picadillo
You can literally add whatever you like vegetable wise to this dish, it is a great throw all in one pan recipe.
My perfect choice is potatoes, tomatoes peppers, onion and zucchini (courgette) it bulks out the dish and makes it delicious, healthy and hearty.
For the potatoes, go for a waxy variety not floury. Floury potatoes tend to disintegrate into this style of dish, whereas waxy varieties hold their shape and have a much better flavour.
My favourites are Yukon Gold (USA and Canada) and the closest to those in the UK is the Elfe Potato, but use another variety of waxy potato if you can't find either.
If you are trying to be healthier and keep lower carb, you could swap out the potatoes for butternut squash it would add a lovely sweetness to this dish. I personally would add a little heat though if you do this, just to balance out the sweetness, maybe by adding in a pinch of cayenne.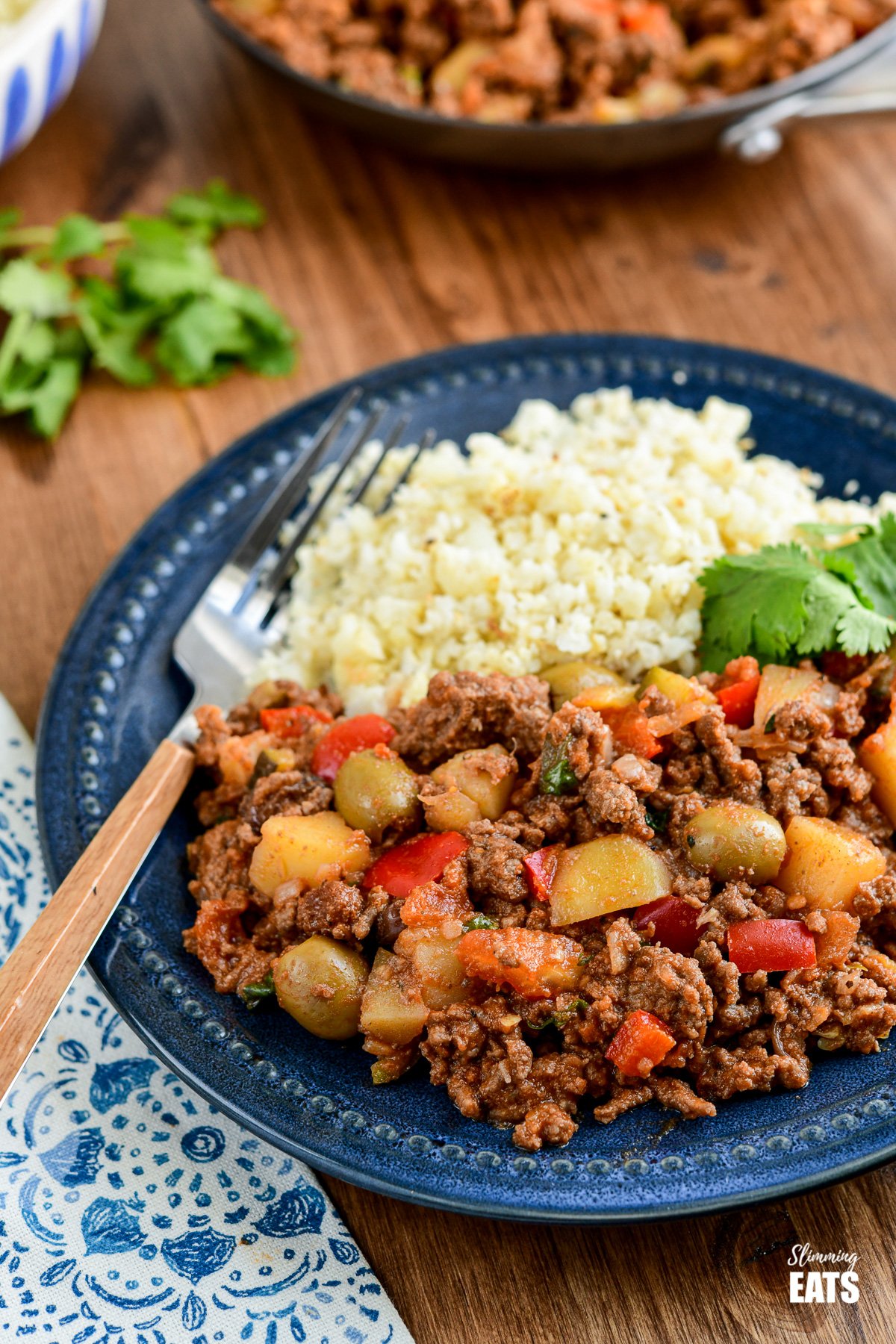 Can I use canned tomatoes?
Yes if you don't have fresh by all means use some canned chopped tomatoes, just be aware the final result will be slightly different.
Canned tomatoes don't yield the same kind of sauce that fresh will and they are also slightly acidic too when canned.
Types of Olive in Cuban Beef Picadillo
Any green olive is fine, I personally don't like this dish with black olives.
Either pitted green olives or those stuffed with pimentos are my favourites.
Sides for Cuban Beef Picadillo
If you want to dig into a bowl of this just as it is, feel free. It tasty served straight from the pan.
Other great sides are rice or if you are trying to be healthier, I love it with this Roasted Cauliflower Rice. Don't be put off trying cauliflower rice again if the only way you have cooked it is in a microwave so it fills the house with an aroma that is not too pleasant.
Roasted Cauliflower is the best and is the only way I cook it nowadays. Roasting it gives it a lovely flavour and its the perfect side to this Cuban Beef Picadillo.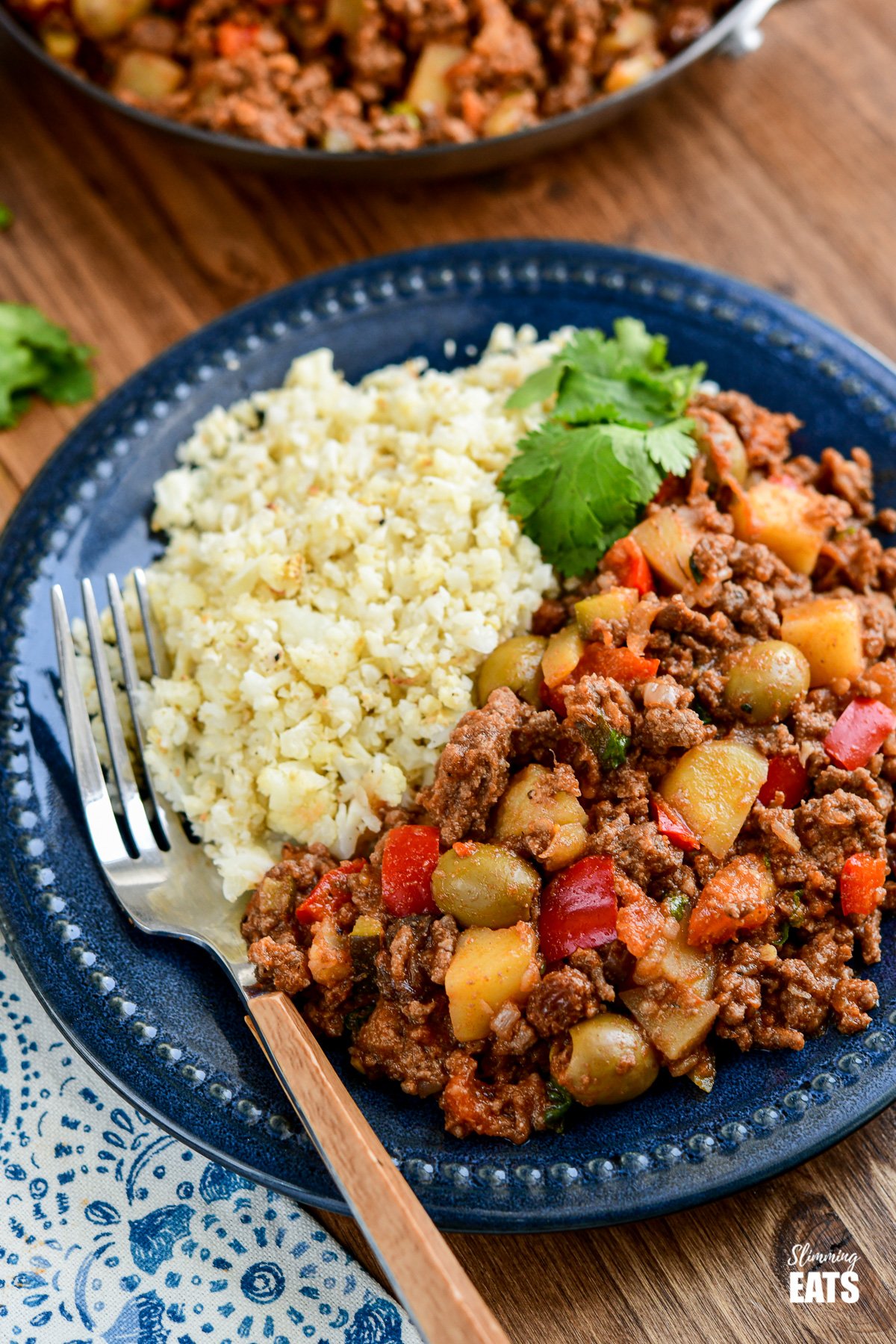 More Ground Beef or Beef Mince Recipes
Love recipes using ground beef or beef mince? Check out these:
or head on over to my Full Recipe Index with over 900 delicious Slimming World and Weight Watchers friendly recipes all fully searchable by meal type, ingredients, syn value and smart points etc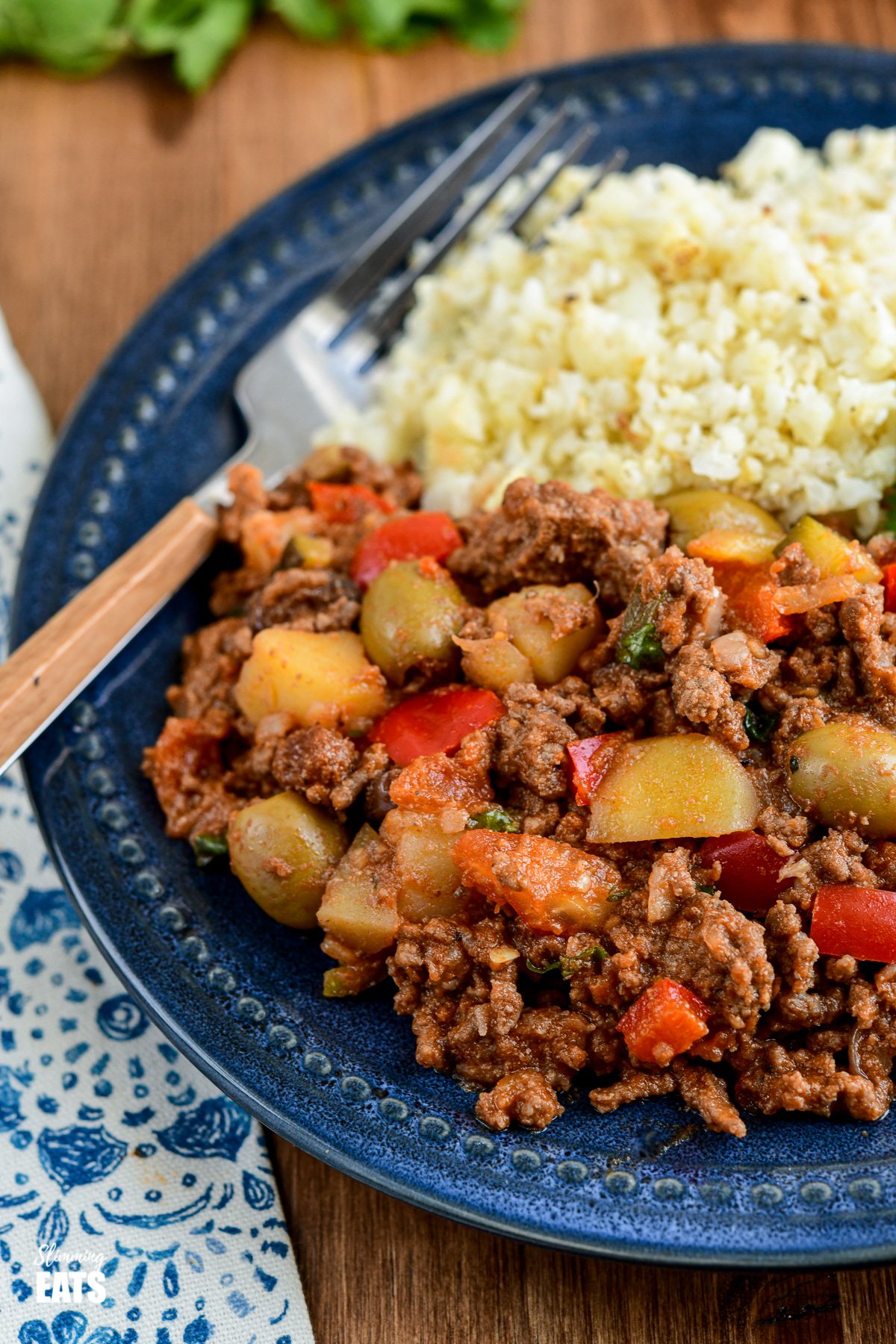 ---
LET'S CONNECT!
Find me ON FACEBOOK | INSTAGRAM | PINTEREST | TWITTER | and YOUTUBE, come and follow me TO MAKE SURE YOU KEEP UP TO DATE ON ALL NEW RECIPES.
You can also subscribe to Slimming Eats so that you never miss any new updates.
IF YOU TRY THIS RECIPE, LET US KNOW! LEAVE A COMMENT, RATE IT AND TAG US IN YOUR PHOTOS @SLIMMINGEATS ON INSTAGRAM
See the handy Pinterest image below if you wish to pin this for later 🙂
Tasty Cuban Beef Picadillo
Cuban Beef Picadillo - a delicious hearty ground beef Cuban inspired recipe with flavoursome spices, potatoes, vegetables, olives and sultanas. 
Ingredients
500g (17.5oz) of extra lean ground beef (beef mince)
1 large onion, diced
400g (14oz) of fresh tomatoes, peeled and chopped
3 cloves of garlic
1 tbs of ground cumin
½ tbs of dried oregano
1 tsp of chilli (chili) powder
20 stuffed manzanilla olives (or use another variety of small green olives)
30g (1oz) of raisins (sultanas)
2 tbs of tomato paste
1 cup (240ml) of beef stock (or can use chicken)
splash of balsamic vinegar
½ red pepper, chopped
½ medium zucchini, chopped
250g (9oz) of Yukon Gold Potatoes (or use another waxy variety)
sea salt and black pepper
chopped fresh cilantro (coriander) - optional
Instructions
Add the ground beef to a frying pan with the onion and garlic and fry until browned.
Add in the fresh tomatoes and continue to cook until the tomatoes start to break down a little.
Add in the potatoes, cumin, oregano and chile powder and stir to coat.
Add in the peppers, olives, sultanas (raisins), tomato paste, balsamic vinegar and stock.
Bring to a boil, then reduce heat and simmer for 15-20 minutes, until potatoes are tender and liquid has reduced down. If liquid has not reduced down after this time, heat is too low.
Stir in the zucchini (courgette) for the last 5 minutes of cooking time.
Taste and season as needed. Olives are quite salty, so you shouldn't need much salt.
Sprinkle with chopped cilantro (coriander) and serve with your choice of sides.
Enjoy!!
Notes
This recipe is gluten free, dairy free, Slimming World and Weight Watchers friendly
Slimming World - 2.5 syns per serving
Green WW Smart Points - 6 per serving
Blue WW Smart Points - 6 per serving
Purple WW Smart Points - 5 per serving
Gluten Free - use gluten free stock
*SUITABLE FOR FREEZING
If you wish to share this recipe, then please do so by using the share buttons provided.

Do not screenshot content or post recipe or content in full. All images and content on Slimming Eats are copyright protected.

Nutritional information, syn values, points etc are an estimate and is to be used for informational purposes only. Ingredients can vary greatly from brand to brand and therefore it would be impossible to give accurate information. It is always advised that you calculate by the ingredients you use.

It is the responsibility of the Reader to assure the products or ingredients they use in any recipes from Slimming Eats are allergen-free (gluten-free, egg-free, soy-free and/or dairy-free, for example). Slimming Eats assumes no liability for inaccuracies or misstatement about products, opinions or comments on this site.

Check Legal section, for Full Disclaimer, Disclosure and Privacy Policy.
Recommended Products
As an Amazon Associate and member of other affiliate programs, I earn from qualifying purchases.
Nutrition Information
Yield

4
Serving Size

1 SERVING
Amount Per Serving
Calories

295
Total Fat

8g
Saturated Fat

2.3g
Trans Fat

0g
Cholesterol

76mg
Sodium

578mg
Carbohydrates

28g
Fiber

4.4g
Sugar

7.4g
Protein

29.4g
Disclosure: This post may contain affiliate links. As an Amazon Associate and member of other affiliate programs, I earn from qualifying purchases. We are a participant in the Amazon Services LLC Associates Program, an affiliate advertising program designed to provide a means for us to earn fees by linking to Amazon.com and affiliated sites." Check Legal section, for Full Disclaimer, Disclosure and Privacy Policy.