Chicken in Creamy Sun-dried Tomato Sauce - This mouthwatering dish features tender and juicy chicken breasts smothered in a rich and tangy sauce made with low-fat cream cheese and sun-dried tomatoes.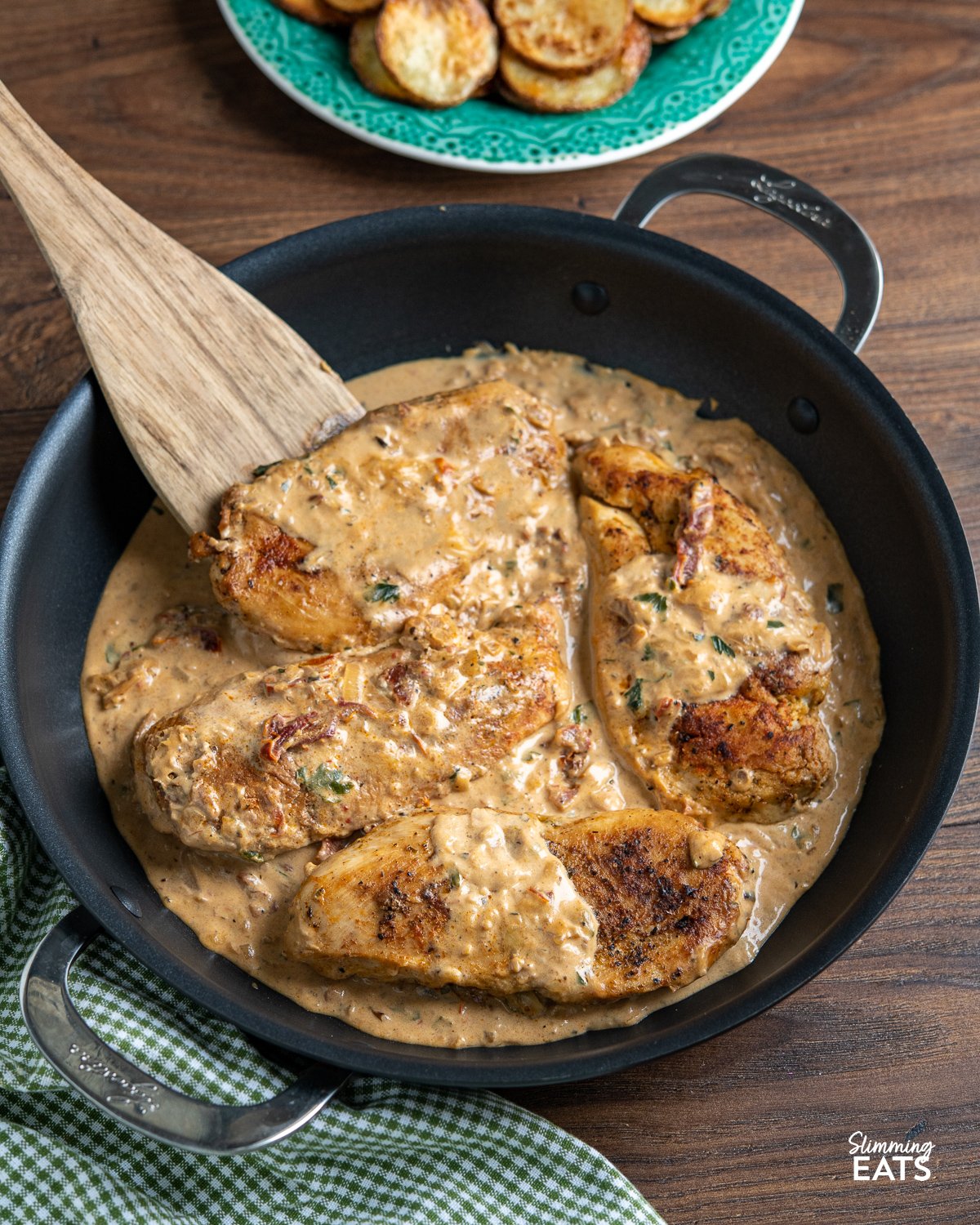 It's a delicious and healthier alternative to traditional creamy chicken dishes, without sacrificing any of the flavor. Whether you're looking for a nourishing dinner option or just want to treat yourself to a comforting and wholesome meal, this chicken dish is sure to impress.
As a family we just love the bold and irresistible flavor of sun-dried tomatoes. These little gems pack a powerful punch and add a deliciously tangy twist to so many different recipes. But when it comes to pairing them with other ingredients, few things compare to the magic that happens when you combine them with juicy chicken breasts. If you are a fan of chicken dishes and just can't resist a good recipe, there's no denying that sun-dried tomatoes take things to a whole new level. So if you're ready to experience a flavor sensation like no other, get ready to try this amazing chicken dish.
Jump to: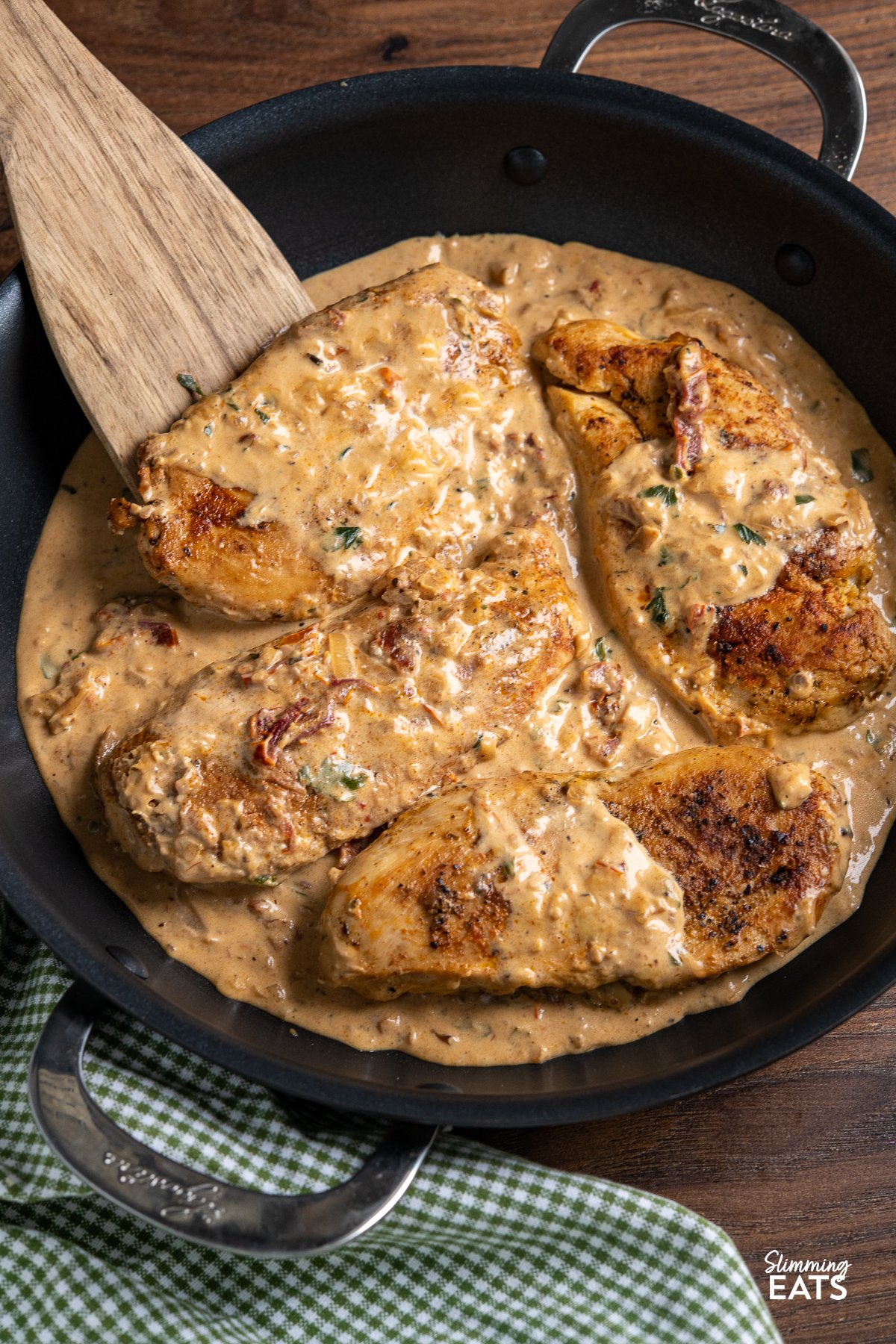 Calories in Chicken in Creamy Sun-dried Tomato Sauce
This delicious recipe with Tender Chicken breasts serve 4 and is 335 calories per serving, which is perfect for a family friendly meal when paired with some additional sides.
There are lots more recipes around this calorie value in my 300-400 calories recipe section.
If you are using these recipes as part of a calorie controlled diet or healthy eating plan, you can calculate your daily calories by using a calorie calculator, as this will vary per individual depending on various factors.
Ingredients needed for Chicken in Creamy Sun-dried Tomato Sauce
for this recipe you will need the following ingredients:
Chicken Breasts - You can either use 2 large butterflied in half or 4 small
Paprika
Garlic and Onion Powder
Sun-dried Tomatoes - either dried or in oil are fine for this recipe. Oiled will add a few more calories, but also add a better flavour and is my preferred option in this recipe.
Fresh Garlic
Onion
Low Fat Cream Cheese - like Philadelphia or a stores own brand (do not mistake this for quark)
Parmesan Cheese
Chicken Stock
Parsley or Basil
Olive oil spray
Salt and pepper
See the recipe card for full quantities.
Once all the ingredients are prepared, you can get ready to make this easy recipe.
Why is my sauce not thickening?
The sauce is thickened by adding light cream cheese and reducing it down, but if the pan is too small or the cream cheese doesn't fully melt, the sauce won't thicken properly. Using a wide-bottomed frying pan with a large circumference that can accommodate all the ingredients is crucial.
Make sure that the chicken stock is hot and the heat is high enough to melt the cream cheese completely. Once you add in the parmesan cheese, the sauce will become velvety, creamy, and silky in appearance, making for a delicious and indulgent meal.
How do I know the Chicken is Cooked?
For perfectly cooked chicken breast, it's crucial to ensure that it reaches an internal temperature of 165°C at its thickest part. To achieve this, it's recommended to use small chicken breasts or large ones that have been butterflied in half and flattened with a meat tenderizer. This not only ensures even cooking in the pan but also creates a nice sear with the seasoning. Thick cuts of chicken breast may brown too much on the outside while remaining uncooked in the center.
If you struggle with achieving the ideal doneness of chicken breast, investing in a meat thermometer is highly recommended. Overcooking chicken breast is a common issue, resulting in a dry and tough texture, which is far from appetizing.
Sides for Chicken in Creamy Sun-dried Tomato Sauce
This chicken in creamy sun-dried tomato sauce recipe is not only absolutely delicious on its own, but it also complements a variety of sides perfectly.
For a lighter option, try pairing it with some of your favorite veggies like:
tender asparagus
crisp broccolini
vibrant green beans
sautéed spinach or kale
Roasted Vegetables - Roast a mix of your favorite vegetables, such as sweet potatoes, carrots, zucchini, and bell peppers, with olive oil, garlic, and herbs.
Cauliflower Rice - Swap out regular rice for cauliflower rice, which is lower in carbs and calories but still delicious.
Grilled or Steamed Vegetables - Serve a colorful mix of grilled or steamed vegetables like asparagus, broccoli, Brussels sprouts, and snow peas.
These options are not only healthy but also add a pop of color to your plate.
If you're craving something more substantial, this dish also goes exceptionally well with hearty sides such as:
al dente pasta
creamy mashed or crispy roasted potatoes
fluffy rice that soaks up every drop of the luscious sauce.
These options will keep you satisfied and leave you feeling fully satisfied after your meal.
Additionally if you have some spare calories left for the day, serving with a side of your favourite bread can be a great way to mop up any leftover sauce.
More Chicken Recipes
Looking for some other delicious Chicken Breast recipes? Check out some of these:
or if you would like more recipe ideas or sides to make with this recipe - head on over to the FULL RECIPE INDEX where you will find over 900 delicious recipes with calories and you can search by meal type, ingredients, course, diet and more..
All recipes on Slimming Eats have estimated nutritional information for your convenience.
---
LET'S CONNECT!
Chicken in Creamy Sun-dried Tomato Sauce
Chicken in Creamy Sun-dried Tomato Sauce - This mouthwatering dish features tender and juicy chicken breasts smothered in a rich and tangy sauce made with low-fat cream cheese and sun-dried tomatoes.
Ingredients
4 small chicken breast (approx 170g/6oz each)
2 teaspoons of paprika (not smoked)
½ teaspoon of garlic powder (granules)
½ teaspoon of onion powder (granules)
freshly ground sea salt and black pepper
1 medium onion, finely diced
3 cloves of garlic, crushed
50g (1.5oz) of sun-dried tomatoes, chopped small
400ml of low sodium chicken stock
100g (3.5oz) of light cream cheese
30g (1oz) of parmesan, fresh grated.
fresh parsley or basil, chopped
olive oil spray
Instructions
Place the chicken breasts on a board, and cover over with cling film, then using a meat mallet to pound until thin.
Season both sides with the paprika, garlic and onion powder and a generous amount of freshly ground sea salt and black pepper.
Spray a dip frying pan over a medium-high heat with some olive spray, add the chicken breasts and cook for about 5 mins per side until lightly golden, then remove from pan and set aside.
Spray the frying pan with a little more cooking oil spray and add the onion. Fry for a few minutes until translucent.
Then add in the garlic, and sun-dried tomatoes, then gradually keep adding in a little bit of stock at a time, reduce it down around the onion and tomatoes and keep repeating the process until you have added 200ml and the onions are lovely and softened and caramelized. (Make sure you are reducing the stock down each time you add a little bit).
Add in the cream cheese and stir until fully melted, then add the remaining 200ml stock and bring to a bubble so that is starts to a reduce into a creamy sauce.
Stir in the parmesan until melted. Then add back in the chicken pieces, spooning some of the sauce over the top, allow to simmer until the chicken is cooked through. If the sauce reduces too much you can add in a little more stock to loosen.
Sprinkle with a little chopped fresh parsley or basil and enjoy with your favourite sides.
Notes
Please see below for details about recipe:
Calories - scroll down to nutritional info box
WW Points and other Slimming or Weight Loss programs:  due to plans regularly changing and updating, we recommend calculating with the official tools you get as a member to those plans to ensure accuracy of values
Gluten Free Friendly - use gluten free stock
Side suggestions: rice, pasta, potatoes (any way) or some healthy green vegetables of your choice.
Suitable for Freezing ❄️ - may need a little additional stock added to loosen sauce.
If you wish to share this recipe, then please do so by using the share buttons provided at top of this post.
DO NOT COPY AND/OR PASTE FULL RECIPES OR SCREENSHOTS OF ANY CONTENT FROM SLIMMING EATS TO ANY SOCIAL MEDIA OR WEBSITE, IT IS STRICTLY PROHIBITED.
ALL IMAGES AND CONTENT ON SLIMMING EATS ARE COPYRIGHT PROTECTED
Nutritional information etc are an estimate and are to be used for informational purposes only. Ingredients can vary in values from brand to brand and therefore it would be impossible to give accurate information. It is always advised that you calculate values yourself by the ingredients you use and the tools provided to you as a member of the programme you are following.
It is the responsibility of the Reader to assure the products or ingredients they use in any recipes from Slimming Eats are allergen-free (gluten-free, egg-free, soy-free and/or dairy-free, for example). Slimming Eats assumes no liability for inaccuracies or misstatement about products, opinions or comments on this site. 
Check Legal section, for Full Disclaimer, Disclosure and Privacy Policy.
Recommended Products
As an Amazon Associate and member of other affiliate programs, I earn from qualifying purchases.
Nutrition Information
Yield

4
Serving Size

1 serving
Amount Per Serving
Calories

335
Total Fat

10g
Saturated Fat

4g
Trans Fat

0g
Unsaturated Fat

10g
Cholesterol

122mg
Sodium

630mg
Carbohydrates

10g
Fiber

2g
Sugar

5g
Protein

45g
Nutritional information and values etc are an estimate and is to be used for informational purposes only. Ingredients can vary greatly from brand to brand and therefore it would be impossible to give accurate information. It is always advised that you calculate by the ingredients you use.
Disclosure: This post may contain affiliate links. As an Amazon Associate and member of other affiliate programs, I earn from qualifying purchases. We are a participant in the Amazon Services LLC Associates Program, an affiliate advertising program designed to provide a means for us to earn fees by linking to Amazon.com and affiliated sites." Check Legal section, for Full Disclaimer, Disclosure and Privacy Policy.