These filling and delicious fluffy American Style Pancakes will be a regular feature on your Breakfast menu and are perfect for those following a low calorie diet or trying to eat healthier.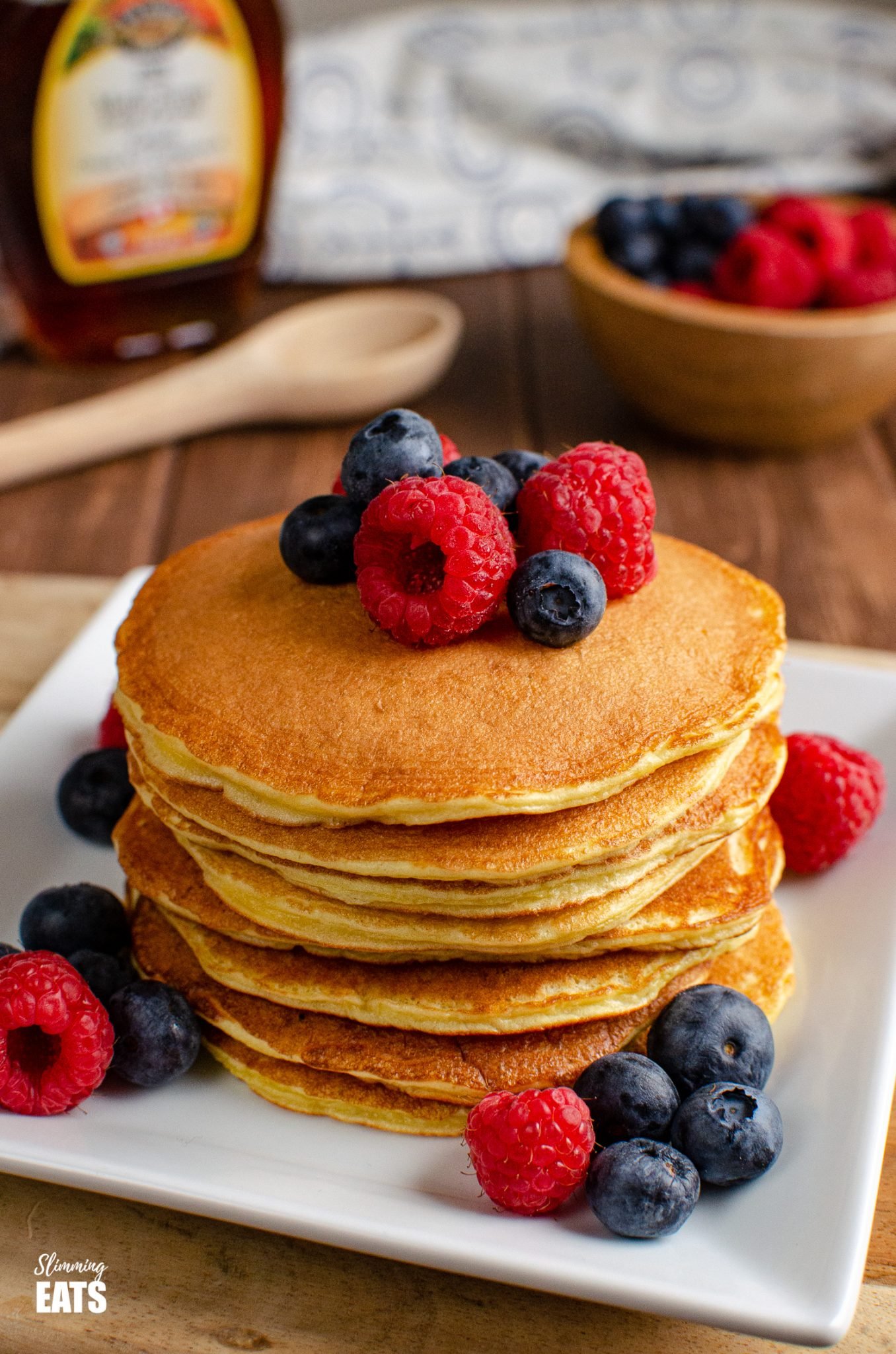 American Pancakes with Maple Syrup
Living in Canada means Maple Syrup is everywhere and pancakes for breakfast or any time of day for that matter is a pretty common occurrence.
However regular pancakes are pretty calorific, so I just had to create a recipe for healthier American Style Pancakes that I could enjoy on a regular basis and these pancakes tick all the boxes.
The recipe for these amazing light and fluffy American Style Pancakes was one of my very first recipes when I started Slimming Eats (all the way back in 2009), and from there followed all the other variations you now see out there.
---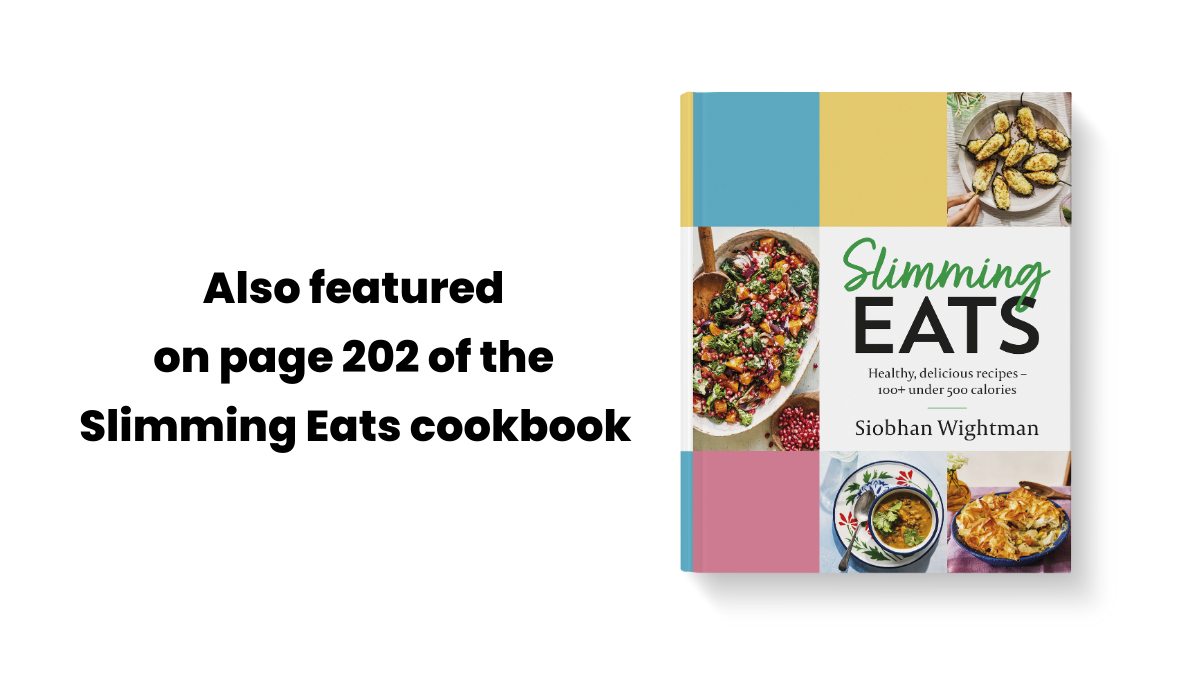 This recipe is also found in the Slimming Eats cookbook as one of the 15 bonus blog favourites. You can get it from all Major Retailers including Amazon
As an Amazon Associate and member of other affiliate programs, I earn from qualifying purchases.
---
Oat Pancakes
In traditional fluffy American Pancakes, buttermilk is very commonly used, it gives them a lovely flavour. In this recipe, I use plain fat free Greek Yoghurt which is high in protein and a perfect substitute for buttermilk.
Instead of regular flour these pancakes are made with oats, so are slightly healthier too because oats contain more fiber and protein and is nutrient dense.
My family actually prefers these over regular pancakes now and we are pretty particular about our pancakes.
What yoghurt is best for Oat Pancakes?
Don't be tempted to use fat-free flavoured yoghurts. Sometimes the flavouring in those can be a little overpowering and artificial tasting. You can add flavour to these American Style Pancakes by the fruit etc you add as a topping or add in a little extract like vanilla or lemon.
Greek Yoghurt is the best yoghurt to use for this recipe, it's much thicker and makes a much fluffier pancake, avoid natural yoghurt which is thinner.
It's also bearing in mind that Greek Style Yoghurts are not real Greek Yoghurt, it is regular yoghurt that usually has a stabilizer added to give it the same thickness as traditional Greek Yoghurt.
My favourite brands are Fage, Liberte and Oikos Greek Yoghurt.
Can I use Ready Brek instead of Oats?
Some readers have had success using Ready Brek, but I personally don't like the final result of the pancakes with Ready Brek, so I stick to my traditional recipe.
There are a couple of reasons for this, the taste and texture are not quite the same and you will need to adjust the ratio of other ingredients because Ready Brek consists of Oat Flour, Oats and Fortified Vitamins (it's a more processed oat cereal) and so the same weight of Ready Brek has more volume than oats.
Baking Powder in Pancakes
The key to the fluffiness is the baking powder.
Watch that you don't grab baking soda (bicarb of soda) by mistake. I did this once under tired eyes and the result is not pleasant lol. Took me a while to figure out why and then I spotted the tubs of baking soda on the my counter. I'd grabbed that out of my cupboard by mistake.
Tips for making American Style Pancakes
Here are some of my tips for making the pancakes. Firstly a blender is vital to grind up the oats, any is fine, you don't need an expensive one with all the bells and whistles so long as it grinds them well enough.
Once you grind and mix all the ingredients together, ensure you let the mix sit for at least 10 minutes. This will help ensure a flufflier pancakes.
Ensure you measure everything accurately. As being slightly off in measurements can affect the cook of the pancakes or make your mix too thick or two runny.
A good non stick pan or pancake pan is vital. I have my special pan I use only for pancakes and it's been in my possession for years, nothing ever sticks and it's has a short rim which makes it super easy to slide your spatula under the pancake a flip.
It is similar to his Tefal Pancake Pan which you can get on Amazon. I also use long spatula like this Flexible Egg Turner it flips the pancakes effortlessly.
Patience is key too, don't have your heat too high to try and cook fast, low and slow is vital for these, I have my heat on 3 (it goes up to 10). When you see bubbles start to appear on surface a spatula should slide under easily so you can flip the pancakes. If it doesn't they are not ready, so wait.
I use a tablespoon measuring spoon and use about 2 or 3 tablespoons of the batter per pancake which usually makes 6 to 8 pancakes. This helps form perfectly rounded pancakes, as you can carefully pour the batter on to the pan.
Best Low Calorie Spray
When choosing cooking oil sprays, I try and opt for ones that do not contain emulsifiers and ones which contain just oil. My favorites being Bertolli Olive Oil spray and Chosen Foods Avocado Spray.
Spray oils with emulsifiers will ruin your non stick pans as it reacts with the coating. So avoid these if you don't want a stick residue of a mess left on your pan.
Sides for American Style Pancakes
These American Style Pancakes go really well with any kind of fruit, but my favourite choice is speed berries such as blueberries and raspberries.
If you want to go the Traditional American route, then the only way to serve these is with some bacon (the crispier the better). I will often treat myself by serving these with some crispy oven baked streaky bacon. Well worth it in my opinion. Lean back bacon with the fat trimmed off is a great substitute for a lower calorie option, but it just doesn't have that same crispiness you get with the streaky.
Then of course, no American Style Pancakes are complete without Syrup and for me, it has to be pure 100% maple syrup, not the artificial or sugar-free stuff. Maple Syrup is only 50 calories per tablespoon and it is well worth it to drizzle over your pancakes.
More Healthy Pancake Recipes
Looking for some more pancakes recipes to try? Check out these:
or if you would like more recipe ideas - head on over to the FULL RECIPE INDEX where you will find over 900 delicious recipes with calories and you can search by meal type, ingredients, course, diet and more..
All recipes on Slimming Eats have estimated nutritional information for your convenience.
---
LET'S CONNECT!
American Style Pancakes
These filling and delicious healthy American Style Pancakes will be a regular feature on your Breakfast menu and are perfect for those following Slimming World or Weight Watchers
Ingredients
40g or 1.4oz (½ cup) of oatmeal/oats - HEb
¾ tablespoon of sukin:1 or other granulated sweetener of choice
¾ teaspoon of baking powder
¼ cup (4 tablespoons) of fat free plain Greek yoghurt 
2 large eggs
1 teaspoon of vanilla extract
cooking oil spray (I like to use coconut for these)
Instructions
Add the oats to a blender and grind into a fine powder.
Place in a bowl with the eggs, yoghurt and other ingredients and mix to combine, Allow to sit for at least 10 mins.
Spray a non stick crepe pan placed over a low heat (make sure you don't have the heat too high) with some cooking oil spray and cook the pancakes (I use 2-3 tbs of batter per pancake) until you start to see bubble appear on the surface and then carefully flip over. A spatula should slide under easily, if it doesn't they are not quite done.
I cook two pancakes at a time, so that there is enough room on the pan to easily flip over.
Repeat with the rest of the mixture
Serve the pancakes with fruit or toppings of choice.
Enjoy!!! – these are delicious!!
Notes
Please see below for nutritional info box and details about recipe:
Gluten Free Friendly - use gluten free oats
WW Points - 3
Vegetarian Friendly
FREEZER FRIENDLY - freeze each pancakes with a sheet or wax paper between it, these can be warmed up from frozen in a toaster or on a low heat on a pan.
Calories/Values given are just for the pancakes and do not include any toppings.
If you wish to share this recipe, then please do so by using the share buttons provided at top of this post.
DO NOT COPY AND/OR PASTE FULL RECIPES OR SCREENSHOTS OF ANY CONTENT FROM SLIMMING EATS TO ANY SOCIAL MEDIA OR WEBSITE, IT IS STRICTLY PROHIBITED.
ALL IMAGES AND CONTENT ON SLIMMING EATS ARE COPYRIGHT PROTECTED
Nutritional information etc are an estimate and are to be used for informational purposes only. Ingredients can vary in values from brand to brand and therefore it would be impossible to give accurate information. It is always advised that you calculate values yourself by the ingredients you use and the tools provided to you as a member of the programme you are following.
It is the responsibility of the Reader to assure the products or ingredients they use in any recipes from Slimming Eats are allergen-free (gluten-free, egg-free, soy-free and/or dairy-free, for example). Slimming Eats assumes no liability for inaccuracies or misstatement about products, opinions or comments on this site. 
Check Legal section, for Full Disclaimer, Disclosure and Privacy Policy
Recommended Products
As an Amazon Associate and member of other affiliate programs, I earn from qualifying purchases.
Nutrition Information
Yield

1
Serving Size

1 SERVING (entire stack - pancakes only)
Amount Per Serving
Calories

384
Total Fat

14.8g
Saturated Fat

3.7g
Sodium

531mg
Carbohydrates

32.1g
Fiber

3.1g
Sugar

3.3g
Protein

26.9g
Disclosure: This post may contain affiliate links. As an Amazon Associate and member of other affiliate programs, I earn from qualifying purchases. We are a participant in the Amazon Services LLC Associates Program, an affiliate advertising program designed to provide a means for us to earn fees by linking to Amazon.com and affiliated sites." Check Legal section, for Full Disclaimer, Disclosure and Privacy Policy.