Sheet Pan Oat Pancakes - love pancakes but hate the flipping and standing at the stove? These easy sheet pan oat pancakes with berries and banana is the perfect effortless breakfast.
Sheet Pan Pancakes
Ever since I posted my American Style Oat Pancakes back in 2009, they have been a regular feature for breakfast among many of you. Light, fluffy and delicious. My family actually enjoy these over regular pancakes now.
However sometimes in the morning, especially if you are tired, the last thing you want is to have to stand at the stove and flip pancakes and that's where these Sheet Pan pancakes are perfect. Just mix up the batter, add in the fruit, bake, slice and it's done and they really are delicious. You can even blend the oats the night before, so everything is all ready to just mix in the morning and bake.
Blending the Oats
To blend the oats for the batter, you can use any kind of blender, nothing fancy is needed. So whether you have a counter top blender or just one of those handy stick blenders, both will work fine to grind up the oats for the pancakes mix.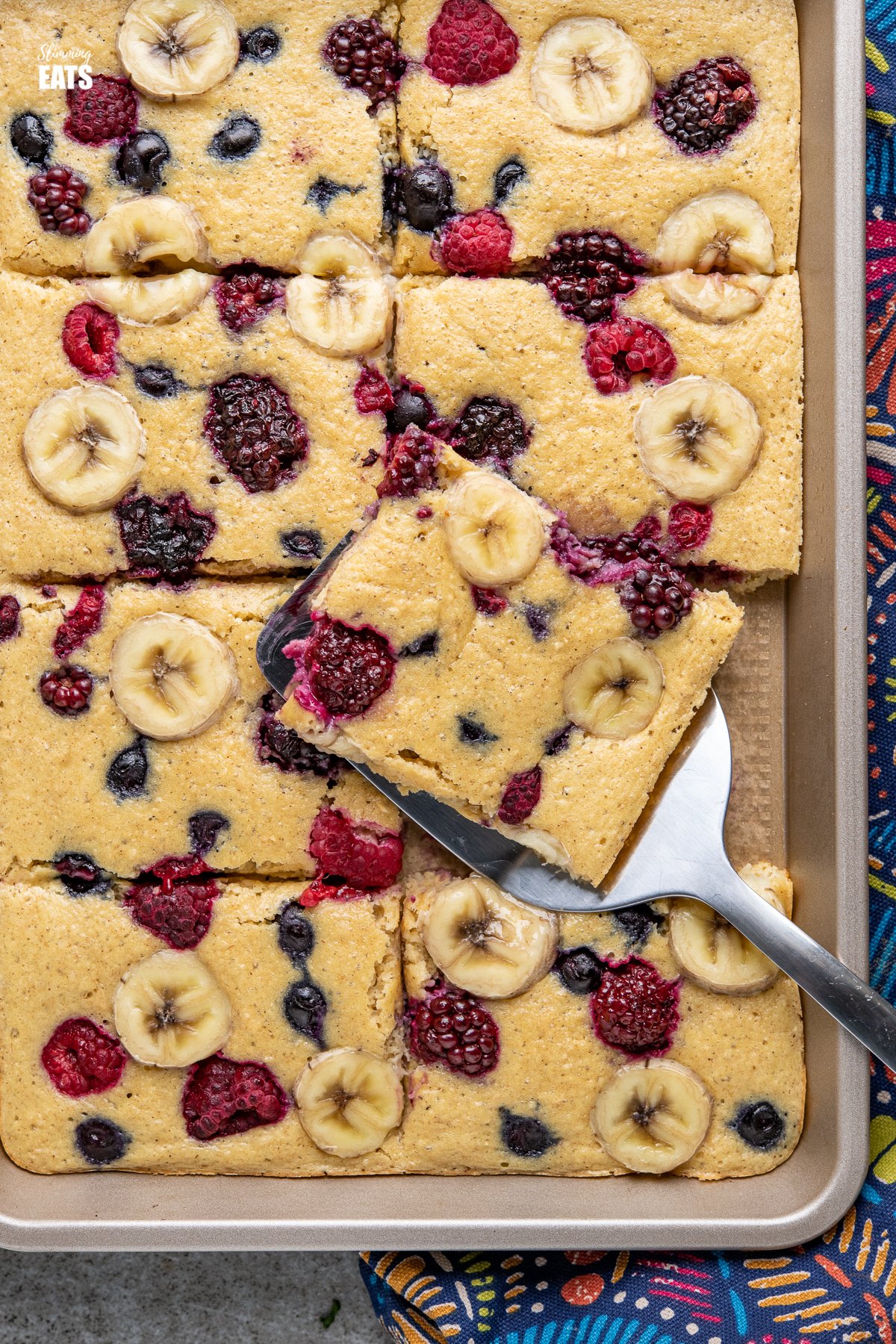 Can I use Ready Brek?
Ready Brek might seem like a quicker option if you don't have a blender or want to try and save more time. But I don't recommend it personally.
Why? I have tried it before for my American Style Pancakes and my family just don't like the final result or taste with Ready Brek and there are a few reasons for this.
It's easy to assume ready brek is the same as blended oats, but it actually isn't. Ready Brek is a processed oat cereal made from oats, oat flour and fortified vitamins. If you have ever eaten a bowl of ready brek and a bowl of oats and compared, I can assure they they do not taste the same. Also because of how processed ready brek is, it actually weighs less than oats, so if you weigh out 40g of oats and 40g of ready brek, the Ready brek has more volume and will therefore mess up the ratio of other ingredients.
So with that in mind, use it if you must, but just be aware that for best results I recommend using rolled oats as per the recipe.
Fruit for Sheet Pancakes
For these Sheet Pan Pancakes I used a mixture of banana and frozen berries which was just the perfect combination.
However you really can add various different fruit, so long as you don't add a high ratio of fruit to the point where too much liquid is released and affects the batter it should be fine.
Some other fruit suggestions are:
Fresh berries
Diced Apple
Diced Pear
Rhubarb
Plum
Peach
Mango
Pineapple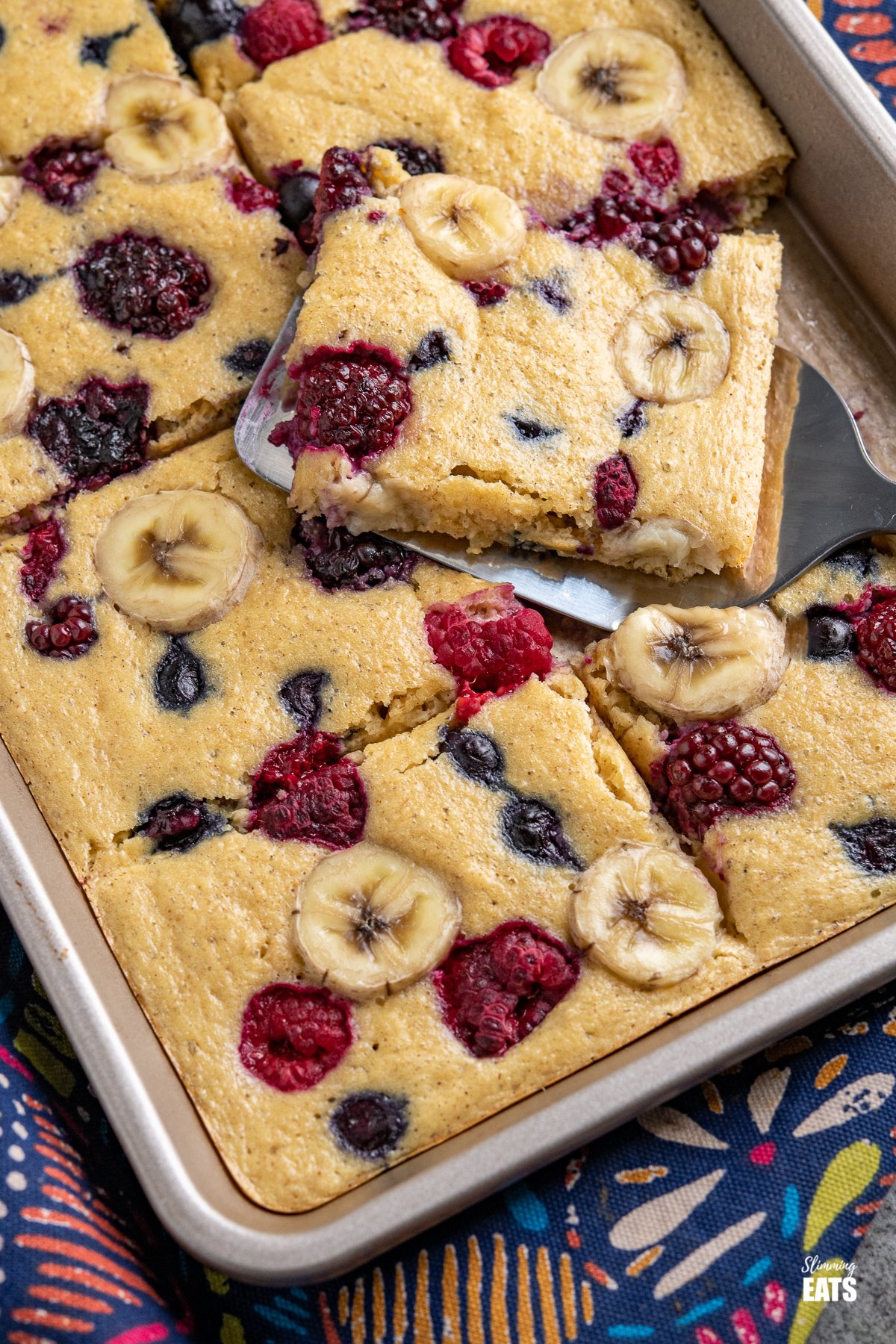 Other Add ins for Sheet Pancakes
Don't stick to just fruit either, you can add various of things to these sheet pancakes, such as:
Drizzle of peanut butter into the batter
Dollops of Jam into the batter
Dollops of Nutella or Biscoff
Chopped Nuts (pecans, walnuts, almonds etc)
Raisins
Chocolate Chips
Cooked Bacon
Do I need to sweeten the batter?
That depends on how sweet your tooth is and what you are adding as extra toppings. With the add fruit and then a drizzle of maple syrup over the top once cooked it is perfect balance of sweetness for us.
If you do want to sweeten the mix, I recommend either using some honey or maple syrup, mixed into the batter or to save calories use a granulated sweetener of choice (I prefer a naturally derived sweetener called Erythritol which has no aftertaste like other sweeteners). I wouldn't add more than 1 tablespoon per serving, which is 2 tablespoons overall or it will likely be too sweet. Start with a smaller amount and experiment until you get the pancakes to a sweetness you prefer, it will be different for everyone depending on what you choose as toppings and whether you stick to the fruit in the recipe or use your own combination.
You can also swap the plain yoghurt for a flavoured yoghurt, but my family do not like the artificial taste of fat free flavoured yoghurts, so we don't use them. I prefer to add flavour and sweetness with natural ingredients.
Toppings for Pancakes
For me there is only one choice for topping for pancakes and it has to be 100% pure maple syrup. Living in Canada we get various different grades and there is just no comparison, I just can't ruin delicious pancakes by drizzling them with artificial alternatives.
Maple syrup is only around 50 calories per tablespoon and is so worth it for a breakfast to enjoy. Honey and Golden Syrup are other options.
Some other great options are a dollop of yoghurt of your choice. Greek Yoghurt is my preferred option as it's nice and thick. Then there is also some cream if you want spend a few more calories or for a real decadent treat a drizzle of melted chocolate, peanut butter or your favourite spread.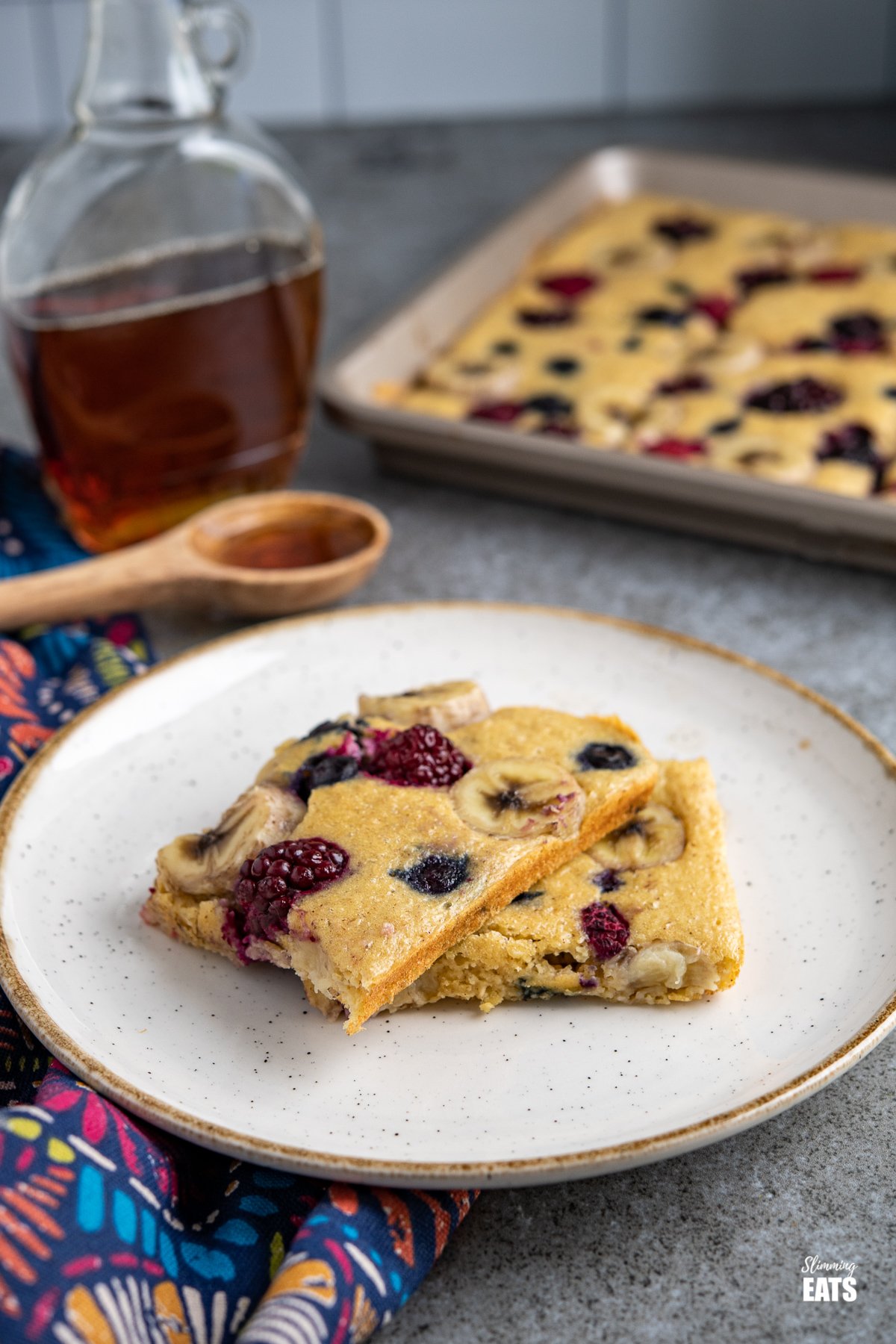 Can these be frozen?
I personally recommend enjoying these once cooked. I haven't had a chance to test these frozen, but unless you choose a fruit that doesn't release a lot of moisture I think these would become soggy in areas when defrosted and the banana will go black.
You could bake this plain without fruit if you want to freeze, but it will be a bit boring without the add ins. So if you want a pancake recipe to freeze, stick to my American Style Pancakes instead.
More Pancakes Recipes
Looking for some more pancakes recipes? Check out these other delicious options:
or if you would like more recipe ideas - head on over to the FULL RECIPE INDEX where you will find over 900 delicious recipes and can search by ingredients, course, diet and more.
All with estimated calories and Slimming Eats and Weight Watcher Smart Points values.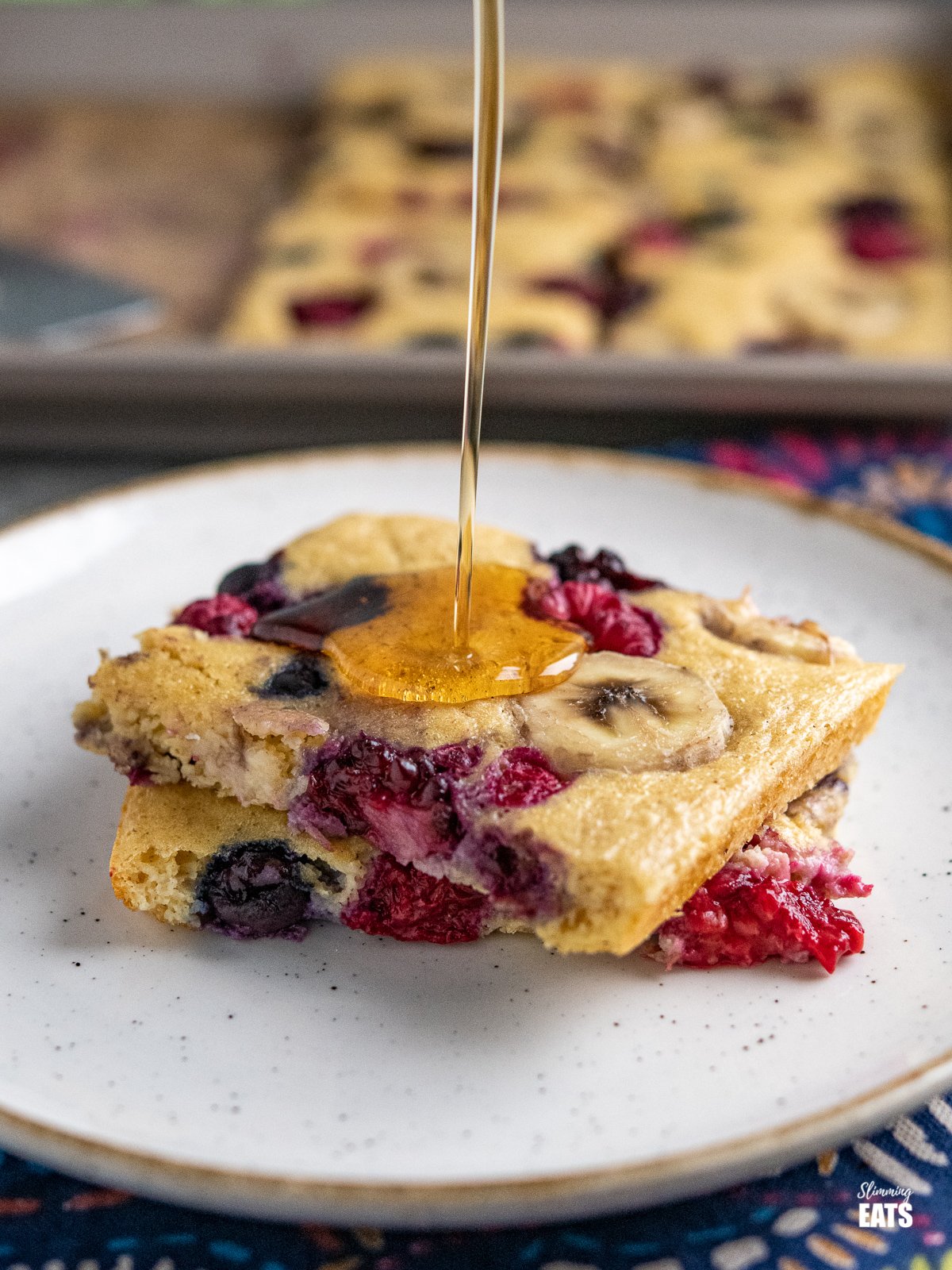 ---
LET'S CONNECT!!
Easy Sheet Pan Oat Pancakes
Additional Time:
10 minutes
Sheet Pan Oat Pancakes - love pancakes but hate the flipping and standing at the stove? These easy sheet pan oat pancakes with berries and banana is the perfect effortless breakfast.
Ingredients
80g (2.8oz) rolled oats
1.5 tsp baking powder
pinch of salt
150g (6oz) plain fat free yogurt
2 large eggs
pinch of cinnamon
1 teaspoon of vanilla extract
150g (6oz) frozen berries
1 medium banana, sliced
Cooking oil spray (I used coconut)
Instructions
Place the oats in a blender and blend until fine.
Combine the oats with the baking powder, salt and cinnamon
Mix together the egg, vanilla and yoghurt and add this into the oat mixture until combined.
Let the mix sit for 10 minutes, this lets allows the baking powder to activate
Preheat oven to 190c, 170c fan, 375f or gas mark 5
Once the batter has been sitting for 10 minutes, line a baking tray (9x13 inches) with parchment paper, spray with spray oil and carefully spread the batter onto the tray with a silicone spatula (be careful not to over mix as you do this or the batter will sink)
Scatter into the batter the berries and the banana slices.
Spray over the top with cooking oil spray
Place in the oven and bake for 25 minutes or until lightly golden and batter cooked through.
I recommend letting it sit for a few minutes before slicing.
Serve with your favourite toppings and enjoy!!
Notes
Please see below for full nutritional info and additional details about recipe:
Calories - scroll down to nutritional info box
WW Points and other Slimming or Weight Loss programs -   due to plans regularly changing and updating, we recommend calculating with the official tools you get as a member to those plans to ensure accuracy of values. 
If you wish to share this recipe, then please do so by using the share buttons provided at top of this post.
DO NOT COPY AND/OR PASTE FULL RECIPES OR SCREENSHOTS OF ANY CONTENT FROM SLIMMING EATS TO ANY SOCIAL MEDIA OR WEBSITE, IT IS STRICTLY PROHIBITED.
ALL IMAGES AND CONTENT ON SLIMMING EATS ARE COPYRIGHT PROTECTED
Nutritional information etc are an estimate and are to be used for informational purposes only. Ingredients can vary in values from brand to brand and therefore it would be impossible to give accurate information. It is always advised that you calculate values yourself by the ingredients you use and the tools provided to you as a member of the programme you are following.
It is the responsibility of the Reader to assure the products or ingredients they use in any recipes from Slimming Eats are allergen-free (gluten-free, egg-free, soy-free and/or dairy-free, for example). Slimming Eats assumes no liability for inaccuracies or misstatement about products, opinions or comments on this site. 
Check Legal section, for Full Disclaimer, Disclosure and Privacy Policy.
Nutrition Information
Yield

2
Serving Size

1 SERVING
Amount Per Serving
Calories

339
Total Fat

7.7g
Saturated Fat

2.5g
Trans Fat

0g
Cholesterol

211mg
Sodium

411mg
Carbohydrates

51g
Fiber

5.6g
Sugar

14.8g
Protein

14.6g
Nutritional information, values, points etc are an estimate and is to be used for informational purposes only. Ingredients can vary greatly from brand to brand and therefore it would be impossible to give accurate information. It is always advised that you calculate by the ingredients you use.
Disclosure: This post may contain affiliate links. As an Amazon Associate and member of other affiliate programs, I earn from qualifying purchases. We are a participant in the Amazon Services LLC Associates Program, an affiliate advertising program designed to provide a means for us to earn fees by linking to Amazon.com and affiliated sites." Check Legal section, for Full Disclaimer, Disclosure and Privacy Policy.