Craving chicken nuggets? Try these homemade honey BBQ chicken cheddar nuggets recipe cooked in an air fryer for a low-calorie, crispy and flavorful meal! Perfect for a quick and easy dinner with some sides or a light bite with a salad.
If like me you have kids in your household, then you probably get a request for chicken nuggets or similar pretty often. In this recipe, I'll share my simple and delicious recipe for these guilt-free chicken nuggets using chicken mince, cheddar, breadcrumbs, and honey BBQ sauce. What's more, these nuggets are cooked in an air fryer, making them a healthier alternative to deep-fried nuggets. Get ready for a mouthwatering treat that's low in calories but high in flavor!
Jump to: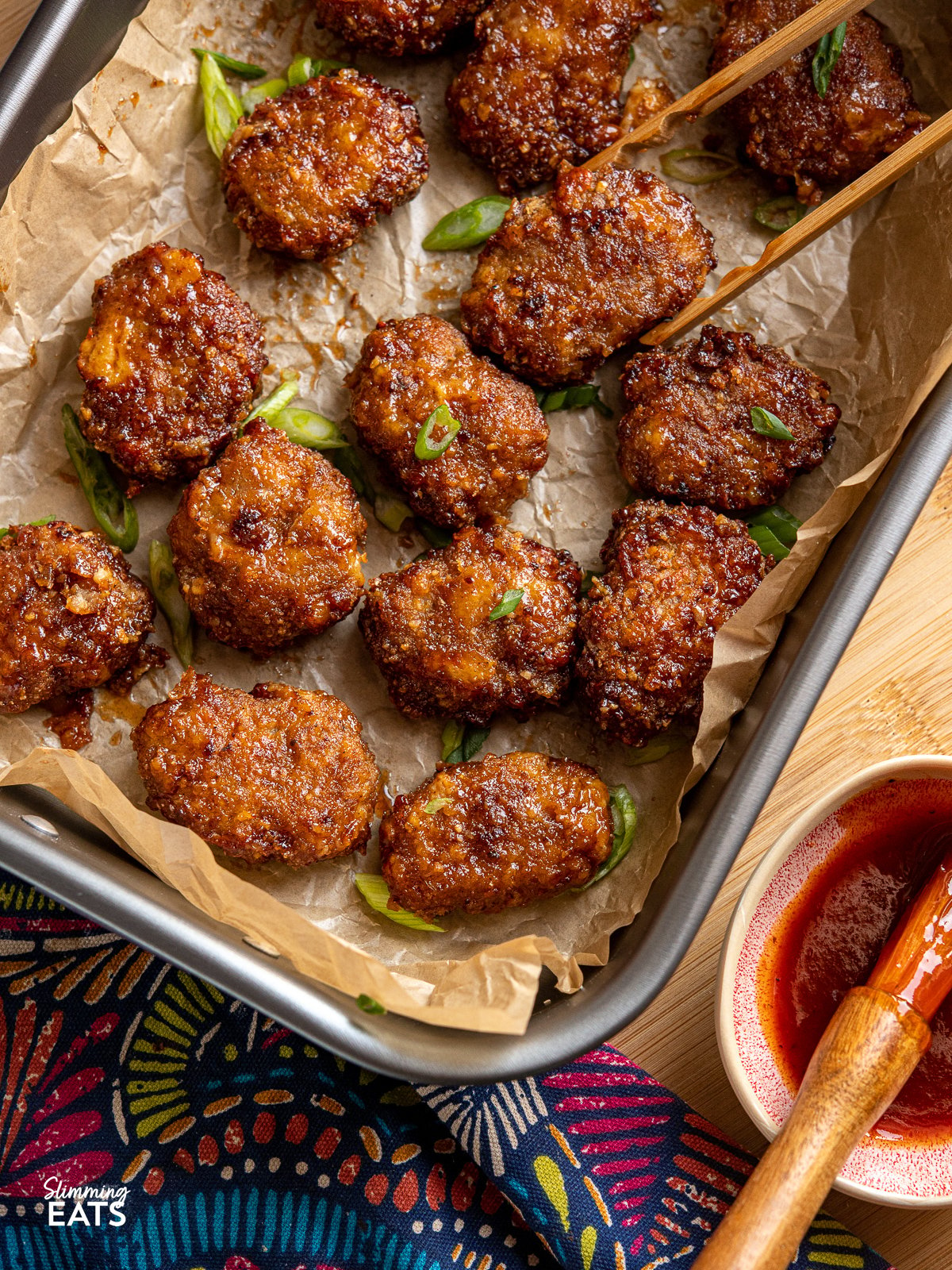 Calories in Air Fryer Honey BBQ Chicken Nuggets
This delicious bites serve 4 and are 331 calories per serving, which is perfect for a family friendly meal when paired with some additional sides.
There are lots more recipes around this calorie value in my 400-500 calories recipe section.
If you are using these recipes as part of a calorie controlled diet or healthy eating plan, you can calculate your daily calories by using a calorie calculator, as this will vary per individual depending on various factors.
Ingredients in Air Fryer Honey BBQ Chicken Nuggets
for these Honey BBQ Chicken Nuggets you will need the following ingredients:
5% fat chicken mince (ground chicken)
baking soda (bicarb of soda)
cheddar
egg
panko breadcrumbs
paprika
garlic powder
onion powder
salt and black pepper
Honey BBQ sauce
olive oil spray
See the recipe card for full quantities.
Once all the ingredients are prepared, you can get ready to make this easy recipe.
Substitutes for Chicken Mince (ground chicken)?
Want to try these with a different ground meat? Check out these suggestions:
Ground Turkey: If you prefer a similar lean option to chicken, ground turkey can be a great substitute for chicken mince in this recipe. It has a similar texture and flavor, so is the perfect substitute.
Ground Beef: If you're looking for a heartier flavor, you can use ground beef as a substitute for chicken mince. Keep in mind that ground beef may have a higher fat content and is a bit more rich in flavour, so would not be my preferred choice for these.
Ground Pork: For a slightly different flavor profile, you can use ground pork in place of chicken mince which can complement the honey BBQ sauce nicely.
Vegetarian Meat Substitute - It's hard to recommend a vegetarian substitute for these as you would likely need to combine with some other ingredients to get the right consistency for it all to bind together, something like some cooked mashed beans or lentils may work well, but of course haven't been tested. If you do give it a try let us know what you used and how it worked through the comment box below.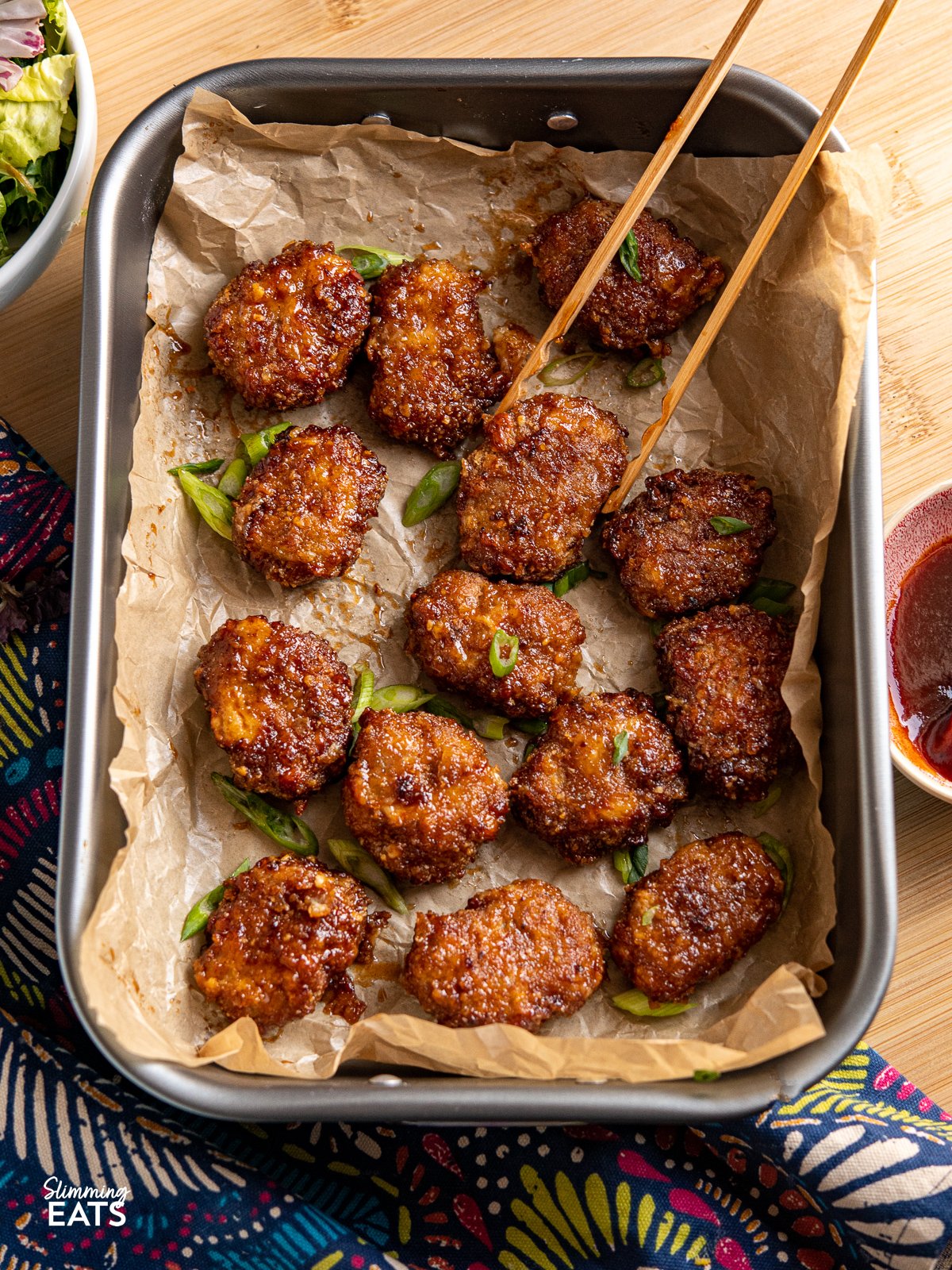 What is the best BBQ Sauce to use?
I like to use a good quality BBQ sauce for this, cheaper brands can affect the final taste, as they are sometimes too vinegary or overpowering. Honey BBQ Sauce gives the best flavour, but use your own favourite choice if you prefer. If you can't find Honey BBQ Sauce just swap 1 tablespoon of the bbq sauce for Honey, but make sure you are not using a sweet bbq sauce or it make become too sweet.
Some of my favourites brands are:
Stubbs
Rufus Teague
Sweet Baby Ray's
But these may not be available everywhere, so go for your favourite brand.
Do I have to cook these in two batches?
I have a large 6 quart single basket air fryer as well as a dual basket, but for these nuggets you don't want to cram them all too close together when they cook.
Therefore I recommend cooking these in two batches, so they get the nice golden exterior, then once they are all cooked they can then all go in the one basket and be reheated together before being toss in your favourite BBQ Sauce.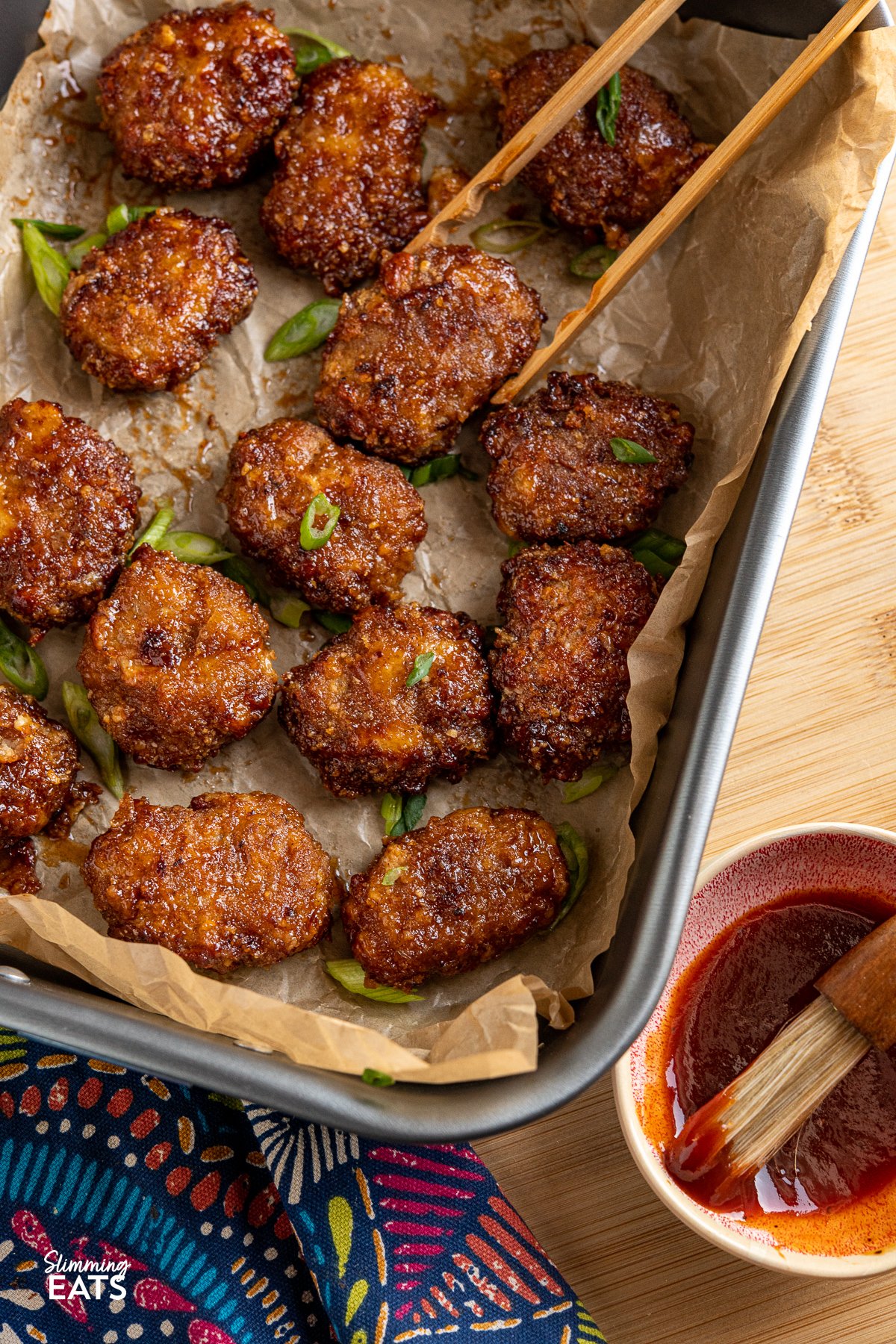 Can I cook these in an Oven?
Don't own an air fryer but really want to give these a try? The great news is that just like any oven recipe can pretty much be converted to a air fryer, the same goes for Air Fryer Recipes.
I recommend using a large tray lined with parchment paper and spray them well with spray oil to prevent them from sticking to the tray and cook for about 15-20 minutes at 220c/425f as per my conversion calculator on the link below. Use a tray that is big enough to be able to space them all out well so you can cook them all in one batch. Flipping over half way through.
If you haven't yet purchased an air fryer but are wondering which one is best to get. I recommend go for a capacity that will be big enough to cook meals for you family. I also recommend choosing one with a solid basket (no holes) or mesh on the bottom. As you can be a bit more limited with what you can cook in those. However there are plenty of great accessories available now.
For more info on Air Fryers and How to Convert Oven Recipes for you Air Fryer. Check out my handy post here: Air Fryer Conversion Guide
Tips for cooking Air Fryer Honey BBQ Chicken Nuggets
Preheat the Air Fryer: It's important to preheat your air fryer before cooking the BBQ chicken nuggets. Preheating helps to ensure that the air fryer reaches the desired temperature for optimal crisping results.
Coat the Nuggets Evenly: When coating the chicken nuggets with breadcrumbs, make sure to coat them evenly for consistent breading and flavor. You can use a shallow dish or a zip-top bag to coat the nuggets, gently pressing the coating onto the chicken mince to adhere it well. I personally prefer to use a shallow/flat plate.
Spray with Cooking Spray: Before placing the coated nuggets in the air fryer basket, lightly spray them with cooking spray. This will help to promote crispiness and prevent sticking to the air fryer basket.
Avoid Overcrowding: It's essential to avoid overcrowding the air fryer basket to allow for proper air circulation and even cooking. Arrange the BBQ chicken nuggets in a single layer, leaving space between them for the hot air to circulate.
Flip the Nuggets: When cooking food like this where you require an even browning, it's always important to turn them over around the halfway mark. This is a great time to check how they are cooking too, as sometimes there can be a variation in different brands of air fryers, so it allows you to adjust the timing if needed.
Check Internal Temperature: To ensure that the BBQ chicken nuggets are cooked thoroughly, check their internal temperature with a meat thermometer if you are unsure. The internal temperature should reach 165°F (74°C) to ensure that the chicken is fully cooked and safe to eat.
Serve Immediately: Once the BBQ chicken nuggets are cooked to perfection, you can toss them all in the sauce, add them all back to the air fryer and air fry for a few additional minutes and then serve them immediately to enjoy their crispy, juicy goodness. Pair them with a healthy sides suggestion (see below).
Side Suggestions for Air Fryer Honey BBQ Chicken Nuggets
Remember to choose sides that align with your dietary preferences and restrictions, and feel free to customize them to your liking. These healthy side suggestions can complement the honey BBQ chicken nuggets perfectly and create a well-rounded and nutritious meal!
Coleslaw: A classic coleslaw can be a delicious and refreshing side dish to serve with these BBQ chicken nuggets. You can make your own coleslaw too using one of these two delicious coleslaw recipes Lighter Coleslaw or Creamy Apple Coleslaw
Corn on the Cob: Fresh corn on the cob can be a tasty and nutritious side to serve with BBQ chicken nuggets. You can boil or grill corn on the cob and brush it with a small amount of melted butter or olive oil, and sprinkle with herbs or spices for added flavor. If you want to keep it on the light side, spray it with your favourite low calorie spread instead.
Steamed Vegetables: Steamed vegetables, such as broccoli, green beans, or carrots, can be a simple and healthy side dish to pair with BBQ chicken nuggets. Steaming vegetables helps to retain their natural nutrients and flavors, making them a nutritious and light option to balance out the richness of the BBQ chicken nuggets.
Love Potatoes? Who doesn't love a serving of potatoes on the side and there are so many variations you can choose from, such as homemade fries, wedges, sweet potato fries, baked potato, roast potatoes and much much more.
Mixed Salad - always a great option, is pretty quick to make and doesn't typically require any cooking. Choose from your favourite salad components. My favourites are lettuce (crisp and baby leaves), tomato, cucumber, red onion, peppers, pickled veg, chickpeas, corn, olives. But there are so many other things you can add into a salad, even some fruit for that sweet crunch.
If you want some other side ideas, check out all these options from the Side Dish Recipes.
More Air Fryer Recipes
Looking for some other delicious Air Fryer recipes? Check out the following:
or if you would like more recipe ideas or sides to make with this recipe - head on over to the FULL RECIPE INDEX where you will find over 900 delicious recipes with calories and you can search by meal type, ingredients, course, diet and more..
All recipes on Slimming Eats have estimated nutritional information for your convenience.
---
LET'S CONNECT!
Slimming Eats Made in the Air Fryer Cookbook
Looking for some more air fryer recipes? My new cookbook with 80+ Brand New and Delicious Recipes is out now and can be purchased from all UK major retailers including Amazon (will be released January 2024 in North America including Canada and Australia).
This is the ONLY air fryer cookbook you need in your life. Let me show you all the Amazing meals you can make in your air fryer.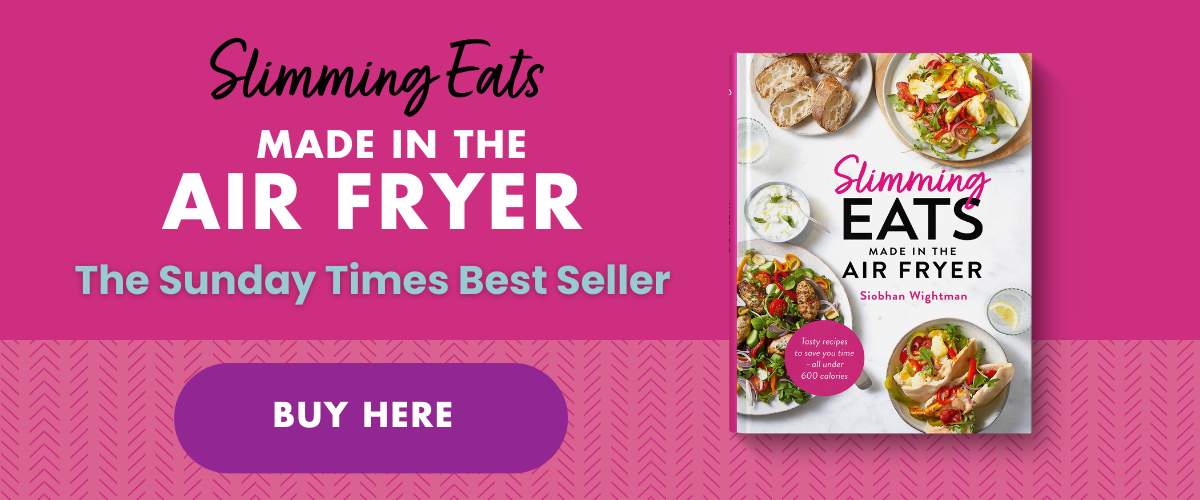 Air Fryer Honey BBQ Chicken Nuggets
Craving chicken nuggets? Try this homemade honey BBQ chicken cheddar nuggets recipe cooked in an air fryer for a low-calorie, crispy and flavorful treat! Perfect for a quick and easy main meal with some sides or a light bite with a salad.
Ingredients
500g (17.5oz) of ground chicken
2 tablespoon of water
½ teaspoon of baking soda
80g (2.8oz) of cheddar, grated
1 large egg
1.5 teaspoon of paprika (not smoked)
pinch of cayenne (optional)
¾ teaspoon of garlic powder
¾ teaspoon of onion powder
salt and black pepper
45g (1.5oz) of panko breadcrumbs
4 tablespoons of honey BBQ sauce
Instructions
In a bowl add the chicken mince, baking soda (bicarb), water, cheddar, egg, garlic powder and onion powder, plus a good pinch of salt and black pepper and mix until all combined.
Mix the breadcrumbs with the paprika and a pinch of salt and black pepper. If you like a bit of heat, you can also add a pinch of cayenne (this is optional).
Form the mixture into 20 nuggets.
Spread the breadcrumb mixture out on a flat surface and coat the nuggets one by one in the mix evenly.
Preheat air fryer to 200c/400f for a couple of minutes.
Use a grill pan insert or if you prefer line with a sheet of parchment paper.
Spray the nuggets well with low calorie spray, place half in the air fryer basket (well spaced apart) and air fry for approx 12-14 minutes until golden and cooked through, flip them over half way through cooking for even browning.
Remove from the air fryer basket and repeat with the remaining nuggets.
Brush with the bbq sauce all over the nuggets (or add to a bowl with the sauce and toss to coat), add back to the air fryer and air fry for 2 minutes until all warmed through.
Serve with your favourite sides and enjoy!
Notes
Please see below for details about recipe:
Calories - scroll down to nutritional info box
WW Points and other Slimming or Weight Loss programs:  due to plans regularly changing and updating, we recommend calculating with the official tools you get as a member to those plans to ensure accuracy of values
Gluten Free Friendly - use gluten free breadcrumbs
Side suggestions: coleslaw, corn, salad, potatoes
If you wish to share this recipe, then please do so by using the share buttons provided at top of this post.
DO NOT COPY AND/OR PASTE FULL RECIPES OR SCREENSHOTS OF ANY CONTENT FROM SLIMMING EATS TO ANY SOCIAL MEDIA OR WEBSITE, IT IS STRICTLY PROHIBITED.
ALL IMAGES AND CONTENT ON SLIMMING EATS ARE COPYRIGHT PROTECTED
Nutritional information etc are an estimate and are to be used for informational purposes only. Ingredients can vary in values from brand to brand and therefore it would be impossible to give accurate information. It is always advised that you calculate values yourself by the ingredients you use and the tools provided to you as a member of the programme you are following.
It is the responsibility of the Reader to assure the products or ingredients they use in any recipes from Slimming Eats are allergen-free (gluten-free, egg-free, soy-free and/or dairy-free, for example). Slimming Eats assumes no liability for inaccuracies or misstatement about products, opinions or comments on this site. 
Check Legal section, for Full Disclaimer, Disclosure and Privacy Policy.
Recommended Products
As an Amazon Associate and member of other affiliate programs, I earn from qualifying purchases.
Nutrition Information
Yield

4
Serving Size

1 SERVING
Amount Per Serving
Calories

331
Total Fat

15g
Saturated Fat

6g
Trans Fat

0g
Unsaturated Fat

5g
Cholesterol

89mg
Sodium

639mg
Carbohydrates

17g
Fiber

0g
Sugar

6g
Protein

33g
Nutritional information and values etc are an estimate and is to be used for informational purposes only. Ingredients can vary greatly from brand to brand and therefore it would be impossible to give accurate information. It is always advised that you calculate by the ingredients you use.
Disclosure: This post may contain affiliate links. As an Amazon Associate and member of other affiliate programs, I earn from qualifying purchases. We are a participant in the Amazon Services LLC Associates Program, an affiliate advertising program designed to provide a means for us to earn fees by linking to Amazon.com and affiliated sites." Check Legal section, for Full Disclaimer, Disclosure and Privacy Policy.