I can't imagine a better way to start your day than with these delicious Scrambled Egg Toast with Avocado and Tomatoes
Most people on Slimming World avoid avocado's because of the high syn value. I personally love them, and have them regularly. They are well worth the syns in my opinion for a delicious healthy fat, that is great with eggs for breakfast.
Okay - an average avocado is around 14 syns, but actually if you buy a small sized avocado the weight is nowhere near that scary 14 syns you would expect and 30g (approx 1 oz) will give you are decent amount for just 2.5 syns.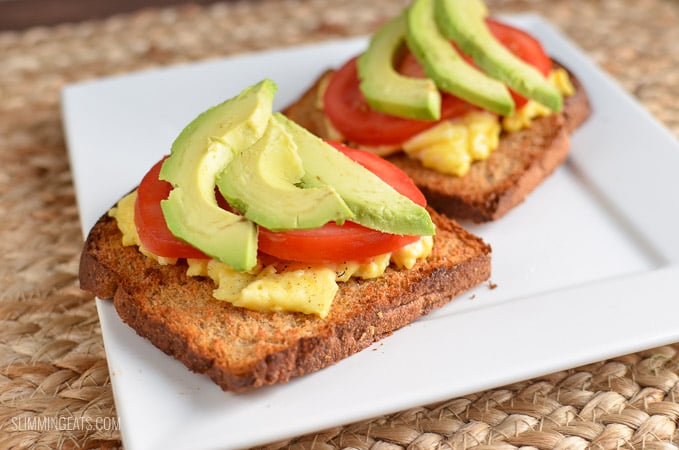 I always pick smaller avocados. Cut it in half, and then leave the stone in the other half that I am not using, wrap it tightly in cling film and then place it in the fridge, it will keep okay for about 1-2 days without going brown, so their really isn't much wastage.
Avocado is just so creamy and delicious. One of my favourite things to make is this Grilled Chicken, Avocado, Tomato and Mozzarella Sandwich. It is just the best thing ever. If you love a grilled cheese sandwich, then have to try it. It is well worth saving your healthy extra's for.
My other favourite thing to serve with avocado is eggs. I am not fussy how the eggs are cooked, because it goes with any type of eggs - scrambled, fried, poached, boiled - how ever you like your eggs, avocado is just the perfect combo with it. Especially a soft runny perfect yolk.
So as you can imagine Scrambled Egg Toast with Avocado and Tomatoes, is one of my favourite breakfasts. Plus I have a genius tip for the toast to save you syns on butter. Do you want to know what it is?
I oven bake my toast and oh my, once you try it, you will never use a counter top toaster again. Toasting it in the oven, results in lovely golden crispy toast, that just is sooo good. Imagine crispy toast, topped with lovely eggs, creamy avocado and delicious ripe tomato slices. The taste explosion of all those things together is literally heaven. I don't think I will ever tire of it as a breakfast.
I also buy fresh wholewheat (wholemeal) bread from the bakery and have managed to master slicing it thin enough to give me two slices for 60g (2oz) which is 1 HEb, fresh bread tastes so much nice too. If you are worried about it going stale quicker. Then cut all your slices and put two slices into mini ziplock bags and then you can freeze your portions. Perfect!
If you only have and syn avocado once on your weight loss journey, please, please let it be this.
---
Looking for some more  breakfast recipes to try? – Previously on Slimming Eats
with many more recipes in my full: Recipe Index
---
Print
Low Syn Scrambled Egg Toast with Avocado and Tomato
Yield 2 servings
This recipe is dairy free, vegetarian, Slimming World and Weight Watchers friendly
Extra Easy - 1 HEb and 2.5 syns per serving
Green/ Vegetarian - 1 HEb and 2.5 syns per serving
Original/SP - 1 HEb and 2.5 syns per serving
WW Smart Points - 10
Ingredients
4 large eggs
4 slices (2x60g) of Whole Wheat (Wholemeal) bread - 2 HEb's
60g of avocado - 5 syns
2 ripe tomatoes
spray oil
salt and black pepper
Instructions
Preheat oven to 200c/400f (gas mark 6)
Place bread on a baking tray, spray over top with spray oil and bake in the oven for approx 5-8 mins until golden and crisp.
While bread is toasting.
Whisk eggs in a bowl 
Heat a pan over a medium heat, spray with spray oil.
Add eggs and stir occasionally, until scrambled eggs are cooked.
Top the 4 slices of toast with the scrambled eggs.
Season with salt and black pepper.
Top each toast slice with slices of tomato
and then top each slice of toast with 15g of avocado sliced thinly.
Serve and enjoy!!
Delicious
Notes
Nutritional information is an estimate and is to be used for informational purposes only.
Ingredients can vary greatly from brand to brand and therefore it would be impossible to give accurate information. You should always double check syn values for synned items. 
All images and content on Slimming Eats are copyright protected.
If you wish to share this recipe, then please do so by using the share buttons provided. Do not screenshot or post recipe or content in full
Nutrition Facts
Serving Size 1 serving (2 slices)
Amount Per Serving

Calories 352

% Daily Value

Total Fat 16.6 g

26%

Saturated Fat 4.3 g

22%

Cholesterol 372 mg

124%

Sodium 508 mg

21%

Total Carbohydrates 33.8 g

11%

Dietary Fiber 5.7 g

23%

Sugars 3.6 g

Protein 19 g

38%
* Percent Daily Values are based on a 2,000 calorie diet. Your daily values may be higher or lower depending on your calorie needs.
Disclosure: This post may contain affiliate links. As an Amazon Associate and member of other affiliate programs, I earn from qualifying purchases. We are a participant in the Amazon Services LLC Associates Program, an affiliate advertising program designed to provide a means for us to earn fees by linking to Amazon.com and affiliated sites." Check Legal section, for Full Disclaimer, Disclosure and Privacy Policy.