Enjoy the delightful flavours of this one-pot wonder: a delectable Prawn and Vegetable Pilaf that's not only simple but bursting with mouthwatering taste. It's the perfect choice for a quick and satisfying meal, any day of the week.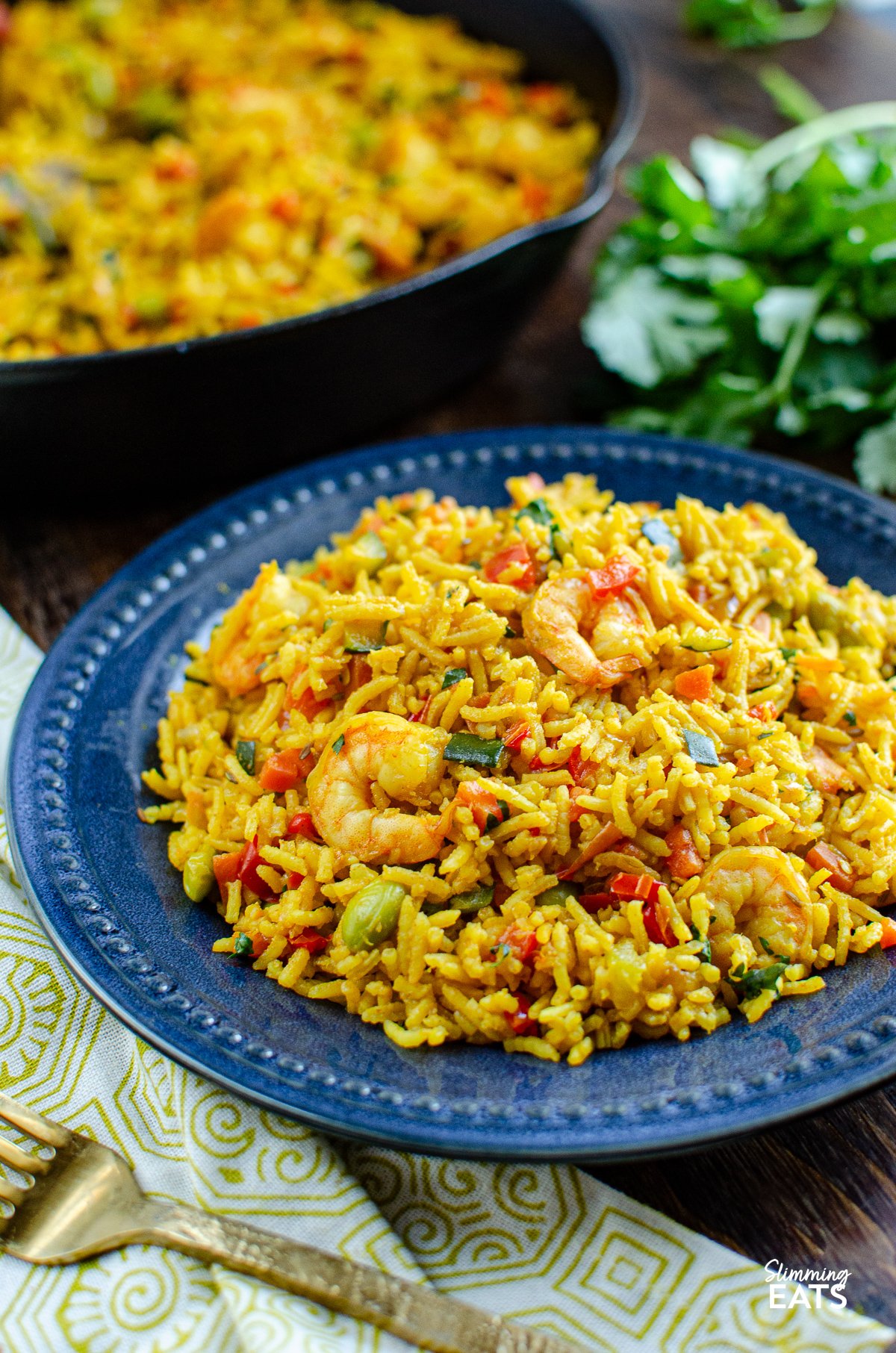 I absolutely adore one-pan rice dishes like this incredible Prawn and Vegetable Pilaf. They are a lifesaver on those busy days when I crave a delicious meal without the fuss. What I truly appreciate about dishes like this is the opportunity to effortlessly incorporate an array of wholesome foods, making it a breeze to meet my nutritional needs.
Take, for instance, this mouthwatering rice pilaf. It's a vibrant medley of onions, carrots, courgette (zucchini), and peppers, infusing a stunning burst of colours into the dish. Not to mention, the harmonious blend of spices—cumin, coriander, and turmeric—adds an irresistible depth of flavor that elevates this meal to a whole new level of culinary delight
Jump to:
Calories in Prawn and Vegetable Pilaf
These delicious Pilaf serves 4 people and has 304 calories per serving (no sides).
If you're looking for more recipes within the same calorie range, you'll find an abundance of options in my dedicated collection of 300+ calorie recipes.
If you're following a calorie-controlled diet or a healthy eating plan, it's important to calculate your daily calorie intake using a reliable calorie calculator. Please note that the calorie counts provided are estimates and can vary based on specific ingredients and serving sizes. Personalizing your calculations is essential to meet your individual needs. By using a calorie calculator, you can make informed choices and stay on track with your dietary goals.
What is Pilaf?
What exactly is pilaf? Well, according to the reliable source of culinary knowledge, Wikipedia, Pilaf (or Pilau) rice originally hails from India. However, this delectable dish has transcended borders, undergoing fascinating transformations in countries worldwide. You might even notice slight variations in names and spellings, not to mention the diverse selection of grains, vegetables, and proteins used in different regions.
One thing remains constant, though: the sheer deliciousness of pilaf rice. It has earned its place as a beloved and popular choice among rice dishes, captivating taste buds across the globe.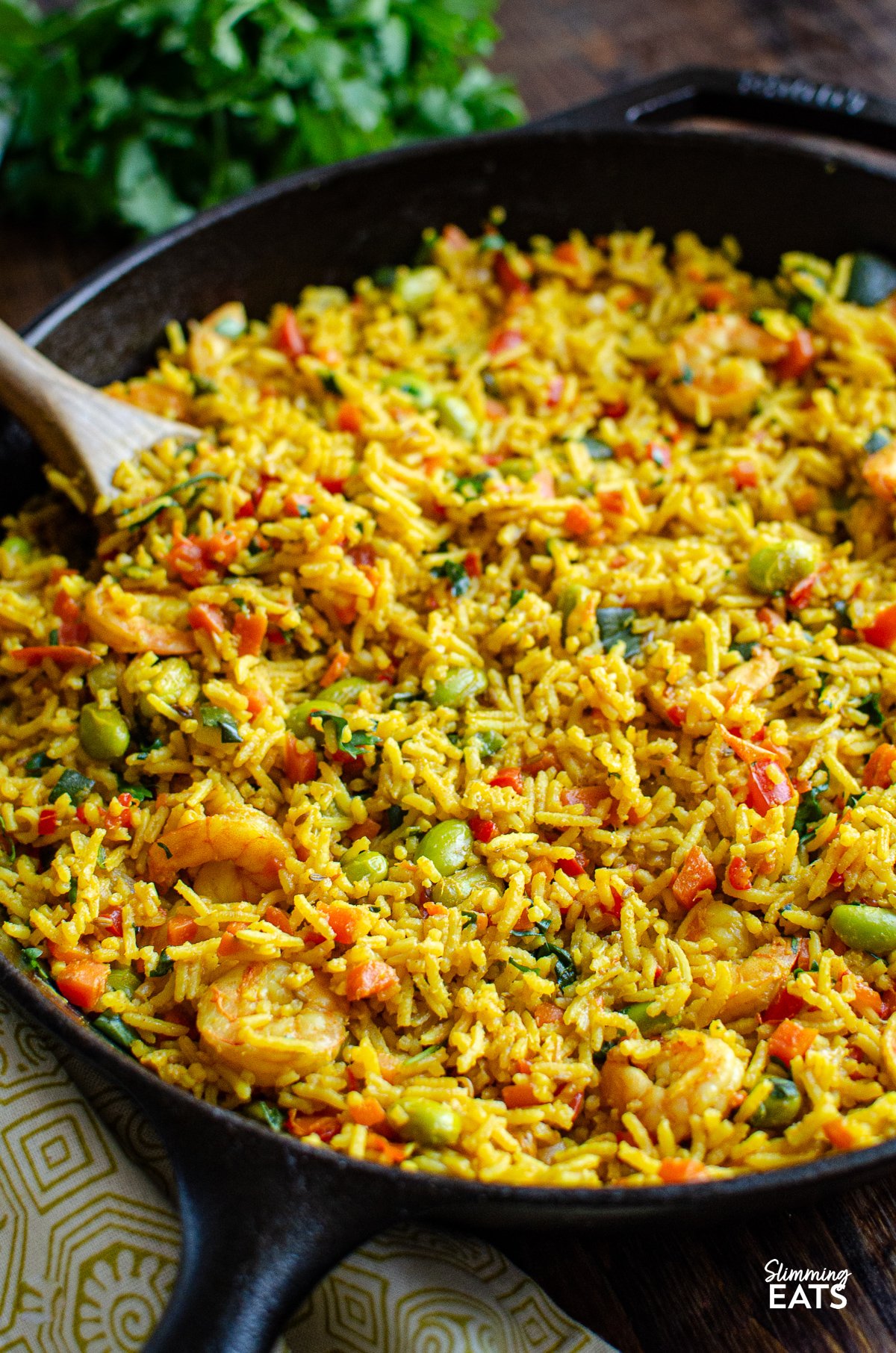 Ingredients you need
To prepare this Chicken Shawarma and Rice, here are some notes on the ingredients used:
Large Raw Prawns: For this recipe, be sure to opt for large, peeled, and deveined prawns (shrimp). You can use either fresh or frozen prawns, but if you go with the frozen variety, make sure to follow the defrosting instructions on the packaging.
Rice: For this pilaf dish, it's best to use Basmati rice for its extra-long grains. However, basic long-grain rice will also suffice. Avoid using sticky rice varieties like Jasmine rice.
Onion: just a regular white onion
Garlic: fresh garlic minced, but lazy or jarred mince garlic is fine also.
Carrot: just regular fresh carrots, diced
Bell Pepper: a diced red bell pepper adds a pop of colour to the dish, but any colour of bell pepper will suffice.
Courgette/Zucchini: Diced and added into the recipe, they not only provide a nutritional boost but also introduce an extra burst of vibrant color to the dish, making it all the more enticing
Edamame Beans -I keep things simple by using frozen, peeled edamame beans. While they may not be a traditional ingredient in pilaf, I adore the extra fibre and protein they bring to the table, elevating this dish to a whole new level of deliciousness.
Spices: To infuse delightful flavours into the dish, we use a tantalizing mix of spices, including ground cumin, coriander, paprika, turmeric, and the aromatic green cardamom pods
Stock: I opt for chicken stock because it complements the overall flavor profile of the pilaf and enhances the other ingredients beautifully. It's essential to get the stock cube-to-water ratio just right. Keep in mind that not all stock cubes are created equal; using the wrong amount can lead to either a lackluster and watery broth or an overly salty stock.
Coriander (Cilantro): When stirred in after cooking, freshly chopped coriander (cilantro) not only imparts an extra burst of vibrant colour but also elevates the dish with its delightful flavour. However it is an optional ingredient.
Low Calorie Spray: use your preferred brand. I like to opt for one without any emulsifiers, such as a avocado or olive oil spray.
Salt and Pepper: These essential flavour enhancers play a crucial role in elevating the taste of your dishes. We use them to season the steak bites and recommend using them to season the final dish to taste as well. They ensure your food is never bland when used appropriately.
Once you've gathered all the ingredients and prepared them accordingly, you're all set to create this easy and delightful recipe.
See the recipe card for specific quantities and instructions.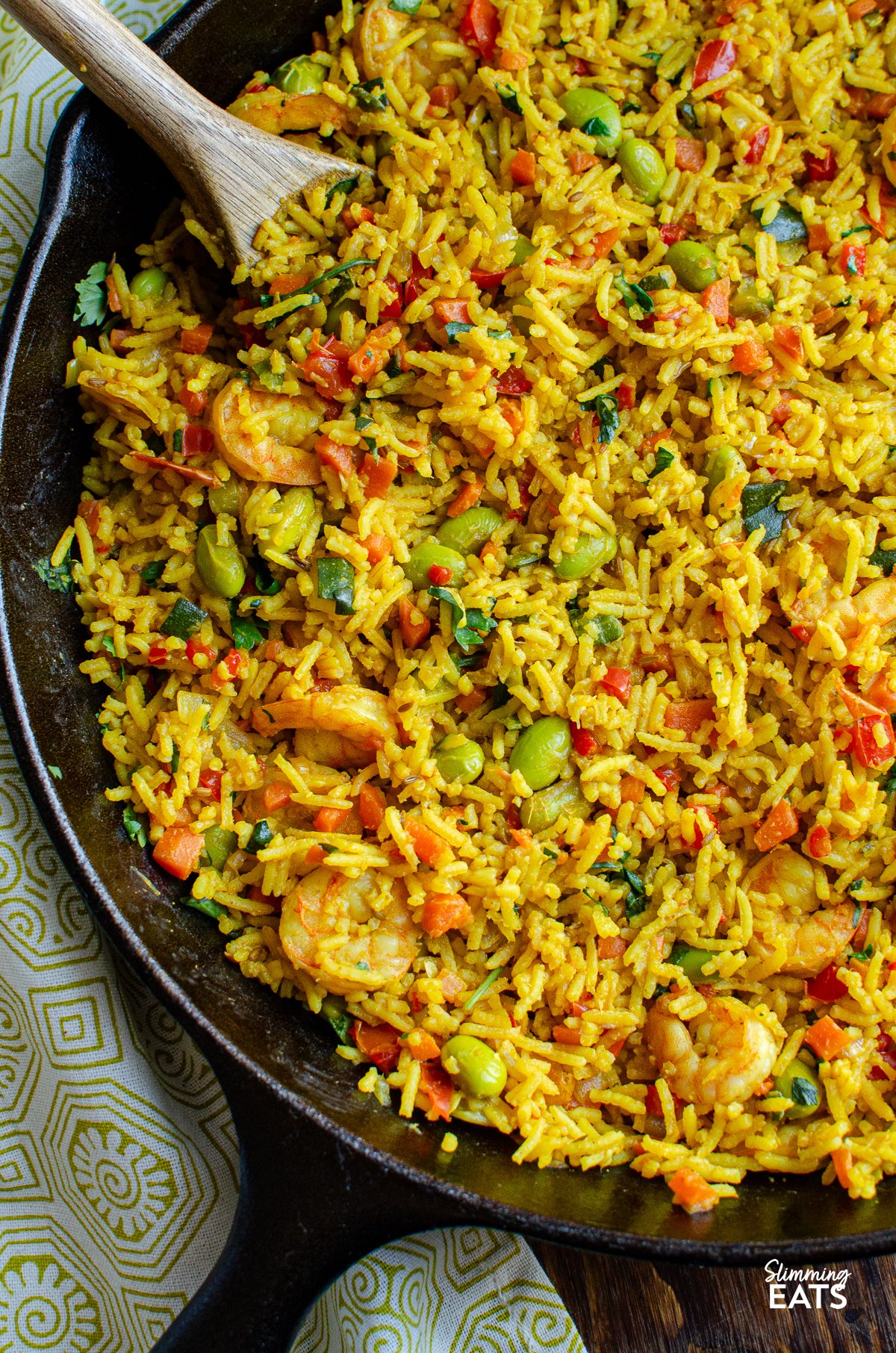 Variations/Substitutes on the Recipe
Wondering what swaps or variations you can make on the recipe? Here are some suggestions:
Other proteins: You can swap the prawns for another protein of choice if you don't like seafood, such as chicken
Vegetables: most of the vegetables in this dish can be swapped out for another, so if there is something you don't like either omit or swap for a similar vegetables.
Make it Vegetarian: omit the prawns (shrimp) and use vegetable stock and this dish will be suitable for vegetarians.
Bean Swap: If edamame isn't your thing or you're looking to try something different, consider adding chickpeas to your pilaf. They bring a delightful twist to the dish!
Add some spice: Craving a bit of heat in your rice dish? Think about tossing in some green or red chilies. Remember, it's the seeds and pith of the chili that bring the heat, so choose wisely based on your preferred level of spiciness.
Choosing the Perfect Pan for Preparing the Ultimate Pilaf
When it comes to cooking the perfect pilaf, selecting the right type of pan can make all the difference. Here are your options:
Wide, Heavy-Bottomed Pan: This type of pan ensures even cooking and traps flavorful steam inside, resulting in a delectable pilaf.
Non-Stick Pan: A non-stick pan is great for easy cleanup and requires less oil, making it a healthier option. Ceramic Non-stick pans are my favourite.
Stainless Steel Pan: Stainless steel pans excel in heat distribution, offering you precise control over your pilaf's texture and taste.
Choose the one that suits your preferences and needs, and you'll be on your way to pilaf perfection!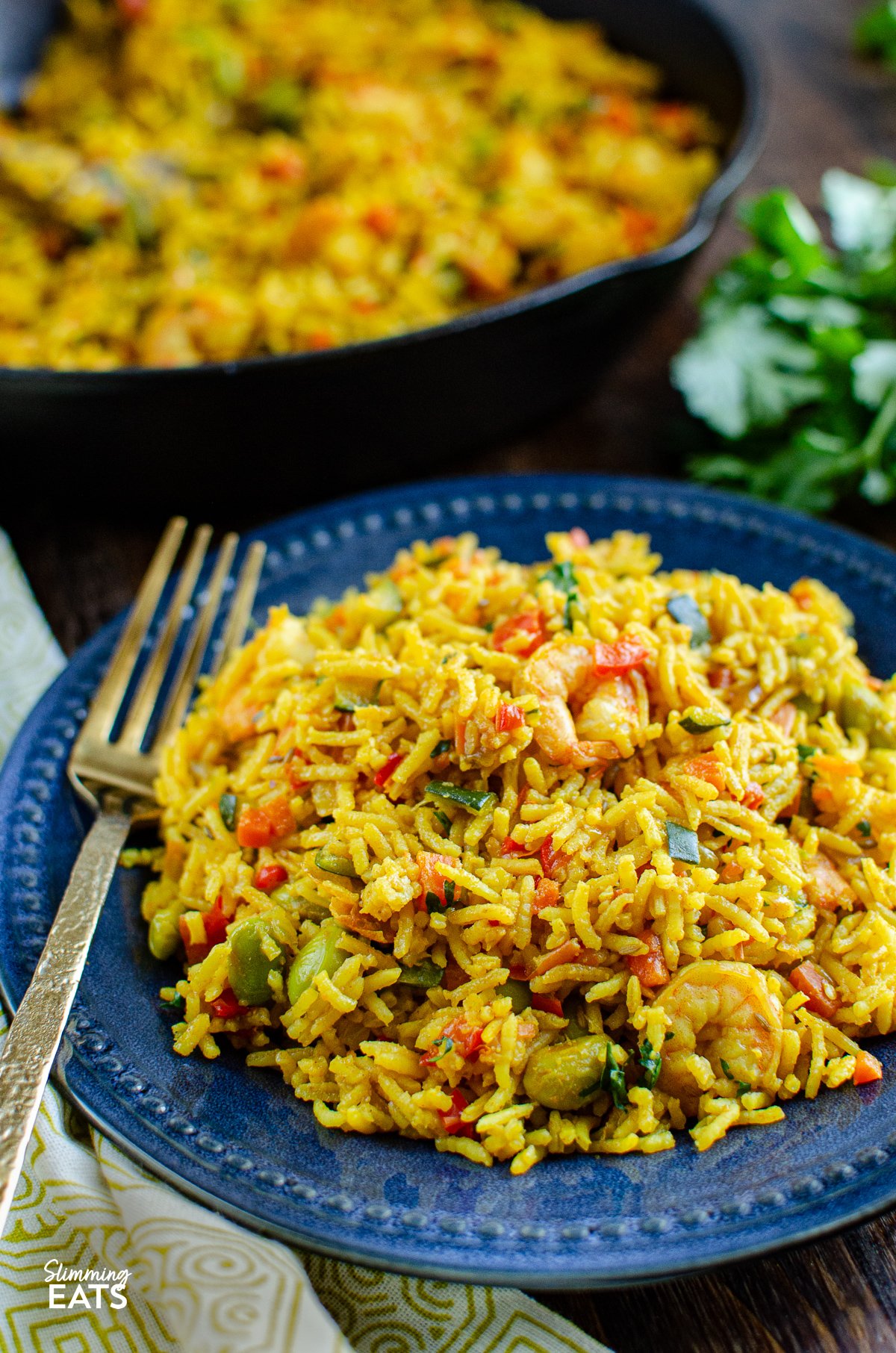 Tips for Cooking Pilaf
To achieve the perfect pilaf, follow these essential steps:
Choose the Right Rice: Begin with the correct type of rice. Basmati or long-grain rice works best for pilaf.
Translucent Rice: Before adding the stock, sauté the rice in the pan until it becomes translucent. This step enhances the flavour and texture.
Proper Stock Ratio: Maintain a ratio of 2 cups of stock to 1 cup of rice. This ensures the right balance of flavours and moisture.
Hands-Off After Stock: Once you've added the stock, resist the temptation to stir or disturb the rice. Allow it to simmer gently until the stock is absorbed.
Lid On, Heat Off: After the stock is absorbed, cover the pan with a lid, turn off the heat, and let it rest for 10-12 minutes. The trapped steam will work its magic and ensure perfectly cooked rice.
Fluff and Serve: Finally, use a fork to fluff up the rice, releasing any trapped steam, and it's ready to be served.
With these tips, you'll master the art of making delectable pilaf every time
Main Dishes to Serve with Pilaf
This Prawn and Vegetable Pilaf is a perfect complete meal in a bowl served just as it is, but if you prefer to serve it as a side to a curry type dish, consider one of these delicious recipes:
Lentil Curry
or if you would like more recipe ideas or sides to make with this recipe - head on over to the FULL RECIPE INDEX where you will find over 900 delicious recipes with calories and you can search by meal type, ingredients, course, diet and more.
All recipes on Slimming Eats have estimated nutritional information for your convenience.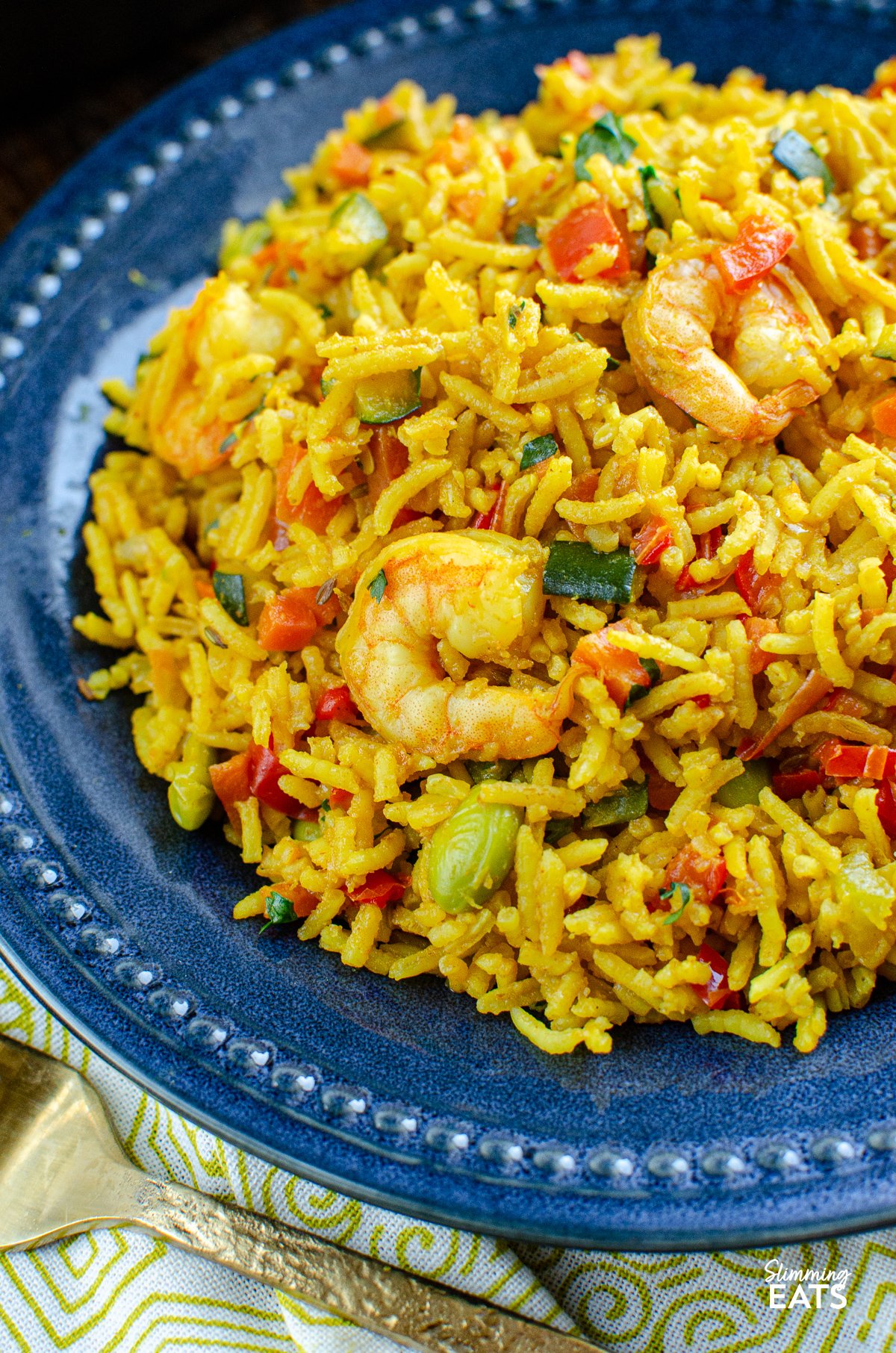 ---
LET'S CONNECT!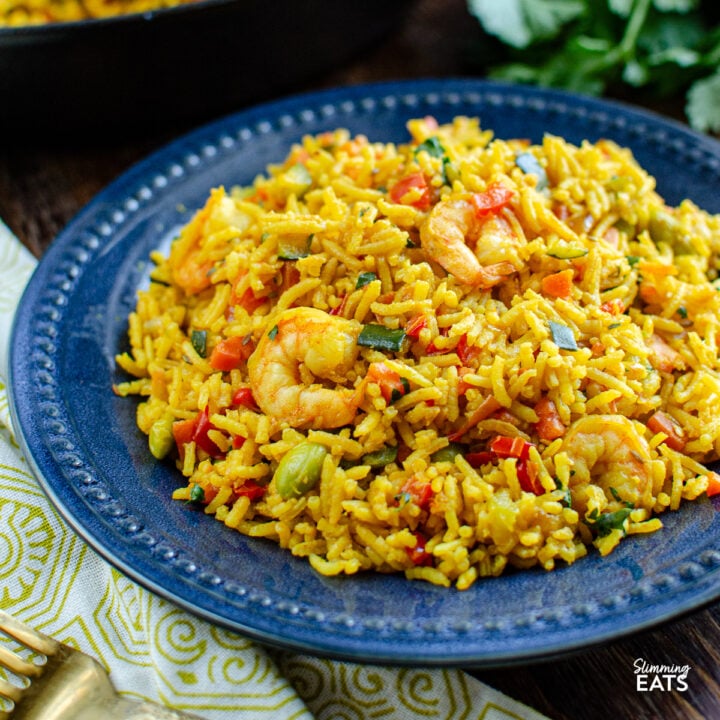 One Pot Prawn and Vegetable Pilaf
Savour the flavours of this simple Prawn and Vegetable Pilaf—a one-pan wonder perfect for a quick and satisfying meal any day of the week.
Ingredients
low calorie spray
1 onion, finely chopped
1 large carrot, finely chopped
2 cloves of garlic, crushed
2 teaspoons of cumin seeds
2 teaspoons of ground coriander
1 teaspoon of paprika
¾ teaspoon of turmeric
4 cardamom pods
1 cup (180g) of basmati rice, uncooked
1 courgette (zucchini), chopped
1 red bell pepper, chopped
½ cup (85g) of frozen edamame, shelled
2 cups (480ml) of chicken stock
300g (10.5oz) of large raw prawns, peeled and deveined
fresh chopped coriander
salt and pepper to taste
Instructions
Spray a deep frying pan over a medium high heat with low calorie spray.
Add the onion, and carrot and fry for a couple of mins until softened.
Add in the garlic, red pepper, cumin seeds, coriander, paprika, cardamom pods and turmeric and a little bit of stock and fry for a further minute of so to coat.
Add in the rice, edamame, red bell pepper and zucchini, spray with some more low calorie spray and fry just until the rice goes slightly translucent.
Then pour in the stock, bring to a boil and then reduce heat and simmer until the stock is almost absorbed, nestle e prawns into the rice for the last 5 minute of cooking time.
Once the stock is almost absorbed, add a lid and leave for about 10-12 minutes. Then fluff up all the rice with a fork, sprinkle with fresh chopped coriander, season to taste with salt and black pepper.
Serve and enjoy
Notes
Please see below for details about recipe:
Calories - scroll down to nutritional info box
Slimming, Diet or Weight Loss programs::  due to plans regularly changing and updating, we recommend calculating with the official tools you get as a member to those plans to ensure accuracy of values
Dairy Free Friendly
Gluten Free Friendly - use gluten free stock
If you wish to share this recipe, then please do so by using the share buttons provided at top of this post.
DO NOT COPY AND/OR PASTE FULL RECIPES OR SCREENSHOTS OF ANY CONTENT FROM SLIMMING EATS TO ANY SOCIAL MEDIA OR WEBSITE, IT IS STRICTLY PROHIBITED.
ALL IMAGES AND CONTENT ON SLIMMING EATS ARE COPYRIGHT PROTECTED
Nutritional information etc are an estimate and are to be used for informational purposes only. Ingredients can vary in values from brand to brand and therefore it would be impossible to give accurate information. It is always advised that you calculate values yourself by the ingredients you use and the tools provided to you as a member of the programme you are following.
It is the responsibility of the Reader to assure the products or ingredients they use in any recipes from Slimming Eats are allergen-free (gluten-free, egg-free, soy-free and/or dairy-free, for example). Slimming Eats assumes no liability for inaccuracies or misstatement about products, opinions or comments on this site. 
Check Legal section, for Full Disclaimer, Disclosure and Privacy Policy.
Recommended Products
As an Amazon Associate and member of other affiliate programs, I earn from qualifying purchases.
Nutrition Information
Yield

4
Serving Size

1 SERVING
Amount Per Serving
Calories

304
Total Fat

3g
Saturated Fat

1g
Trans Fat

0g
Unsaturated Fat

3g
Cholesterol

7mg
Sodium

940mg
Carbohydrates

47g
Fiber

5g
Sugar

5g
Protein

25g
Nutritional information and values etc are an estimate and is to be used for informational purposes only. Ingredients can vary greatly from brand to brand and therefore it would be impossible to give accurate information. It is always advised that you calculate by the ingredients you use.
Disclosure: This post may contain affiliate links. As an Amazon Associate and member of other affiliate programs, I earn from qualifying purchases. We are a participant in the Amazon Services LLC Associates Program, an affiliate advertising program designed to provide a means for us to earn fees by linking to Amazon.com and affiliated sites." Check Legal section, for Full Disclaimer, Disclosure and Privacy Policy.