Healthy Butter Chicken - the best low calorie version of this delicious Indian dish, so you can create the perfect fakeaway at home.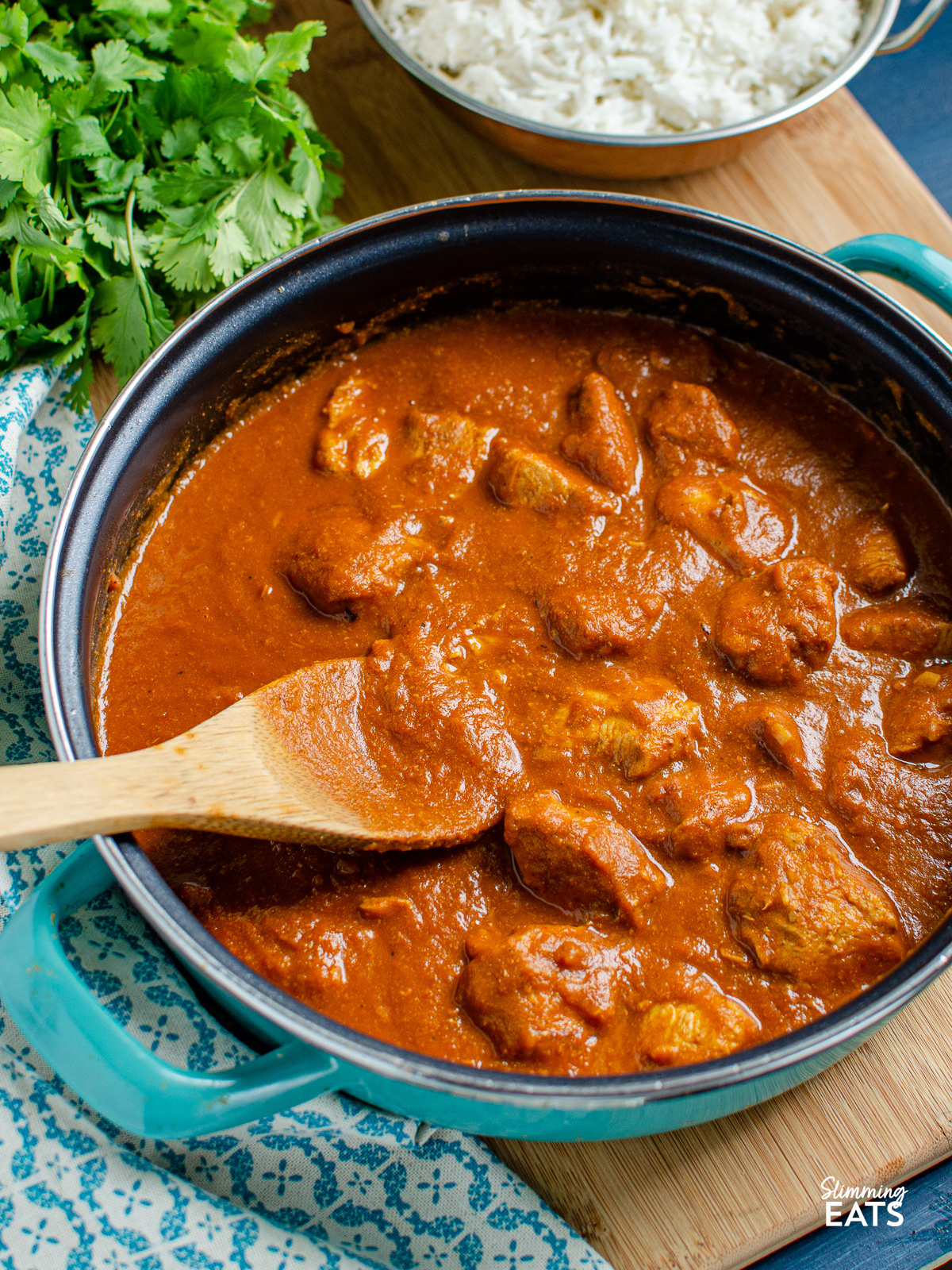 Healthy Indian Fakeaways
I love Indian food, it's one of my favourite take-out choices and has been since I was a little girl. I can still remember my first meal at an Indian restaurant. My dad used to a do a lot of work at Indian and Chinese restaurants, so I was accustomed to that kind of food from a very young age.
Below are some of my own versions of those first dishes I tried.
or if you would like more recipe ideas - head on over to the FULL RECIPE INDEX where you will find over 900 delicious recipes with calories and you can search by meal type, ingredients, course, diet and more..
All recipes on Slimming Eats have estimated nutritional information for your convenience.
Lighter Butter Chicken
When creating my own version of the popular Butter Chicken, I really thought hard about the ingredients I was going to use and how I was going to cook it. I wanted to make sure it really had all those amazing flavours you expect in Butter Chicken while still keep the calories low.
You will find an additional ingredient in my Butter Chicken that you won't find in your typical recipe and that is some butternut squash. It may seem like an odd addition, but trust me when I say it works. You only use just a small amount, so it won't overpower the sauce.  Instead, it makes the sauce lovely and creamy and gives that subtle sweetness without having to add additional ingredients to get the perfect Butter Chicken.
Do I have to use Butter in Butter Chicken?
You may be tempted to skip the butter in this recipe to try and keep it lower calorie. But honestly? you can't have Butter Chicken without butter, it just takes that sauce to a whole other level and is worth the small amount of calories per serving.
Use real butter though and not low fat spreads or margarines as most low fat spreads are not really able to be heated and melted like real butter and can end up making your sauce look weird.
Using Butternut Squash in Recipes
I use butternut squash often in recipes for adding subtle sweetness without having to use things like sugar etc. It works perfectly in my Chinese Chicken Curry and No Added Sugar Baked Beans as well as this Creamy Butternut Pasta Sauce and Butternut Squash Mac and Cheese.
The best thing of all is that butternut squash is a really low calorie vegetable and is a great choice for bulking out meals. It's one of my favourite vegetables to roast too with just with a little bit of low calorie olive oil spray, salt and paprika - yum!!
Low Carb Sides for Curry
There are of course some vegetables in the sauce to this amazing butter chicken, but if you want to keep your sides low carb too, try serving this with my delicious Roasted Cauliflower Rice instead of regular rice.
I really prefer to roast my cauliflower rice instead of steam or microwaving, it gives it a much nicer flavour.
Sides for Butter Chicken
Wondering what other sides you can have with butter chicken? Well of course any of my Indian Fakeaway recipes are perfect.
But just some simple cooked basmati rice is the best if you are not trying to eat lower carb. If you struggle to cook rice perfectly, there really is a simple fool-proof way and that is the 2-1 method.
This means however much rice you are cooking you always want double the amount of liquid, either water or for some flavour stock.
Rinse your rice until running water until it runs clear, then add to a saucepan. So for example I normally add 1 cup of uncooked rice for 4 people, then add 2 cups of water and a pinch of salt. Bring to a boil and then cover and simmer until the liquid is just absorbed, turn off heat, and leave with lid on untouched for 10 minutes. The steam trapped underneath will perfectly cook your rice. So after it has been left for the 10 minutes, remove lid and fluff with a fork.
---
LET'S CONNECT!
Healthy Butter Chicken (Murgh Makhani)
Healthy Butter Chicken - the best low calorie version of this delicious Indian dish, so you can create the perfect fakeaway at home.
Ingredients
For the Chicken and Marinade:
600g (21oz) of uncooked boneless chicken breast, diced
130g (½ cup) of fat free plain yoghurt (not Greek)
2 teaspoons of ground cumin
2 teaspoon of ground coriander
1 teaspoon of Indian hot chilli powder
1 teaspoon of paprika
1 teaspoon of turmeric
1 teaspoon of garam masala
2 tablespoon of lemon juice
For the sauce:
160g (5.7oz) of onion, diced
160g (5.7oz) of butternut, diced small (or grated)
2 teaspoons of freshly grated ginger root
3 cloves of garlic, minced
½ teaspoon of Indian Hot Chilli powder (add more of less depending on your spice level)
1 teaspoon of dried fenugreek leaves
1.5 cups (360ml) of chicken stock
1 cup (250g) of passata
Additional:
2 tablespoons of butter (for cooking the chicken)
cooking oil spray
fresh chopped coriander
salt to season
Instructions
Mix together the yoghurt and spices and lemon juice for the chicken together in a bowl then add the chicken and marinade in the fridge overnight (or 4 hours at least)
Spray a deep frying pan over a medium high heat, add the onion and fry until softened, add the garlic, ginger, chilli powder, fenugreek and fry for a further 30 seconds. Add in the butternut squash and stock, bring to a boil, cover and simmer until butternut squash is soft (approx 12-15 minutes).
Transfer to a blender with the 250g of passata and blend until smooth
Melt the butter in the frying pan over a medium high heat, add the chicken in the yoghurt marinade to the pan using tongs in an even layer (if your pan is not big enough) do this in two batches, using 1 tablespoon of the butter at a time.
As it starts to go golden underneath, flip over and brown the other side of the chicken, being carefully not to move it about the pan too much as you brown.
Once the chicken is all lightly golden, pour in the blended sauce and simmer for 10 minutes, sauce should look lovely and velvety and chicken cooked.
Taste sauce and season as needed with salt.
Sprinkle with chopped coriander and serve with your choice of sides.
Enjoy!!
Notes
Please see below for full nutritional info and additional details about recipe:
Calories - scroll down to nutritional info box
WW Points and other Slimming or Weight Loss programs -   due to plans regularly changing and updating, we recommend calculating with the official tools you get as a member to those plans to ensure accuracy of values. 
If you wish to share this recipe, then please do so by using the share buttons provided at top of this post.
DO NOT COPY AND/OR PASTE FULL RECIPES OR SCREENSHOTS OF ANY CONTENT FROM SLIMMING EATS TO ANY SOCIAL MEDIA OR WEBSITE, IT IS STRICTLY PROHIBITED.
ALL IMAGES AND CONTENT ON SLIMMING EATS ARE COPYRIGHT PROTECTED
Nutritional information etc are an estimate and are to be used for informational purposes only. Ingredients can vary in values from brand to brand and therefore it would be impossible to give accurate information. It is always advised that you calculate values yourself by the ingredients you use and the tools provided to you as a member of the programme you are following.
It is the responsibility of the Reader to assure the products or ingredients they use in any recipes from Slimming Eats are allergen-free (gluten-free, egg-free, soy-free and/or dairy-free, for example). Slimming Eats assumes no liability for inaccuracies or misstatement about products, opinions or comments on this site. 
Check Legal section, for Full Disclaimer, Disclosure and Privacy Policy.
Recommended Products
As an Amazon Associate and member of other affiliate programs, I earn from qualifying purchases.
Nutrition Information
Yield

4
Serving Size

1 SERVING
Amount Per Serving
Calories

296
Total Fat

10g
Saturated Fat

4g
Trans Fat

0g
Unsaturated Fat

0g
Cholesterol

46mg
Sodium

421mg
Carbohydrates

16g
Fiber

3g
Sugar

5g
Protein

37g
Nutritional information and values etc are an estimate and is to be used for informational purposes only. Ingredients can vary greatly from brand to brand and therefore it would be impossible to give accurate information. It is always advised that you calculate by the ingredients you use.
Disclosure: This post may contain affiliate links. As an Amazon Associate and member of other affiliate programs, I earn from qualifying purchases. We are a participant in the Amazon Services LLC Associates Program, an affiliate advertising program designed to provide a means for us to earn fees by linking to Amazon.com and affiliated sites." Check Legal section, for Full Disclaimer, Disclosure and Privacy Policy.