Savour the delicious flavours of a comforting bowl of creamy mac and cheese, which achieves a lighter calorie count by incorporating pureed butternut squash. This clever twist maintains the ideal balance of cheesy richness and creaminess.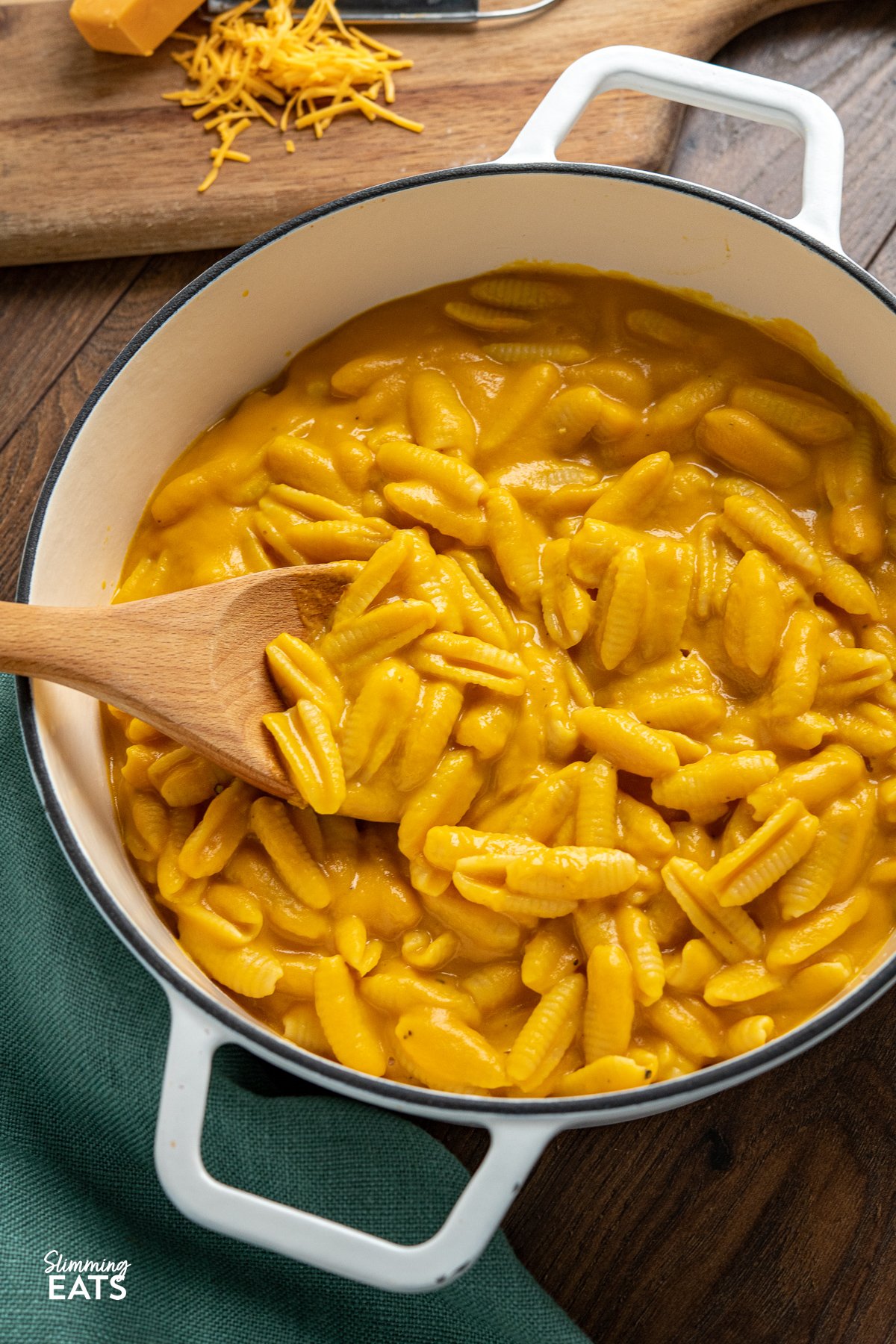 I absolutely adore sauces made with butternut squash, especially when paired with pasta. It's such a fantastic way to sneak some veggies into a dish. Let me tell you, the sauce is absolutely mind-blowing! My top recommendation is to use a high-quality, strong cheddar to really bring out that incredible cheesy taste. And when you combine it with the butternut squash sauce, oh my goodness, it turns into this heavenly, creamy concoction without the need for tons of cream or excessive cheese. Trust me, it's a flavor experience you won't want to miss!
Jump to:
Calories in Creamy Butternut Squash Mac and Cheese
Prepare to indulge in this indulgent, yet surprisingly light, cheesy butternut squash mac and cheese recipe. It serves four people and boasts a mere 506 calories per serving.
If you're on the lookout for more recipes within the same calorie range, you'll find an abundance of options in my dedicated collection of 500+ calories recipes.
If you're following a calorie-controlled diet or a healthy eating plan, it's important to calculate your daily calorie intake using a reliable calorie calculator. Please note that the calorie counts provided are estimates and can vary based on specific ingredients and serving sizes. Personalizing your calculations is essential to meet your individual needs. By using a calorie calculator, you can make informed choices and stay on track with your dietary goals.
Ingredients for Creamy Butternut Squash Mac and Cheese
To prepare the mouthwatering Creamy Butternut Squash Mac and Cheese, gather the following ingredients:
Pasta - Choose any shape you prefer. Personally, I opt for regular pasta, but feel free to use
Onions - Regular onions work perfectly for this recipe.
Garlic - It's best to use fresh garlic instead of jarred minced garlic to avoid any potential bitterness.
Seasonings: Add a pinch of optional cayenne pepper if you enjoy a touch of heat. Don't forget to include salt and pepper to season according to your taste.
Chicken or Vegetable stock - Select either chicken or vegetable stock based on your dietary preferences. Vegetarians should opt for vegetable stock.
Butternut Squash - It's crucial to use fresh butternut squash for the best results. While frozen squash has its place in some recipes, it doesn't deliver the same consistent texture and taste for this particular sauce.
Cheddar - Opt for a strong and mature cheddar to impart a flavorful kick. Mild cheddars are not recommended. If you'd like to experiment with different cheeses, consider adding parmesan for an extra dimension of taste. Alternatively, for a vibrant mac and cheese color, Red Leicester or Double Gloucester are excellent choices.
Cooking Oil Spray - I prefer using olive oil spray without any added emulsifiers for a healthier option.
These ingredients will come together to create a delectable and creamy butternut squash mac and cheese.
How to Peel and Dice Butternut Squash
Peeling and dicing butternut squash can be quite a challenge due to its firm and hard texture, but using fresh squash is worth it for the best taste in this recipe.
To peel and chop a butternut squash, follow these steps:
Place a damp kitchen towel on a stable chopping board to prevent it from slipping. This will provide a secure surface for the task.
Use a high-quality sharp peeler to remove all the peel from the squash. Take your time to ensure a smooth surface for slicing.
With a sharp santoku knife, chop off the long nose part of the squash. This will make it easier to handle and dice or chop into desired pieces.
For the larger bulbous part, slice it into four pieces. Use a spoon to scoop out the seeds from each section. This will allow you to dice those parts easily.
If you don't have a peeler, you can slice off the skin with a sharp knife, but I recommend removing the long nose part of the squash first to make it more manageable.
By following these steps, you can successfully peel and dice butternut squash, overcoming the initial challenge and ensuring a simpler and more enjoyable cooking experience.
How to Achieve a Silky Smooth Sauce for Your Recipes
Creating a velvety smooth sauce is crucial in dishes like this Creamy Butternut Squash Mac and Cheese. While any blender should do the trick, a good quality blender is a must if you want to achieve the perfectly smooth silky sauce for this mac and cheese.
Select the Perfect Blender: Prioritize a high-quality blender equipped with a powerful motor, multiple speed settings, and a pulse function for optimal control. Look for models that offer tamper or scraper attachments to ensure thorough blending. While the top-of-the-line Vitamix blender is known for its exceptional performance, there are also several affordable countertop blenders that can deliver equally impressive results when blending the sauce.
Preparing Ingredients for Blending: Cook or roast the butternut squash until tender and easily pureed. Allow it to cool slightly before transferring to the blender. Cutting the squash into smaller chunks facilitates easier blending. It's important to make sure it is cooked otherwise it will not blend to a really smooth consistency.
Blend Until Smooth: One common mistake when blending sauces is not giving it enough time. Merely blending for a few seconds won't yield a smooth sauce. To achieve the perfect consistency, it may take a couple of minutes of continuous blending. Be patient and blend until you achieve that velvety smooth texture you desire.
Adjusting Consistency and Seasoning: Gradually add more liquid if the sauce appears too thick, continuing to blend until desired consistency is reached. Taste and adjust seasoning with salt, pepper, or other spices to enhance flavour to your required taste if you think it needs it.
With these tips and techniques, you'll be sure to create a perfectly smooth sauce using your blender. Whether you're making this Creamy Butternut Squash Mac and Cheese or experimenting with other sauce recipes, the right blender and proper techniques can make all the difference.
Adding Protein to Creamy Butternut Squash Mac and Cheese
While Creamy Butternut Squash Mac and Cheese is already a delicious and satisfying dish, you can further enhance its nutritional value by incorporating some protein-rich ingredients. Adding protein not only contributes to a balanced meal but also helps keep you feeling fuller for longer. Here are some suggestions:
Cooked Chicken or Turkey:
Cook and shred chicken or turkey breasts separately.
Stir in the cooked and shredded poultry when combining the sauce and pasta.
This addition provides lean protein and a delightful texture to your mac and cheese.
Sautéed Shrimp or Crispy Bacon:
Sauté shrimp in a separate pan with a touch of olive oil until cooked.
Alternatively, crisp up some bacon slices in a skillet until they are golden and delicious.
Fold the cooked shrimp or crumbled bacon into the cooked mac and cheese
3. Cooked Sausage
For an extra burst of flavor, brown in a pan your preferred low-calorie sausages (if you are vegetarian, you can use a vegetarian option). Once cooked, dice them up and incorporate them into the mac and cheese for added deliciousness. Alternatively, you can sprinkle the diced sausage on top of the mac and cheese as a delightful finishing touch. The choice is yours to enhance the dish with the savory goodness of cooked sausage.
4. Include Protein-Packed Beans or pulses:
Consider incorporating canned beans like cannellini or chickpeas into your mac and cheese.
Rinse and drain the beans first before adding them to the dish.
Perfect Pairings: Sides to Serve with Creamy Butternut Squash Mac and Cheese
While Creamy Butternut Squash Mac and Cheese is a delightful dish on its own, pairing it with complementary sides can elevate its filling power and nutrient density. Here are some of my favourite healthy, low-calorie vegetable sides to pair with this dish:
Crisp Garden Salad with Light Dressing: Create a refreshing salad by combining mixed greens, red onion, sliced cherry tomatoes, cucumbers, and shredded carrots. Drizzle with your preferred low-calorie dressing. I recommend trying it with this Homemade Yoghurt Ranch Dressing for a delicious twist.
Roasted or Sautéed Brussels Sprouts: Add a crispy and nutty element to your meal with roasted or sautéed Brussels sprouts. Toss halved Brussels sprouts with olive oil spray, salt, and pepper, then roast or sauté them until they turn golden and caramelized.
Sautéed Garlic Spinach: Indulge in sautéed garlic spinach as a flavorful side dish. Simply sauté fresh spinach leaves with garlic and a touch of olive oil spray until they wilt. A squeeze of fresh lemon adds a bright finishing touch.
Steamed Cauliflower, Broccoli, or Asparagus: Opt for steamed cauliflower, broccoli, or asparagus as a perfect side accompaniment. Steam the vegetables until they reach a tender yet crisp texture, then season with salt and black pepper for a simple and nutritious addition.
These side dishes not only enhance the Creamy Butternut Squash Mac and Cheese experience but also provide a variety of flavors and textures to make your meal well-rounded and satisfying.
More Butternut Squash Recipes
Looking for some more delicious low calorie recipes featuring butternut squash? Check out the following:
or if you would like more recipe ideas or sides to make with this recipe - head on over to the FULL RECIPE INDEX where you will find over 900 delicious recipes with calories and you can search by meal type, ingredients, course, diet and more.
---
LET'S CONNECT!
Creamy Butternut Squash Mac and Cheese
Cook Time:
1 hour
10 minutes
Total Time:
1 hour
20 minutes
Savour the delicious flavours of a comforting bowl of creamy mac and cheese, which achieves a lighter calorie count by incorporating pureed butternut squash. This clever twist maintains the ideal balance of cheesy richness and creaminess.
Ingredients
300g (10.5oz) of uncooked pasta of choice (I used gnocchetti)
1 onion, finely chopped
2 cloves of garlic, crushed
pinch of cayenne pepper (optional)
2 cups (480ml) of chicken or vegetable stock
½ large butternut squash (seeds removed) - 750g/26.5oz
120g (4.3oz) of good quality mature cheddar
salt and black pepper
olive oil spray
Instructions
Preheat oven to 180c, 200c, 400f (gas mark 6)
Season the flesh side of the butternut squash generously with salt and black pepper, spray with olive oil spray and then place flesh side down on a baking tray lined with parchment paper.
Place in the oven and bake for approx 45, till the butternut squash halve feels softened when gently pressed on the skin.
Remove and allow to cool.
In the meantime, place a deep large frying pan over a medium heat and spray with some olive oil spray, add the onion and fry until golden and softened. Add the garlic and fry for a just to infused the flavour.
Scoop out all the butternut squash flesh and add to the pan, with a pinch of cayenne (optional) and the stock.
Bring to a boil, reduce heat and simmer for 5 minutes.
Add to a blender and allow to cool slightly and then blend well until really smooth and silky - this may take a couple of minutes of blending but you want the sauce as smooth as possible. (always be careful not to overfill blender with hot liquid).
Bring a large saucepan of water (seasoned with salt) to a boil, add in the pasta and cook till al dente. Reserve about ⅓ cup (80ml) of the pasta water, then the pasta and spray with olive oil and toss to coat to prevent it sticking together.
Add the blended squash mixture back to the saucepan over a medium heat and stir in the cheese until fully melted, reduce the heat to low and stir in the pasta and reserved pasta water. Continue to stir until silky and creamy. Taste and season with salt and black pepper.
Serve immediately and enjoy!!
Notes
Please see below for full nutritional info and additional details about recipe:
Calories - scroll down to nutritional info box
WW Points and other Slimming or Weight Loss programs -   due to plans regularly changing and updating, we recommend calculating with the official tools you get as a member to those plans to ensure accuracy of values. 
If you wish to share this recipe, then please do so by using the share buttons provided at top of this post.
DO NOT COPY AND/OR PASTE FULL RECIPES OR SCREENSHOTS OF ANY CONTENT FROM SLIMMING EATS TO ANY SOCIAL MEDIA OR WEBSITE, IT IS STRICTLY PROHIBITED.
ALL IMAGES AND CONTENT ON SLIMMING EATS ARE COPYRIGHT PROTECTED
Nutritional information etc are an estimate and are to be used for informational purposes only. Ingredients can vary in values from brand to brand and therefore it would be impossible to give accurate information. It is always advised that you calculate values yourself by the ingredients you use and the tools provided to you as a member of the programme you are following.
It is the responsibility of the Reader to assure the products or ingredients they use in any recipes from Slimming Eats are allergen-free (gluten-free, egg-free, soy-free and/or dairy-free, for example). Slimming Eats assumes no liability for inaccuracies or misstatement about products, opinions or comments on this site. 
Check Legal section, for Full Disclaimer, Disclosure and Privacy Policy.
Recommended Products
As an Amazon Associate and member of other affiliate programs, I earn from qualifying purchases.
Nutrition Information
Yield

4
Serving Size

1 SERVING
Amount Per Serving
Calories

506
Total Fat

12g
Saturated Fat

6g
Trans Fat

0g
Unsaturated Fat

7g
Cholesterol

47mg
Sodium

526mg
Carbohydrates

84g
Fiber

7g
Sugar

8g
Protein

20g
Nutritional information and values etc are an estimate and is to be used for informational purposes only. Ingredients can vary greatly from brand to brand and therefore it would be impossible to give accurate information. It is always advised that you calculate by the ingredients you use.
Disclosure: This post may contain affiliate links. As an Amazon Associate and member of other affiliate programs, I earn from qualifying purchases. We are a participant in the Amazon Services LLC Associates Program, an affiliate advertising program designed to provide a means for us to earn fees by linking to Amazon.com and affiliated sites." Check Legal section, for Full Disclaimer, Disclosure and Privacy Policy.