Roasted Butternut Squash and Red Pepper Quiche - Plate up a slice of this delicious crustless quiche with vegetables, fresh herbs, parmesan and cheddar.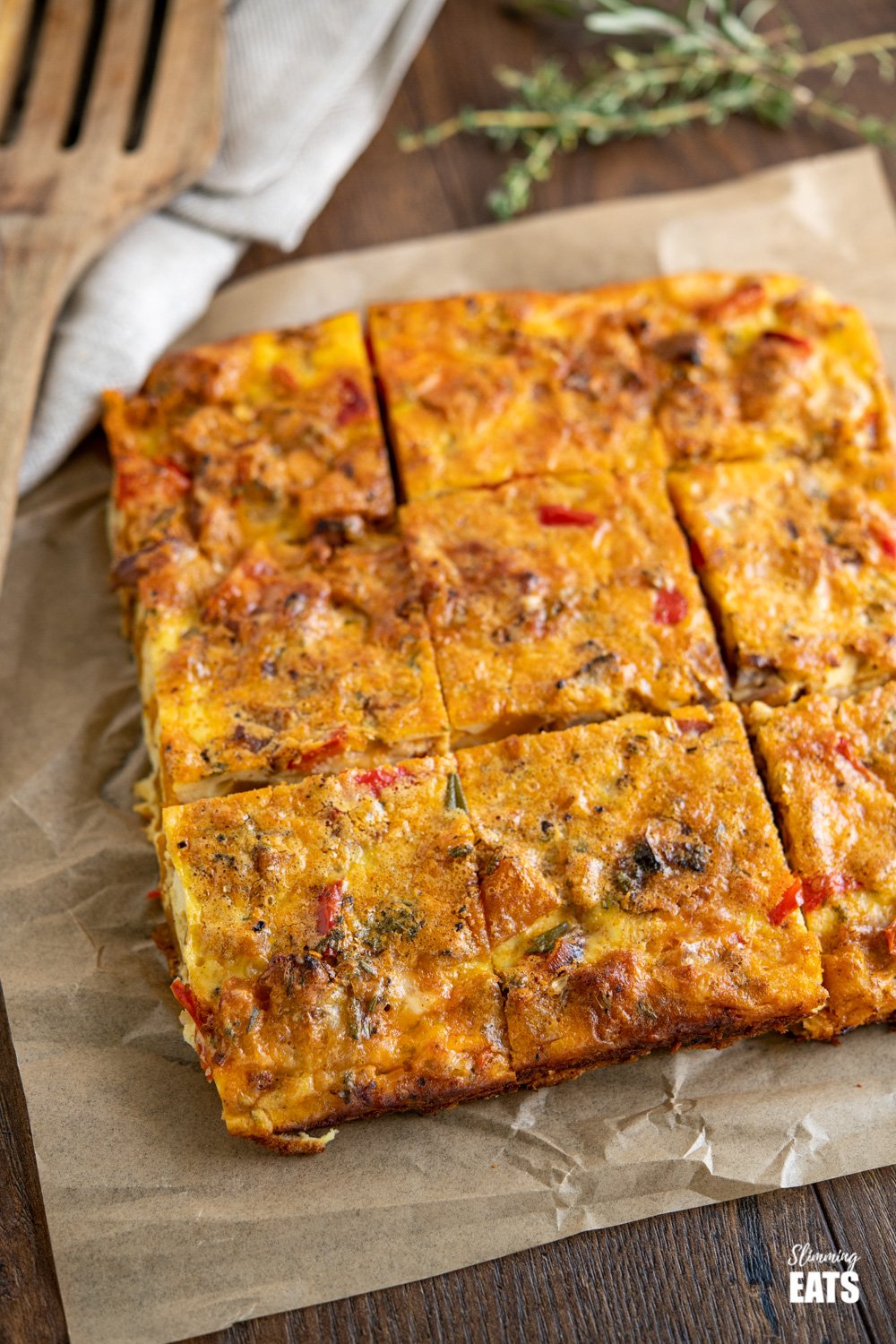 Roasted Butternut Squash Crustless Quiche
One of my favourite vegetables is butternut squash, which is delicious when roasted with onion, red bell pepper and just some simple seasonings like paprika, onion, powder, garlic powder and sea salt. It's a versatile ingredient that can be used in many recipes like this crustless quiche.
The quiche is great for lunches and can be enjoyed hot or cold, so perfect for on the go meals or picnics too.
How to Slice Butternut Squash
Butternut squash can be a pretty daunting vegetable to handle, with is hard exterior skin, in tricky to peel or chop.
I know you can buy already peeled and chopped butternut squash, but personally, I find precut butternut squash doesn't taste as fresh or as good.
There are a few key things to chopping up this unique shaped vegetable. Some like to peel with a vegetable peeler, but I actually find the more of a an effort.
Instead, a good sharp knife is really important. Never ever use blunt knives, it's an accident waiting to happen. Once you have a newly sharpened knife, chopping up this vegetable is a breeze.
The first part is the nose, which is the long cylinder shape part. I always try and choose a butternut squash that has a long chunky nose, it's the easiest part to chop and so means you get more butternut squash for less effort.
Slice off the nose part first, then stand it upright on your chopping board, you can then carefully slice off the skin (peel) with your knife. Once that part is done, it is then easy to chop into chunks, cubes, fries (whatever you are planning to make).
Next part is the tougher part to chop and that's the bulb part with all the seeds in it. I tend to chop this part in half, scoop out all the seeds and discard and then chop into pieces that are easier to manage and again slice off the skin with a sharp knife.
It's so much easier to tackle it this way and easier to peel and chop if you slice it into shapes that are not going to slip and move around on your chopping board.
No Pastry Crustless Quiche
Some may argue that a quiche without a crust, is not really a quiche at all and yes this quiche has no pastry case, so if you can't do without your pastry, then this recipe perhaps is not for you.
Otherwise, it has all the yummy flavours of a regular quiche and is filling and perfectly cheesy from the parmesan and cheddar.
Can I omit the cheeses?
Personally I think the flavours of the parmesan and cheddar add to this crustless quiche, without them you would definitely want to up on your seasoning and while it will possible still turn out okay without the cheeses, it's not going to be quite the same as the final result you see here.
If of course, it is because you are dairy-free, then you may want to check out a different quiche recipe like this Dairy Free Bacon and Vegetable Quiche.
Fresh Herbs or Dried?
That's entirely up to you, fresh herbs always add a nicer flavour than dried, but if you don't have fresh on hand, then dried are fine.
I had a planter with all different herbs in my garden this summer, so it was just a case of going out there and snipping off a few sprigs of what I wanted.
Baking the Crustless Roasted Butternut and Red Pepper Quiche
Normally I bake my crustless quiches in a round springform pan, but this one I did in an 8-inch pan. It really doesn't make much difference to the bake other than it's a different shape.
Baking it in a square pan, meant I could slice it into handy squares which were perfect for a lunch on the go.
Sides for this Roasted Butternut Squash and Red Pepper Quiche
Want to enjoy this just as it is? Well, there is absolutely nothing wrong with that, it's packed with healthy veggies and a good source of protein.
I like to pair it with a simple green salad, arugula and sliced baby cucumbers and a great option alongside some of this Low Syn Ranch Dressing.
More Quiche Recipes
Want to try some other delicious quiche recipes? Check out these:
or head on over to my Full Recipe Index with over 850 delicious Slimming World and Weight Watchers recipes all fully searchable by meal type, ingredients, syn value and smart points etc.
This recipe was originally created on 4 April 2012 and updated on the 7 November 2019
---
LET'S CONNECT!
Find me ON FACEBOOK | INSTAGRAM | PINTEREST | TWITTER | and YOUTUBE, come and follow me TO MAKE SURE YOU KEEP UP TO DATE ON ALL NEW RECIPES.
Crustless Butternut Squash and Red Pepper Quiche
Yield: SERVES 3

Prep Time: 10 minutes

Cook Time: 1 hour 10 minutes

Total Time: 1 hour 20 minutes

Roasted Butternut Squash and Red Pepper Quiche - Plate up a slice of this delicious crustless quiche with vegetables, fresh herbs, parmesan and cheddar. 
Ingredients
400g of butternut squash diced
1 red onion
1 red bell pepper
1.5 teaspoons of paprika
½ teaspoon of onion powder
½ tsp of garlic powder
6 eggs, beaten
½ tablespoon fresh chopped rosemary
½ tablespoon of fresh chopped thyme
pinch of red chilli flakes
½ cup (120ml) of fat-free plain yoghurt
60g/2oz of parmesan, grated (2 HEa's)
30g/2oz of cheddar, grated (1 HEa)
Cooking oil spray (I used avocado)
Salt and Black Pepper
Instructions
Preheat oven to 200c/400f (gas mark 6)
Add the butternut squash, paprika, red onion, onion powder, garlic powder and red pepper to a baking tray and mix to combine, then spray over the top with cooking oil spray.
Bake in the oven for approx 35 mins until butternut squash is golden and softened.
Add the eggs, yoghurt and parmesan to a blender and blend until smooth.
Add the roasted butternut squash mix to an 8-inch square pan or quiche dish. Scatter with the fresh herbs and sprinkle with the pinch of red chilli flakes and season with some salt and black pepper.
Pour over the top the blended egg, yoghurt, parmesan mixture.
Top with the cheddar.
Place in the oven and bake for approx 30 mins, until quiche is golden and the mixture is set.
Allow to cool slightly, then slice and serve.
Enjoy!!!
Notes
This recipe is gluten free, vegetarian, Slimming World and Weight Watchers friendly
Slimming World - 1 HEa per serving
WW Flex/Freestyle Smart Points - 5 per serving
Vegetarian - use a vegetarian friendly Italian style cheese in place of parmesan.
If you wish to share this recipe, then please do so by using the share buttons provided.

Do not screenshot or post recipe or content in full. All images and content on Slimming Eats are copyright protected.

Nutritional information, syn values, points etc are an estimate and is to be used for informational purposes only. Ingredients can vary greatly from brand to brand and therefore it would be impossible to give accurate information.

It is the responsibility of the Reader to assure the products or ingredients they use in any recipes from Slimming Eats are allergen-free (gluten-free, egg-free, soy free and/or dairy-free, for example). Slimming Eats assumes no liability for inaccuracies or misstatement about products, opinions or comments on this site.

Check Legal section, for Full Disclaimer, Disclosure and Privacy Policy
Recommended Products
As an Amazon Associate and member of other affiliate programs, I earn from qualifying purchases.
Nutrition Information
Serving Size 1 serving
Amount Per Serving Calories 376Total Fat 19.2gSaturated Fat 9.1gCholesterol 399mgSodium 613mgCarbohydrates 24.8gFiber 5.6gSugar 7.2gProtein 27.9g
It is the responsibility of the Reader to assure the products or ingredients they use in any recipes from Slimming Eats are allergen-free (gluten-free, egg-free and/or dairy-free, for example) or Vegetarian friendly. Slimming Eats assumes no liability for inaccuracies or misstatement about products, opinions or comments on this site.
Nutritional information is an estimate and is to be used for informational purposes only
Looking for some additional support on your weight loss journey? Did you know Slimming Eats has a friendly Slimming World Facebook Support Group where you can get daily meal ideas and recipe ideas? Come and check us out, we'd love to have you join.
Looking for some other recipes? Head on over to my RECIPE INDEX for over 900 Slimming World & Weight Watchers recipes for you to browse through, all fully searchable by meal type, Ingredients, syn value and WW Smart Points etc
All images and content on Slimming Eats are copyright protected.
If you wish to share this recipe, then please do so by using the share buttons provided. Do not screenshot or post recipe or content in full.
* Disclosure: This post may contain affiliate links. As an Amazon Associate and member of other affiliate programs, I earn from qualifying purchases. We are a participant in the Amazon Services LLC Associates Program, an affiliate advertising program designed to provide a means for us to earn fees by linking to Amazon.com and affiliated sites." Check Legal section, for Full Disclaimer, Disclosure and Privacy Policy.