This simple delicious recipe combines lean ground turkey with cubes of potato in a rich creamy coconut curry sauce that is packed with flavour.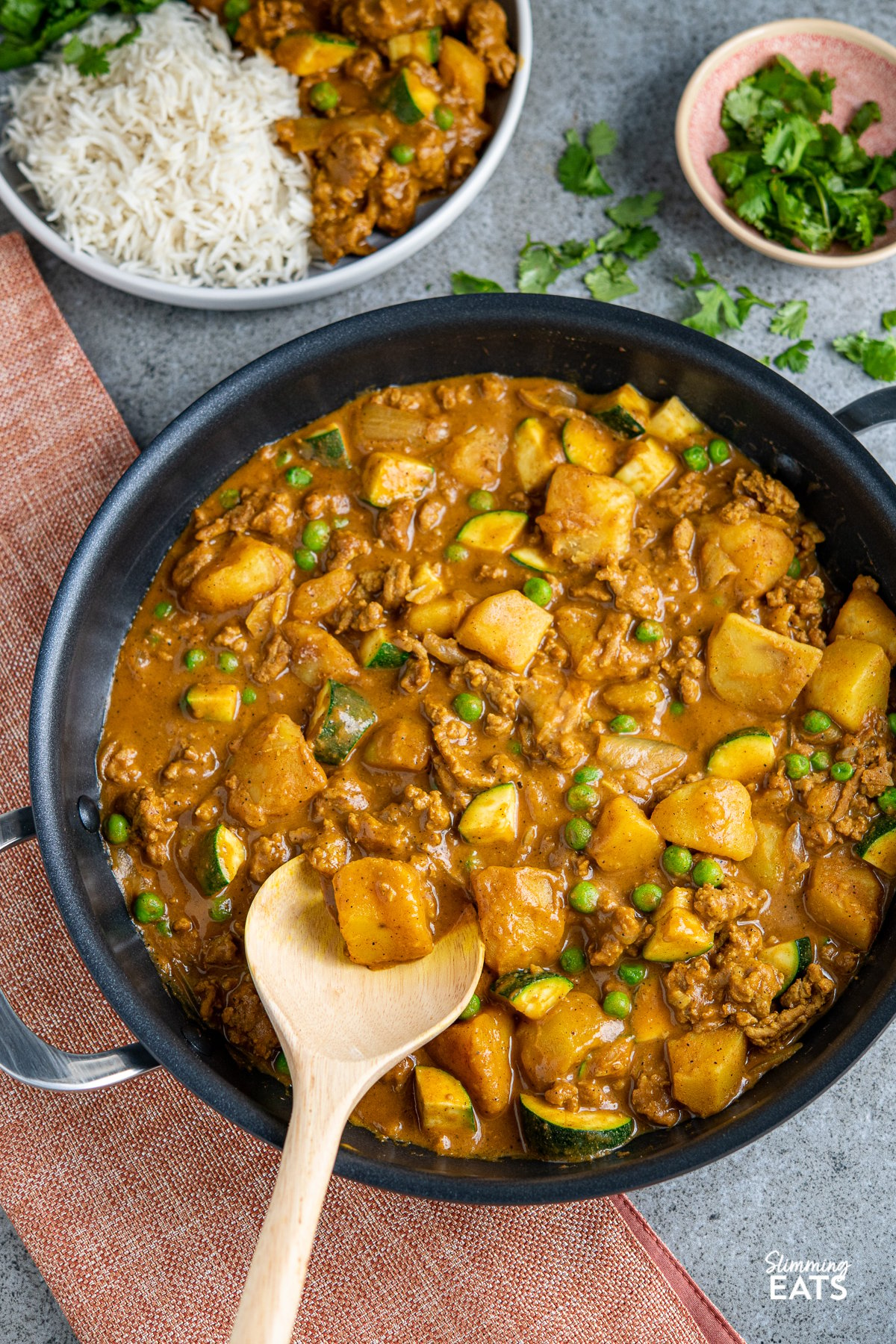 Ground Turkey Curry
Now I know you may be thinking - no no just no, but trust me when I say this ground turkey curry is so delicious.
I do occasionally put together what might seem the weirdest of concoctions, but hey some of my best creations in the kitchen, have come from me throwing together a few different ingredients and combining them with some seasoning or spices that I think will compliment them for a nice sauce etc.
If there is one thing I hate it is food waste. So I will often do a check of my fridge and pantry to see what needs to be used up. For this recipe, it was some ground turkey and delicious yellow flesh potatoes (Yukon golds) and I really fancied a curry and well who says curry has to be typical ingredients?
Can I use a different ground meat (mince)?
What if you don't like ground turkey (mince)? Can it be swapped for another kind? There is no reason why not - if you want to swap the turkey for chicken, pork or beef mince then give it a go, that is the beauty of recipes like these where you can slightly adapt or change things to your taste. I actually think some ground beef would work amazing in this too. I love Keema Curry and while the flavours are a little different in this recipe, beef taste amazing in this sauce. I make actually try that next time I make it.
If you prefer, you could even use chicken breast or thigh pieces. Those would actually be amazing in this.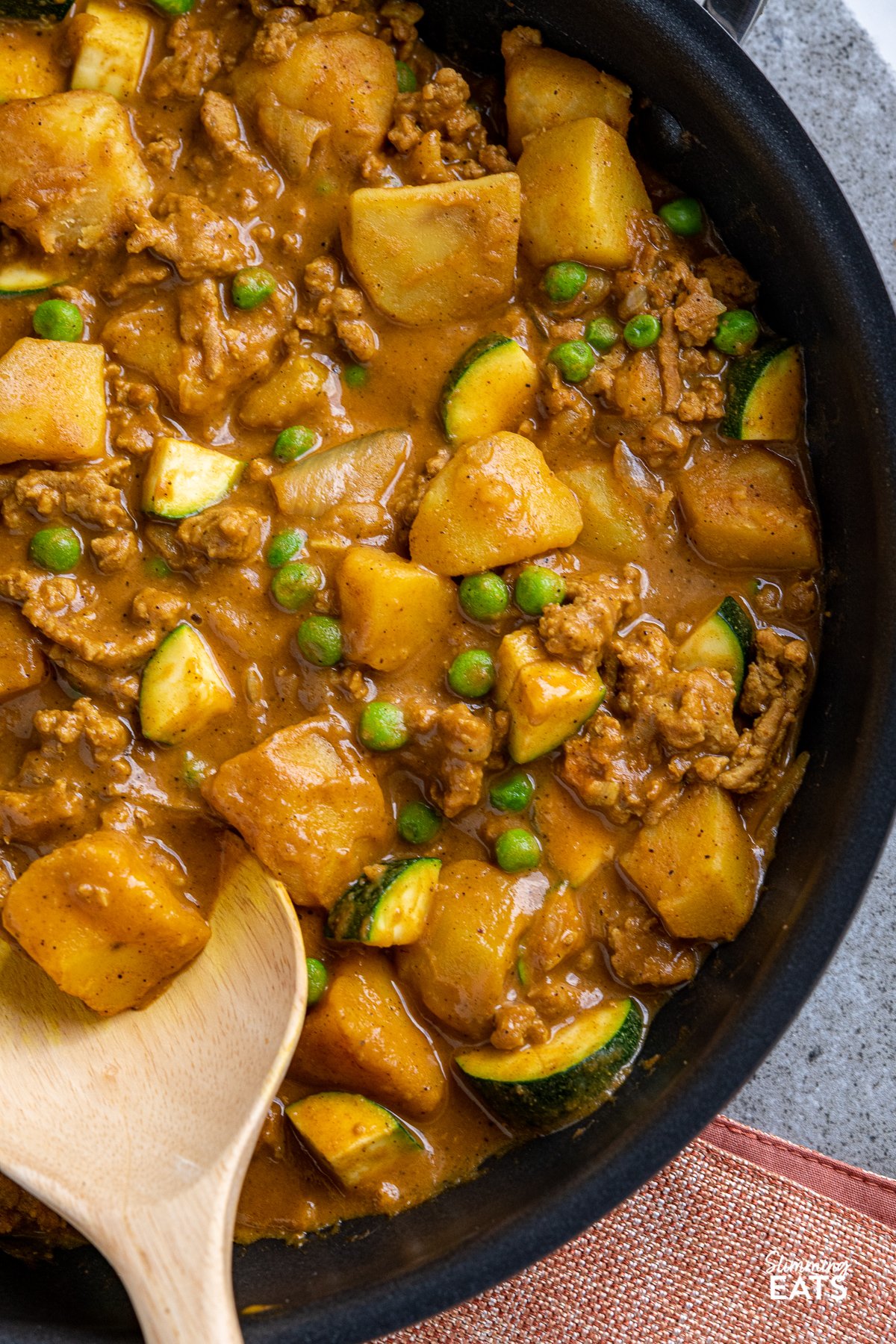 Best Type of Potatoes for Curry?
When adding potatoes to a curry I prefer to choose a waxy or semi waxy variety as they soak up the flavour but still hold their shape. Floury potatoes tend to disintegrate fast into the sauce and you want these to still have a bite.
My favourite type of potato to use in recipes like this is a yellow fleshed potato called Yukon Golds. If you live in the UK look for a variety called Elfe which are the closest to these. If you can't find those then swap for any waxy type of potato.
Different Types of Coconut Milk.
There are generally three types of coconut milk available. Regular (canned), light (canned) and then coconut milk which comes in a carton, which is typically used as a dairy free option to regular milk.
So which one is best for curry? When it comes to curries, I like to go for the canned varieties and usually regular, it's much creamier and you really don't need much. Light just means a higher water ratio and doesn't always yield the same creamy velvety sauce. But use which either of this two you prefer.
I don't recommend the cartoned coconut milk, it's far to watery and you won't get the same result for the sauce.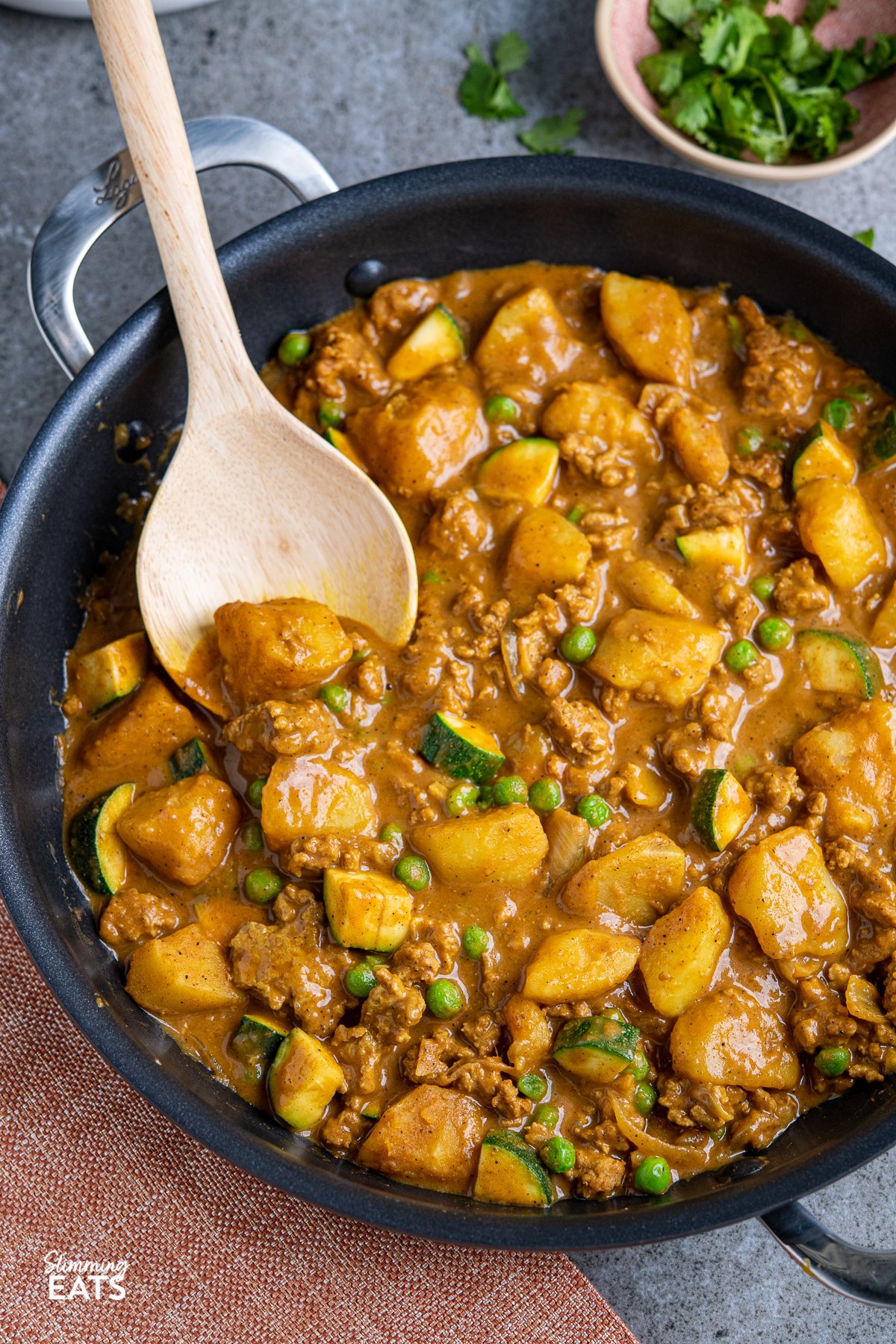 Vegetables for Curry
I often like to add some kind of vegetables to my curry and it is usually what I have that needs to be used up, so for this it was some chopped courgette (zucchini) as well as some peas.
The beauty of a curry is you really can add any vegetables you like and it's a great way to use up what you have. So don't be afraid to swap out things or add a few things. The only thing you have to be careful of is the ratio, as you don't want so much vegetables that you have very little sauce.
How to Cook Perfect White Rice.
For this curry I went for some Basmati rice and fresh coriander, the perfect combination for mopping up that delicious curry sauce.
Struggle to cook rice? I always use the 2:1 ratio. Which means how ever much rice you want double the amount in liquid. So for example 1 cup of rice, 2 cups of water. Rinse the rice until the water runs clear and add to saucepan with the water and a pinch of salt, bring to a boil, and simmer just until the water is absorbed (do not stir), then add a lid, turn off the heat and leave for 10-12 minutes. The result is Perfectly cooked rice every time. This method will work for any long grain white rice - basmati, jasmine or basic white rice.
Low Calorie sides for Curry
Want a lower carb side or maybe you just want to keep the calories down a bit? Then this Roasted Cauliflower Rice is the perfect substitute for regular rice and for mopping up that sauce.
Hey there is no reason why you can't dig into just a bowl of the curry too if you want.
Some other lower calories options for sides for this curry are some cubes of roasted butternut squash or I know it sounds a bit odd, but I love these Garlic Sauteed Shredded Brussel Sprouts
Curry Recipes
Looking for some other delicious curry recipes to try? Check out these Slimming Eats favourites
or if you would like more recipe ideas - head on over to the FULL RECIPE INDEX where you will find over 900 delicious recipes and can search by ingredients, course, diet and more.
All with estimated calories and Slimming Eats and Weight Watcher Smart Points values.
---
LET'S CONNECT!!
Creamy Coconut Ground Turkey Potato Curry
This simple delicious recipe combines lean ground turkey with cubes of potato in a rich creamy coconut curry sauce that is packed with flavour.
Ingredients
455g (1lb) of extra lean ground turkey (or ground chicken, beef etc)
350g (12.5oz) of potatoes, peeled and cubed (waxy variety)
1 onion, finely diced
2 cloves of garlic, crushed
½ tablespoon of fresh grated ginger root
2 tablespoons medium curry powder
3 tablespoons of tomato paste (puree)
480ml (2 cups) of chicken stock
120ml (½ cup) coconut milk
80g (½ cup) frozen peas
1 courgette (zucchini), quartered and sliced
cooking oil spray
Instructions
Heat a frying pan over a medium high heat, once hot, add turkey mince and cook until browned, then remove and set aside.
Spray the pan with some cooking oil spray, then add the onion and fry until golden and softened.
Add in the garlic and ginger and continue to fry for a further minute.
Add in the curry powder, tomato paste and a little of the stock to make it paste like and prevent it burning/sticking to the pan.
Add the turkey mince back to the pan with the cubed potatoes and mix to coat.
Pour in the remaining stock, bring to boil, reduce heat to medium, then cover and simmer for 15 minutes.
Then stir in the coconut milk and add in the courgette and peas and continue to simmer until the curry has a lovely velvety sauce and the courgette is tender (if you prefer your courgette softer, add it in earlier)
Taste and season with salt and black pepper stir in some fresh coriander (optional).
Enjoy!
Notes
Please see below for full nutritional info and additional details about recipe:
Calories - scroll down to nutritional info box
WW Points and other Slimming or Weight Loss programs -   due to plans regularly changing and updating, we recommend calculating with the official tools you get as a member to those plans to ensure accuracy of values. 
If you wish to share this recipe, then please do so by using the share buttons provided at top of this post.
DO NOT COPY AND/OR PASTE FULL RECIPES OR SCREENSHOTS OF ANY CONTENT FROM SLIMMING EATS TO ANY SOCIAL MEDIA OR WEBSITE, IT IS STRICTLY PROHIBITED.
ALL IMAGES AND CONTENT ON SLIMMING EATS ARE COPYRIGHT PROTECTED
Nutritional information etc are an estimate and are to be used for informational purposes only. Ingredients can vary in values from brand to brand and therefore it would be impossible to give accurate information. It is always advised that you calculate values yourself by the ingredients you use and the tools provided to you as a member of the programme you are following.
It is the responsibility of the Reader to assure the products or ingredients they use in any recipes from Slimming Eats are allergen-free (gluten-free, egg-free, soy-free and/or dairy-free, for example). Slimming Eats assumes no liability for inaccuracies or misstatement about products, opinions or comments on this site. 
Check Legal section, for Full Disclaimer, Disclosure and Privacy Policy.
Recommended Products
As an Amazon Associate and member of other affiliate programs, I earn from qualifying purchases.
Nutrition Information
Yield

4
Serving Size

1 SERVING
Amount Per Serving
Calories

299
Total Fat

8.4g
Saturated Fat

4.1g
Trans Fat

0g
Unsaturated Fat

5g
Cholesterol

65mg
Sodium

402mg
Carbohydrates

26g
Fiber

5.5g
Sugar

4.7g
Protein

30.7g
Nutritional information, values, points etc are an estimate and is to be used for informational purposes only. Ingredients can vary greatly from brand to brand and therefore it would be impossible to give accurate information. It is always advised that you calculate by the ingredients you use.
Disclosure: This post may contain affiliate links. As an Amazon Associate and member of other affiliate programs, I earn from qualifying purchases. We are a participant in the Amazon Services LLC Associates Program, an affiliate advertising program designed to provide a means for us to earn fees by linking to Amazon.com and affiliated sites." Check Legal section, for Full Disclaimer, Disclosure and Privacy Policy.