Wow, how are we into December already? I really can't believe how quickly the year has flown by.
Note: This post contains affiliate links
Normally I have most of my Christmas presents sorted by this time of year, but I am totally behind.
Christmas Tree will go up next week, just need to find some white decorations, which I want to combine with the red and silver I already have, it will be so pwetty!!
Then it is time to really get cracking on getting all the Christmas presents. My dad also arrives next Friday for the festive season, so that is even more reason to get stuff out of the way, as I know I am  going to be busy.
I was actually thinking I might allocate him some jobs for recipe creations. All that veg chopping and prep work can be taken care of!
If you are like me and not very well prepared this year, luckily there are a huge array of options of things to be ordered online, so much so, you really don't need to leave the house. Although I do recommend getting out once and a while. Not necessarily to do Christmas shopping, but getting out in the fresh air will do anyone the world of good. Sometimes not a very enticing thing when it is minus degrees outside and you really just want to stay in your pj's all day, feet up on the sofa, with a nice cuppa and a cheesy Christmas movie on Netflix.
I have to admit I am a bit of an online shopping junkie, it's far too convenient sometimes, but I do love seeing the postie turn up at the door, and wondering if the parcel in his hand is something for me or yet another computer part the dear hubby has ordered.
Stuck for ideas for things to buy this year? Here are some of my favourite things and a few recommendations of things to either give or receive. All available on Amazon in the comfort of your own home.
Just don't forget the poor postie, who will be working hard to deliver it all.
---
My top recommend Christmas Gift!! The Pressure Cooker
If you are lucky enough to already own one of these, you will know how amazingly convenient they are, especially for someone on a busy schedule. Long gone are the days of leaving a slow cooker on all day while at work, now you can come in, throw a few ingredients in the pressure cooker and in a super short period of time, you can have a meal on the table that looks like it has taken hours to prepare. My favourite one is the Instant Pot, it's probably the most sold Pressure Cooker this year and most stores were sold out of this on Black Friday, but a good cheaper alternative is the Pressure King Pro. Both come in different size models depending on how big a capacity you need. Don't just think of one of these for yourself though, as these would make an amazing Christmas gift for anyone.
Click here to view this on Amazon
and if you would like some meals to try - check out my Pressure Cooker Recipes
---
For all things blended - The Nutri Ninja Blender and Food Processor with Auto IQ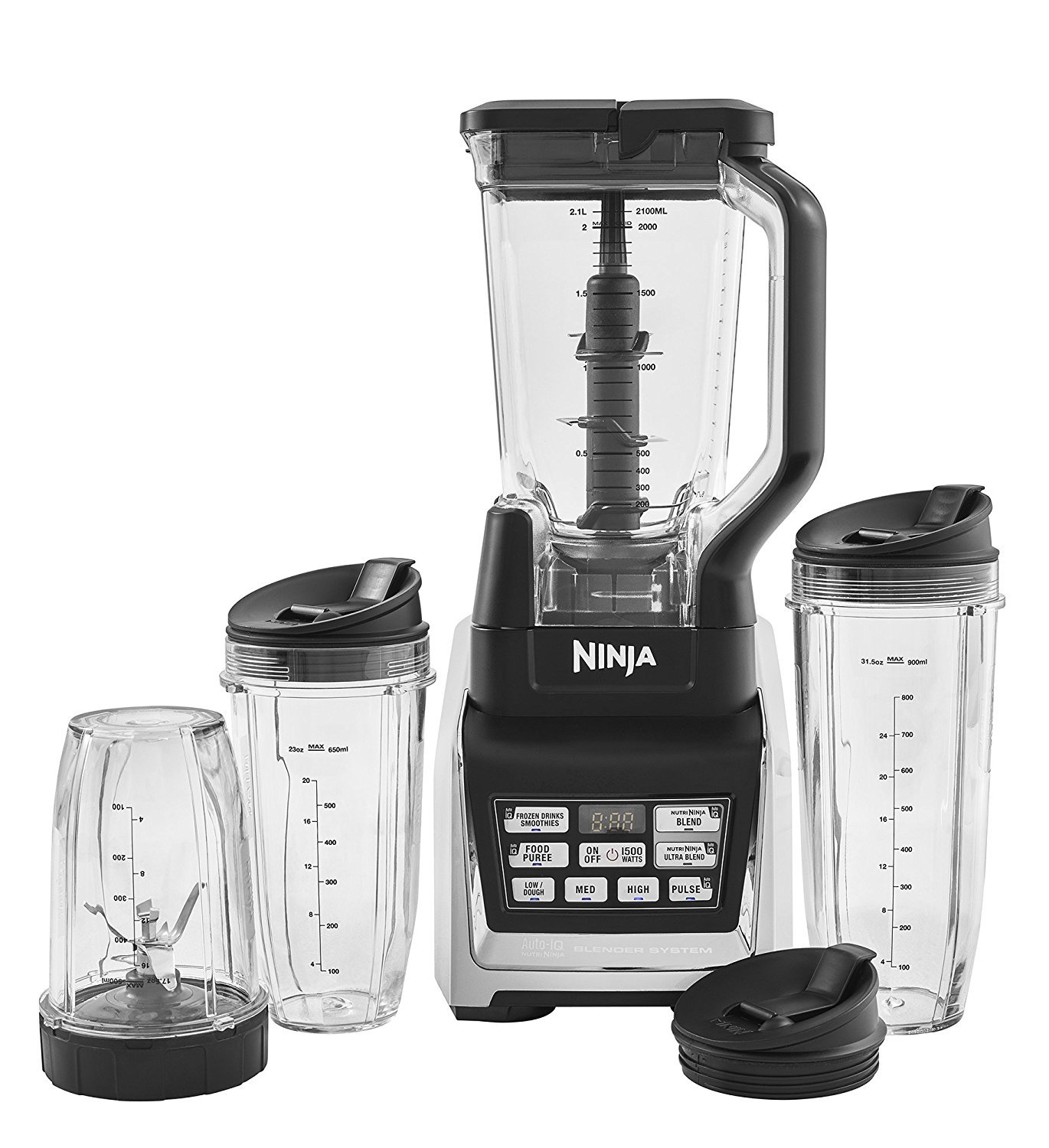 Fed up of the rubbish blender you have stuffed away somewhere in your kitchen cupboard, that you only take out as a last resort and then wonder why you bothered because it can't even blend water, I mean like seriously?
Then I highly recommend the Nutri Ninja. If you get the one with the food processor bowl, it will do everything you could possibly need a blender/food processor to do, from blending, to chopping, to shredding, it even grates, which is perfect for things like these Syn Free Crispy Golden Hash Browns. The auto IQ technology is really clever too, it will blend to a set pattern depending on what you are making, meaning no lumps or bits in your soup, sauces, smoothies etc. If you are thinking of purchasing a new blender either for yourself or as a gift I can't recommend this enough. It's a much cheaper option compared to the Vitamix or Blendtec blenders.
Click here to view on Amazon.
If you want something smaller and cheaper because you don't have the counter space. This Russel Hobbs Immersion Stick Blender is a great option too.
Click here to view this on Amazon
---
Make Slimming World Syn Free Chips with Minimal Effort
With a Tefal Actifry or Philips Airfryer, long gone are the days when you could only make syn free chips by parboiling potatoes and having to constantly watch them in the oven, rotating them yourself to get an even crispness. The actifry or airfryer will do all that hard work for you, meaning you can get on with preparing the rest of dinner. But don't stop just there. the actifry can actually be used for various other things, like cooking chicken, sausages, risotto, stir fries etc, including this AMAZING Salt and Pepper Chicken and Breakfast Hash. It might be time to add one to your Christmas list if you don't yet own one. 
Click here to view this on Amazon.
and if you want to cut down on even more time, these handy Potato Chippers are great. You don't even need to peel the potatoes, just chop them straight as they are and save even more time.
Click here to view this on Amazon.
---
Waffle EVERYTHING!!
When I say waffle everything, I am totally serious. You can cook so many different things in a waffle maker. Just check out all my sweet and savoury Waffles Recipes for example. I  have seen them used to grill chicken, cook fried eggs (what the??) and a variety of other amazing (or strange) things. I do recommend one like this Andrew James Waffle Maker which has a temperature control, as you will need to adjust the temp for certain things.
Click here to view on Amazon.
---
Increase the Speed Foods with a Veggie Spiralizer
If you struggle with getting speed foods onto your plate, one of these is a great gadget to have, it will spiral almost all vegetables, and you can use the spiralized vegetables in place of pasta, noodles etc or make Syn Free Curly Fries.
Click here to view on Amazon.
---
Make your own lattes with the 
Nespresso Lattissima Touch Automatic Coffee Machine
I love our latte maker, it's great for making syn free lattes or cappuccinos in your own home, by just using your Healthy Extra A Choice.  You can also add flavourings with some Skinny Syrups or a drizzle of Sweet Freedom Choc Shot for 0.5 syns teaspoon.
Click here to view this on Amazon.
and if you like tea or coffee, a pretty mug is always a great gift for anyone. I love this Denby Halo Rimmed Mug.
Click here to view this on Amazon.
---
Get motivated with a Happy Planner
I have one of these Happy Planner Journals and I love it, you customize it with all kinds of accessories, either official Happy Planner Add-Ons, or make your own, or even use some pretty gel pens. It's great for recording your meal plans, food diary, fitness diary and thoughts and feelings. Not too big too, so can be popped into your bag and carried around with you. Various designs to choose from as your starter kit too. I have the Happy Planner fitness pack.
Click here to view this on Amazon.
---
Bomb Cosmetics Cherry Bathewell Gift Set
For all the bath lovers - nothing like a relaxing long soak in the bath. There are various sets to choose from. So cute, right?
Click here to view this on Amazon.
---
Le Creuset Cast Iron Pan
I have various cast iron pans and love them for cooking in. The added bonus that they can be used on a stove or transferred to the oven. I am definitely treating myself to a new Le Creuset Casserole Dish in the new year, but it would make a perfect Christmas for someone too.
Click here to view this one Amazon.
---
Make Up Brush Set - for the makeup lovers out there.
This pretty set with a case would make an amazing gift. You can never own too many Makeup Brushes or makeup for that matter.
Click here to view this on Amazon.
---
The Amazon Echo Dot
I am not sure I should even recommend one of these, it certainly comes in handy and can be fun for the whole family, when asking Alexa various questions, but it can also be rather annoying, when Alexa, answers a question you haven't even asked her.  It's especially useful to use in the kitchen while cooking - need to know how many millilitres in a cup?  Just ask Alexa hands-free, no need to even wash your hands!  It's a popular device though and now with the upgraded Amazon Echo (2nd Generation) it's even better than before!
Click here to view this on Amazon. 
---
Colouring Book and Pens
Colouring is not just for kids, it can be quite therapeutic and fun for adults too. If you struggle with keeping occupied and raiding the snacks, it's a great hobby to consider. There are some beautiful books out there too, but one of my all-time favourites is Johanna Basford, and she released this beautiful book - Ivy and and The Inky Butterfly a few months back. It would make a great gift for someone too.
Click here to view this on Amazon.
If you are wondering what type of pens to use for these type of books. I highly recommend the Staedtler Triplus Fineliners, which have a great selection of colours and great for filling in those fine lines.
Click here to view this on Amazon.
---
Some Comfy Ugg Dakota Slippers
These are so comfy you will want to wear these indoors and outdoors, a perfect gift for anyone, you can even get men's Ugg Ascot Slippers too.
Click here to view these on  Amazon.
---
SpiceNTice World Recipe Gift Set
These SpiceNTice Spices are hugely popular among Slimming World members. There are various to choose from, but this little gift set would make a great present for someone following the plan.
Click here to view this on Amazon
---
A great few suggestions there, what are some of your favourite things you would recommend? Comment below, I'd love to hear them. It might give me some more ideas for gifts to buy.
Merry Christmas!!!
Disclosure: This post may contain affiliate links. As an Amazon Associate and member of other affiliate programs, I earn from qualifying purchases. We are a participant in the Amazon Services LLC Associates Program, an affiliate advertising program designed to provide a means for us to earn fees by linking to Amazon.com and affiliated sites." Check Legal section, for Full Disclaimer, Disclosure and Privacy Policy.