This delicious Thai Coconut Shrimp Noodle Soup is ready in less than 20 mins, made with fresh ingredients and tastes amazing!!
Today was grocery shopping day and it took forever.
Being a foodie means grocery shopping never involves a quick dash around the grocery store, much to hubby's disgust. It also rarely involves one grocery store as I like to go to various different places if I have certain meals or recipes planned for the week.
This time of year is my favourite time for grocery shopping, as it's slowly getting into Pumpkin season which means the little sugar pumpkins are available and they are my favourite thing for soups, Pumpkin Pancakes, Pumpkin Waffles, Pumpkin Oatmeal, Pumpkin Granola, Pumpkin Doughnuts and a whole other load of recipes.
I grabbed two today, as we still have quite a few weeks of them being available so I will probably grab a few more next week. I  like to make up my own pumpkin puree when they are in season so I can add some to the freezer, it comes in super handy for those recipes above.
If you have only ever tried a carving pumpkin and hated it, you have been doing it all wrong. Carving pumpkins are really not the best for eating, They taste pretty awful actually compared to these little small sugar (or Pie) pumpkins, so don't write pumpkin off altogether until you give one of these a try.
The other thing I love about this time of year is that lots of different winter squash are available. Squash is a speed food, so it's a perfect way to add speed foods to your plate and of course we lots of different varieties now available, you don't have to stick to the usual butternut squash.
I really recommend next time you go to the grocery store, to add a few things to your cart that you haven't tried before, and by that, I mean fruit or vegetables, not chocolate or candy lol. It's great for keeping things interesting and encourages you to eat a lot more healthy foods.
So once we got home and I got all the grocery's away, I really needed something quick for dinner.
My instant pot always comes to the rescue at times like that and tonight it was making me a delicious Thai Coconut Shrimp Noodle Soup.
If you haven't heard of an Instant Pot you are seriously missing out. It is the best kitchen gadget I have purchased. I would even put it above my actifry and that's saying something.
It is basically a 7in1 cooker, and it slow cooks, pressure cooks, saute's, has settings for soup, chilli, rice, porridge and even makes yoghurt (I haven't tried that yet).
Check out my other: Instant Pot Recipes
Click here to read more about the instant pot on Amazon
This Thai Coconut Shrimp Noodle Soup is pretty quick and easy on the stove top too, but when busy like today, I just find using the instant pot so much easier than turning on the stove.
For the base of the Thai Coconut Shrimp Noodle Soup, I quickly whizzed up the paste  in my little mini Cuisinart food processor which is very much like this Koolle one below: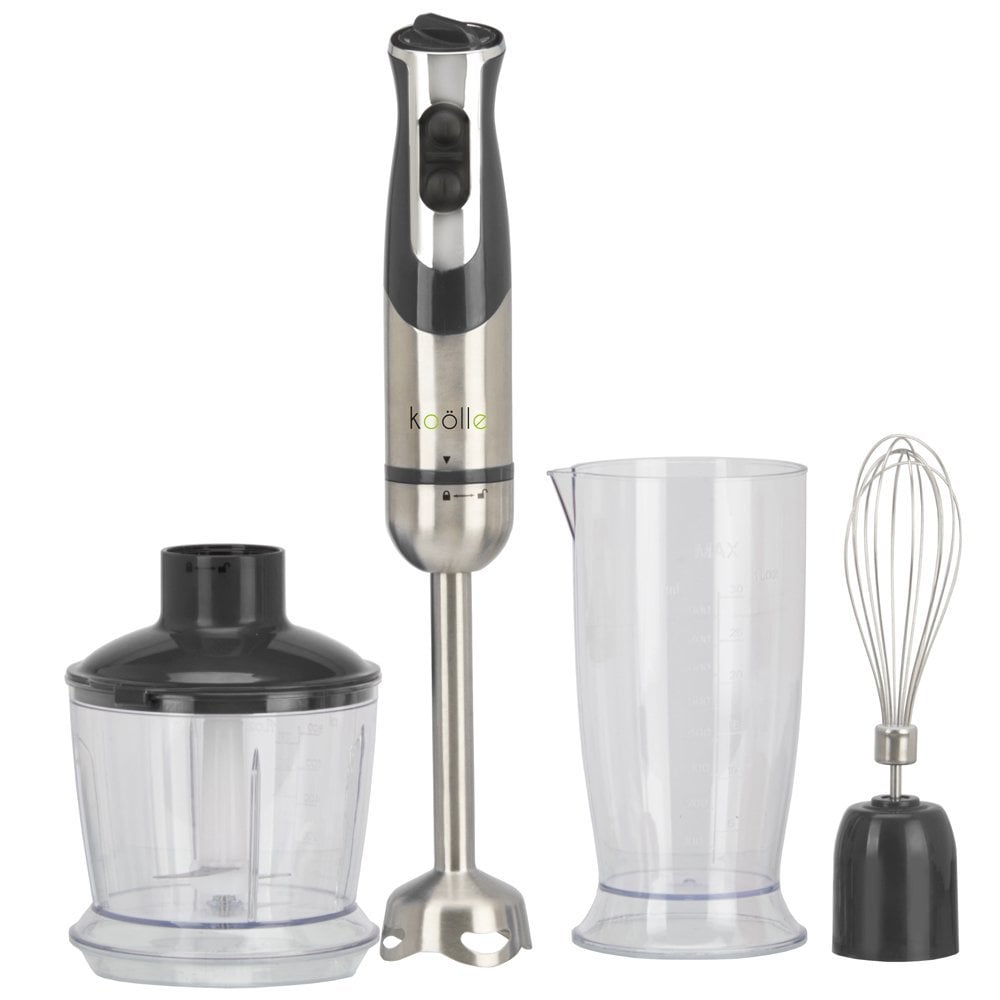 It comes in super handy when you want to chop or blitz a few ingredients, that would not be enough to add to a regular sized blender.
Click here to see the Koolle Electric Powerful 3-in-1 handheld electric stick blender on Amazon 
For the paste for this Thai Coconut Shrimp Noodle Soup, I use fresh lemongrass. Which is important to prepare correctly first. To do that, I just slice off each end and then you want to remove the stiff outer leaves, so you get into the fresh softer inner leaves. Then you can chop and add to the blender along with the chilli's, coriander, garlic, ginger, scallion and juice of a small lime. I also add a little bit of sukrin gold (another sweetener of choice will work, I just prefer to use sukrin, as it's natural and has no aftertaste).
I also add some fish sauce, this packs great umami and flavour into a soup like this, but I don't add it into the food processor, you can add it to the soup with the other ingredients, prior to cooking.
Vegetables are totally up to you, I just used what was on hand, which was carrots and sugar snap peas and they worked perfectly.
My choice of protein, of course, was shrimp, but if you don't like shrimp, you can swap out for chicken, or even keep it all veggie.
Then the noodles I choose to use are rice noodles, which are perfect for this kind of soup.
Don't worry if you don't have an instant pot, I am also included instructions on how to make this Thai Coconut Shrimp Noodle Soup on the stove top.
Print
Thai Coconut Shrimp Noodle Soup (Instant Pot and Stove Top)
Yield 4 servings
This recipe is dairy free, gluten free, Slimming World and Weight Watchers friendly
Extra Easy - 3.5 syns
WW Smart Points - 9
Gluten Free - ensure noodles are gluten free
Ingredients
For the paste:
1 scallion
2 cloves of garlic
1 tbs of fresh ginger root
a handful of fresh cilantro (coriander)
2 green chilli's
1 fresh lemongrass stalk, trimmed and out dried leaves removed. 
1 tbs of sukrin gold (or another sweetener of choice)
juice of a small lime
For the soup:
24 large raw peeled shrimp
100g (3.5oz) of rice noodles, dry
1 tbs of fish sauce
4 cups (960ml) of chicken or vegetable stock (broth)
1 can of light coconut milk - 12.5 syns
2 cups of sugar snap peas
2 carrots, halved and sliced thinly into strips
fresh chopped cilantro (coriander)
black pepper
spray oil
Instructions
Add the ingredients for the paste to a mini food processor and pulse until it is all finely chopped like a paste.
For the Instant Pot:
Set instant pot to saute mode 
Once hot, spray with spray oil
Add the paste and fry for a few minutes just to infuse the flavour.
Add the stock, fish sauce, sugar snap peas and carrots and stir to combine.
Add in the rice noodles
Add lid, close valve and set to 3 mins high pressure.
Once cooked allow a quick pressure release.
Set to saute mode, pour in coconut milk and shrimp and heat until shrimp are cooking through (couple of mins)
Ladle into bowls, top with chopped cilantro and season with black pepper. 
For the stove top 
Heat a deep pot over a medium high heat
Spray with spray oil
Add the paste and fry for a couple of mins just to infuse flavor. 
Add the stock, coconut milk, fish sauce, sugar snap peas and carrots and stir to combine.
Bring to a boil add in the noodles and cover and simmer for approx 5-6 minutes, until noodles are cooked. 
Add in the shrimp and simmer until shrimp are cooked through.
Ladle into bowls and serve topped with chopped fresh cilantro and black pepper.
Enjoy!!
Notes
When making this in the Instant Pot, I prefer to add the coconut milk add the end with the shrimp.
If you prefer you can swap out the shrimp for chicken or additional veg. I recommend browning the chicken first, then add the paste, as it will need slightly longer to cook than the shrimp.
Nutritional information is an estimate and is to be used for informational purposes only.
Ingredients can vary greatly from brand to brand and therefore it would be impossible to give accurate information. Also, double-check syn values of synned ingredients as different brands can vary. 
All images and content on Slimming Eats are copyright protected.
If you wish to share this recipe, then please do so by using the share buttons provided. Do not screenshot or post recipe or content in full
Check Legal section, for Full Disclaimer, Disclosure and Privacy Policy
Nutrition Facts
Serving Size 1
Amount Per Serving

Calories 330

% Daily Value

Total Fat 7.3 g

11%

Saturated Fat 5.5 g

28%

Cholesterol 78 mg

26%

Sodium 907 mg

38%

Total Carbohydrates 49.6 g

17%

Dietary Fiber 2.2 g

9%

Sugars 2.2 g

Protein 15.6 g

31%
* Percent Daily Values are based on a 2,000 calorie diet. Your daily values may be higher or lower depending on your calorie needs.
It is the responsibility of the Reader to assure the products or ingredients they use in any recipes from Slimming Eats are allergen-free (gluten-free, egg-free and/or dairy-free, for example) or Vegetarian friendly. Slimming Eats assumes no liability for inaccuracies or misstatement about products, opinions or comments on this site.
Nutritional information is an estimate and is to be used for informational purposes only
Looking for some additional support on your weight loss journey? Did you know Slimming Eats has a friendly Slimming World Facebook Support Group where you can get daily meal ideas and recipe ideas? Come and check us out, we'd love to have you join.
Looking for some other recipes? Head on over to my RECIPE INDEX for over 850 Slimming World & Weight Watchers recipes for you to browse through, all fully searchable by meal type, Ingredients, syn value and WW Smart Points etc
DID YOU

 

make

THIS

 

RECIPE

? I'D

 

LOVE

 TO SEE IT!
Snap a photo and hashtag #slimmingeats or tag me @slimmingeats on INSTAGRAM
Are you on facebook? Then be sure to come and like me on FACEBOOK
All images and content on Slimming Eats are copyright protected.
If you wish to share this recipe, then please do so by using the share buttons provided. Do not screenshot or post recipe or content in full.
* Disclosure: This post may contain affiliate links. We are a participant in the Amazon Services LLC Associates Program, an affiliate advertising program designed to provide a means for us to earn fees by linking to Amazon.com and affiliated sites." Check Legal section, for Full Disclaimer, Disclosure and Privacy Policy.