Tuna Sweet Potato Cheddar Patties - make these delicious patties with a few simple ingredients for a tasty lunch at home or on the go.
Tuna Patties
I love making patties and tuna is one of my favourite ingredients to use as I always have a can or two on hand in my pantry and it's a fish I know the kids will love too.
With just a few additional ingredients to make the patties hold together and add some more flavour, these are super easy to make and great for lunches with a salad, as a side to soup, or even in a packed lunch or picnic for a healthy filling lunch on the go.
Why Sweet Potato?
You may be wondering why I use sweet potato and not regular potato. The great thing about sweet potato it has a natural sweet taste to it and the slight sweetness with the tuna and cheddar is a perfect combination and because it is still a starchy vegetable it holds together well as a pattie.
Sweet potatoes are also a Low GI food compared to regular potatoes which are high GI. Which means they are a healthier choice all round.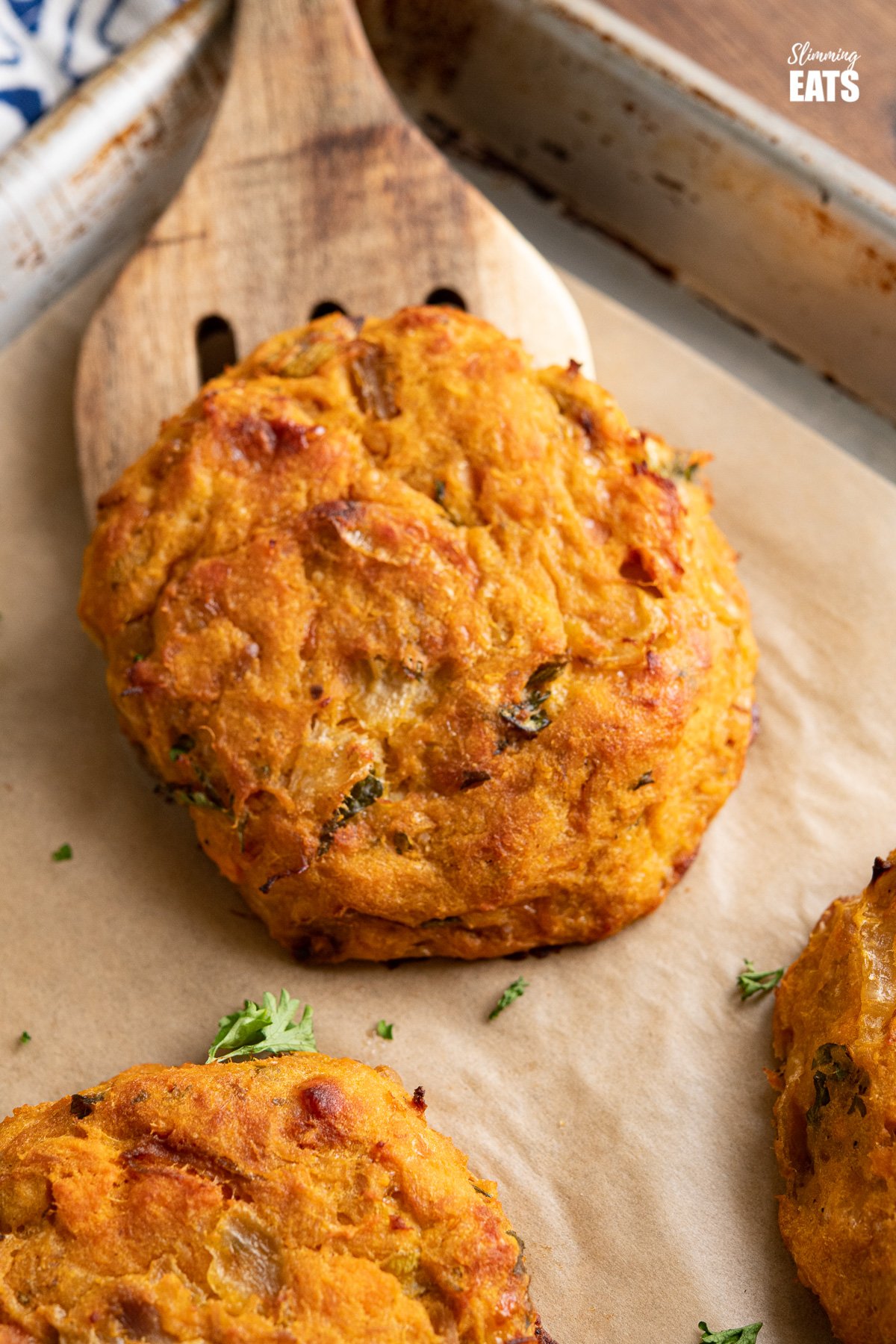 Can I use regular potato?
But what if you don't like sweet potato and really want to make these patties, then regular potatoes are perfectly fine too.
Just make sure you pick a variety of potato that is waxy instead of floury, floury potatoes can tend to be a bit dry and so may make the patties taste a bit dry too, whereas waxy potatoes tend to have a much more buttery flavour to them. My favourites are yukon golds (a semi waxy potato), in the UK Elfe potatoes are a similar variety.
Can I use other fish?
I use cheddar because it was what I had on hand and well we all love tuna melts right, which are a perfect combination, so tuna just seemed the best option for that sweet potato and cheddar mix.
But salmon or even white fish would work well too, just remember to up the season if you use white fish as tuna and salmon tend to have more flavour.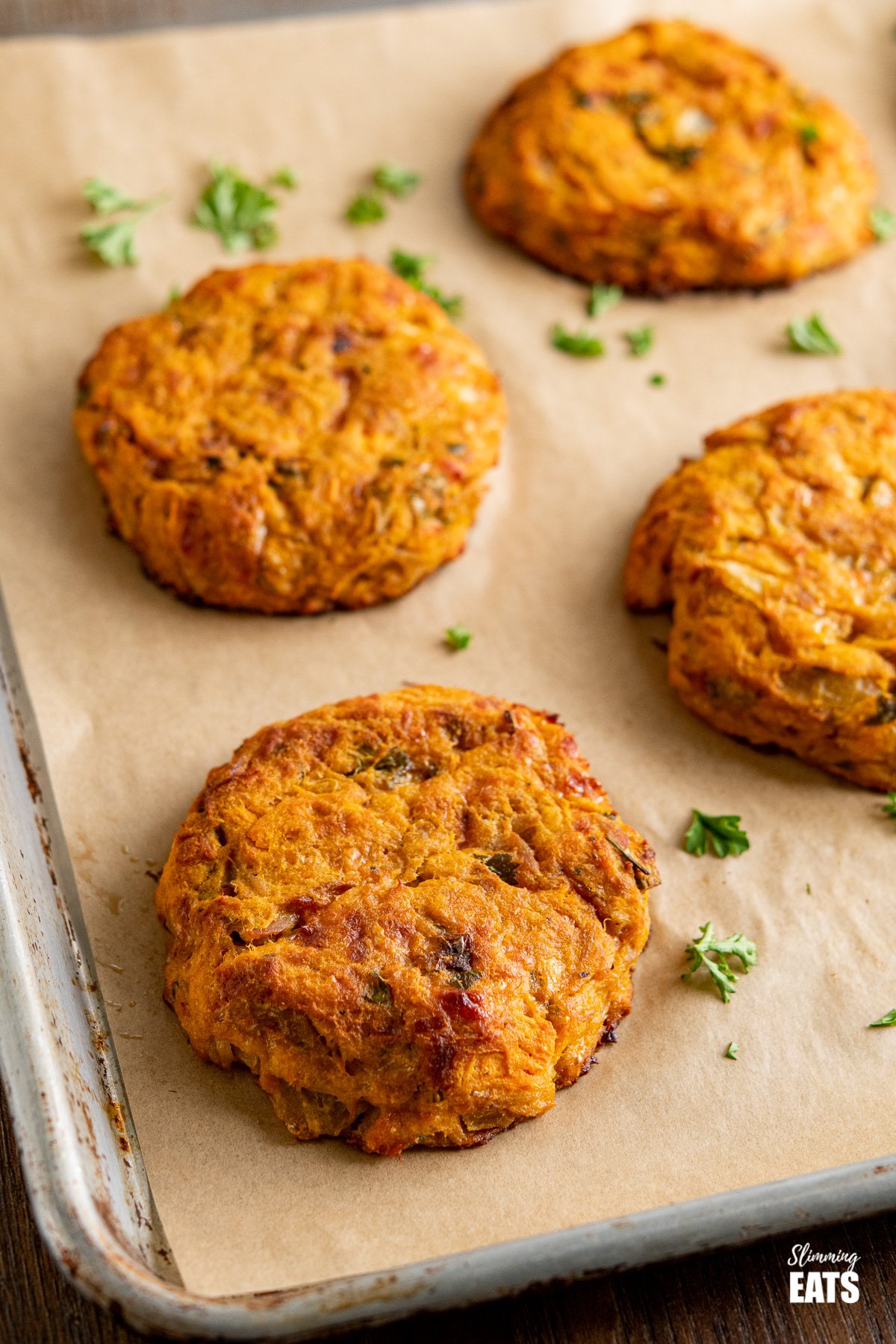 Can you omit the cheese?
If you are dairy free or just don't like cheese you may be wondering if you can omit the cheese from these patties. The cheese in this recipe does help the finished pattie hold together, so rather than mess around with this recipe. I would instead make these Tuna and Sweet Potato Patties which have no cheese or dairy in the recipe.
Can I freeze the Tuna Sweet Potato Cheddar Patties?
Wondering if these can be frozen? You will be pleased to know they sure can. I allow to cool and then place squares of wax paper in between the patties and then freeze. The wax paper stops them from sticking together and makes it easier to remove just one or two as you want them.
You can then just warm up in a pan, in the oven or microwave until heated through.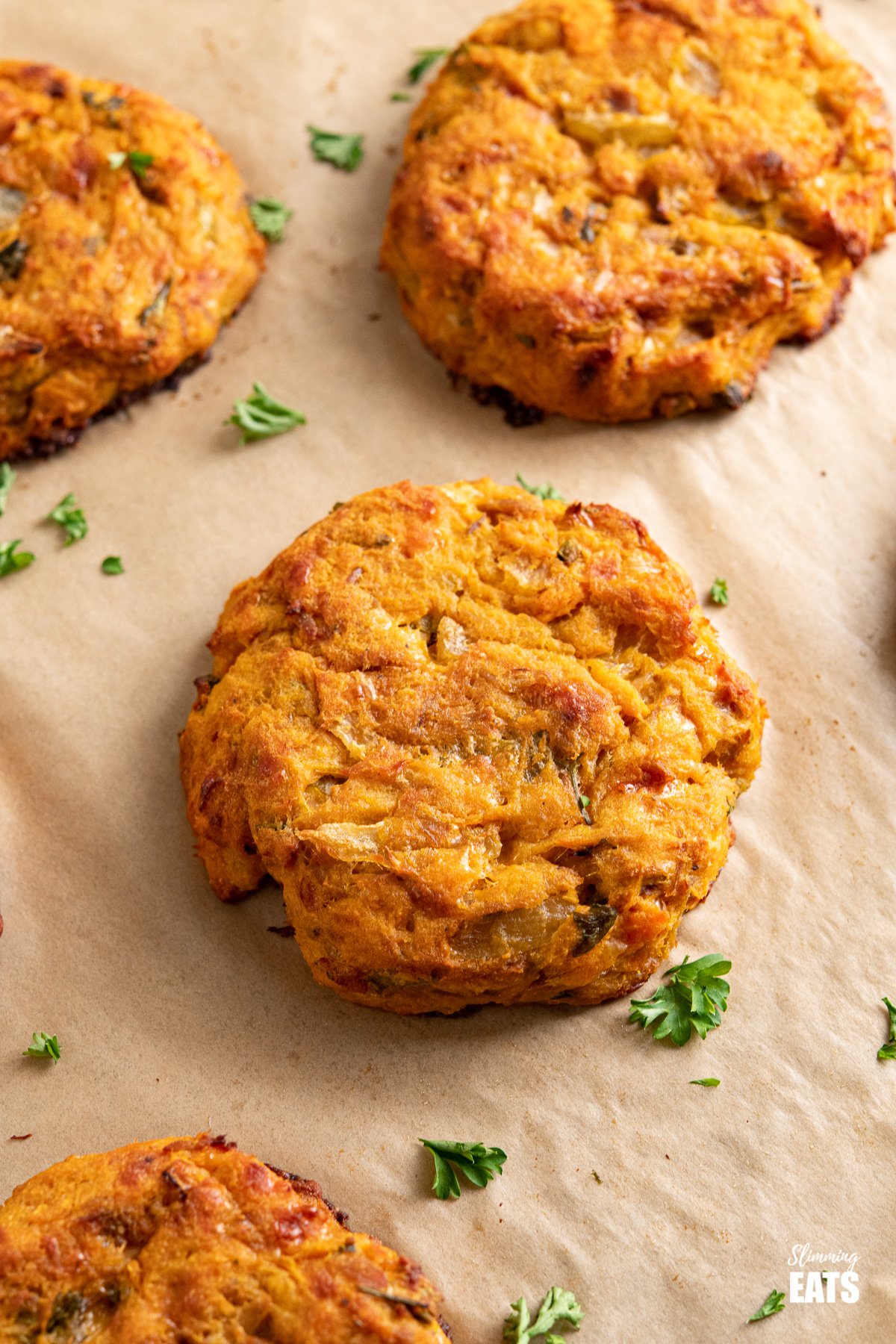 Sides for Tuna Sweet Potato Cheddar Patties
Wondering what to serve these with? I just like a simple salad of baby greens or arugula, red onion, cucumber and some mayonnaise or occasionally I will make these Louisiana Remoulade to go with them. It is super yummy as a dipping sauce.
If you don't fancy these with a salad another great choice is as a side to some soup and there are plenty to choose from in the Soup Recipes section.
More Tuna Recipes
Got several cans of tuna in your pantry and wondering what else you can make? Check out these recipes:
or head on over to my Full Recipe Index with over 900 delicious Slimming Eats and Weight Watchers friendly recipes all fully searchable by meal type, ingredients and smart points etc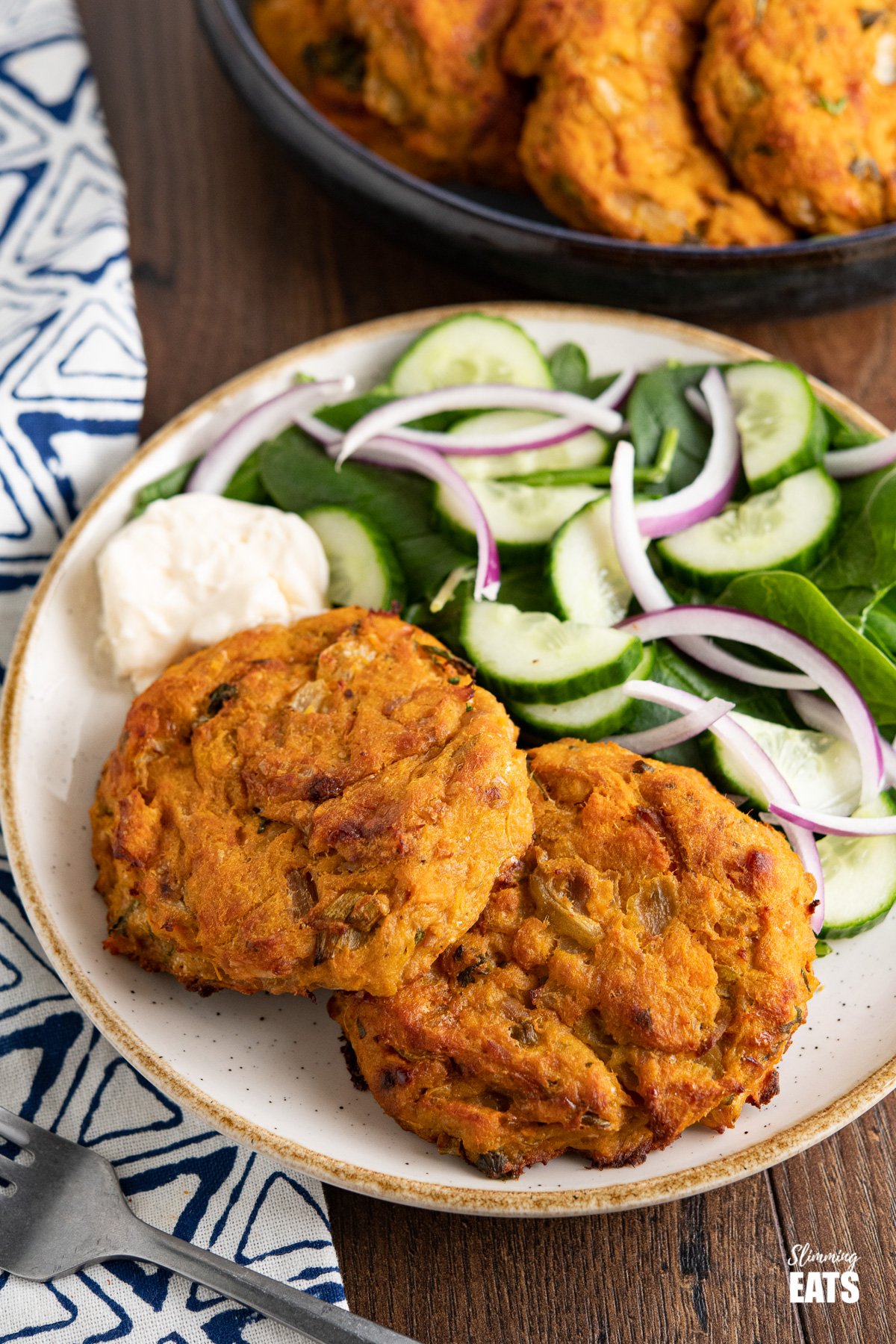 ---
LET'S CONNECT!!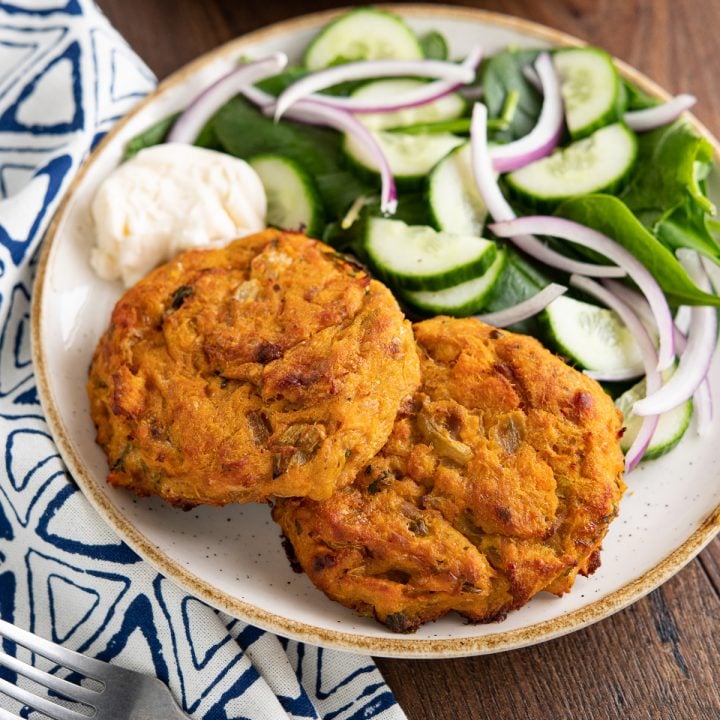 Tuna Sweet Potato Cheddar Patties
Tuna Sweet Potato Cheddar Patties - make these delicious patties with a few simple ingredients for a tasty lunch at home or on the go.
Ingredients
700g of sweet potato, raw
240g of canned tuna (drained weight)
1 small onion, diced finely
1 teaspoon of dijon mustard
1 teaspoon of onion powder
½ teaspoon of garlic powder
2 large eggs, beaten
120g cheddar, grated
2 spring onions, chopped
1 tablespoon of fresh chopped parsley
Pinch of salt and black pepper
Cooking Oil Spray
Instructions
1. Carefully pierce sweet potatoes with a knife or fork and place in the microwave and cook for 6 minutes on high (may need slightly longer if your potatoes are still hard).
2. Allow to cool slightly, then slice half and scoop out flesh into a bowl and mash roughly with a fork.
3. Preheat oven to 200c/fan 180c/400f or gas mark 6
4. Spray a frying pan over a medium high heat with cooking oil spray, add the onion fry for a couple of minutes until softened and slightly caramelized.
5. Add the onion to the sweet potato, with the tuna, spring onions, parsley, mustard, cheddar, eggs and seasonings and fold until all combined.
6. Form into 8 equal sized patties and then place on a baking tray lined with parchment paper, spray over the top with cooking oil spray.
7. Bake until light golden and firm (approx 30 minutes).
8. Serve with choice of sides and enjoy!!
Notes
Please see below for full nutritional info and additional details about recipe:
Calories - scroll down to nutritional info box
WW Points and other Slimming or Weight Loss programs -   due to plans regularly changing and updating, we recommend calculating with the official tools you get as a member to those plans to ensure accuracy of values. 
If you wish to share this recipe, then please do so by using the share buttons provided at top of this post.
DO NOT COPY AND/OR PASTE FULL RECIPES OR SCREENSHOTS OF ANY CONTENT FROM SLIMMING EATS TO ANY SOCIAL MEDIA OR WEBSITE, IT IS STRICTLY PROHIBITED.
ALL IMAGES AND CONTENT ON SLIMMING EATS ARE COPYRIGHT PROTECTED
Nutritional information etc are an estimate and are to be used for informational purposes only. Ingredients can vary in values from brand to brand and therefore it would be impossible to give accurate information. It is always advised that you calculate values yourself by the ingredients you use and the tools provided to you as a member of the programme you are following.
It is the responsibility of the Reader to assure the products or ingredients they use in any recipes from Slimming Eats are allergen-free (gluten-free, egg-free, soy-free and/or dairy-free, for example). Slimming Eats assumes no liability for inaccuracies or misstatement about products, opinions or comments on this site. 
Check Legal section, for Full Disclaimer, Disclosure and Privacy Policy.
Nutrition Information
Yield

4
Serving Size

1 SERVING (2 PATTIES)
Amount Per Serving
Calories

365
Total Fat

13.2g
Saturated Fat

17.6g
Trans Fat

0g
Unsaturated Fat

8g
Cholesterol

163mg
Sodium

453mg
Carbohydrates

32.6g
Fiber

5.7g
Sugar

8.4g
Protein

25g
Disclosure: This post may contain affiliate links. As an Amazon Associate and member of other affiliate programs, I earn from qualifying purchases. We are a participant in the Amazon Services LLC Associates Program, an affiliate advertising program designed to provide a means for us to earn fees by linking to Amazon.com and affiliated sites." Check Legal section, for Full Disclaimer, Disclosure and Privacy Policy.