Dig into a bowl of this Spicy Roasted Parsnip and Sweet Potato Soup topped with Chickpeas and Feta for a yummy flavour explosion.
First I should explain how this recipe came about. When I have an amazing meal out somewhere, you would not believe the ideas that then start floating around in my head for new recipes. I'd go as far to say, I have even come home before and immediately started cooking up a new recipe, because I can't get the new recipe ideas out of my head. I think it's my creative side, I am an art graduate after all. I only have to eat one amazing meal and then I have several other new recipe ideas.
Well this was kind of one of those times, although I did wait till the next day at least this time, to make up this dish.
Rewind to the day before - I went out for lunch at this lovely little cafe with my good friend and neighbour. I was drawn by the Huevos Rancheros on the menu - not quite Slimming friendly, but it just had to be tried. Tortillas, quinoa, chorizo, salad, feta and yummy Sunny Side up eggs. It really was an amazing dish and I came away and near enough drove myself mad with all the ideas I had for some new recipes.
One of those ideas was this Spicy Roasted Parsnip and Sweet Potato Soup.
Nothing really like Huevos Rancheros, so there you can see what I mean about how one dish can inspire so many more, right?
Let me just say this Spicy Roasted Parsnip and Sweet Potato Soup is the bomb - you get the lovely sweetness of the parsnip and sweet potato with that little bit of kick from the spices and then of course yummy bites of chickpeas and creamy feta. While this soup would be perfectly fine too with out those toppings. I do recommend making the effort to add those, as they really do all combine together for any amazing dish.
You probably already know how I like to make filling meals out of my bowls of soup if you follow me on Instagram (where I share most of my daily meals). I am not one to settle for just a bowl of soup (I will sometimes, if it has a good combination of protein in it already, but if it is just vegetable, you can guarantee I will be adding some yummy foods to the top to make it more satisfying). Some of my favourite toppings for soup is some sautéed garlic kale, just sprinkled on top or some protein like cooked chicken, sausage or shrimp. You can even add cheese (feta, parmesan, cheddar) whatever you think will compliment the soup you are eating.
The good thing about doing this is, it is going to make the dish much more high satiety and so will keep you going for much longer until you next meal and much more enjoyable too.
You can also use dried chickpeas for this if you prefer, they are much more budget friendly, as you can buy a big bag for pretty cheap. Just add them to a bowl, cover fully with water and soak overnight, then drain and rinse fully. Add to a saucepan cover fully with fresh water, bring to a boil, reduce heat and then cover and simmer for approx 1.5 to 2 hours, the chickpeas will be cooked and lovely and creamy in texture. Of course to save time, canned chickpeas are perfectly fine too.
To blend my soup so that it is really smooth, I use my vitamix blender, these are rather expensive but they do go on sale occasionally and are amazing. It makes such smooth sauces or soups. However any form of blender will do the trick, including immersion stick blenders.
You will be pleased to know this Spicy Roasted Parsnip and Sweet Potato soup would be perfect for freezing too (without the toppings of course). I never got to freeze any of this batch, as it was just too good and was enjoyed two days in a row for my lunch - yummy!!
More Soup Recipes
Looking for some more delicious soup recipes? Check out these:
or if you would like more recipe ideas - head on over to the FULL RECIPE INDEX where you will find over 1000 delicious Slimming and Healthy Low Calorie recipes all with estimated calories which you can search by ingredients, course, diet and more..
All with estimated calories for any Slimming or healthy eating plan
---
LET'S CONNECT!!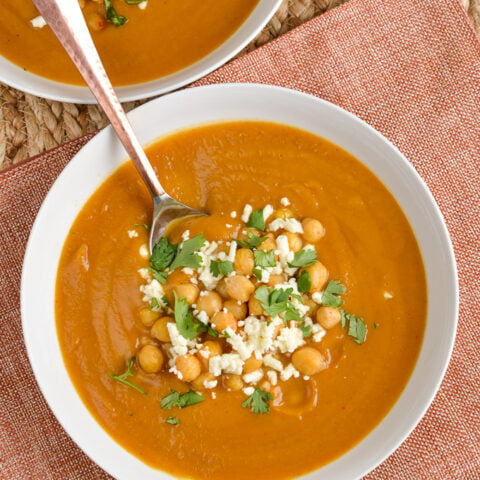 Spicy Roasted Parsnip and Sweet Potato Soup
Dig into a bowl of this Spicy Roasted Parsnip and Sweet Potato Soup topped with Chickpeas and Feta for a yummy flavour explosion.
Ingredients
1 cup (240ml) of canned chickpeas, drained
paprika
sea salt
350g (12.5oz) of sweet potato, peeled and chopped
250g (9oz) of chopped parsnip
1 red onion, finely chopped
2 cloves of garlic, crushed
2 teaspoon of paprika
1 teaspoon of cumin
1 teaspoon of chilli powder
tiny pinch of cayenne pepper
salt and black pepper to season
4 cups (960ml) of chicken or vegetable broth
Feta cheese
fresh chopped coriander (cilantro)
low calorie spray
Instructions
Drain chickpeas fully. Spray with spray oil, sprinkle with a little paprika and sea salt, shake to coat and set aside.
Preheat oven to 220c/425f gas mark 7
Add the parsnip, sweet potato, onion and garlic to a bowl, spray with spray oil, then add the paprika, cumin, chilli powder and cayenne and toss to coat.
Spread out on a tray lined with parchment paper, spray with a little more spray oil and roast in the oven for approx 30-40 mins
When vegetables are almost ready you can make the soup.
Heat the stock and then add to a blender along with the roasted vegetables (or you can use an immersion stick blender)
Season as needed with salt and black pepper.
Serve in bowls and top each serving with ¼ cup of chickpeas, a little feta and a sprinkle of fresh chopped coriander (cilantro)
Feel free to serve just as it is too. If you don't want the toppings.
Notes
If you prefer you can use dried chickpeas for this dish. Just soak overnight in water, rinse and drain, then add to a large pot, cover fully with water, bring to a boil and simmer for about 2 hours covered. They will be cooked and lovely and creamy. You can then coat with the paprika and salt.
Please see below for full nutritional info and additional details about recipe:
Calories - scroll down to nutritional info box
WW Points and other Slimming or Weight Loss programs -   due to plans regularly changing and updating, we recommend calculating with the official tools you get as a member to those plans to ensure accuracy of values. 
If you wish to share this recipe, then please do so by using the share buttons provided at top of this post.
DO NOT COPY AND/OR PASTE FULL RECIPES OR SCREENSHOTS OF ANY CONTENT FROM SLIMMING EATS TO ANY SOCIAL MEDIA OR WEBSITE, IT IS STRICTLY PROHIBITED.
ALL IMAGES AND CONTENT ON SLIMMING EATS ARE COPYRIGHT PROTECTED
Nutritional information etc are an estimate and are to be used for informational purposes only. Ingredients can vary in values from brand to brand and therefore it would be impossible to give accurate information. It is always advised that you calculate values yourself by the ingredients you use and the tools provided to you as a member of the programme you are following.
It is the responsibility of the Reader to assure the products or ingredients they use in any recipes from Slimming Eats are allergen-free (gluten-free, egg-free, soy-free and/or dairy-free, for example). Slimming Eats assumes no liability for inaccuracies or misstatement about products, opinions or comments on this site. 
Check Legal section, for Full Disclaimer, Disclosure and Privacy Policy.
Recommended Products
As an Amazon Associate and member of other affiliate programs, I earn from qualifying purchases.
Nutrition Information
Yield

4
Serving Size

1 serving (without toppings)
Amount Per Serving
Calories

149
Total Fat

0.3g
Saturated Fat

0.1g
Sodium

125mg
Carbohydrates

32.7g
Fiber

6.2g
Sugar

6.7g
Protein

4.6g
Disclosure: This post may contain affiliate links. As an Amazon Associate and member of other affiliate programs, I earn from qualifying purchases. We are a participant in the Amazon Services LLC Associates Program, an affiliate advertising program designed to provide a means for us to earn fees by linking to Amazon.com and affiliated sites." Check Legal section, for Full Disclaimer, Disclosure and Privacy Policy.