Start your day with this quick and delicious Speedy Breakfast Frittata with bacon, tomatoes, spinach all finished off with a little cheddar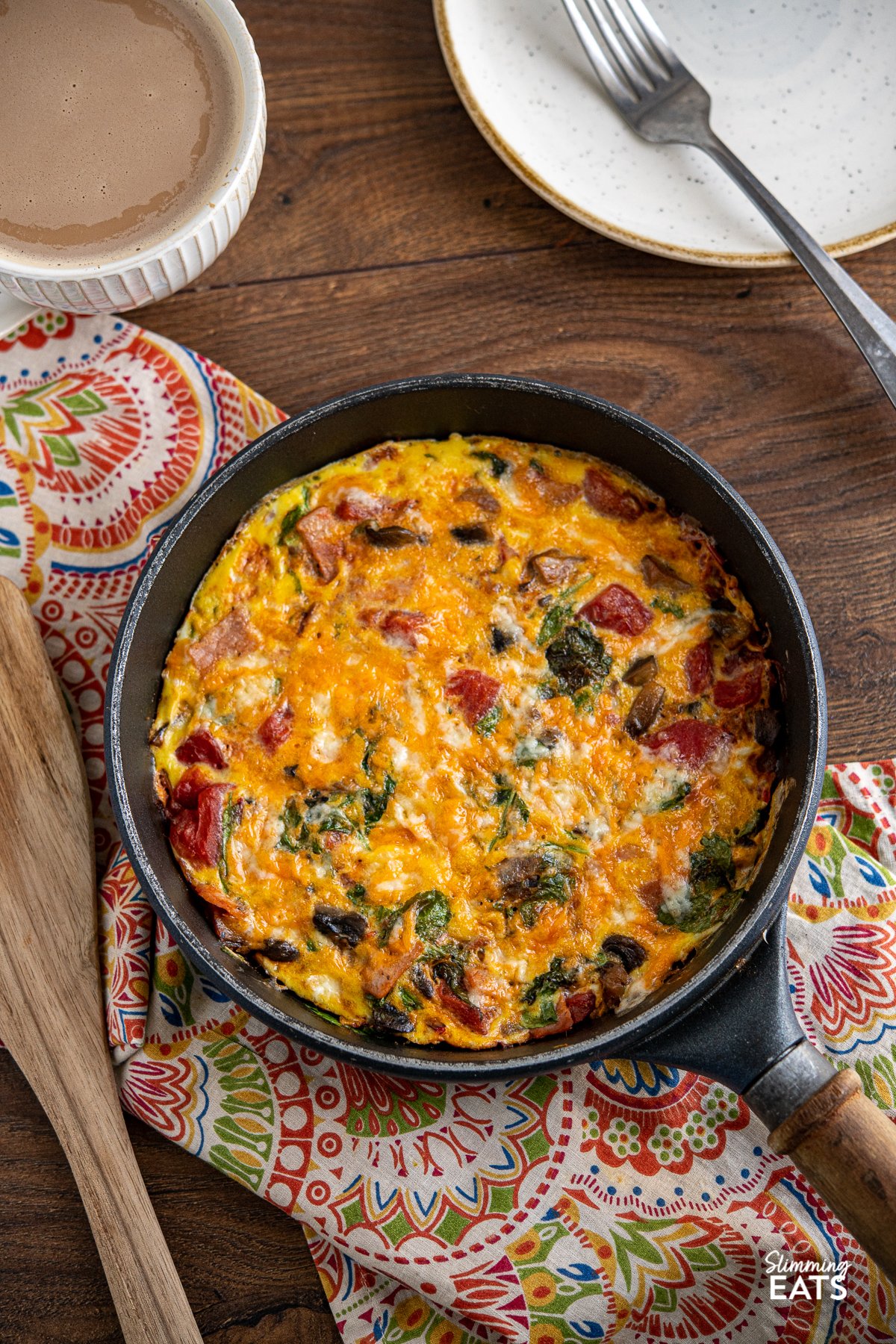 Quick Breakfast Frittata
Whenever I want a quick protein packed breakfast, my go to is these easy 2 egg frittatas. Just enough for a single serving and super quick to make.
Just saute any fillings you want, can be all veggie or you can add in some ham, bacon or sausage and then pour in your eggs, little bit of cheese on top if you like and then just as it's sets off underneath you place the pan under the grill to quickly finish off the top. So easy, filling and delicious.
What is the Difference between a omelette, frittata and quiche?
It's something I often see asked, mainly because they all use similar ingredinets like eggs and a choice of filling. So what exactly is the difference?
Omelettes are generally cooked in just a pan, either plain or with some filling and then folded over to seal all the filling inside.
Frittatas are very similar, but usually are started off on the stove and then finished in the oven or under the grill. The beauty of a frittata is that you don't have to worry about trying to fold or flip.
Quiches generally have a base, often a pastry case, but you can make a crustless version. But then you are probably wondering well isn't that then just a omelette or frittata. I suppose it is similar, but a quiche generally has other ingredients as well as eggs like either cottage cheese which is popular for a low fat version or things like cream for a more calorific version.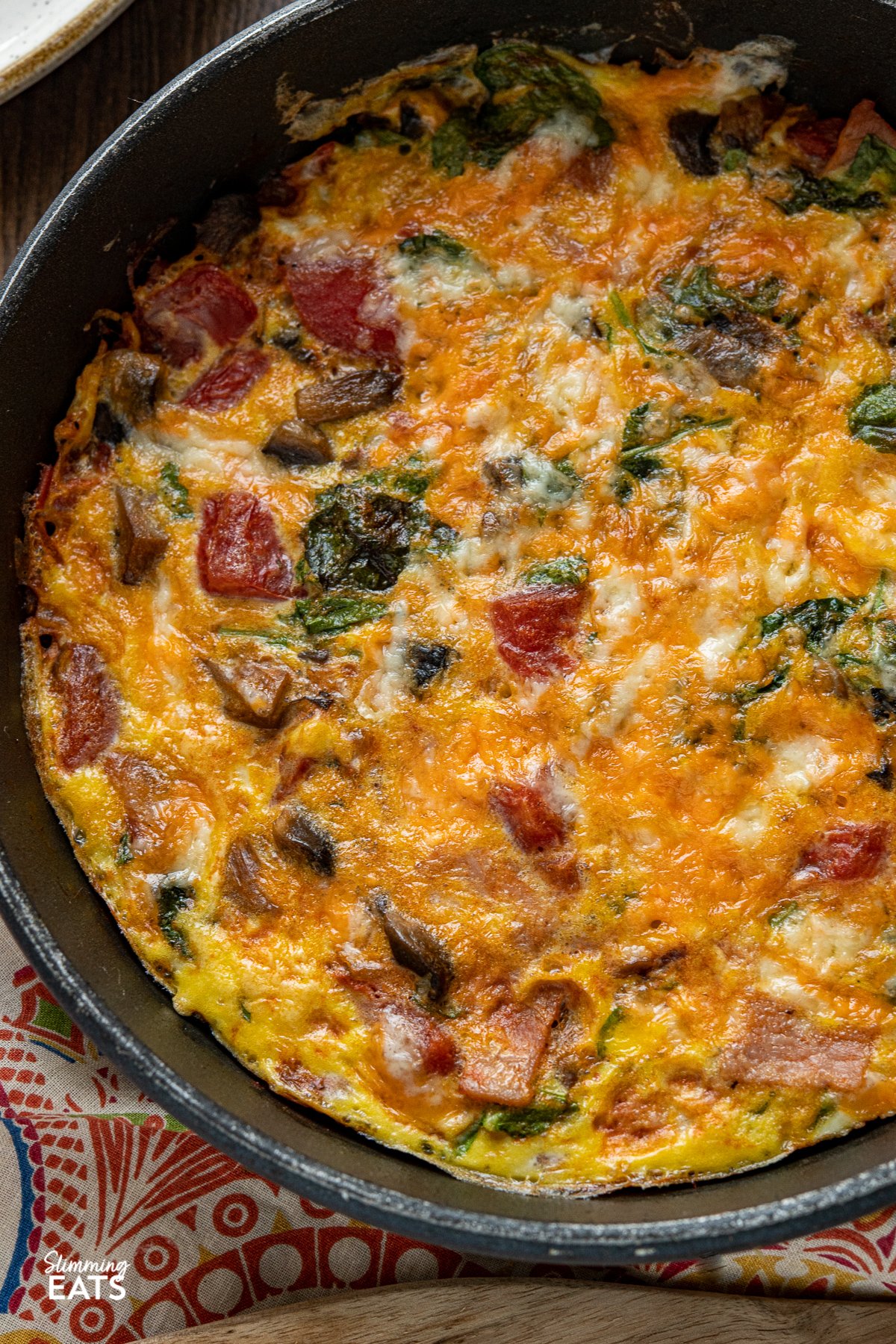 Best Pan for Cooking Frittatas
Any pan than can be used on stove top and in the oven is generally fine. I have a couple of wooden handled pans that I love. They are just the right size too for a single serve frittata.
Whatever pan you use if you are making it single serve like this recipe, then of course you don't want the pan too big. However if you are doubling or tripling up the pan you can use a slightly bigger pan. You just don't want to egg mixture to layer the pan too thin so that it burns or too thick that is takes too long to cook.
Good quality Non stick is also a good choice so that the frittata doesn't stick to the bottom of the pan making it hard to remove.
Cheese in a Frittata
You don't have to add cheese to a frittata if you want to keep the calories lower. Just some veggies and other add ins of your choice are fine.
I like to add a little bit of cheddar or parmesan for that cheesy flavour, you really don't need much, just a small amount grated (about 15g) added to the top is enough.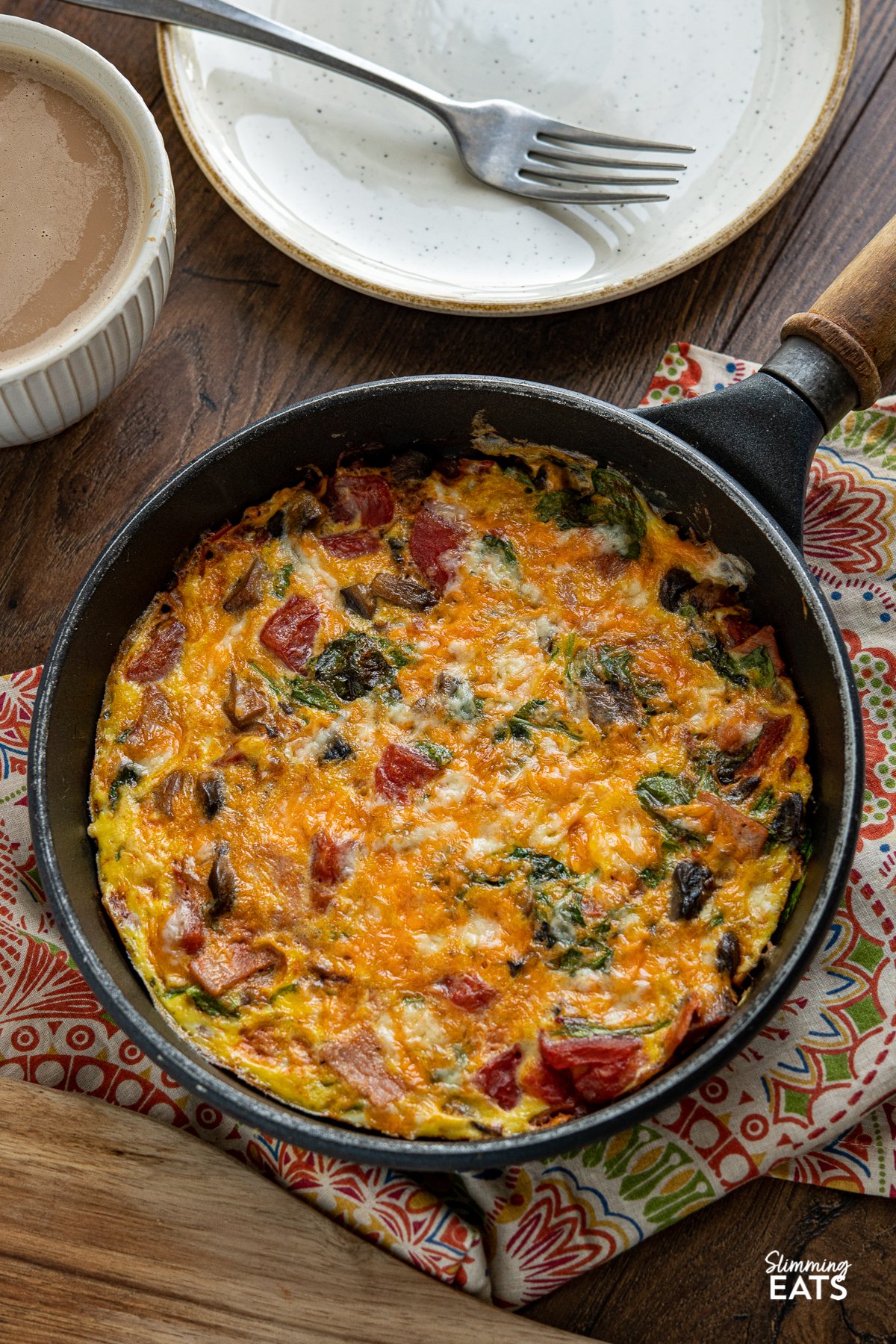 Simple Fillings for Frittata
Feel free to substitute or add your own choice of veggies, there is not right or wrong for this. The only key is to ensure you brown off before adding in the eggs to ensure you don't have lots of liquid that gets released which will make your frittata soggy and watery on the bottom.
Some things I like to add are:
Leftover roasted veg - peppers, onion, zucchini, sweet potato, butternut
Mushrooms
Spinach or Kale
Sauteed Peppers or Onion
Sauteed Asparagus
Cooked broccoli or cauliflower
Peas
Corn
Tomatoes (you defintely want to cook these for a bit to cook off any excess liquid)
Additional protein:
I added bacon for this speedy breakfast frittata, but if you are making for lunch you can really add anything you like:
Bacon
Ham
Cooked Chicken
Salmon
Tuna
Cheese or any kind
Meat Free Substitutes
More Frittata Recipes
Love frittata recipes like this? Check out these:
or if you would like more recipe ideas - head on over to the FULL RECIPE INDEX where you will find over 900 delicious recipes all with estimated calories and you can search by ingredients, course, diet and more..
---
LET'S CONNECT!!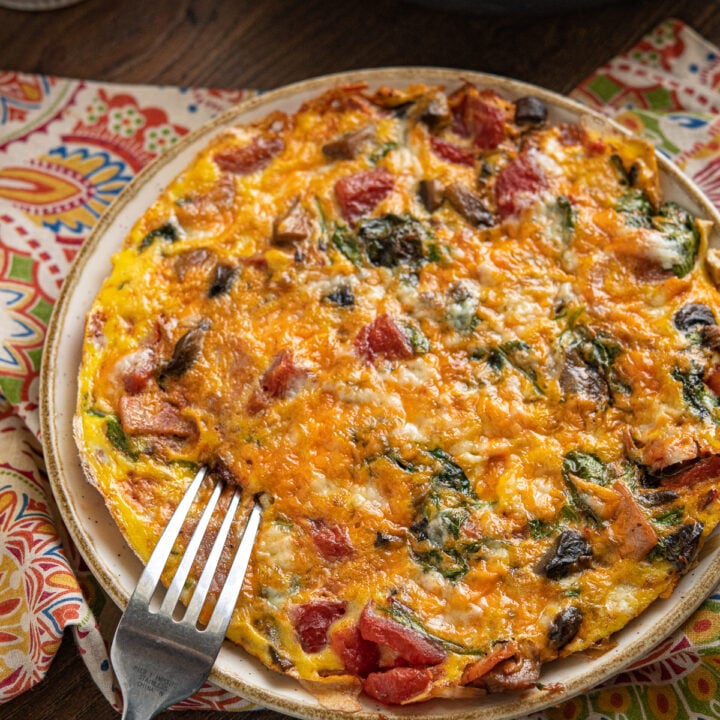 Speedy Breakfast Frittata
Start your day with this quick and delicious Speedy Breakfast Frittata with bacon, tomatoes, spinach all finished off with a little cheddar
Ingredients
1 shallot, diced
2 mushrooms, sliced thinly
2 slices of lean bacon, chopped (can also use ham)
6 tablespoons of chopped tomatoes, canned or fresh
handful of chopped spinach
2 large eggs
salt and black pepper
cooking oil spray
Instructions
Preheat broil/grill
Spray 7 inch frying pan with spray oil
Add shallot, bacon and mushrooms and fry until lightly golden
Add in the tomatoes and cook for a couple of minutes just to cook off any excess liquid that is release.
Add spinach and stir until just wilted.
Spread out evenly along the bottom of the pan.
Season with salt and black pepper.
Whisk the eggs and pour in, swirl across the bottom of the pan, keep on heat for a minute, just to cook bottom.
Sprinkle the grated cheddar over the top.
Place until broil/grill until set and a little golden on top. (approx 4-5 minutes)
Enjoy!
Notes
Please see below for full nutritional info and additional details about recipe:
Calories - scroll down to nutritional info box
WW Points and other Slimming or Weight Loss programs -   due to plans regularly changing and updating, we recommend calculating with the official tools you get as a member to those plans to ensure accuracy of values. 
If you wish to share this recipe, then please do so by using the share buttons provided at top of this post.
DO NOT COPY AND/OR PASTE FULL RECIPES OR SCREENSHOTS OF ANY CONTENT FROM SLIMMING EATS TO ANY SOCIAL MEDIA OR WEBSITE, IT IS STRICTLY PROHIBITED.
ALL IMAGES AND CONTENT ON SLIMMING EATS ARE COPYRIGHT PROTECTED
Nutritional information etc are an estimate and are to be used for informational purposes only. Ingredients can vary in values from brand to brand and therefore it would be impossible to give accurate information. It is always advised that you calculate values yourself by the ingredients you use and the tools provided to you as a member of the programme you are following.
It is the responsibility of the Reader to assure the products or ingredients they use in any recipes from Slimming Eats are allergen-free (gluten-free, egg-free, soy-free and/or dairy-free, for example). Slimming Eats assumes no liability for inaccuracies or misstatement about products, opinions or comments on this site. 
Check Legal section, for Full Disclaimer, Disclosure and Privacy Policy.
Recommended Products
As an Amazon Associate and member of other affiliate programs, I earn from qualifying purchases.
Nutrition Information
Yield

1
Serving Size

1 SERVING
Amount Per Serving
Calories

372
Total Fat

18g
Saturated Fat

7g
Trans Fat

0g
Unsaturated Fat

0g
Cholesterol

395mg
Sodium

406mg
Carbohydrates

8g
Fiber

4g
Sugar

4g
Protein

45g
Nutritional information, values, points etc are an estimate and is to be used for informational purposes only. Ingredients can vary greatly from brand to brand and therefore it would be impossible to give accurate information. It is always advised that you calculate by the ingredients you use.
Disclosure: This post may contain affiliate links. As an Amazon Associate and member of other affiliate programs, I earn from qualifying purchases. We are a participant in the Amazon Services LLC Associates Program, an affiliate advertising program designed to provide a means for us to earn fees by linking to Amazon.com and affiliated sites." Check Legal section, for Full Disclaimer, Disclosure and Privacy Policy.