Enjoy the delicious flavours of this Slow Cooker Thai Peanut Chicken Curry - a delightful family-friendly weeknight sensation made with tender chicken thighs, creamy coconut milk, fiery Thai red curry paste, and the richness of peanut butter.
Slow Cooker Thai Peanut Curry Recipe
I recently welcomed a new addition to my kitchen family: a shiny, new Slow Cooker which boasts a sear/saute option, so I can effortlessly brown the base or meat right in the cooker itself, reducing mess and simplifying cleanup.
To christen this culinary gem, I couldn't think of a better choice than a flavorful curry recipe. As many of you know, curries hold a special place in my heart, and this one did not disappoint. It was a breeze to prepare, and the end result was nothing short of delicious.
I'm thrilled to have my new slow cooker on hand, especially for those hectic days when I need to get a head start on dinner preparations. It's the perfect solution for busy schedules, allowing me to prep a meal earlier in the day and have it ready to enjoy by dinner time.
Jump to: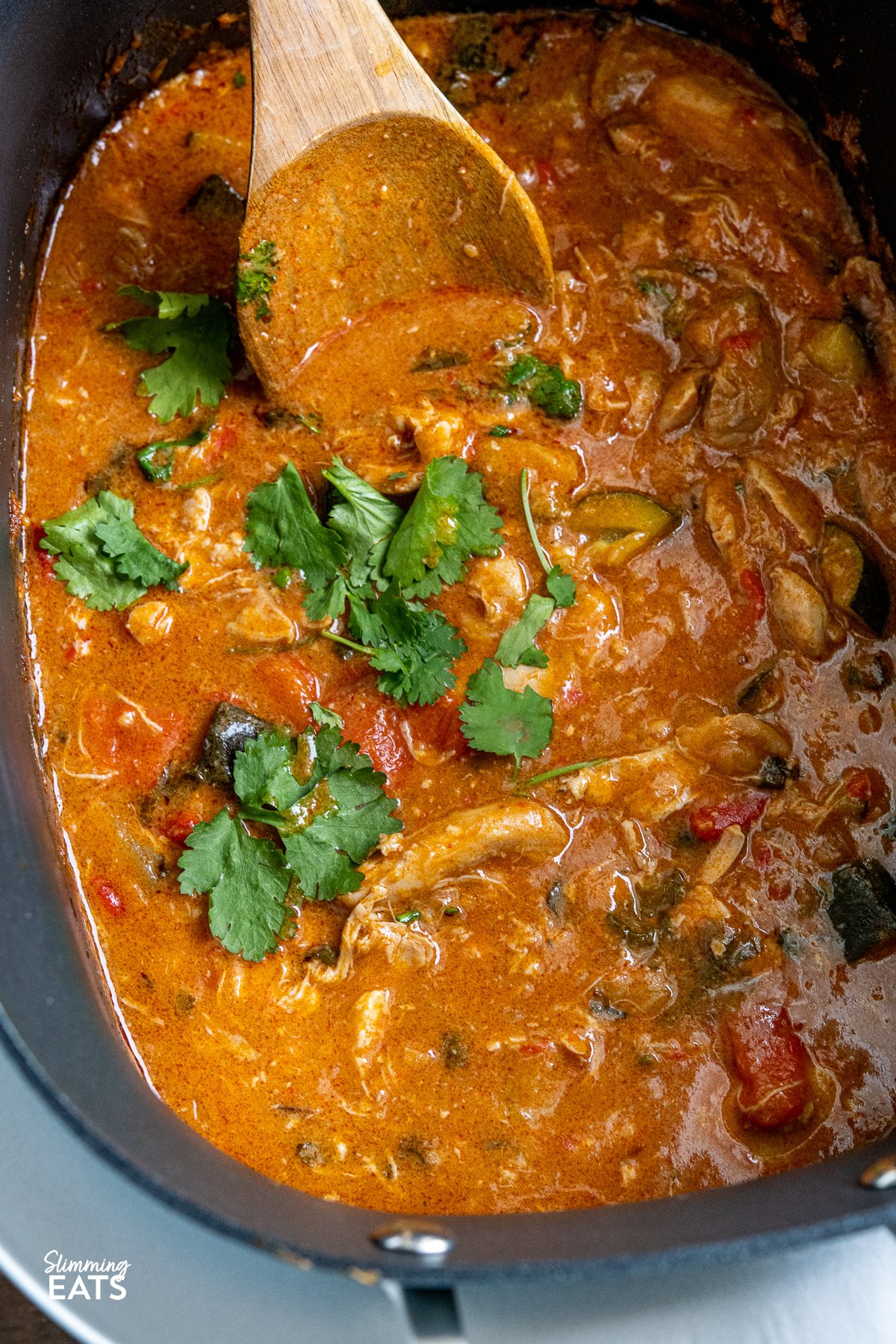 Calories for Slow Cooker Thai Peanut Curry Recipe
Enjoy this delicious slow cooker curry, which serves four people and has 388 calories per serving.
If you're looking for more recipes within the same calorie range, you'll find an abundance of options in my dedicated collection of 300+ calorie recipes.
If you're following a calorie-controlled diet or a healthy eating plan, it's important to calculate your daily calorie intake using a reliable calorie calculator. Please note that the calorie counts provided are estimates and can vary based on specific ingredients and serving sizes. Personalizing your calculations is essential to meet your individual needs. By using a calorie calculator, you can make informed choices and stay on track with your dietary goals.
Ingredients for Slow Cooker Thai Peanut Curry Recipe
To prepare this Slow Cooker Thai Peanut Curry here are some notes on the ingredients use
Garlic, Ginger and Onion - are essential ingredients for the base of most curries. To achieve the best taste, I highly recommend using fresh ingredients.
Boneless Skinless Chicken Thighs - When it comes to making chicken curries in a slow cooker, I prefer using boneless, skinless chicken thighs instead of chicken breast. Chicken breast tends to become stringy, unpleasant, and overcooked in a slow cooker due to its short cooking time.
Thai Red Curry Paste - For an intense flavor, choose an authentic Thai brand of red curry paste. Some supermarket brands may lack flavor in comparison. Personally, I prefer Mae Ploy.
Light Coconut Milk - When selecting coconut milk, opt for light coconut milk in a can. Avoid using carton coconut milk, as it has a higher water ratio and is more suitable for drinking. Aroy-d and Trader Joe's are my preferred brands. Alternatively, you can create light coconut milk by combining two parts water with one part full-fat coconut milk. This ratio is cost-effective, and any leftover milk can be frozen for later use.
Red bell peppers and Courgette (Zucchini) - are the vegetables I usually include in my Thai curry, but feel free to add any vegetables you like. To prevent the courgette from becoming mushy, add it during the last hour of cooking. Keep this in mind if you decide to swap out any vegetables.
Fish Sauce - a crucial ingredient in any Thai curry. Despite its name, it doesn't impart a fishy taste. Instead, it adds fantastic umami flavor to the curry.
Sweetener - To balance the heat and flavors, I recommend using a sweetener of your choice such as a granulated sweetener or honey, maple syrup. While optional, the subtle sweetness complements the spiciness of the curry.
Peanut Butter - In this recipe, I use creamy peanut butter. I haven't personally tried peanut butter powder as a substitute, so you'll need to experiment if you choose to use it. Personally, I believe the fat content in proper peanut butter is necessary for dishes like this. It's worth it.
Lemongrass - I use a tablespoon of lemongrass paste from a tube, as fresh lemongrass can be challenging to find in my area. The tube paste is convenient and tastes just as good as fresh.
Chicken stock - To create a smooth paste that can easily be added to the slow cooker, I whisk a little hot chicken stock with the peanut butter, Thai paste, fish sauce, sweetener, and lemongrass.
Fresh limes, coriander and chopped peanuts - Freshly squeezed lime juice is a must at the end of cooking to balance all the flavors. Optional additions include coriander and chopped peanuts, which enhance the curry's taste and texture.
Low Calorie Spray - For browning the base ingredients, I use a low-calorie spray made from olive oil with no added emulsifiers or other ingredients.
See the recipe card for full quantities.
Once all the ingredients are prepared, you can get ready to make this easy recipe.
Variations on the Recipe
Here are some variation ideas for your slow cooker peanut chicken curry:
Thai Basil Twist: Add a handful of fresh Thai basil leaves to the curry during the last 30 minutes of cooking for a fragrant and herbaceous flavor.
Pineapple Paradise: Add chunks of fresh pineapple or canned pineapple tidbits to the curry to give it a sweet and tangy twist. The pineapple complements the peanut and curry flavors beautifully.
Spicy Kick: If you like your curry on the spicier side, add some diced red or green chili peppers to the slow cooker. Adjust the amount according to your preferred level of heat.
Crunchy Texture: Enhance the texture of the curry by adding sliced bamboo shoots, baby corn, sugar snap peas or other similar vegetables.
Veggie Delight: Replace the chicken with a medley of various vegetables or explore meat replacement options (note: untested in this slow cooker recipe). Customize the curry by experimenting with different vegetables. Add sliced carrots and diced sweet potatoes for enhanced flavor and nutrition. Canned legumes like chickpeas or white beans are excellent substitutes for the chicken and can be effortlessly cooked in a slow cooker.
Creamy Coconut Spin: To achieve a richer consistency, substitute the light coconut milk with full-fat coconut milk. However, keep in mind that this will increase the calorie content of the dish.
Feel free to mix and match these variations or come up with your own creative ideas. Enjoy experimenting and customizing your slow cooker peanut chicken curry to your liking!
Converting to Stove Top
You will find the full instructions for how to cook this in the slow cooker in the. recipe card box below. However, If you don't have a slow cooker but still want to try this recipe on the stove top, here's how you can cook it:
Brown the chicken: Heat a large, deep skillet or frying pan over medium heat. Spray some olive oil spray and cook the chicken thighs until they are browned on all sides. Remove the chicken from the skillet and set it aside.
Soften the onion, garlic, and ginger: In the same skillet, add the onion, garlic, and ginger. Spray more olive oil spray and cook until they are softened.
Add the curry base: Add the peanut butter, Thai red curry paste, chicken stock, coconut milk, fish sauce, lemongrass, and your preferred sweetener to the skillet. Stir over medium heat until all the ingredients are combined into a smooth sauce.
Add back in the chicken: Return the chicken to the skillet along with the bell pepper and courgette (zucchini). Reduce the heat and simmer for about 15 minutes, or until the chicken is cooked through and tender, and the sauce is creamy.
Add cornstarch if needed: Only use cornstarch if necessary. In the slow cooker version, it's needed, but for stove top cooking, you may not require it. If you prefer a thinner sauce or if the sauce becomes too thick, you can add more chicken stock.
Lime Juice: Squeeze in some fresh lime juice to add a tangy flavor. You can also add fresh coriander (cilantro) and chopped peanuts for added taste and texture.
Now you're ready to enjoy your stove top peanut chicken curry!
Sides for Slow Cooker Thai Peanut Chicken Curry
When it comes to serving this delicious slow cooker Thai peanut chicken curry, having the right side dishes can take the meal to the next level. Here are some of my favourite choices of items I like to serve this with.
Jasmine Rice: Serve your Thai peanut chicken curry over a bed of fluffy jasmine rice. The fragrant aroma and delicate flavors of jasmine rice beautifully balance the bold and spicy notes of the curry.
Noodles: Dish up your favorite noodles in a bowl and ladle the curry over them. Whether it's rice noodles, egg noodles, or even udon noodles, their texture and ability to soak up the flavours make them an excellent accompaniment to the curry.
Cauliflower Rice: Opt for a low-carb side by serving cauliflower rice alongside the curry. This grain-free alternative provides a light and nutritious base that complements the richness of the curry sauce. Check out my Roasted Cauliflower Rice Recipe.
Tips for Freezing Slow Cooker Thai Peanut Chicken Curry
Freezing your slow cooker Thai peanut chicken curry is a convenient way to have a delicious meal ready for later. Here are some helpful tips to ensure the best results when freezing this flavorful dish:
Allow the curry to cool: Before freezing, allow the curry to cool completely. This helps maintain the quality and prevents condensation from forming inside the containers.
Use freezer-safe containers: Choose airtight, freezer-safe containers or resealable freezer bags for storing the curry. Consider portioning the curry into meal-sized servings before freezing. This makes it easier to defrost and reheat only the amount you need, minimizing waste. Two-compartment containers are great for freezing alongside cooked and chilled jasmine rice, creating a complete meal.
Label and date: Clearly label each container with the name of the dish and the date of freezing. This way, you can easily identify and track the storage time of your frozen curry.
Freeze promptly: Place the containers or bags of curry in the freezer as soon as they have cooled. Avoid leaving them at room temperature for too long, as this can compromise food safety.
Thawing and reheating: To thaw the frozen curry, transfer it to the refrigerator and allow it to thaw overnight. Once thawed, you can reheat the curry on the stovetop or in the microwave until piping hot. Stir occasionally to ensure even heating.
By following these tips, you can freeze your slow cooker Thai peanut chicken curry effectively, preserving its flavors and textures for future enjoyment.
More Slow Cooker Recipes:
Looking for some other slow cooker recipes? Try these tantalizing slow cooker recipes to make your cooking experience easier and more flavourful. With the convenience of the slow cooker, you'll have more time to enjoy the delicious results.
or if you would like more recipe ideas or sides to make with this recipe - head on over to the FULL RECIPE INDEX where you will find over 900 delicious recipes with calories and you can search by meal type, ingredients, course, diet and more.
---
LET'S CONNECT!
Slow Cooker Thai Peanut Chicken Curry
Total Time:
4 hours
15 minutes
Enjoy the delicious flavours of this Slow Cooker Thai Peanut Chicken Curry—a delightful family-friendly weeknight sensation made with tender chicken thighs, creamy coconut milk, fiery Thai red curry paste, and the richness of peanut butter.
Ingredients
low calorie spray (I used olive oil spray)
1 onion, halved and sliced thinly
3 cloves of garlic
1 thumb piece of ginger, sliced thinly
8 boneless skinless chicken thighs, raw (trimmed of visible fat) - approx 650g/22.5oz
3 tablespoons of Thai Red Curry Paste
3 tablespoons of creamy peanut butter
80ml (⅓ of a cup) of hot chicken stock
400ml can of light coconut milk
1 tablespoon of fish sauce
1 tablespoon of lemongrass paste
1 tablespoon of granulated sweetener (or can use honey or maple syrup if you prefer)
1.5 tablespoons of cornstarch
1 red bell pepper, chopped
1 courgette (zucchini), chopped
salt and pepper, to season
fresh lime, quartered to serve
couple of handful of fresh coriander
Instructions
Brown the onion, ginger and garlic until lightly softened in low calorie spray (I have a sear optio on my slow cooker, if you don't have this option you will need to brown in a frying pan then transfer to the slow cooker.
Add in the chicken thighs.
Mix the Thai red curry paste with the peanut butter, fish sauce, lemongrass and maple syrup with the hot chicken stock until the sauce is smooth and no more lumps are visible.
Add this into the chicken and mix until all coated.
Add in the red bell pepper.
Mix the coconut milk with the cornstarch and pour this into the slow cooker.
Add lid to the slow cooker and cook on high for 2-3 hours or on low for 4-5 hours.
Add the courgette (zucchini) in for the last hour of cooking.
Once cooked squeeze in some fresh lime juice and taste and season with salt and pepper if needed.
Stir in a couple of handfuls of fresh coriander (optional)
Serve each serving with your choice of sides, a lime wedge and some additional coriander.
Notes
Please see below for details about recipe:
Calories - scroll down to nutritional info box
WW Points and other Slimming or Weight Loss programs:  due to plans regularly changing and updating, we recommend calculating with the official tools you get as a member to those plans to ensure accuracy of values
Gluten Free Friendly - use gluten free stock and fish sauce
Dairy Free Friendly
Suitable for Freezing ❄️
Optional: For an extra burst of peanut flavor, you can optionally sprinkle a few peanuts on top. This simple addition adds a delightful crunch and enhances the peanut undertones in the dish.
If you wish to share this recipe, then please do so by using the share buttons provided at top of this post.
DO NOT COPY AND/OR PASTE FULL RECIPES OR SCREENSHOTS OF ANY CONTENT FROM SLIMMING EATS TO ANY SOCIAL MEDIA OR WEBSITE, IT IS STRICTLY PROHIBITED.
ALL IMAGES AND CONTENT ON SLIMMING EATS ARE COPYRIGHT PROTECTED
Nutritional information etc are an estimate and are to be used for informational purposes only. Ingredients can vary in values from brand to brand and therefore it would be impossible to give accurate information. It is always advised that you calculate values yourself by the ingredients you use and the tools provided to you as a member of the programme you are following.
It is the responsibility of the Reader to assure the products or ingredients they use in any recipes from Slimming Eats are allergen-free (gluten-free, egg-free, soy-free and/or dairy-free, for example). Slimming Eats assumes no liability for inaccuracies or misstatement about products, opinions or comments on this site. 
Check Legal section, for Full Disclaimer, Disclosure and Privacy Policy.
Recommended Products
As an Amazon Associate and member of other affiliate programs, I earn from qualifying purchases.
Nutrition Information
Yield

4
Serving Size

1 SERVING
Amount Per Serving
Calories

388
Total Fat

19g
Saturated Fat

7g
Trans Fat

0g
Unsaturated Fat

14g
Cholesterol

208mg
Sodium

917mg
Carbohydrates

20g
Fiber

4g
Sugar

7g
Protein

37g
Nutritional information and values etc are an estimate and is to be used for informational purposes only. Ingredients can vary greatly from brand to brand and therefore it would be impossible to give accurate information. It is always advised that you calculate by the ingredients you use.
Disclosure: This post may contain affiliate links. As an Amazon Associate and member of other affiliate programs, I earn from qualifying purchases. We are a participant in the Amazon Services LLC Associates Program, an affiliate advertising program designed to provide a means for us to earn fees by linking to Amazon.com and affiliated sites." Check Legal section, for Full Disclaimer, Disclosure and Privacy Policy.