Flavoursome silky creamy tomato soup with orzo pasta and herby garlic chicken meatballs makes this a complete meal in a bowl that the whole family will love.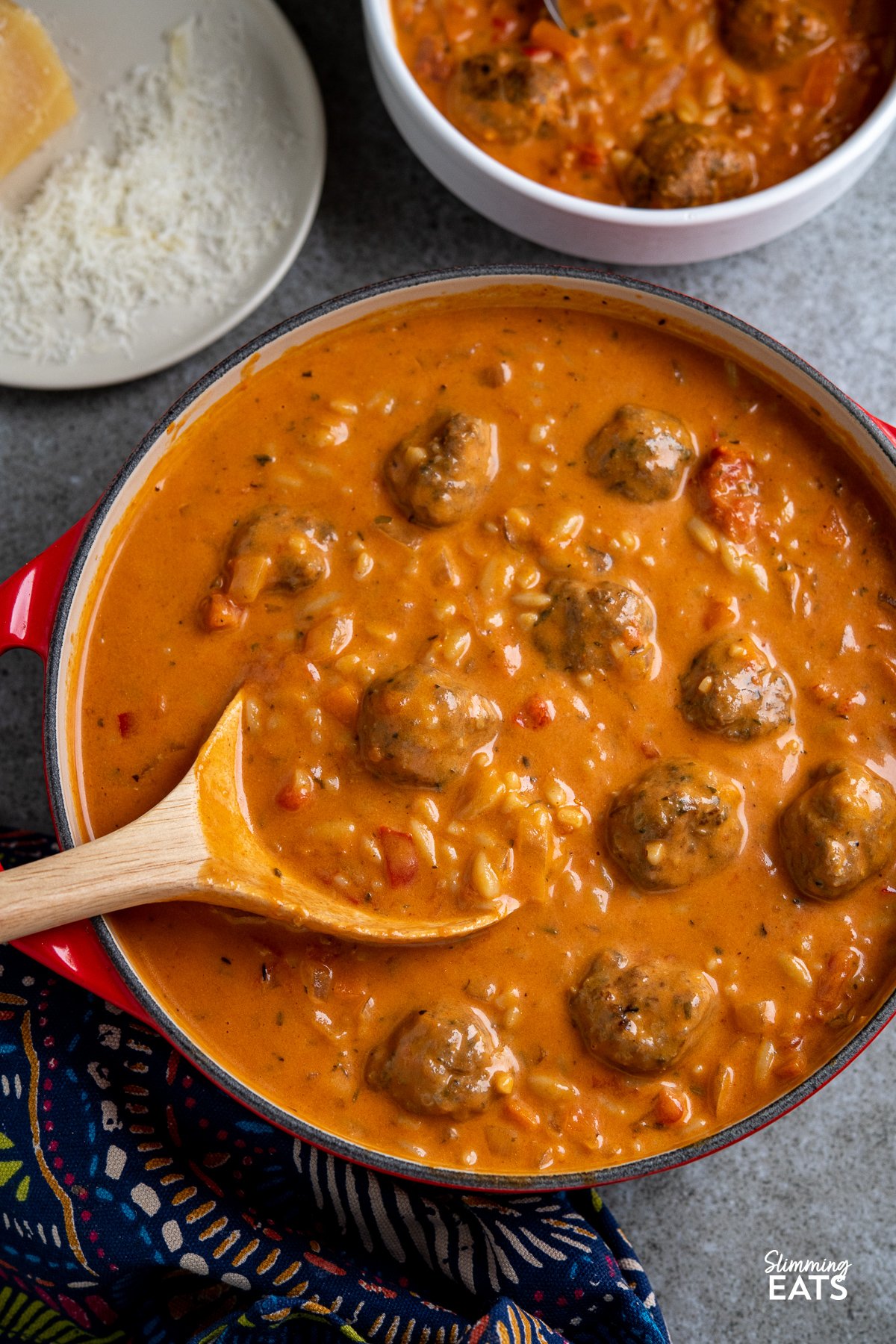 Creamy Tomato Meatball Orzo Soup
We love meatballs and we love soup, both are always something thing I know the kids will devour, so what better than a delicious soup that includes both those things. The addition of orzo bulks it out into a more filling meal and that creamy soup base is so delicious.
Usually with soups, we find ourselves wanting bread of similar to make it more filling, but this is so hearty, it is a complete meal in a bowl.
Jump to:
How many Calories in Creamy Tomato Orzo Soup?
This soup serves 6 people and is 316 calories per serving, which is great for a hearty filling delicious bowl of soup that doesn't compromise on flavour, doesn't feel like diet food and is suitable for the whole family.
There are lots more recipes around this calorie value in my 300-400 calorie recipes
If you are using these recipes as part of a calorie controlled diet or healthy eating plan, you can calculate your daily calories by using a calorie calculator, as this will vary per individual depending on various factors.
Homemade Mini Chicken Meatballs
For homemade meatballs I always recommend not using a mince (ground meat) that is not less than 5% fat, as otherwise they can become a bit dry. I usually keep lean mince like that for things like chilli and bolognese which is works better in.
I used chicken mince for this recipe, but if you prefer you can also use beef, turkey or even pork. Usually when making meatballs I like to add an egg and breadcrumbs to keep them even more tender. However I made mini meatballs for this soup, and with the herbs and seasoning and flavours from the soup, they were perfect.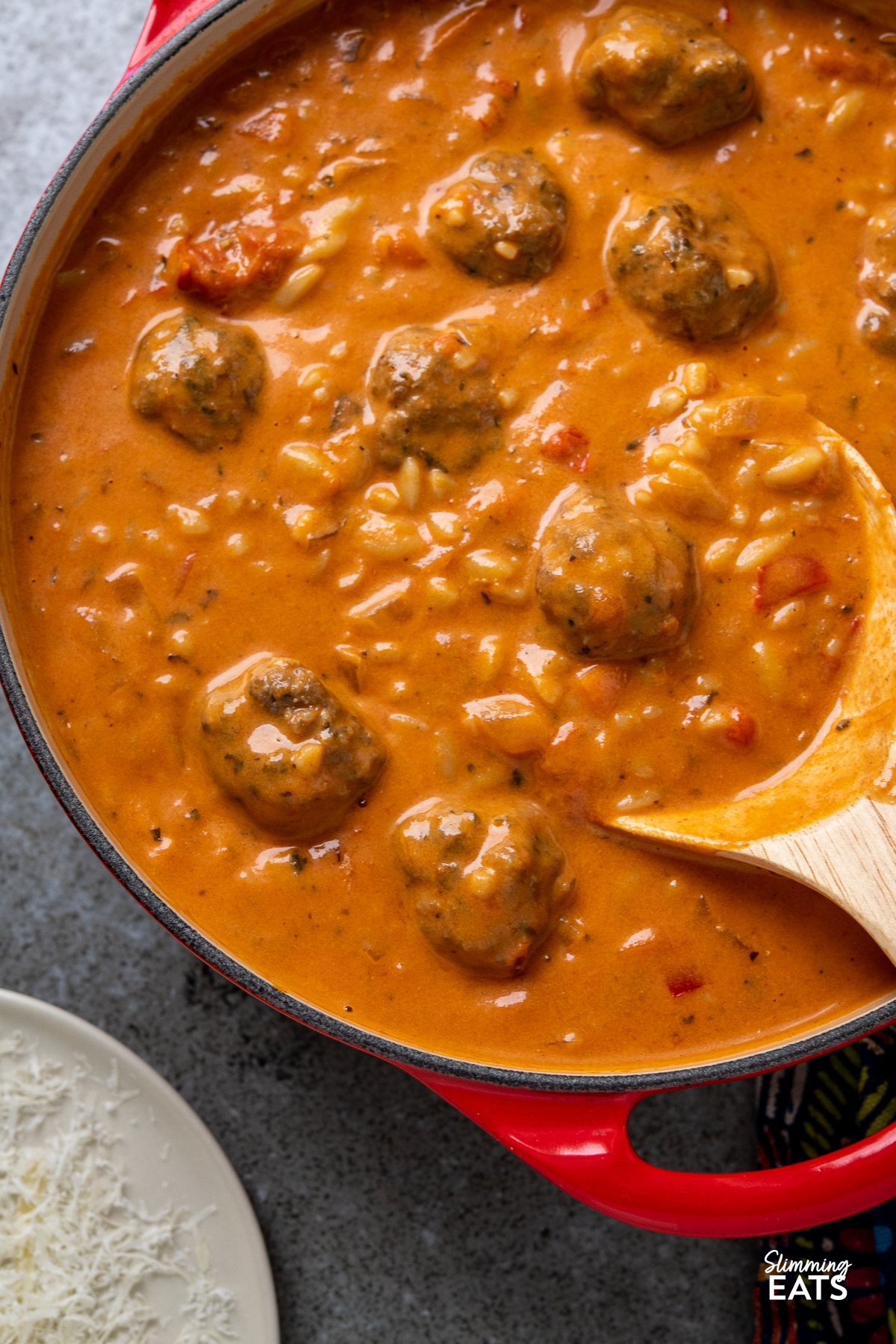 Best Canned Tomatoes
I alway recommend using a good quality brand of canned tomatoes, cheaper varieties while okay can tend to be a in a watery sauce and really acidic which really won't add depth and flavour the the recipe.
I like to use san marzano plum tomatoes, there are various different brands of these, little on the more pricier side, but really make the best base for any tomato based recipe.
Orzo Pasta and Substitutes
Orzo is a pasta that is shaped like little grains of rice and works perfect in recipes like soups, however you can actually use any small shape of pasta you like here, ditalini is another great option.
If you are gluten free, there are some great options for gluten pasta available now too. Here in Canada we can get Banza pasta, which is a brand of pasta made from chickpeas, the great thing about this pasta, is not only is it gluten free, it is high in protein unlike regular pasta too. Unfortunately I don't think this brand is available outside the US and Canada yet, but there may be similar alternatives.
How to make a lighter creamy sauce or soup
Usually in creamy sauce or soups, cream is the main ingredients, but this can be quite high in calories for a small amount, unless you use a light cream alternative.
I like to use light cream cheese, a small amount is not too bad calorie wise, and it will also thicken up your sauce/soup without the need for any other ingredients, making the soup or sauce have a lovely creamy and velvety appearance.
When I mention light cream cheese, this is referring to Philadelphia cheese or a supermarkets own brand. Don't use quark or similar here, as it doesn't heat well and won't yield the same taste and creaminess.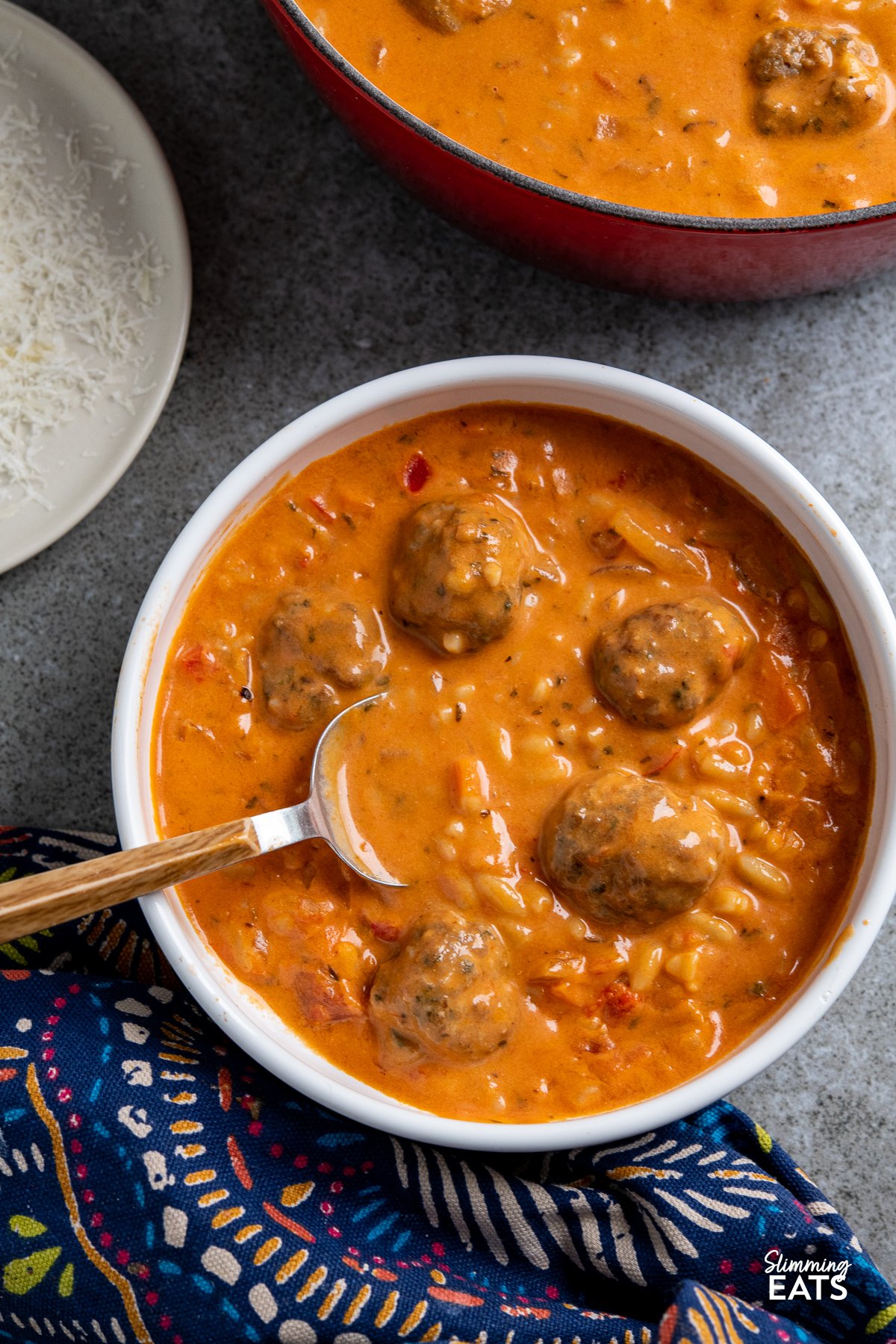 Can this soup be frozen?
For best results this soup is best enjoyed once cooked. It can be frozen, but with orzo it tends to absorb the liquid as it cools down, and will also expand and overcook very quickly.
So really it comes down to personal preference as not everyone likes the texture of pasta which has been frozen and reheated. You may find you will need to add in some more stock to the loosen the sauce when you defrost and reheat.
More Hearty Soup Recipes
Looking for more delicious hearty soup recipes? Check out these:
or if you would like more recipe ideas or sides to make with this recipe - head on over to the FULL RECIPE INDEX where you will find over 900 delicious recipes with calories and you can search by meal type, ingredients, course, diet and more..
All recipes on Slimming Eats have estimated nutritional information for your convenience.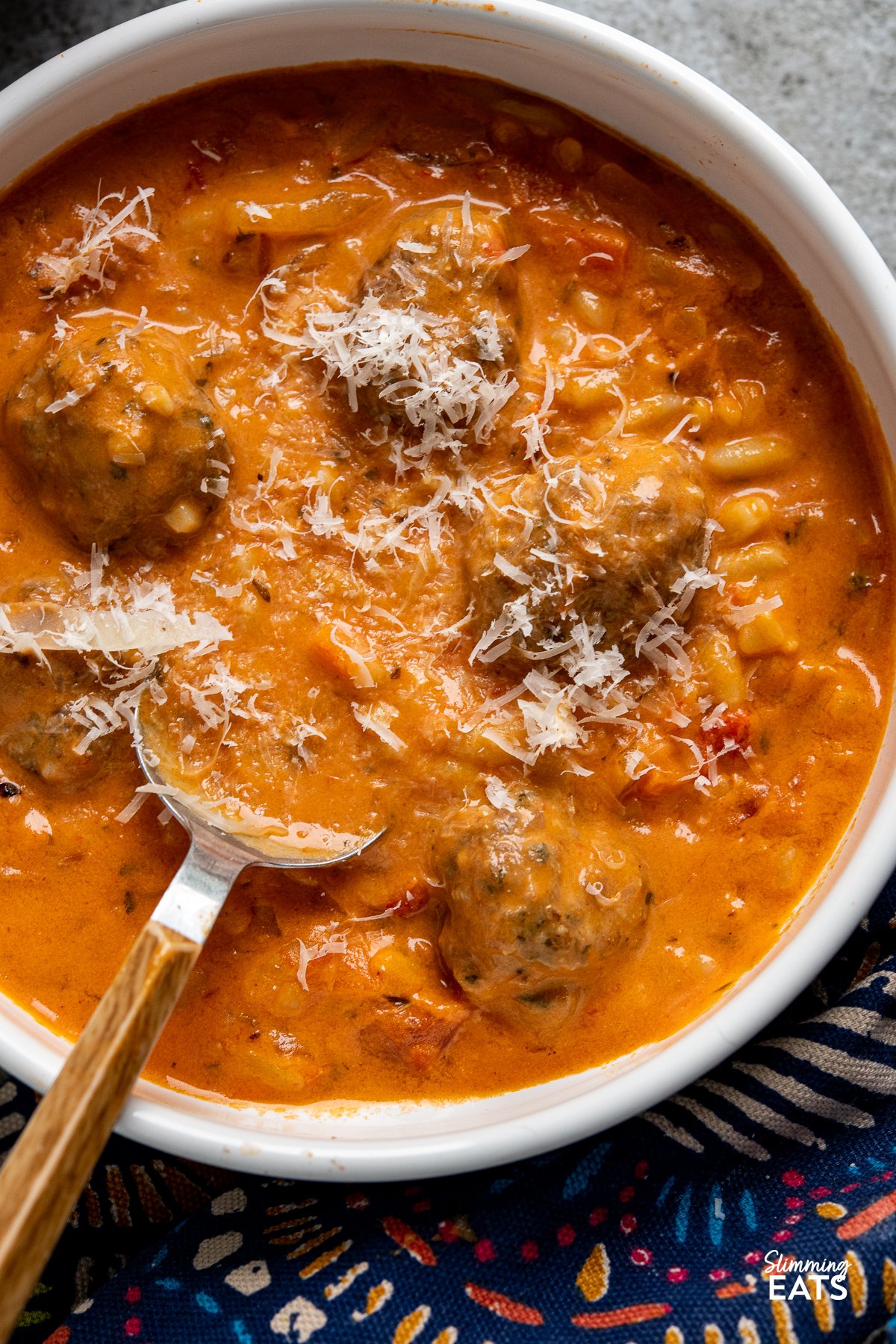 ---
LET'S CONNECT!!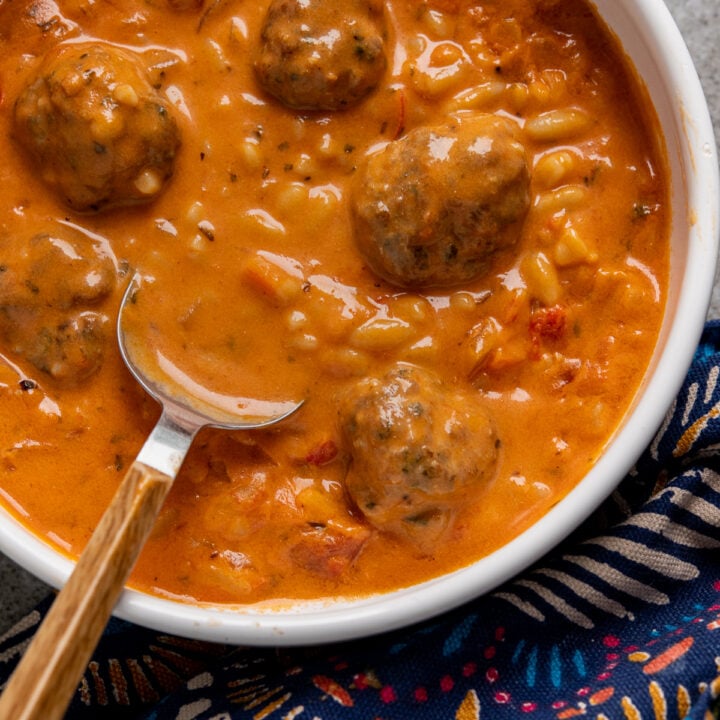 Creamy Tomato Orzo Soup with Chicken Meatballs
Flavoursome silky creamy tomato soup with orzo pasta and herby garlic chicken meatballs makes this a complete meal in a bowl that the whole family will love.
Ingredients
For the meatballs:
500g (17.5oz) of 5% fat ground chicken (mince)
2 cloves of garlic, crushed
handful of fresh parsley, finely chopped
¾ teaspoon of salt
pinch of black pepper
low calorie cooking spray
For the soup:
1 tablespoon of extra virgin olive oil
1 large onion, finely diced
1 medium carrot, finely diced
1 red bell pepper, finely diced
2 cloves of garlic, crushed
salt and black pepper
1 tablespoon of Herbes de provence
1 teaspoon of sweet paprika
½ teaspoon of cayenne (optional, adds a little heat)
400g (14oz) of plum tomatoes, canned
3 tablespoons of tomato paste (puree)
1 teaspoon of sugar
6 cups (1.4litres)of chicken stock
175g (6oz) of uncooked orzo
125g (4.5oz) of light cream cheese
Instructions
Add ingredients for the meatballs to a bowl and mix just until combined.
Form into 25 mini meatballs
Heat a large saucepan over a medium high heat, spray with some low calorie spray, add the meatballs and cook until lightly browned all over. Remove and set aside.
Add the extra virgin olive oil to the saucepan, then add the onion, carrot, red bell pepper and garlic and fry until really softened and lightly caramelized (approx 6 minutes)
Add in a pinch of salt, black pepper, Herbes de provence, paprika and cayenne and continue to fry until coated.
Add in the plum tomatoes and break up into smaller pieces with a wooden spoon. Stir in the tomato paste (puree) and then add in the stock. Bring to a boil, cover, reduce heat and simmer for 10 minutes
Then remove lid, drop in the meatballs and stir in the orzo pasta and cream cheese until the creamy cheese is all melted and continue to simmer (for another 12-15 minutes approx) until the orzo is cooked and the soup thickens and is creamy.
Ladle into bowl and enjoy.
Great served just as it is or serve with a little sprinkle of freshly grated parmesan to the top (optional)
Notes
Please see below for full nutritional info and additional details about recipe:
Calories - scroll down to nutritional info box
WW Points and other Slimming or Weight Loss programs:  due to plans regularly changing and updating, we recommend calculating with the official tools you get as a member to those plans to ensure accuracy of values.
Gluten Free: use a gluten free stock and small shaped pasta
SUITABLE FOR FREEZING ❄️
If you wish to share this recipe, then please do so by using the share buttons provided at top of this post.
DO NOT COPY AND/OR PASTE FULL RECIPES OR SCREENSHOTS OF ANY CONTENT FROM SLIMMING EATS TO ANY SOCIAL MEDIA OR WEBSITE, IT IS STRICTLY PROHIBITED.
ALL IMAGES AND CONTENT ON SLIMMING EATS ARE COPYRIGHT PROTECTED
Nutritional information etc are an estimate and are to be used for informational purposes only. Ingredients can vary in values from brand to brand and therefore it would be impossible to give accurate information. It is always advised that you calculate values yourself by the ingredients you use and the tools provided to you as a member of the programme you are following.
It is the responsibility of the Reader to assure the products or ingredients they use in any recipes from Slimming Eats are allergen-free (gluten-free, egg-free, soy-free and/or dairy-free, for example). Slimming Eats assumes no liability for inaccuracies or misstatement about products, opinions or comments on this site. 
Check Legal section, for Full Disclaimer, Disclosure and Privacy Policy.
Recommended Products
As an Amazon Associate and member of other affiliate programs, I earn from qualifying purchases.
Nutrition Information
Yield

6
Serving Size

1 SERVING
Amount Per Serving
Calories

316
Total Fat

8g
Saturated Fat

3g
Trans Fat

0g
Cholesterol

34mg
Sodium

657mg
Carbohydrates

37g
Fiber

4g
Sugar

10g
Protein

24g
Nutritional information, syn values, points etc are an estimate and is to be used for informational purposes only. Ingredients can vary greatly from brand to brand and therefore it would be impossible to give accurate information. It is always advised that you calculate by the ingredients you use.
Disclosure: This post may contain affiliate links. As an Amazon Associate and member of other affiliate programs, I earn from qualifying purchases. We are a participant in the Amazon Services LLC Associates Program, an affiliate advertising program designed to provide a means for us to earn fees by linking to Amazon.com and affiliated sites." Check Legal section, for Full Disclaimer, Disclosure and Privacy Policy.