This barbecue chicken spaghetti squash bake is perfect for satisfying those pizza cravings. Great for lunches with a salad or as a side to some soup.
Spaghetti Squash has got to be one of my favourites speed vegetables, it is so versatile and a great low carb side dish.
I can often forfeit pasta or noodles and instead have this amazing vegetable.
When I say spaghetti squash, I don't mean squash that you spiral with a 5 blade spiralizer like this one below (although they are super useful to have for increasing speed foods on your plate in a more interesting way)
Spaghetti squash is the name of an actual variety of winter squash. Yellow and oval in shape, once cooked it has a stringy type flesh that has a texture and appearance of spaghetti.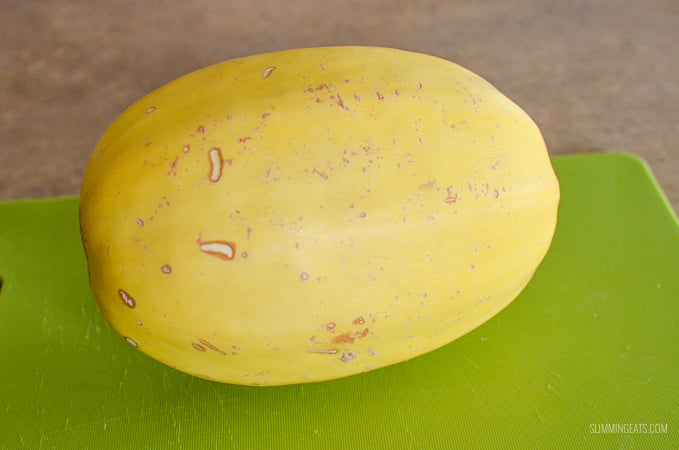 There are many different ways you can cook it. My favourite, is to slice it into rings and bake it in the oven. Cooking it this way, gives much longer strands, just like spaghetti, whereas, slicing it in half will give shorter strands and a longer cooking time too.
Check out my full method for How to Cook Spaghetti Squash
When I want to cut the carbs a little or are following a Slimming World SP day, I like to use spaghetti squash as my pasta for Spaghetti Bolognese, or noodles in an Asian inspired dish.
I also have these amazing Spaghetti Squash recipes:
One of my favourite recipes to use spaghetti squash is this Barbecue Chicken Spaghetti Squash Bake, it's a perfect dish for when I fancy pizza but want to stay on plan. Delicious spaghetti squash, cheesy base, topped with a quick barbecue sauce, cooked chicken, peppers and more cheese. What is there not to like?
Luckily for us on this side of the Atlantic, spaghetti squash is available all year round, although can be slightly more expensive when it is not in season.
For those in the UK, it can be hard to source, really only available when in season in the autumn and winter. If you have a good friend with an allotment, it might be a great idea to convince them to grow you some, as it's supposedly easy to grow if you have the seeds.
If you want to try to source some, check out online at grocery stores that stock more variety of produce or ask around at local farmer's markets, there may be some online places to source it from too.
Don't worry though, if you really fancy trying this Barbecue Chicken Spaghetti Squash Bake, but can't get spaghetti squash, you can replace it with some grated or spiralized courgette (zucchini).
If you are lucky enough to get some spaghetti squash, you will need to cook the spaghetti squash first, before proceeding with the base part to this delicious Barbecue Chicken topped Spaghetti Squash Bake.
Then I combine the spaghetti squash with grated potato, egg and parmesan to make the base, this then needs baking, just to firm up, before adding any of the toppings.
For this I just used a good quality ready-made barbecue sauce in a bottle, but if you have time to make it and want to keep this syn free, you can use this Syn Free Barbecue Sauce. If you do the latter, then omit the passata as well, and just use the syn free barbecue sauce.
You could literally add any veggies of choice as this part, I just go for some red onion and green and red pepper slices, as they are perfect for this Barbecue Chicken topped Spaghetti Squash Bake.
If you are veggie, you could still make this, and omit the chicken. Then the last part is the Mozzarella cheese, which is a perfect melting cheese that completes this dish.
Once cooked, this will keep a few days in the fridge and is great for quick to grab lunches. I love it with a nice mixed salad or a yummy bowl of soup instead of salad.
What kitchen items do I need to make this Barbecue Chicken Spaghetti Squash Bake?
Barbecue Chicken Spaghetti Squash Bake
This recipe is gluten free, Slimming World and Weight Watchers friendlyExtra Easy - 1 HEa and 1 syn per servingWW Smart Points - 9 
Ingredients
approx 1.5 cups  of cooked spaghetti squash (which is approx 1kg/2.25lb raw)
400g/14oz of grated potato, squeeze out excess liquid
60g/2oz  parmesan - 2 HEa's
1 egg
1 small red onion, sliced
half a red pepper, sliced
half a green pepper, sliced
1 cup (approx 150g) of cooked shredded chicken
1 cup (240ml) of passata (or crushed tomatoes)
4 tbs of barbecue sauce - 4 syns 
100g (3.5oz) of mozzarella - 2 HEa's
salt and black pepper
spray oil
Instructions
Preheat oven to 200c/400f (gas mark 6)
Blot the cooked spaghetti squash with some kitchen paper, just to remove any excess liquid.
Add the cooked spaghetti squash, grated potato, parmesan and egg to a bowl and mix to combine, season with salt and black pepper.
Grease a 10 inch quiche/flan dish with spray oil.
Add the spaghetti squash mixture and flatten evenly.
Spray over the top with spray oil. Place in the oven and bake for approx 15-20 mins just till lightly golden and set.
Mix the passata with the barbecue sauce and spread this over the top like you would a pizza.
Add the onion, peppers and chicken.
Top with the mozzarella, and place back in the oven and bake until the cheese is melted and golden, approx 15 mins.
Slice and serve!!
Notes
If you can't get spaghetti squash, instead grate or spiralize a zucchini (courgette), ensure you squeeze out all excess liquid, before mixing with the other ingredients for the base.
Want to make this syn free, then use this homemade barbecue sauce and use in place of the passata/barbecue sauce as in ingredients list. 
Nutritional information is an estimate and is to be used for informational purposes only.
Ingredients can vary greatly from brand to brand and therefore it would be impossible to give accurate information. Also, double-check syn values of synned ingredients as different brands can vary. 
All images and content on Slimming Eats are copyright protected.
If you wish to share this recipe, then please do so by using the share buttons provided. Do not screenshot or post recipe or content in full
Check Legal section, for Full Disclaimer, Disclosure and Privacy Policy. 
Nutrition Information
Yield

4
Serving Size

1 serving
Amount Per Serving
Calories

360
Total Fat

12.8g
Saturated Fat

6.9g
Cholesterol

112mg
Sodium

868mg
Carbohydrates

33.6g
Fiber

4.9g
Sugar

10.5g
Protein

28.1g
Disclosure: This post may contain affiliate links. As an Amazon Associate and member of other affiliate programs, I earn from qualifying purchases. We are a participant in the Amazon Services LLC Associates Program, an affiliate advertising program designed to provide a means for us to earn fees by linking to Amazon.com and affiliated sites." Check Legal section, for Full Disclaimer, Disclosure and Privacy Policy.