Spaghetti Squash - a perfect low carb syn free speed food that is a great replacement for pasta or noodles in a variety of dishes.
Spaghetti Squash is a variety of winter squash that gets's its name from the flesh that resembles strands of noodles once cooked. Low in carbs and calories, it is a yummy side dish for many meals.
Luckily for those in Canada and the US, they tend to be available all year round, although are more expensive when not in season.
In the UK, they can be found usually in the autumn/winter and only from very select supermarkets or online veggie boxes.
If you are lucky enough to have a friend with an allotment, try and convince them to grow some for you, as this speed vegetable is supposedly really easy to grow.
This is what they look like, oval-shaped with a hard firm exterior. Could easily be mistaken for a canary melon. Spaghetti squash, however, has a much smoother skin and tends to be a light yellow colour.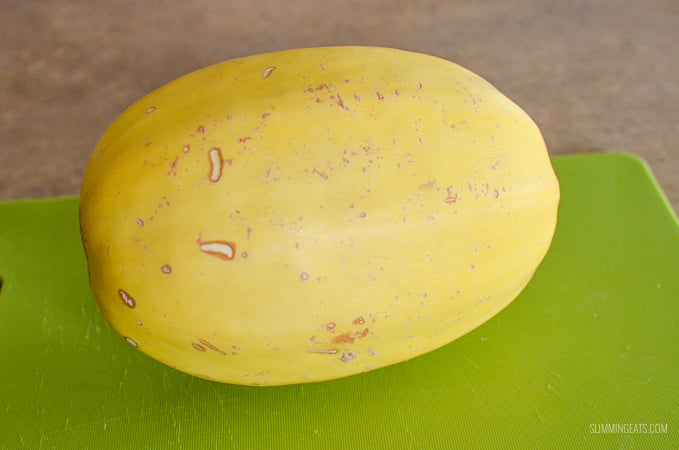 Unfortunately, there isn't really anything similar, yes you can spiral most vegetables if you have a  spiralizer like this 5 blade spiralizer and they are super useful to have for increasing speed foods on your plate in a more interesting way.
But spaghetti squash is pretty unique, in both taste, and the fact you don't need a vegetable spiralizer.
There are some really great recipes to be found if you are lucky enough to be able to get spaghetti squash.
It doesn't really have much of a taste, meaning it is great for combining with sauces etc to take on flavour. I often sneak it into pasta dishes and the kids don't even realize. Perfect for getting some vegetables into fussy kids.
I like to have one in my pantry, so as soon as I use it, I buy another, as when I feel I need to up my speed foods a little, spaghetti squash always saves the day. Plus they will keep for quite a few weeks so you haven't got to worry about it spoiling quickly like other vegetables.
When I first starting using them in recipes, I used to just cut in half, remove the seeds, spray with spray oil, season with some seasonings of choice (I just go for salt and black pepper) and place flesh down on a baking tray lined with parchment and bake at 180c/350f for about 45-50 mins until soft. But cutting this way means you end up with shorter strands, which is okay if you want shorter noodles for a dish.
If you want long strands like spaghetti, you should slice into rings. and bake using the same method. Slicing in rings also means it cooks slightly quicker too, just 30 minutes and it's done.
Once cooked, just let it cool slightly and then with a fork, you can pull the strands away from the peel and into a bowl.
I don't like to overcook my spaghetti squash, as the longer, it's cooked for, those strands can become mushy and I prefer them to have a slight bite and hold their shape. Especially if I am cooking it again for a little bit longer in one of my Spaghetti Squash Recipes.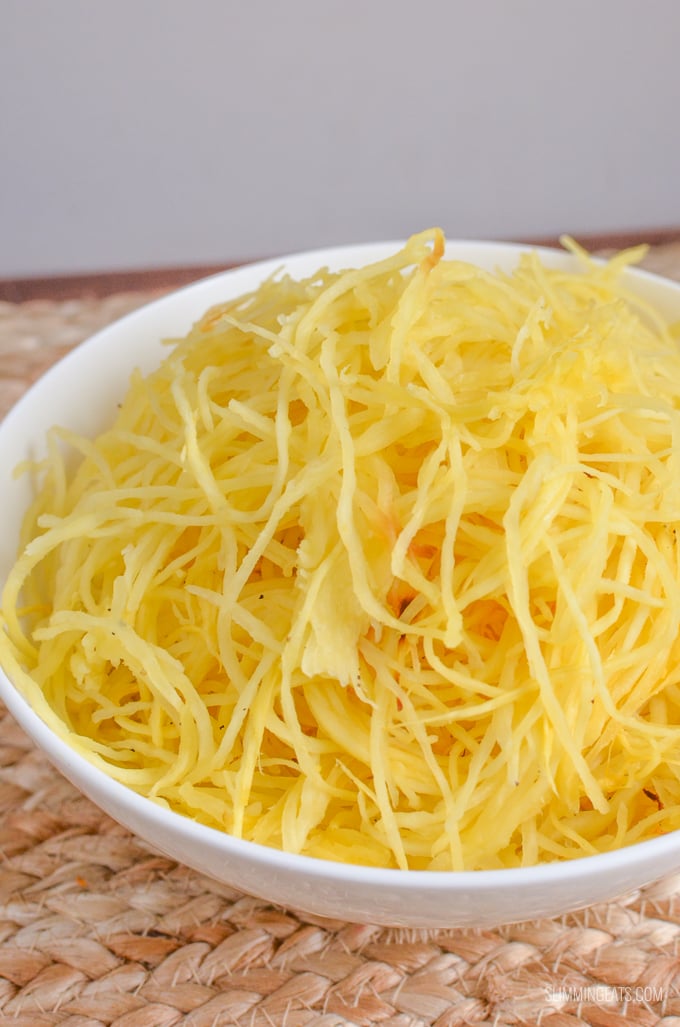 Check out these delicious recipes below:
Delicious spaghetti squash, topped with a delicious tomato sauce and melty yummy cheese and slices of tomatoes. This is like all the great things of a pizza, without all that heavy bread and carbs.
Imagine a delicious pasta bake type dish with bacon, fennel, mushrooms and cheeeeeeese!! but instead of pasta we use spaghetti squash. This here is the dish and it's yummy!!.
This might just be my favourite spaghetti squash recipe. It's a delicious kind of potato and spaghetti squash hash base, topped with a barbecue sauce, cooked chicken, peppers and onion and melted mozzarella. Perfect just as it is, or with a salad or another choice of sides.
So if you are lucky enough to be able to get some spaghetti squash, be sure to add it into your cart and give it a try.
What kitchen items do I need to cook a spaghetti squash?
Spaghetti Squash
Yield:
1 spaghetti squash
This recipe is gluten free, dairy free, vegetarian, paleo, Slimming World and Weight Watchers friendlyExtra Easy - syn free per servingSP/Original - syn free per servingGreen/Vegetarian - syn free per servingWW Smart Points - 0
Ingredients
1 spaghetti squash
salt and black pepper
spray oil
Instructions
Preheat oven to 180c/350f
Using a sharp knife, slice spaghetti squash into rings.
Remove seeds.
Place spaghetti squash rings on a baking tray lined with parchment paper.
Spray with spray oil and season with some salt and pepper
Bake for approx 30 mins, until the rings feel soft when pinched slightly.
Allow to cool and then pull strands with a fork.
Use in a recipe as desired.
Notes
Nutritional information is an estimate and is to be used for informational purposes only.
Ingredients can vary greatly from brand to brand and therefore it would be impossible to give accurate information. Also, double check syn values of sinned ingredients as different brands can vary. 
All images and content on Slimming Eats are copyright protected.
If you wish to share this recipe, then please do so by using the share buttons provided. Do not screenshot or post recipe or content in full
Disclosure: This post may contain affiliate links. As an Amazon Associate and member of other affiliate programs, I earn from qualifying purchases. We are a participant in the Amazon Services LLC Associates Program, an affiliate advertising program designed to provide a means for us to earn fees by linking to Amazon.com and affiliated sites." Check Legal section, for Full Disclaimer, Disclosure and Privacy Policy.