8 Must-Try Baked Oats Slimming World Recipes – The perfect way to start your day is with one of these amazing recipes.
If you have been doing Slimming World for quite a while, you certainly won't be new to the craze of Baked Oats. They are hugely popular because they are super easy to make and really filling. Plus as they can be made in advance, they are super convenient for those who have a busy morning schedule.
There are quite a few baked oat recipes for you to choose from right here on Slimming Eats and here are some of the best with these 8 Must-Try Baked Oats Slimming World Recipes.
You will probably of seen many variations on how to make these, some with 2 eggs some with milk, some with yoghurt, and then, of course, there are so many different fillings or mix in's you can choose from.
Before I even began to think of the latter, I wanted to make sure the bake was perfect, while still keeping the syns as low as possible without compromising on taste.
For any of these 8 Must-Try Baked Oats Slimming World Recipes, you don't need any fancy gadgets for these, as the oats don't need blending or grinding, you make the mix with the oats just as they are.
One egg is all that is needed for a single serving of baked oats, it keeps the final result almost cake like and totally DECADENT!!. Too many eggs, in my opinion, result in a stodgy eggy texture. The other key ingredient is baking powder. Trust me when I say it needs it, not much just 3/4 of a tsp which is literally only 2 calories and so for that reason I don't even bother synning such a small amount, as the syns are negligible.
Do watch you don't mistakenly use baking soda instead of baking powder. I once did that by accident, by quickly throwing the ingredients together one morning under very tired eyes, while I got the kids ready for school and dropped them off for their school bus, when I came back and removed my baked oats from the oven, I was baffled as to what had gone wrong, when they are always so perfect, and there it was, the darn baking soda on the kitchen counter. The tubs for my baking powder and baking soda are so similar, I totally didn't notice. I was gutted, to say the least, and had to resort to something else for breakfast in the end.
The other ingredient I use is yoghurt. I have used syn free flavoured varieties in some of my recipes, but I actually prefer to now use plain fat-free yoghurt and my own natural flavouring using extract and mix-ins.  Either will give the same bake, I just find the flavoured yoghurts have too much of that artificial sweetener taste. So instead I add my own sweetness if needed with either Sukrin: 1 or Sukrin Gold which are both a natural sweetener with no aftertaste.
One other thing you need is the right sized dish.
I use these anchor glass dishes, which are oven proof and the perfect size for this recipe.
The dish you use needs to have enough room for the baked oats to rise, otherwise, it will overflow and make a mess in your oven.
If you don't want to bake it all in one dish, and would rather make 3 smaller ones with the mix that you can enjoy throughout the day, then feel free to do that too. These 8 Must-Try Baked Oats Slimming World Recipes make a perfect treat when you fancy something cake like.
So onto these 8 Must-Try Baked Oats Slimming World Recipes, the hardest part will be deciding which one to try first.
This was the very first baked oats I created. Living in Canada, where Apple and cinnamon is such a huge thing, it just seemed perfect for my first creation and it really doesn't disappoint.
Serve with some fresh apple and additional yoghurt this Apple and Cinnamon Baked Oats is just 1 Healthy Extra B serving and 1.5 syns.
Find the recipe here: Apple Cinnamon Baked Oats
How many times have you had an overripe banana sitting in your fruit bowl, but was stuck for a recipe to use it in, that would also be Slimming World friendly? This banana baked oats is just like a delicious banana cake.
Perfect served topped with a dollop of yoghurt, some fresh banana slices and a drizzle of maple syrup for 1 Healthy Extra B choice and 4.5 syns. Omit the maple syrup and you can reduce the syns part down to 2.5 syns. But it's worth that extra couple of syns.
Find the recipe here: Banana Baked Oats
I have to admit to a bit of a weakness to white chocolate. Not everyone's favourite kind of chocolate, but white chocolate always reminds me of my childhood with a Milky Bar or White Chocolate Buttons and it just wouldn't be right not having a white chocolate baked oats recipe.
I figured some fruit would pair perfectly too, so went for some fresh raspberries which the kids love and these Raspberry and White Chocolate Baked Oats are a huge hit all around at just 1 Healthy Extra B choice and 3 syns.
Find the recipe here: Raspberry and White Chocolate Baked Oats
If you have ever had a Bakewell tart, then this is the baked oats recipe for you. It has all those delicious flavours you would expect and is probably my favourite baked oats recipe.
Sweet cherries, with almondy flavoured baked oats, topped with slivers of sliced almonds, what more could one ask for. It really doesn't need much else served alongside it. The hardest part too is deciding whether to enjoy this for breakfast or keep it for dessert. You could actually do both, by making two smaller versions with the mix. This Cherry Almond Baked Oats is 1 Healthy Extra B choice and 4 syns.
Find the recipe here: Cherry Almond Baked Oats
Prob one of my favourite cocktails. Although you certainly couldn't drink many. Gotta love those flavours though of coconut and pineapple. So it just seemed like a great idea to make a baked oats version.
You won't find any rum in this dish for obvious reasons. But it still tastes amazing all the same.
This Pina Colada Baked Oats is 1 Healthy Extra B choice and 4 syns.
Find the recipe here: Pina Colada Baked Oats
Another popular combination this side of the Atlantic, especially among young kids. But don't keep this just for the kids, adults can enjoy this delicious Peanut Butter and Jelly Baked Oats too.
Just 1 Healthy Extra B and 5.5 syns these baked oats have a delicious peanut butter and jam centre. So decadent!!
Find the recipe here: Peanut Butter and Jelly Baked Oats
Unless you have been to the US or seen a film or read a book that mentions S'mores, you have probably never heard of this campfire snack. Another one popular among kids especially at Summer Camps. The main ingredients of an s'more are a graham cracker (biscuit), toasted marshmallow and chocolate.
In this S'mores baked oats, I skip the graham cracker and use my basic baked oats mix, but the filling still has delicious gooey marshmallow chocolate goodness that you expect with an s'more and just 1 healthy extra b choice and 5 syns. It's perfect served with some fresh strawberries.
Find the recipe here: S'mores Baked Oats
and last up in this roundup of 8 Must-Try Baked Oats Slimming World Recipes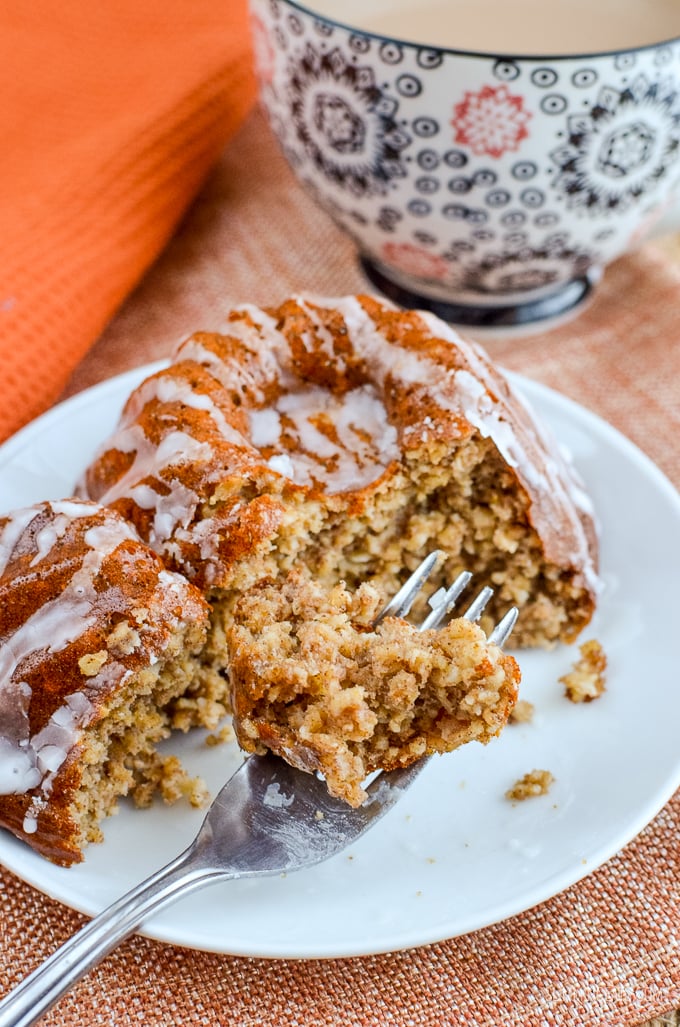 These gingerbread baked oats, don't need to be kept for the festive period, they are so delicious and perfect any time of year. Just 1 Healthy Extra B choice and 3.5 syns per serving with the icing drizzle, but keep it for dessert skip the icing and this is just 1 Healthy Extra B choice and 1.5 syns, which frees up some more syns for you to serve with some custard or light cream. Yum!!
Find the recipe here: Gingerbread Baked Oats
and if you enjoyed these 8 Must-Try Baked Oats Slimming World Recipes , be sure to check back often for more amazing baked oats recipes.
Plus don't forget my FULL RECIPE INDEX with over 500+ delicious Slimming World Recipes.
Don't forget to subscribe to Slimming Eats to keep up to date on all new recipes. 
IF YOU TRY THIS RECIPE, LET US KNOW! LEAVE A COMMENT, RATE IT AND DON'T FORGET TO TAG US IN YOUR PHOTOS @SLIMMINGEATS ON INSTAGRAM AND DON'T FORGET TO FOLLOW SLIMMING EATS ON FACEBOOK | INSTAGRAM | PINTEREST | TWITTER | and YOUTUBE TO MAKE SURE YOU KEEP UP TO DATE ON ALL NEW RECIPES 🙂
It is the responsibility of the Reader to assure the products or ingredients they use in any recipes from Slimming Eats are allergen-free (gluten-free, egg-free and/or dairy-free, for example) or Vegetarian friendly. Slimming Eats assumes no liability for inaccuracies or misstatement about products, opinions or comments on this site.
Nutritional information is an estimate and is to be used for informational purposes only
Looking for some additional support on your weight loss journey? Did you know Slimming Eats has a friendly Slimming World Facebook Support Group where you can get daily meal ideas and recipe ideas? Come and check us out, we'd love to have you join.
Looking for some other recipes? Head on over to my RECIPE INDEX for over 850 Slimming World & Weight Watchers recipes for you to browse through, all fully searchable by meal type, Ingredients, syn value and WW Smart Points etc
DID YOU

 

make

THIS

 

RECIPE

? I'D

 

LOVE

 TO SEE IT!
Snap a photo and hashtag #slimmingeats or tag me @slimmingeats on INSTAGRAM
Are you on facebook? Then be sure to come and like me on FACEBOOK
All images and content on Slimming Eats are copyright protected.
If you wish to share this recipe, then please do so by using the share buttons provided. Do not screenshot or post recipe or content in full.
* Disclosure: This post may contain affiliate links. We are a participant in the Amazon Services LLC Associates Program, an affiliate advertising program designed to provide a means for us to earn fees by linking to Amazon.com and affiliated sites." Check Legal section, for Full Disclaimer, Disclosure and Privacy Policy.