Make up a big pot of this delicious Cream of Tomato Soup - a perfect recipe for the whole family.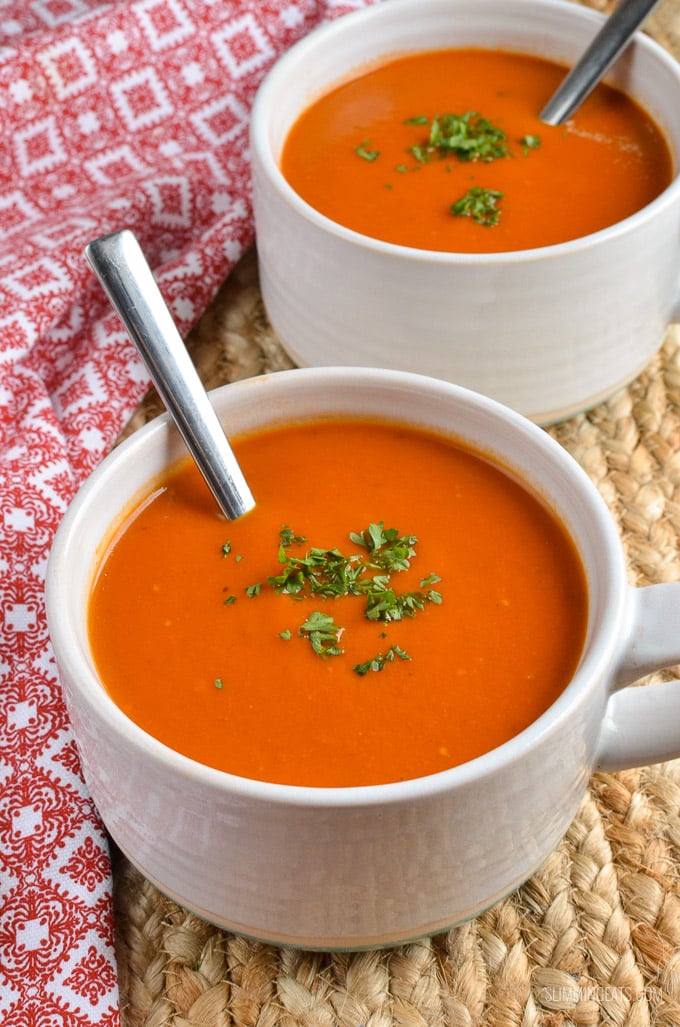 My kids love soup, so I make up a pot regularly, it's a great way of getting vegetables or speed foods into fussy ones (adults and children).
I don't know about you, but cream of tomato soup, always brings back childhood memories for me. It's a soup I would eat regularly, great when you feel poorly but usually served with thick white bread spread with lashings of butter. Unfortunately the latter isn't something I can entertain anymore. I mean yes you could actually have it if you synced it, but for me, bread and butter is my weakness. I can't stop at just one or two slices, so for that reason I tend to avoid it altogether.
"But you can't have a bowl of cream of tomato soup without something to dunk into it", I hear you say and that is very true, but there are so many other options for turning that little bowl of soup into something more filling. If you have a healthy extra b spare, you could make a nice sandwich to go with it, but lets face it, most of us have used are healthy extra b choice in the morning for breakfast, so we don't have one spare at lunch time.
Other things you can do, is top with some protein. I love adding shredded cooked chicken to the top of my soup or even some sliced cooked sausages. But a really great things is this delicious Cheesy Garlic Cauliflower Bread, it is cheesy and garlicky and just perfect for dunking in this delicious Cream of Tomato Soup.
But how do you get  soup creamy while still keeping it syn free? Well I have recently been using cottage cheese in lots of recipes and this comes from someone who hates cottage cheese as it is, with all those curds. Bleurgh!! It's isn't something that appeals to me.
However, if you blend, so that it is smooth,  it tastes lovely and creamy and is perfect for sweets/desserts or for adding a little bit of creaminess to savoury dishes. I actually prefer it to quark, as it doesn't have that sour taste like quark does. Plus quark is pretty hard to get here in Canada anyway, there is only one store I have found that stocks it, and they don't always have some. So this works out as a perfect alternative for those of you who live out of the UK who struggle to find quark.
For the tomato part of the soup, I use a mixture of canned crushed tomatoes and fresh grape tomatoes. I recommend not skipping the fresh tomatoes, as they just make any sauce or soup taste so much better in my opinion. Canned Tomatoes tend to be acidic in taste because of how they have been preserved, but fresh tomatoes when cooked are lovely and sweet and so they compliment this Cream of Tomato Soup perfectly.
I also add as little bit of Sukrin Gold ( a natural brown sugar sweetener with no aftertaste and my preferred choice when making baked goods or wanting to sweeten things). Up until my discover of this, I would just use honey or maple syrup and syn it, as I hate that aftertaste that certain sweeteners can have, but this really does taste good.
To blend my soup so that it is really smooth, I use my Nutri Ninja Blender with Auto IQ (click to see me on amazon). This blender is amazing. The auto iq technology feature, mean it blends to a set pattern depending on what it is your are making, so my soups are lovely and smooth and perfect.
This soup can be made stove top or in an Instant Pot (which is a multi function Pressure Cooker and one of my most used kitchen items). This is one of the best things I have ever bought and I use it almost daily in one way or another.
It is basically a 7in1 cooker, and it slow cooks, pressure cooks, saute's, has settings for soup, chilli, rice, porridge and even makes yoghurt (I haven't tried that yet). Hey I even cook my boiled eggs in this, you should see how effortlessly they peel.
Check out my other: Instant Pot Recipes
Click here to read more about the instant pot on Amazon
---
Looking for some more delicious soup recipes to try?  – Previously on Slimming Eats
with many more recipes to browse on my full: Recipe Index
---
This yummy comforting Cream of Tomato Soup is also perfect for freezing, so tub up some leftovers when you make a batch, so that you have some on hand for another day.
Syn Free Cream of Tomato Soup
Total Time:
1 hour
5 minutes
This recipe is gluten free, vegetarian, Slimming World and Weight Watchers friendlyExtra Easy - syn free per servingGreen/Vegetarian - syn free per servingOriginal/SP - syn free per servingWW Smart Points - 0
Ingredients
1 onion, finely chopped
1 carrot, finely chopped
2 cloves of garlic, crushed
1.5 cups (360ml) of fresh grape tomatoes
28oz (800g) can of crushed tomatoes
2 tbs of tomato paste
4 cups (960ml) of chicken or vegetable stock
1 tbs of sukrin: gold (or other sweetener of choice)
½ cup (120ml) of fat free cottage cheese 
1 tsp of mixed Italian Herbs
salt and black pepper to season
spray oil
fresh parsley.
Instructions
Spray deep saucepan with spray oil
Add the onion and fry for 5 mins to soften
Add the garlic and fry for a further 2 mins to infuse flavour.
Add the carrot, crushed tomatoes, fresh grape tomatoes, stock, tomato paste, Italian herbs and sukrin:gold
Bring to a boil, reduce heat and simmer for 40 minutes.
Add the cottage cheese to a blender and blend till smooth. Remove and set aside.
Once soup is ready, blend in a blend until smooth.
Then add a little bit of the cottage cheese at a time, pulse the blade of the blender a few times, until all combined.
Season as needed with salt and black pepper.
Garnish with fresh parsley.
Notes
Instant Pot - set to saute mode, spray with oil, fry onion and garlic. Add all other ingredients, except cottage cheese. Add lid, close valve and set to 10 minutes high pressure. Let pressure release naturally. Then follow the steps for cottage cheese blending. 
Nutritional information is an estimate and is to be used for informational purposes only.
Ingredients can vary greatly from brand to brand and therefore it would be impossible to give accurate information.
All images and content on Slimming Eats are copyright protected.
If you wish to share this recipe, then please do so by using the share buttons provided. Do not screenshot or post recipe or content in full
Nutrition Information
Yield

4
Serving Size

1 serving
Amount Per Serving
Calories

126
Total Fat

0.6g
Saturated Fat

0.1g
Cholesterol

1.3mg
Sodium

511mg
Carbohydrates

23.9g
Fiber

5.2g
Sugar

3.1g
Protein

9.6g
Disclosure: This post may contain affiliate links. As an Amazon Associate and member of other affiliate programs, I earn from qualifying purchases. We are a participant in the Amazon Services LLC Associates Program, an affiliate advertising program designed to provide a means for us to earn fees by linking to Amazon.com and affiliated sites." Check Legal section, for Full Disclaimer, Disclosure and Privacy Policy.