Interested in Slimming World, but now sure how it works? Check out my review for an online membership Slimming World
When you sign in to Slimming World with an online subscription you are greeted with the screen below that has easy to find links to your daily inspirations, action plan, and what is trending at the moment on the website.
As well as that you will see a bell notications link that will alert you to anything new happening or new comments to posts you have participated in on the community forum.
Then, of course, the browse section links to all your useful tools such as food optimising tools, weight loss planner, food search, community, profile, recipes etc
Most who visit my blog are not new to Slimming World, but for those of you stumbling across my blog that has not heard about this fab healthy eating plan before. I felt it was about time I did a review.
Slimming World
Slimming World formed in the UK over 40 years ago, 1969 to be exact by Margaret Mile-Bramwell.
The organisation holds meetings in various locations in the UK and has groups led by trained consultants, which are a place for members to share their experiences, discuss all things relating to the plan, including their weight loss.
Members are also weighed weekly and awarded by set goals as they are reached. It is a great support network.
In addition to the group meetings, they also have an online plan for members who are not able to make the weekly meetings or are in a location where no meetings are available to them.
Slimming World USA
In 2009, Slimming World ventured Stateside opening up various group meetings in the Texas area. Then in 2012 the Slimming World USA online program went live, it was amazing having a support team this side of the Atlantic.
Sadly at the end of 2019, Slimming World decided to discontinue their USA website and instead now all members regardless of where you live are directed to the UK website.
This is to ensure all members receive the same amount of support, information and are kept up to date on any changes etc to the programme.
I know many have been concerned about not having access to food lists for the country they live in. But as an online member, you will have access to the syns estimator and can easily work out the values in items from the nutritional information. Of course, if you are sticking to mainly those generic free foods that are available everywhere, there will not be a need to constantly work out syn values anyway. Which is always the best and healthier option.
A lifestyle Change
As most of you have read on my About page, I tried many other diets and while successful, I always found them unsustainable in the long term, until of course, I started on my Slimming World journey.
Since joining I can honestly say it has never felt like I am on a diet, there are so many delicious foods available to us and it totally retrains how we approach food and cooking.
No counting calories, weighing foods etc
So much so, that even when I haven't been 100% focused, I still am following it loosely, which in turn means, since I started this way of healthy eating, the weight I have lost has not gone back on.
Slimming World is different from many other healthy eating plans in that it doesn't involve having to count calories, work out points or weigh food items constantly. Which as a busy mum was something that hugely appealed to me. It was easy to fit into my busy lifestyle.
So what does the program involve? I thought I would break it down for you below:
Food Optimising
That is a word you will see used very often in the Slimming World plan.
Basically food optimising allows you to continue enjoying all the foods you love, but in a more positive and healthy way and if you hate having to count calories/points and weigh every single piece of food that enters your mouth, then this is the plan for you.
There are 3 basic steps to Slimming World:
Free Foods
This is a list that you can pick and choose an unlimited amount from, and you will be surprised by the amount of free foods that are available. Meat, fish, pasta, rice, potatoes, eggs, fruit, vegetables, beans, pulses etc, the list goes on.
Just think of all the delicious food combinations you can make with those.
The only recommendation is that you fill a ⅓ of your plate with speed foods (certain fruit and nonstarchy vegetables), What this does is naturally portion controls your meals, without any need for weighing or counting calories. All free foods are high satiety, meaning they keep you fuller for longer.
Healthy Extras
As well as your free foods you also get a certain number of healthy extras. These are 2 A choices which are foods which are high in calcium and 1 B choice which is high in fibre. They are added to make sure you give your body gets all the nutrients it needs.
Syns
Lastly is syns - No food is off bounds on Slimming World. Your daily syns are there to allow you access to the foods which are not on your free foods list.
You can choose between 5 and 15 syns per day to either incorporate into your meals for items which are not free, or on treats/snacks/wine etc.
All foods that are not free, have a syn allowance. So if you fancy that piece of chocolate, you can still have it and be 100% on plan.
It all sounds too easy right? Well that is because it is easy - Extra Easy
Which was the name that was given to the weight loss program by Slimming World. They now just call it - Food Optimising
Here is a sample of the yummy filling foods you could be eating every day while losing weight:
Breakfast
These are syn free as they use all FREE FOOD ingredients perfect served with eggs cooked to your choice, most of which are also syn free if you don't use oil, butter or milk.
Grilled Mushrooms and tomatoes are a great addition too and will add some speed foods to your plate.
Fancy ketchup? Then you can serve with some as part of your daily syn allowance.
Lunch
A delicious and hearty syn free soup using all FREE FOODS it's a perfect filling meal with healthy vegetables and good proteins like chicken and lentils.
Dinner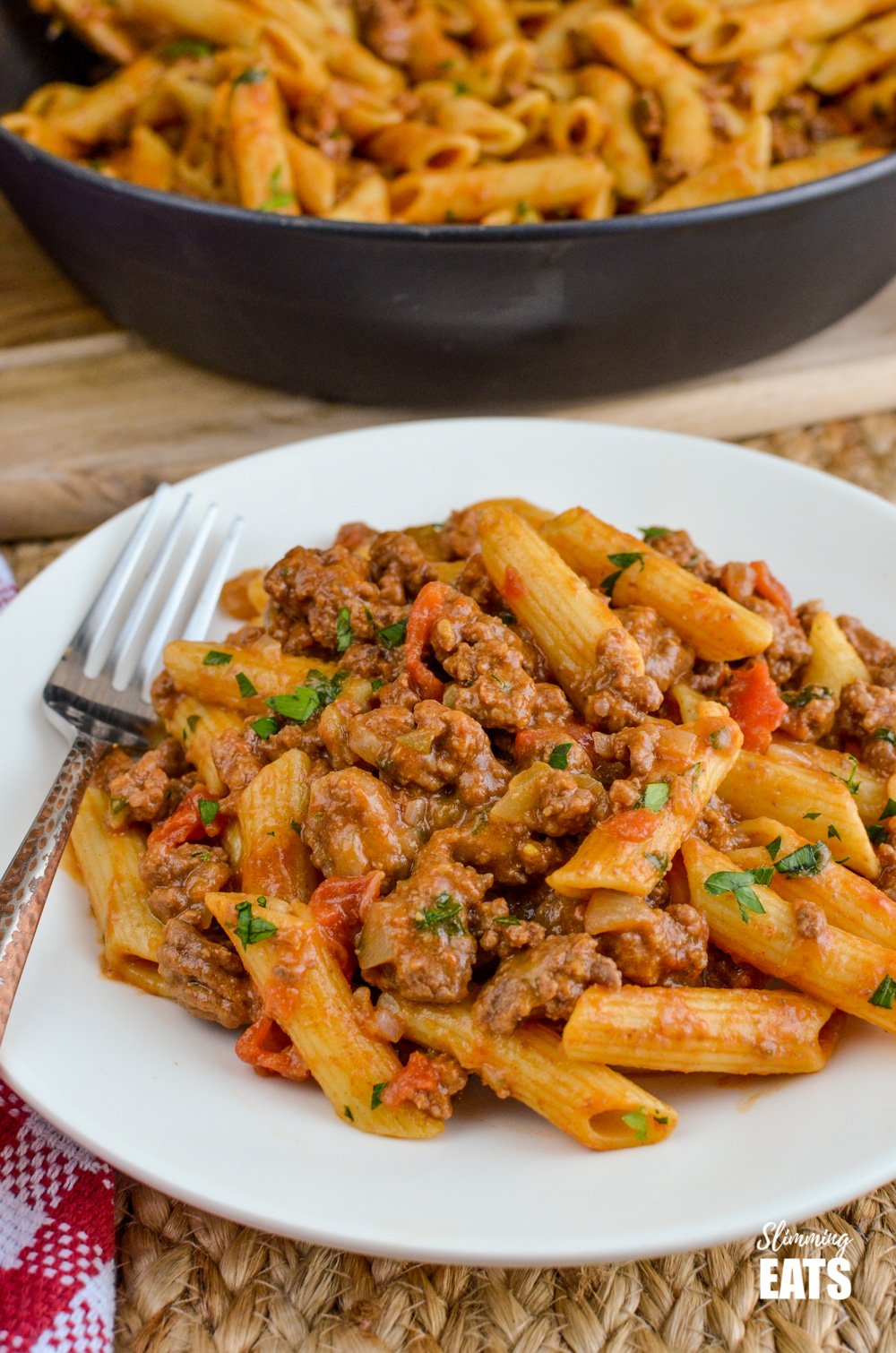 A family favourite this cheeseburger pasta is syn free when using one of your Healthy Extra A allowances for the cheese. Perfect served with a delicious side salad with some vegetable of your choice.
Here are some meal plans for Slimming World Food Optimising as well as Vegetarian Meal Plans
Slimming World Food Optimising SP
As well as the traditional Food Optimising plan, there is now also Food Optimising SP. which you can do for a whole week or add a few days here and there to boost your weight loss.
When you do a food optimising SP day, you fill your plate with S (speed foods) which are nonstarchy vegetables and certain fruits and then P (protein rich foods), meats, fish, eggs, certain dairy and beans etc.
As well as that, try to fill at least ½ of your plate with the S (speed foods), that is because speed foods are filling but very low in calories. Along with the above you also still get your usual healthy extras and but instead of 15 syns a day, it drops to 10 syns a day.
Here are some meal plans for Slimming World Food Optimising SP and here is a What I ate this week on SP where I lost 4.5lbs
Online Slimming World Membership
So onto the online program. What exactly do you get? Membership, of course, will vary in price depending on which country you live in and currency conversions.
With your online membership, you get this handy little booklet sent to you in the post, which is a nice size to fit in your handbag, o that you can carry it around with you at all times.
Welcome to Slimming World Booklet (containing all the information you need to follow the plan, I like to refer to it as the Slimming World bible, as once you have read through this a few times and the information has sunk in, you will know the plan like a pro, it is also the right size to make it handy for popping in your bag too).
NOTE: The booklet was sent with the membership I signed up to, but may not always be received for different membership options, so check what you received upon signing up.
Once you have signed up, you get instant access to the website, that has a heap of resources at your fingertips:
Food Optimising Essentials - All the information needed to help you start and continue with the plan
Online food diary - Weight Loss Planner where you can enter your daily meals to ensure you are 100% on plan
Food Search - allowing you to search for any food item to check if it's free food or has a syn value. NOTE: Branded items are UK based, but it is easy to work out the syns for branded items where you live using the syns estimator.
Hundreds of delicious and easy recipes and menu plans.
Body Magic
Syns Estimator - this allows you to work out the syn allowance in foods which are not free by selecting a free food allowance (if it qualifies for one) and entering parts of the nutritional information.
Weekly weigh-in - where you are prompted by email each week to remind you to weigh in and you can set your own targets. You will also receive little motivational awards as you reach certain goals and a graph will show you how well you are doing with your weight loss.
Motivational Support - this is geared to help you. For instance, if you lose weight, there are plenty of encouragements and little messages to keep you going, but also have a bad week and you will be sent messages to help get you back on plan and focused.
24/7 access to the Online Community - where you can get support and share ideas with other members. I was really pleased to see this addition to online membership, as following the plan online and not being able to physically go to meetings can be tough. This area is great for support and for sharing tips/ideas with other online members.
Live Community Gathering - A set gathering where you can chat about how you are getting on or ask for tips/advice etc
Members letters and weight loss/success stories - read other members success stories to increase your motivation.
If that wasn't enough you will also have 24/7 access to the website which also includes features with tips and support.
Stuck with understanding something in particular or need to ask a question? the Slimming World website also has a little chat box at the bottom of the page when you log in, where you can speak to a member of the team when they are online (office hours only)
Sounds great? Well that's because it is. Once you try this new way of healthy eating, you will not believe how easy it is to lose weight and keep the weight off.
Join Slimming World
Sign up here - Slimming World
For those in the UK that are lucky enough to have access to group meetings in person. Check out my post on The Benefit of Slimming World Groups. It will help you decide whether a group class or online membership is the best for you. 
If you are already a member, you click on the share buttons at the top of this post to share with your family and friends.
Disclosure: This post may contain affiliate links. As an Amazon Associate and member of other affiliate programs, I earn from qualifying purchases. We are a participant in the Amazon Services LLC Associates Program, an affiliate advertising program designed to provide a means for us to earn fees by linking to Amazon.com and affiliated sites." Check Legal section, for Full Disclaimer, Disclosure and Privacy Policy.