Full Disclosure: Starfrit provided the set of pans for review but I was not compensated for this post.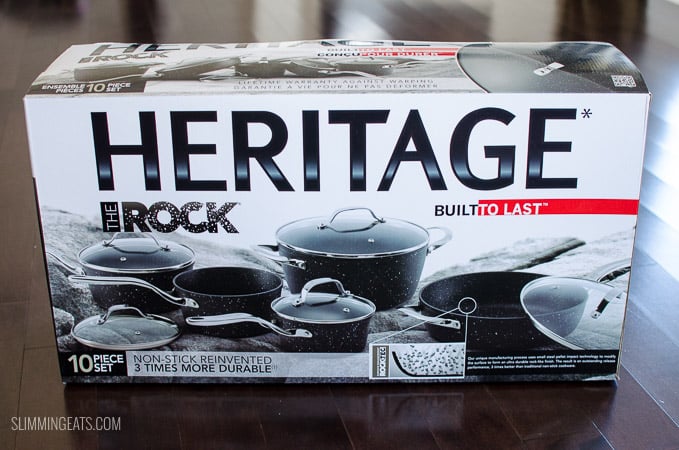 As a foodie and blogger obviously good equipment is a must for me, so I'm always on the lookout for kitchen items that will meet that high standard.
My kitchen pans were starting to look a little worn and a neighbour mentioned a set of pans that she has used for a while and that she had just bought for her daughter too which she really liked. The pans were called Heritage The Rock by Starfrit. I contacted Starfrit and they kindly offered to send me a set to review.
The set came with 4 different sized saucepans with lids, including a deep stock/casserole pot and then a deep frying pan/skillet with lid.
The pans are made from a durable forged aluminium base and then finished with their "Rock tec" surface. This gives them a very unique look and feel, certainly making them stand out from the crowd.
Since I received the set, I have been using them daily and absolutely love them. I would go as far as to say, they are the best non stick set I have owned.
I have had no sticking of food of any kind and I haven't even had to use any oil for some of my cooking.
When you do use oil, you actually only need very little, which is great because it means the syns are kept as low as possible when cooking Slimming World recipes.
Be wary of using cooking oil sprays on these pans, especially if they contain emulsifiers, emulsifiers are known to react with non stick coatings and cause a stick residue so are not recommended.
I thought the best food item to test these on, would be some fried eggs. There is nothing worse than cooking a fried egg, to go to transfer it to the plate and find it is stuck to the bottom of the pan. Super frustrating when the pan you have is supposedly non stick.
That didn't happen at all with the Heritage The Rock pans, it glided off easily, no sticking of any kind.
Even when making sticky based sauces, there has been no sticking of the sauce to the pan. I recently used the small pan for a toffee sauce and a chocolate sauce and neither were hard to clean from the pan afterwards, which is really important for me. I want effortless cooking and easy clean up afterward.
When cleaning the pans, I just wipe with a wet clean soft cloth. Occasionally they need a little soak, but that is only to prevent any scrubbing, so as not to ruin the surface of the pans.
The Heritage The Rock pans also come with a lifetime warranty against warping, which is great. I've owned some really good pans in the past that have warped, and there is nothing worse than trying to cook and the pan keeps moving about on the stove, because the bottom is no longer flat.
If you want to check out more about Heritage The Rock Cookware Set, you can visit their website here: Starfrit. As well as cookware they also a variety of different kitchen objects from knives, food storage, tablesware etc. There are also some Starfrit Products on Amazon