Delicious Mini Meatloaves with a Tomato Glaze that you do not need to share, as each little meatloaf is a single serving - Perfect!!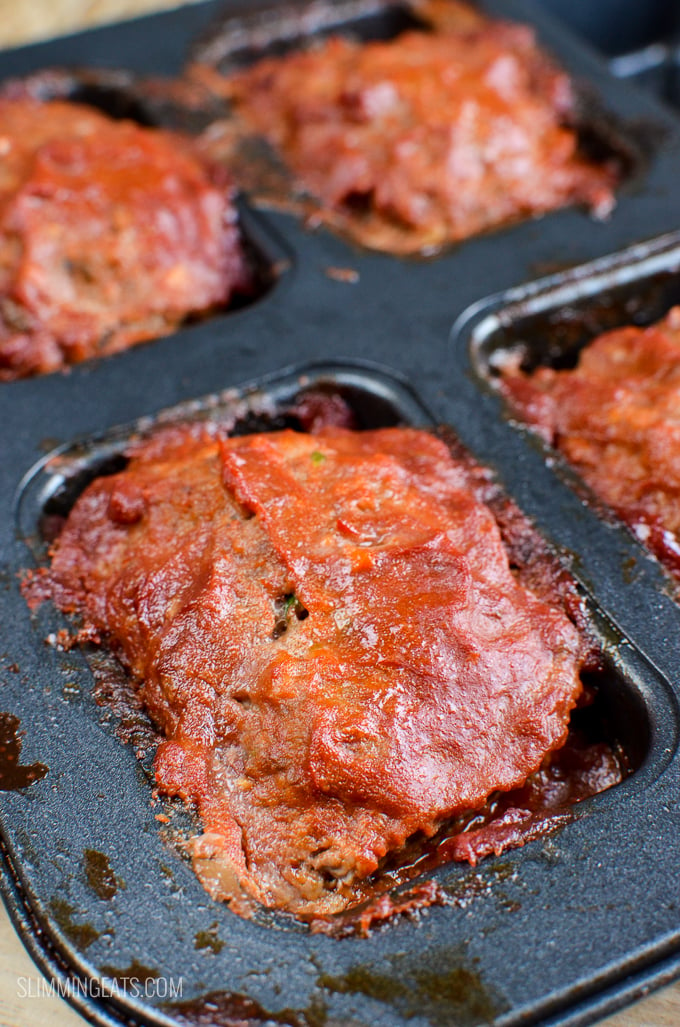 Truth be told, I bought extra lean ground beef this week with the intention of making spaghetti and meatballs.
Then today I went to make said spaghetti and meatballs and looked in my pantry and discovered I actually had no spaghetti. I mean, come on? Who on earth doesn't have at least one packet of spaghetti in their cupboard. Erm! Well that would be me of course.
I think it is probably a first to be fair, I usually have at least a couple of packets, but it obviously slipped my mind that I needed more when I used up the last packet.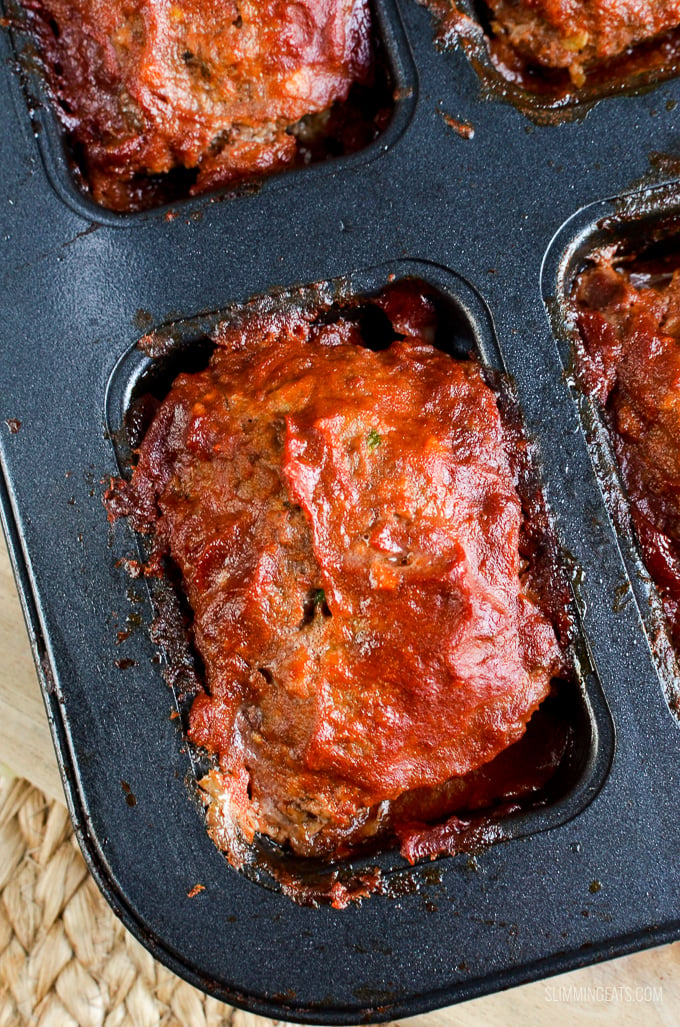 So meatballs went out the window, not literally, that would be a bit messy. Although I am sure the neighbourhood critters might like them. We get the usual cats, as well as the not so usual raccoons and skunks. Well I say not so usual, but around here in Canada they are pretty common. But to me a Brit living in Canada, well I had only ever seen such animals in movies. So I do get a bit excited when I see one. Probably a bit too excited in fact.
Like the time a friend of ours had one living in her attic and went to all resorts to get that damn thing out of there, where as we would of mostly likely made up a bed for it and gave it a bowl of food. Probably not the best idea, seeing as they can be carriers of rabies.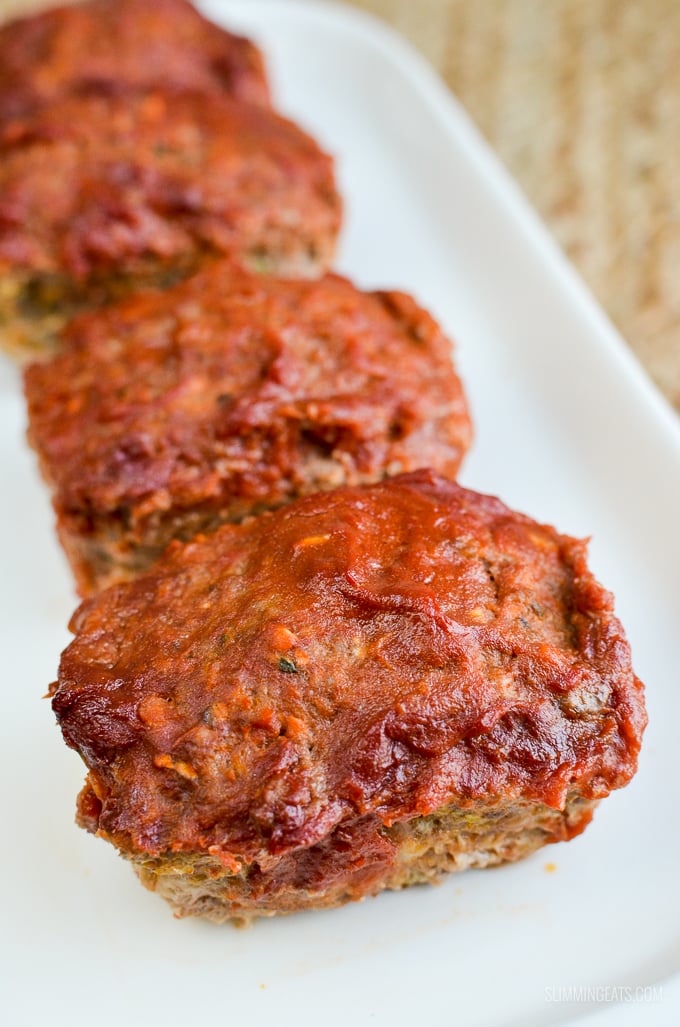 Anyway, I got a bit side tracked there, where was I, oh yes, the Ground Beef. Well it had to be put to use and looking for what I did have that I could pair up with it. I grabbed the Yukon gold potatoes and settled on some delicious Cheddar Spring Onion Mash and decided on some Mini Meatloaves with a Tomato Glaze.
I actually rarely made meatloaf before I move to Canada. It was another thing I used to see plenty of in movies. A family gathered round a table while they dug into bowls of various different sides, usually creamy mashed potatoes and buttered corn. It just seemed like a perfect family meal. So it was probably one of my first meals I made when we moved here, why I waited till we moved to Canada, I really do not know, as it's a pretty good meal.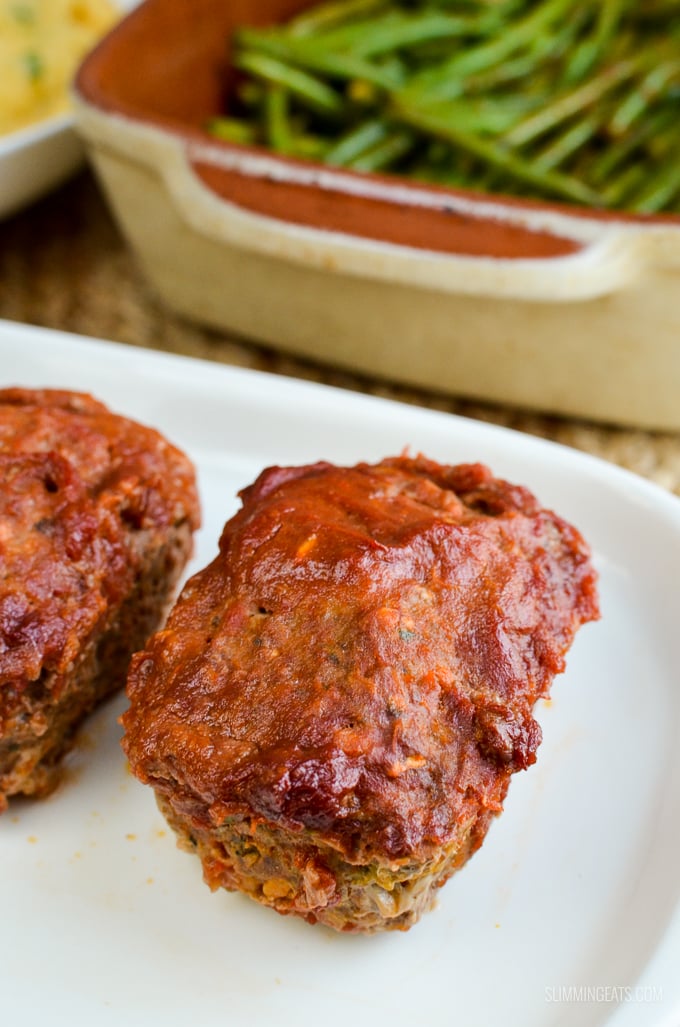 If you have fussy kids in your house, or even fussy adults, meatloaf is a great recipe for hiding some veggies and that is where the  food processor bowl of my Nutri Ninja Complete Kitchen System with auto IQ technology comes in handy, as I can just add the veggies, do a few pulses of the blade and it has chopped the veggies up nice and finely to add into the meatloaf mix. I love this blender and food processor. The auto IQ technology, means it blends or chops to a set pattern depending on what it is you are making. So cool and really makes certain kitchen tasks when in comes to cooking, effortless.
For these Mini Meatloaves with a Tomato Glaze, don't try to save syns by skipping the breadcrumbs, as seriously a meatloaf really needs them to keep it nice and moist, otherwise it can tend to be a bit try. I've tried without before and it just bakes much better with.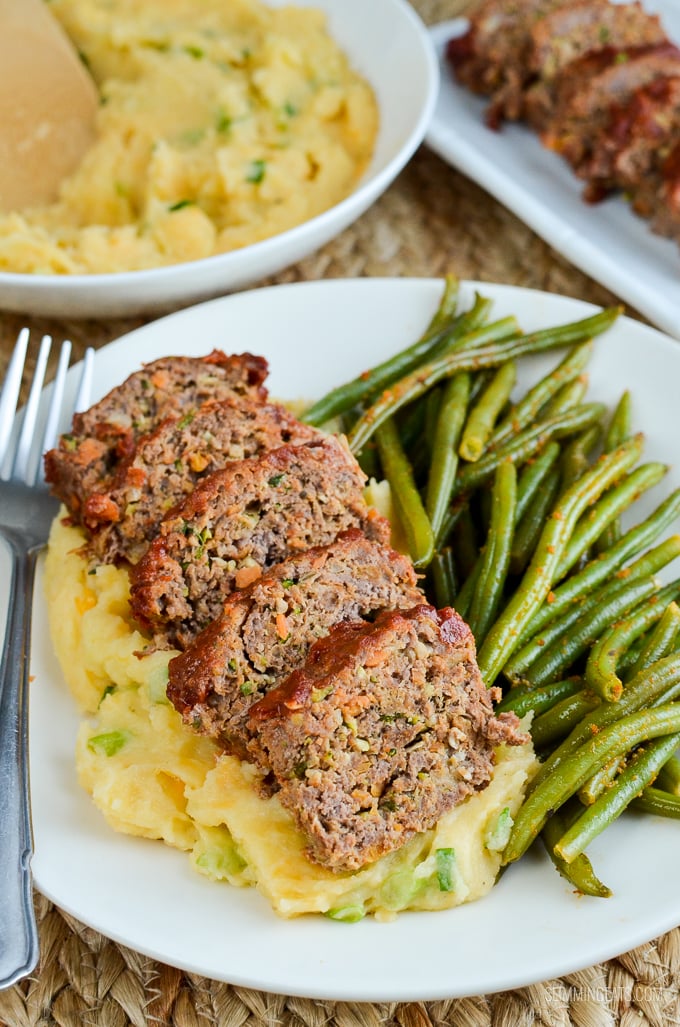 You can actually bake the meatloaf in a loaf tin as one meatloaf. I just prefer to bake mini ones, as then there is no fighting over servings.
I use a mini loaf pan like this one below, where each loaf compartment measures 3.5 inches x 2.25 inches.
Click here to check this Wilton 8 hole Loaf pan out of amazon
As well as  the cheddar spring onion mash, I served these Mini Meatloaves with a Tomato Glaze alongside some oven baked French Beans which I seasoned with salt, black pepper and a little garlic salt and paprika.
If you fancy some other sides, check out these delicious side dishes, there is bound to be something else there that you might enjoy, plus if you are doing an SP day, there are also these SP friendly side dishes.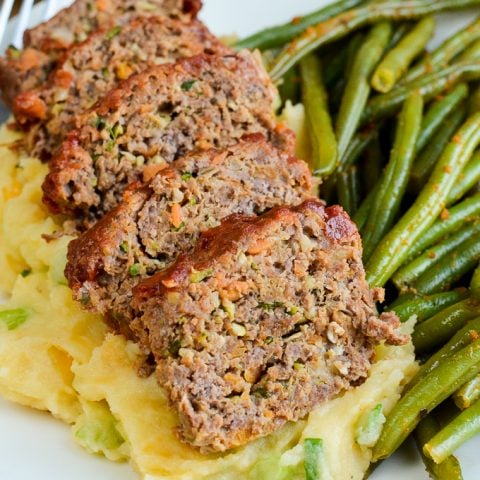 Mini Meatloaves with a Tomato Glaze
This recipe is dairy free, Slimming World and Weight Watchers friendlyExtra Easy - 1.5 syns per servingOriginal/SP -  1.5 syns per servingWW Smart Points - 3
Ingredients
Ingredients
400g of Extra Lean Ground Beef
2 cloves of garlic, crushed
60g of onion, finely chopped
60g of carrot, finely chopped or grated
100g of zucchini, finely chopped or grated
1 teaspoon of oregano
1 teaspoon of paprika
½ tsp of salt
black pepper
1 egg, beaten
30g of wholewheat bread, blitzed into breadcrumbs (3.5 syns)
spray oil
for the glaze
¼ cup (60ml) of passata
2 level tablespoon of tomato paste
2 level tablespoons of tomato ketchup (2 syns)
2 teaspoons of balsamic vinegar
Instructions
Preheat oven to 180c or 350f (gas mark 6)
Add the meatloaf ingredients to a bowl and combine well.
Grease a mini meatloaf pans with some spray oil.
Divide the mixture into 4 equal amounts and add to the meatloaf pan, so you have 4 mini meatloaves.
In a bowl mix together the ingredients for the glaze and spoon over the top.
Place in the oven and bake for approx 40 minutes.
Allow to cool slightly, then carefully remove from the pan and slice or serve each mini meatloaf.
Serve with your choice of sides.
Notes
Nutritional information is an estimate and is to be used for informational purposes only.
Ingredients can vary greatly from brand to brand and therefore it would be impossible to give accurate information.
Also double check syn values of sinned ingredients as different brands can vary.
All images and content on Slimming Eats are copyright protected.
If you wish to share this recipe, then please do so by using the share buttons provided. Do not screenshot or post recipe or content in full
Nutrition Information
Yield

4
Serving Size

1 mini meatloaf
Amount Per Serving
Calories

196
Total Fat

5.3g
Saturated Fat

1.8g
Cholesterol

104.5mg
Sodium

577.3mg
Carbohydrates

13.3g
Fiber

2.3g
Sugar

3.8g
Protein

24.9g
Disclosure: This post may contain affiliate links. As an Amazon Associate and member of other affiliate programs, I earn from qualifying purchases. We are a participant in the Amazon Services LLC Associates Program, an affiliate advertising program designed to provide a means for us to earn fees by linking to Amazon.com and affiliated sites." Check Legal section, for Full Disclaimer, Disclosure and Privacy Policy.