Mediterranean Tomatoes and White Beans - delicious rich tomatoes with peppers and white beans make this a perfect side or main.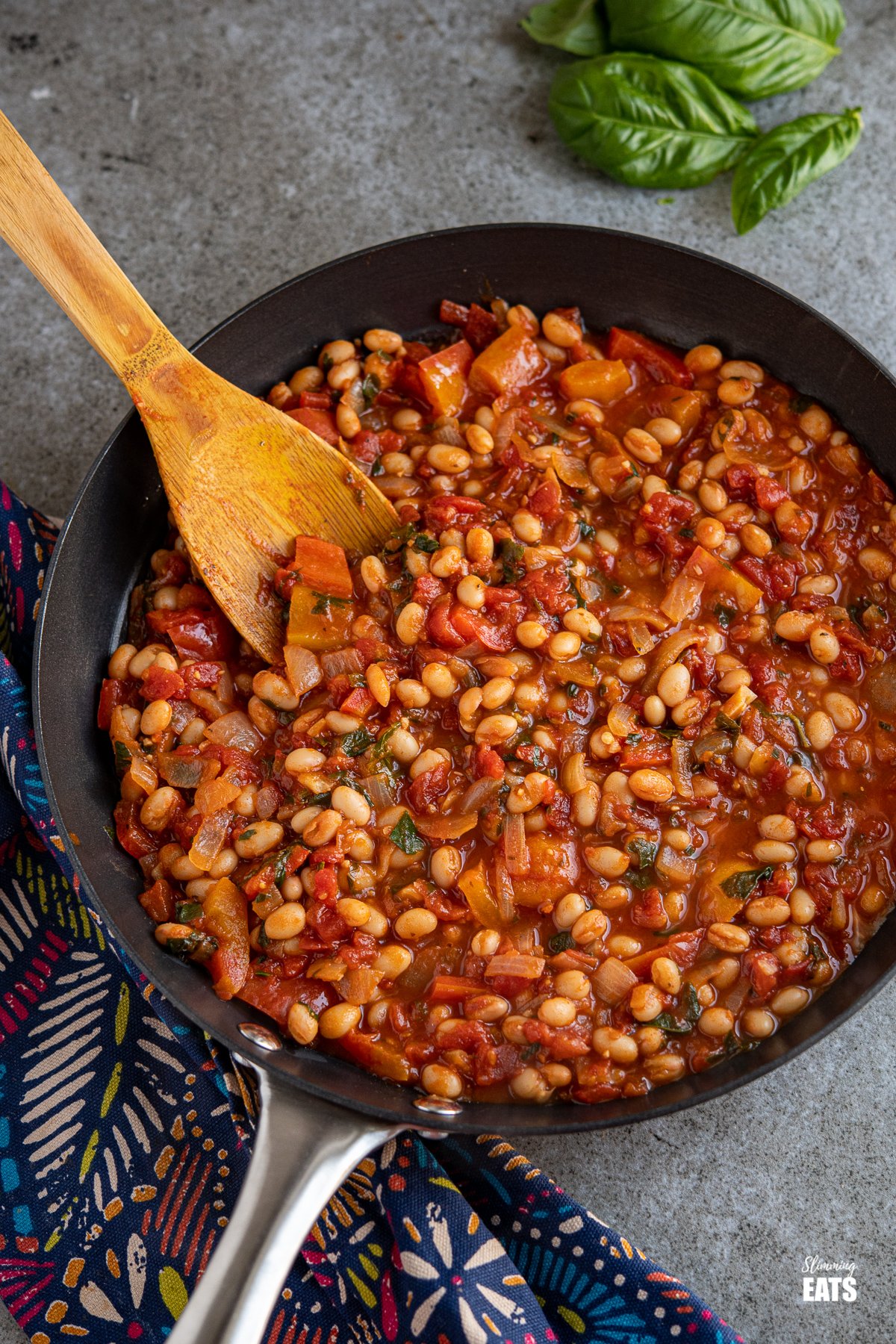 Rich Tomatoes with Beans
Tonight for dinner, it was some delicious chicken sausages I had picked up from Costco with homemade seasoned potato slices, but I really wanted a nice saucy side to serve alongside them all.
My kids love baked beans especially where sausages are involved and so I thought why not make an easy beans dish with some ingredients I had on hand in pantry. If there is one thing I love, it's raiding my fridge and pantry for ingredients I can throw together for a meal and these turned out so well, were super quick to make and best of all can be enjoyed as a side or a main course.
Best Type of White Beans
Really you can use any kind you like for this dish. This was a pantry raid, so I was willing to us whatever beans came to hand and all that was left was a couple of cans of haricot beans, so one of those was what I grabbed.
Some other beans I think would work well for this are:
Butterbeans
Cannellini Beans
Great Northerns (White Kidney Beans)
Baby Lima Beans (small butter beans)
These are what tend to be available here in Canada, so go for what is readily available where you are, keep it simple!!
There are also other beans like pinto beans (which are not white of course) and those will work fine too if that's all you have.
I used canned beans because they are just quick and handy, but if you prefer to use dried beans, you can totally do that too, you will just need to cook them first and then follow the recipe as normal.
Can I use spray oil?
You will notice I use a little olive oil in this recipe, and yes I know I could use spray oil and save some calories. But this recipe serves at least 4 people and one tablespoon of olive oil really isn't that much.
It just adds so much more flavour to the base of the recipe, so It's worth it, but if you really really can't bear to use those extra calories, opt for a olive oil spray. It won't be quite the same result, but should be okay.
Canned versus Fresh Tomatoes
For this recipe I used canned chopped tomatoes, I try to buy brands that I know I like, as some cheaper brands can be really tasteless and very acidic.
Fresh tomatoes taste amazing in any kind of homemade sauce, they have a beautiful natural sweetness to them so you generally don't need to add anything like a little sugar or sweetener to tone down the acidity. I add a little (only a teaspoon) which just tones down the acidity, but it's totally up to you if you wish to use it or not. Try without and add it you feel it needs it.
So you can use whatever you prefer or even do a combination of both. For a quick peeling tip - I highly recommend a serrated peeler. They are perfect for soft fruits and veggies and will grip the skin making it easy to peel, which means there is no need to score and blanch to remove the skin.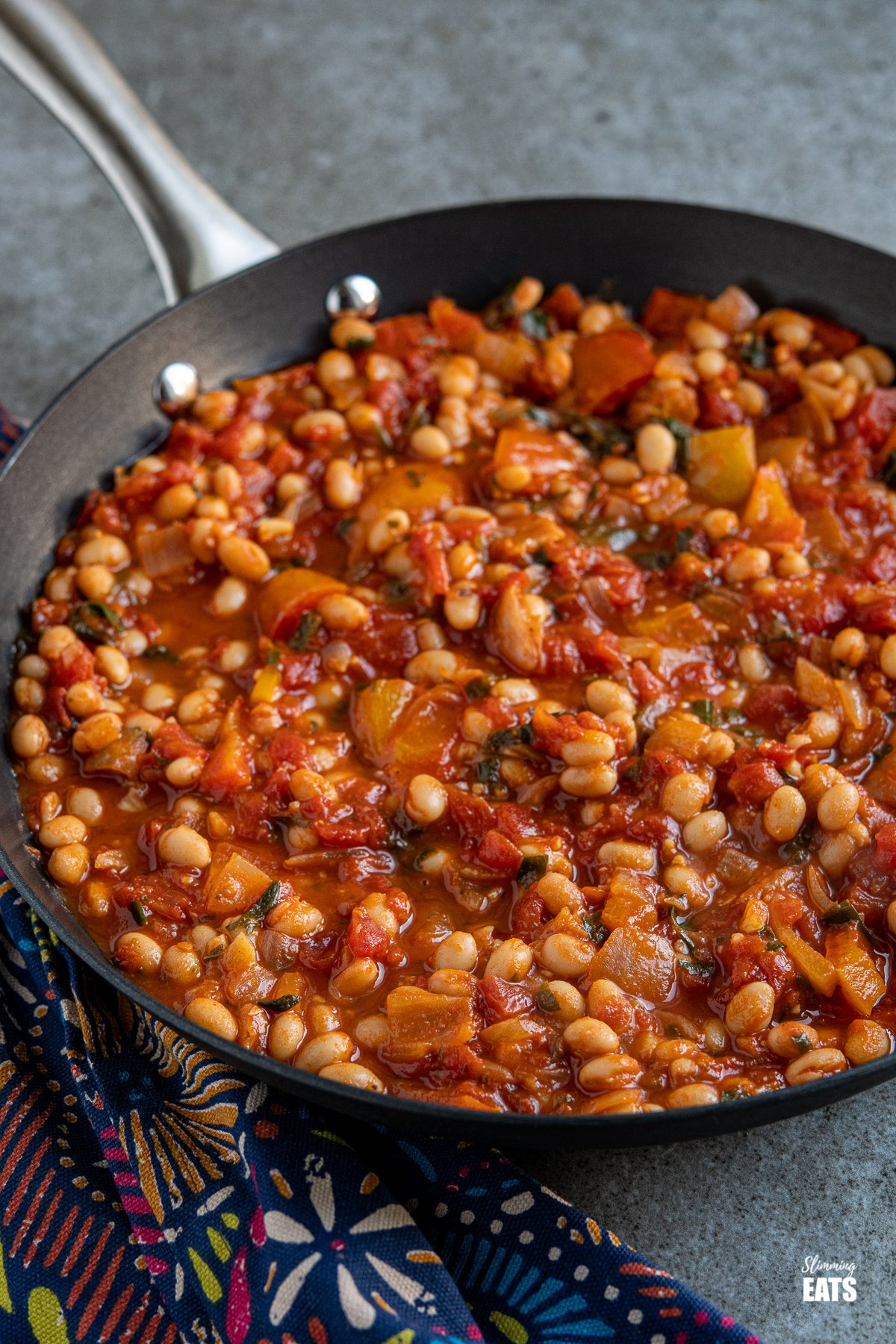 Can I substitute the bell pepper?
I am often surprised by how many say they don't like peppers and if you happen to be someone who doesn't like them, you may be wondering what you can use instead?
The pepper in his recipe was really only added because I had a lonely ole one on my kitchen counter that really need to be used up, it certainly isn't vital to the recipe, but does add a beautiful fleck of colour.
If you really dislike peppers either just omit, the tomatoes alone with the onion, garlic and herbs is delicious or add in some other vegetables if you want to. Grated carrot or some finely diced courgette (zucchini) would be good.
Can I use dried herbs?
I love love fresh basil, it has a such a beautiful flavour and I find you just don't get that same taste from dried.
At the beginning of summer I always pick up a basil plant for the garden, they would never survive our harsh winters here and my cats would eat it if I brought it inside. I love having fresh basil on handy, it's such a delicious summery herb. My plant gets quite big with plenty of basil leaves, so long as I remember to water it that is. Otherwise our scorching summers will wilt it to nothing in no time.
If you can get some fresh basil then opt for that for sure, but if dried is all you have, then use it. Generally it is 1 tablespoon of chopped fresh herbs is equivalent to 1 teaspoon of dried herbs.
For the parsley fresh or dried is fine in this recipe, but again use just 1 to 1.5 teaspoons of dried parsley, if not using fresh.
Turning a side into a main course
I made this with the intention of it being a side dish for some sausages and potatoes, but you could totally eat this as a main. Serve with some rice, or pasta (orzo would be great), or crispy potatoes like these garlic and herb roast potatoes. You could even take it to a whole other level by adding some mozzarella to the top and just baking in the oven until melted.
More Bean Recipes
Looking for some other bean recipes to try? Check out these
or if you would like more recipe ideas - head on over to the FULL RECIPE INDEX where you will find over 900 delicious recipes and can search by ingredients, course, diet and more.
All with estimated calories and Weight Watcher Smart Points values.
---
LET'S CONNECT!!
Mediterranean Tomatoes and White Beans
Mediterranean Tomatoes and White Beans - delicious rich tomatoes with peppers and white beans make this a perfect side or main.
Ingredients
1 tablespoon of extra virgin olive oil
1 onion, diced
3 cloves of garlic, minced
1 teaspoon of sweet paprika
1 bell pepper (yellow, red or orange), chopped
400g (14oz) of chopped tomatoes (canned)
400g (14oz) of haricot beans (canned), drained and rinsed
1 tablespoon of tomato paste
1 cup (240ml) of chicken or vegetable stock
handful of fresh parsley, chopped
handful of fresh basil, chopped
salt and black pepper to season
(optional: 1 tsp of sugar or sweetener)
Instructions
Add olive oil to a frying pan over a medium high heat, once hot add the onion and fry until golden and softened.
Add in the peppers and garlic and fry for a couple more mins.
Add the paprika and mix to coat.
Add in the chopped tomatoes (and sugar or sweetener if using, it helps cut the acidity of the tomatoes but is optional), beans and tomato paste and stock, stir until all mixed.
Bring to a boil, cover and simmer for 15 minutes, sauce should all be rich and thickened.
Taste and season as needed with salt and black pepper
Stir in the chopped fresh parsley and basil.
Enjoy!
Notes
Please see below for full nutritional info and additional details about recipe:
Calories - scroll down to nutritional info box
WW Points and other Slimming or Weight Loss programs -   due to plans regularly changing and updating, we recommend calculating with the official tools you get as a member to those plans to ensure accuracy of values. 
If you wish to share this recipe, then please do so by using the share buttons provided at top of this post.
DO NOT COPY AND/OR PASTE FULL RECIPES OR SCREENSHOTS OF ANY CONTENT FROM SLIMMING EATS TO ANY SOCIAL MEDIA OR WEBSITE, IT IS STRICTLY PROHIBITED.
ALL IMAGES AND CONTENT ON SLIMMING EATS ARE COPYRIGHT PROTECTED
Nutritional information etc are an estimate and are to be used for informational purposes only. Ingredients can vary in values from brand to brand and therefore it would be impossible to give accurate information. It is always advised that you calculate values yourself by the ingredients you use and the tools provided to you as a member of the programme you are following.
It is the responsibility of the Reader to assure the products or ingredients they use in any recipes from Slimming Eats are allergen-free (gluten-free, egg-free, soy-free and/or dairy-free, for example). Slimming Eats assumes no liability for inaccuracies or misstatement about products, opinions or comments on this site. 
Check Legal section, for Full Disclaimer, Disclosure and Privacy Policy.

Recommended Products
As an Amazon Associate and member of other affiliate programs, I earn from qualifying purchases.
Nutrition Information
Yield

4
Serving Size

1 SERVING
Amount Per Serving
Calories

155
Total Fat

3.7g
Saturated Fat

0.5g
Trans Fat

0g
Sodium

554mg
Carbohydrates

25g
Fiber

7.6g
Sugar

3.3g
Protein

7.5g
Nutritional information, values, points etc are an estimate and is to be used for informational purposes only. Ingredients can vary greatly from brand to brand and therefore it would be impossible to give accurate information. It is always advised that you calculate by the ingredients you use.
Disclosure: This post may contain affiliate links. As an Amazon Associate and member of other affiliate programs, I earn from qualifying purchases. We are a participant in the Amazon Services LLC Associates Program, an affiliate advertising program designed to provide a means for us to earn fees by linking to Amazon.com and affiliated sites." Check Legal section, for Full Disclaimer, Disclosure and Privacy Policy.