Make up a pot of this delicious and healthy Syn Free Vegan Lentil Bolognese for dinner, with plenty leftover for freezing.
Got a bag of dry brown lentils in your cupboard that you have been wondering what to do with?
It might be time to dig them out and get a pot of this Vegan Lentil Bolognese on the go.
If you have both meat eaters and vegetarians under your one roof, this might be the dish to please you all. It's comforting, filling and pretty budget friendly too.
I do let it simmer for quite a while on the stove, but seriously if you want all those amazing flavours, a bolognese is just the best when cooked this way. Just to skimp on the time and you won't get those same rice flavours.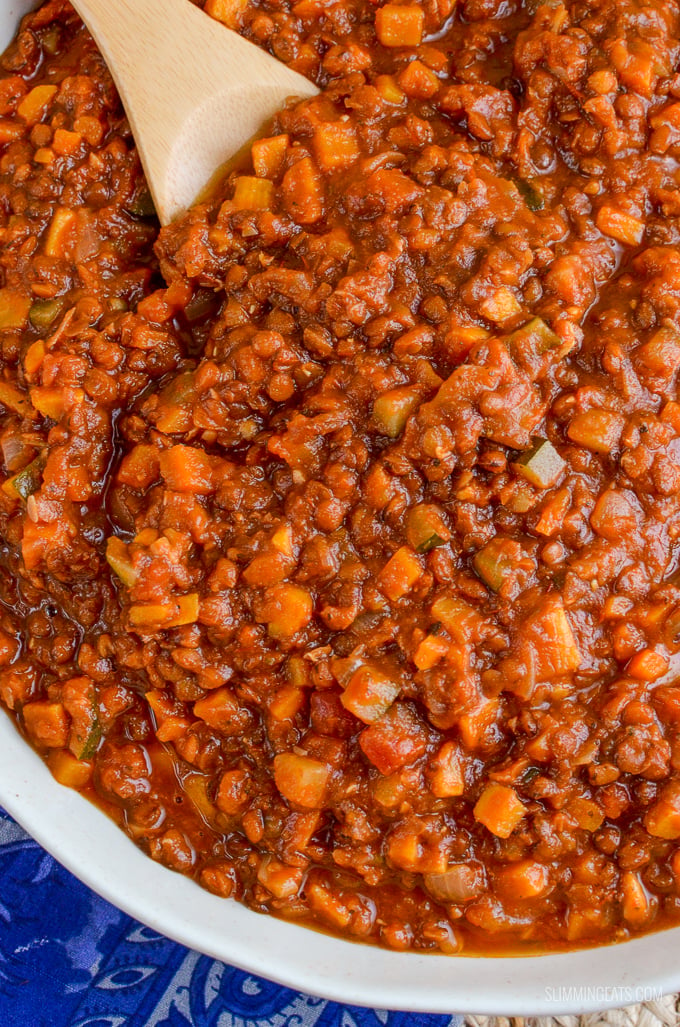 I do recommend using a chunky lentil, like green or brown lentils and not red lentils, because you want the lentils to keep their shape, red lentils tend to go mushy and are best used for things like dhal curries and thickening soups etc.
I used dried brown lentils because they are just so cheap and you don't have to do any soaking overnight like dried beans. So they are super easy to prepare. Just add them to a colander and discard any that are discoloured etc, then give them a good rinse with clean water and you can add them straight to the pan.
Whenever you buy some lentils at the store, always try and buy a bigger bag in bulk, rather than the teeny little bags, you will save yourself quite a bit of money and they last a long while.
Wondering what other recipes you can make with that bag of lentils? Check out these other lentils recipe, that are perfect for green or brown lentils:
I try to add as many meat-free dishes as I can into my week because whenever I go the meat-free route, I always add a lot more veggies too, and vegetables are a speed food, so it's all good.
This lentil bolognese has vegetables such as tomatoes, carrot, zucchini, celery, onion and garlic as well as delicious sweet potato, sometimes I will swap the sweet potato for butternut squash, as you really don't notice the difference, it all depends on what I have available. Butternut squash will add more speed foods, so if you are trying to increase those on your plate, that would be the better option.
But if you want to up the speed foods even further, serve it alongside a delicious mixed green salad. I love baby greens, with a bit of shredded carrot, and cooked beetroot. As for if you add a dressing is totally up to you. For a low syn healthy option, I like a little bit of olive oil (just a tsp is enough, whisked with a some balsamic vinegar and black pepper - yum!!)
Even my kids love this Lentil Bolognese, so it's a great dish for me to make for the whole family, if I want to get some healthy wholesome food into them.
If there are leftovers, they often take it for lunch in their Thermos Food Flask, with some parmesan in a little tub for them to sprinkle on top just before they dig in. My kids are quite funny and quite often get fed up with the regular packed lunch sandwiches, so mixing things up for them and giving them this, is much more appealing to them.
If you don't have heating facilities at work, or are often out of the office and travelling around during the day, a food flask can be a great investment. A Thermos Stainless Steel Food flask like this one below is a perfect option.
It will hold just under 500ml of food and keep it warm for up to 9 hours, which means it is perfect for soups, chilli's, curry, and dishes like this lentil bolognese.
What Kitchen Items do I need to make this Syn Free Lentil Bolognese:
Syn Free Lentil Bolognese
Total Time:
2 hours
20 minutes
This recipe is gluten free, dairy free, vegan, Slimming World and Weight Watchers friendlyExtra Easy - syn free per servingGreen/Vegan - syn free per servingSP - syn free per serving (use butternut squash and omit any pasta)WW Smart Points - 2
Ingredients
1 onion, finely chopped
3 cloves of garlic, crushed
200g of carrot, finely chopped
200g of zucchini (courgette), finely chopped
200g of sweet potato (or butternut squash), finely diced
4 ripe tomatoes, peeled and chopped
¾ cup (150g) of dried brown lentils, rinsed
2 cups (480ml) of passata (or crushed tomatoes)
4 cups (960ml) of vegetable stock
4 tablespoons of tomato paste
mixed herbs
salt and black pepper
splash of balsamic vinegar
Olive oil spray
Fresh Italian Parsley and basil
Instructions
Spray a large pot over a medium high heat with some Olive oil spray and add the onion and garlic and fry until softened.
Add the carrot, courgette (zucchini) and sweet potato (or butternut squash) and fry for a further 5 mins. Add a little of the stock to prevent sticking if needed.
Add the lentils and mix well.
Add the tomatoes, tomato paste, stock, mixed herbs and splash of balsamic vinegar
Bring to a boil, reduce heat to low, cover and simmer for approx 1hr and 30 mins.
Check it a couple of times through cooking time, just incase it looks like too much liquid has been absorbed ,as you may need to add a little more stock/water.
Season with salt and black pepper and top with some chopped fresh Italian parsley and a little basil.
Serve with pasta or another choice of sides.
Notes
Nutritional information is an estimate and is to be used for informational purposes only.
Ingredients can vary greatly from brand to brand and therefore it would be impossible to give accurate information. Also, double-check syn values of synned ingredients as different brands can vary. 
All images and content on Slimming Eats are copyright protected.
If you wish to share this recipe, then please do so by using the share buttons provided. Do not screenshot or post recipe or content in full
Check Legal section, for Full Disclaimer, Disclosure and Privacy Policy. 
Nutrition Information
Yield

8
Serving Size

1 serving
Amount Per Serving
Calories

150
Total Fat

0.3g
Sodium

291mg
Carbohydrates

30g
Fiber

10.1g
Sugar

9.7g
Protein

7.7g
Disclosure: This post may contain affiliate links. As an Amazon Associate and member of other affiliate programs, I earn from qualifying purchases. We are a participant in the Amazon Services LLC Associates Program, an affiliate advertising program designed to provide a means for us to earn fees by linking to Amazon.com and affiliated sites." Check Legal section, for Full Disclaimer, Disclosure and Privacy Policy.