Lentil Shepherds Pie
Slimming Eats Recipe
Serves 4
Green – 1 HEa per serving
Extra Easy – 1 HEa per serving
Ingredients
1 cup of uncooked brown lentils, rinsed
1 onion, finely chopped
2 cloves of garlic, crushed
2 carrots, finely chopped
1 courgette (zucchini) finely chopped
½ cup of frozen peas
½ cup of frozen sweetcorn
sprinkling of thyme
1 teaspoon of paprika
balsamic vinegar
2 bay leaves
3 cups (720ml) of vegetable stock
2 heaped tablespoons of tomato paste
salt and black pepper to season
2 large sweet potatoes, peeled and chopped
120g of cheddar cheese (4xHEa's)
Olive oil spray
Method
Spray a large pot with some Olive oil spray, add the onions and garlic and cook until softened.
Add the carrots, courgette and thyme and cook for a further 5 mins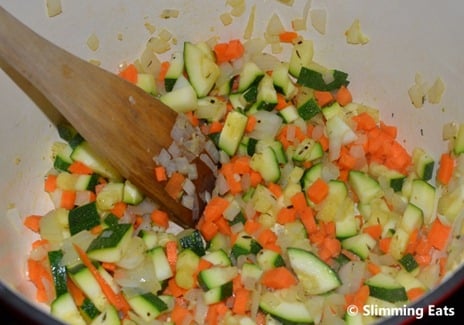 Stir in the lentils, tomato paste and paprika to evenly coat.
Pour in the stock and add a splash of balsamic vinegar and the bay leaves, then bring to a boil and cover and simmer for 1.5 hours.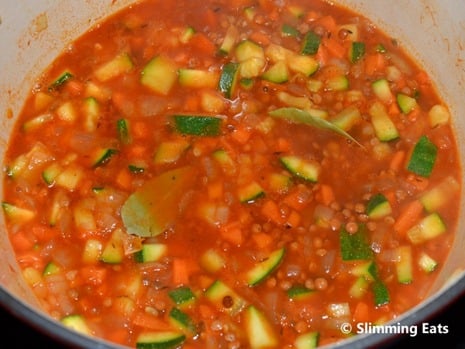 Stir in the peas and sweetcorn
When lentils are almost finished cooking time. Add your sweet potato to a pot of boiling hot water and simmer till softened. Then mash, season with some salt and black pepper and set aside.
Preheat oven to 200c or 400f (gas mark 6)
Layer your lentil mixture into an oven proof dish.
Spread over the mashed sweet potato and sprinkle with your grated cheese.
Bake in the oven  for about 30 mins, until cheese is melted and golden.
Serve  with your choice of sides and enjoy!!
Disclosure: This post may contain affiliate links. As an Amazon Associate and member of other affiliate programs, I earn from qualifying purchases. We are a participant in the Amazon Services LLC Associates Program, an affiliate advertising program designed to provide a means for us to earn fees by linking to Amazon.com and affiliated sites." Check Legal section, for Full Disclaimer, Disclosure and Privacy Policy.